Over the past several years Spudnik Press has become a staple for Chicago printmakers and printmaking education. The space and scope of the project continues to grow; the latest expansion occurred about 6 months ago when an adjacent space in the Hubbard Street Lofts building became available. Spudnik director Angee Leonard jumped on this as an opportunity to have a more dedicated exhibition space and also to broaden the focus of the Printshop. This new space, called the Annex, is a center for writing, bookmaking, and self publishing. It houses a growing small press library, as well as a xerox machine, guillotine cutter, selectric typewriter (which I am a big fan of), hot foil stamper, long arm staplers, as well as a supply of bone folders, awls, linen thread, and other book binding materials. Programming includes writing, book making, paper making, and self publishing classes, as well as one day workshops, such as the zine making community workshop taught by Bad At Sports' own Caroline Picard this past week. I have also been lucky enough to be involved in teaching classes and workshops at the Annex since it opened last fall.
As more of a "clean" space than the printshop next door, the Annex also provides an expanded exhibition space for Spudnik. Curatorial duties rotate between Spudnik coordinators. The most recent show, Charlie Megna's Lost Tribes of Renni, which opened last night, was organized by Luke Daly – a Spudnik member who has been a driving force in developing the Annex. Luke co-edits and runs the small press arrow as aarow. I also co-teach a class with him at the Annex, which will be running for the third time in the fall. Charlie Megna is the director of the Peanut Gallery and a founding member of the Peanut Collective. His show will be up through early August.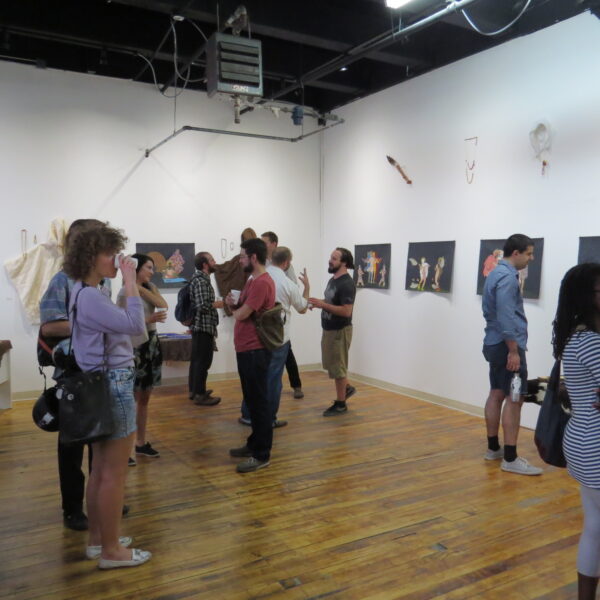 Over the week leading up Charlie's opening, Luke and I exchanged emails about his involvement with the Annex and the new show, which is the first in a series that creates small-press publications to accompany exhibited works.
Bailey Romaine: Tell me a little bit about how you came to be involved with Spudnik and about your current role there.
Luke Daly: I've been involved with Spudnik in one way or another since pretty early on, when it was still running out of Angee's apartment in Ukranian village. We started doing a reading series there which we then transplanted to the new space when Spudnik moved over to the Hubbard building. Around that time I took a screenprinting class and started printing there. Then last summer I approached Angee with the idea for what would become The Annex, which she and I developed together and worked on translating into reality. Now my title is Book and Writing Projects Coordinator. In this role I work with Angee on classes and programing, I recruit teachers, teach, design classes, and work to include Chicago's literary community in what we're doing and vice versa. Very recently a lot of my efforts have been directed towards programming for Printer's Ball which we're hosting at the end of July. I also curate our library of small press and artists books and curate three gallery shows per year, which like Charlie's show will all coincide with the making and publishing of an artist's book that somehow extends the work being shown in the gallery.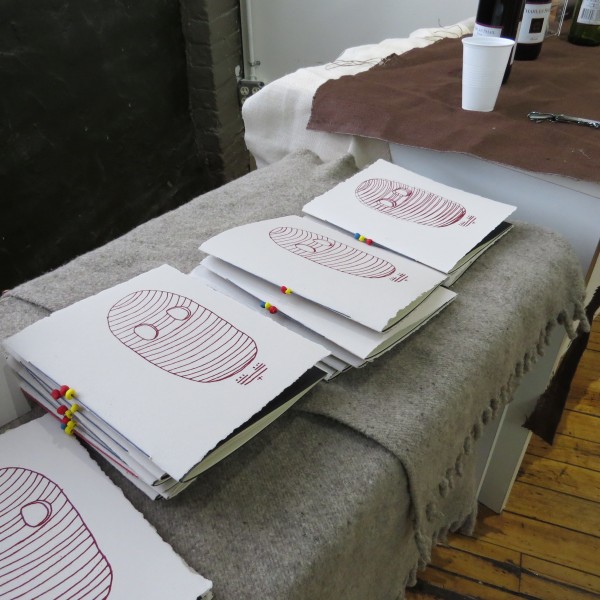 BR: It seems like things really came together in an amazing way with the Annex – it all happened within a really short time frame. There were classes being offered and a show up within a month if I remember correctly. The small press library is really exciting for me. It seems like what you are developing is pretty unique in Chicago, in terms of what is essentially a study collection in a small non-profit space for making.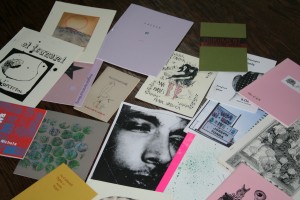 Can you talk a little bit about this curatorial project you have undertaken – both in terms of the library and the exhibitions? Did you know before seeing Charlie's work that you wanted to begin publishing books to accompany the gallery shows?
LD: Yeah, the library was an important part of thinking about what the Annex could be from the beginning. Mainly I was interested in having a physical home for small press, mostly very small-run and handmade literary books, since they are such an important part of the history of alternative or experimental writing in the US, and because they are so tactile and really need to be seen and held to be appreciated. Of course Chicago has places where similar things are available, like the Read/Write Library or Quimby's, but the focus of the collection that I was interested in putting together at the start was slightly different in that it sought to foreground small, specifically literary publishing from around the US.
Since I've been putting together the collection, my interests have developed in an organic way, and I'm finding myself interested in the intersection that seems to be going on between comics, zine and literary cultures. It seems like those categories are learning from one another, and people are doing work that very interestingly exist at the intersection of those different conversations. I'm finding myself more and more drawn to work of this nature. And always work that looks beautiful but that is made simply, since in the end we are a space that's built around making, and it's great to be able to have this collection here to show students or to consult for ideas when getting started on a project.
As for the Book Arts Series, which is the series of exhibitions that I curate at the Annex, my idea to pair gallery shows with the publication of artists' books started to come together while I was researching people who I thought would work well to show here. I knew that I was interested in work that was operating at the intersections of language work and visual work, but often the work that I was encountering that extended this as it's main goal or focus never totally hit home for me, and I started to feel that placing work at a crossroads of visual and literary could very well be a slightly more involved and creative curatorial task than just seeking and finding artists whose work, as is, fit with my own conceptual goals of the Annex.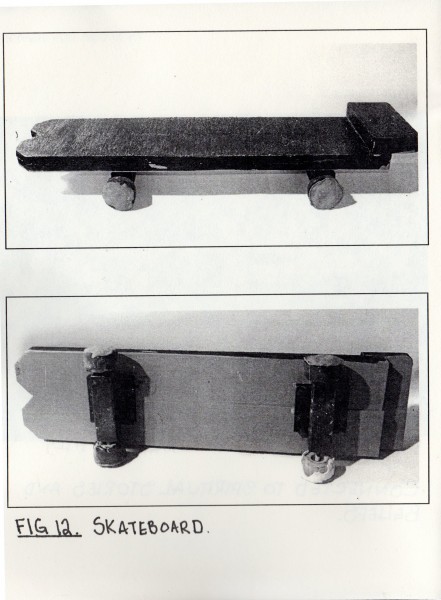 When I had the idea of doing a show of Charlie's work, I think that these ideas clicked, and that his work helped me to articulate to myself what I was interested in doing curatorially. Charlie was really excited about creating physical artifacts, tools, symbols, alphabets, and languages for his Renni tribes, and I was really excited about the idea of creating real material things that have been retrieved from an imaginary, non-physical world.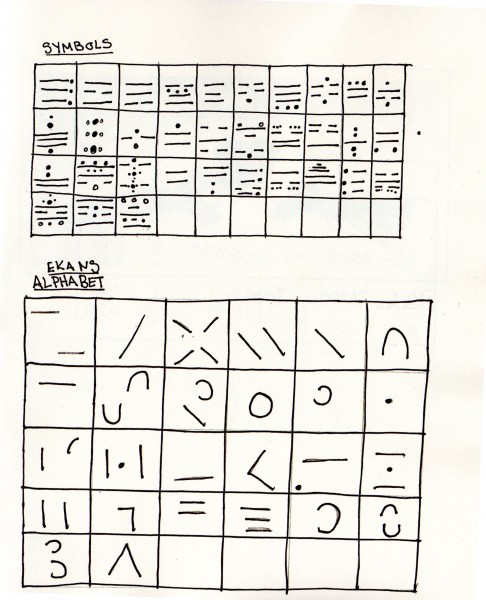 It reminded me of one of my favorite writers Henri Michaux, who wrote factual travel writings of impossible imaginary places, or Borges, who wrote intensely detailed scholarly accounts of imaginary texts, places, histories, people, feuds, conversations, etc. I knew that a book would further the fact of having Charlie's work existing in multiple planes, and it was exciting for me to locate his work in a place of literary imagination, and have that translation become the intersection that was being investigated or developed. I'm interested in doing books that extend the work that's being shown somehow, or that translates it across, so that it exists in a different kind of space (physical space to literary/imaginary space perhaps), or in multiple spaces simultaneously. I like the way that the books can live on and grow and complement and play off of one another in a series after the shows are long past.