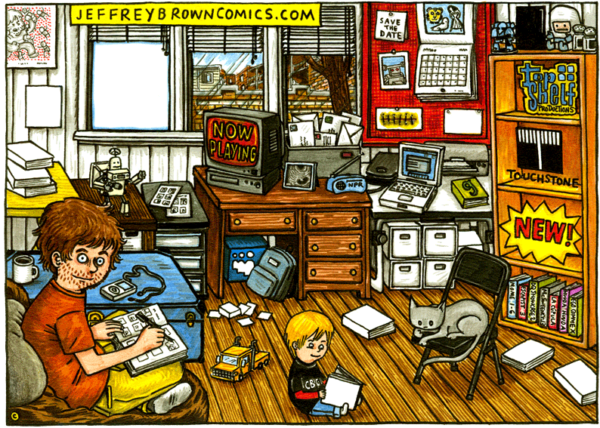 Since self-publishing his wildly successful first novel Clumsy in 2002, he's created numerous other painfully funny autobiographical comics, co-written the 2012 star-studded film Save the Date (starring Party Down's Lizzy Caplan and Mad Men's Alison Brie) and penned a hilarious series of graphic novels that explore the challenges of being both Darth Vader–ruler of the evil Sith empire–and a single dad.
Brown's newest Star Wars-themed book Jedi Academy (out on Aug. 27), is a coming-of-age story about a boy named Roan and his adventures mastering the Force while juggling all the issues that come with being a middle schooler.
Brown took the time to answer a few questions via email — keep reading to learn more about his past and current work in film and publishing.
Bad at Sports: You originally studied to be a painter. Why did you decide to become a graphic novelist?
Jeffrey Brown: I had grown up reading comics and always dreaming that I'd grow up to make them myself, so it was a natural move for me when I made it. While at art school I had become increasingly frustrated with my own work – my paintings didn't feel like they were expressing the ideas I really wanted them to. I figured the most fun I ever had making art was drawing comics when I was a kid, so to clear my head a bit I just started drawing some comics, and that clicked and felt more right for me than any painting I had done.
BAS: What audience did you begin creating graphic novels for?
JB: My first audience was myself, and after that my friends – that first project (Clumsy) was drawn for my own amusement, essentially, and then I was just showing it to friends. Beyond that I had only thought a very little about showing it anywhere else, but I did have one idea of having the sketchbook I was drawing in being exhibited, rather than a comic that was mass produced.
BAS: Your comics are heavily autobiographical, and draw from your own personal romantic experiences. Has an ex-­girlfriend or anyone else ever been upset with you over how you chose to depict them or your relationship?
JB: Not yet – I think they understand that as much as I'm using our real lives and events that happened, what the books are really about is the situations, about life, and finding meaning and understanding it. The comics aren't really about me or them or any one else that shows up in them. The most upset someone has been was something that was more a misunderstanding than anything, I think, where they were reading something into the story that they took personally, and which I certainly didn't intend.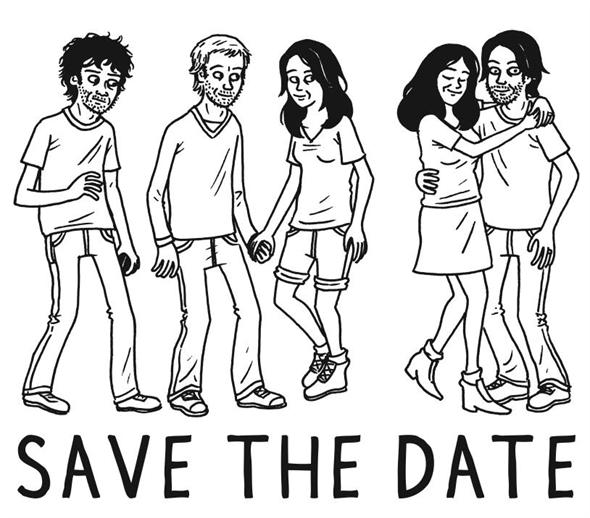 BAS: You've also done illustrations for films. You drew the movie poster for the film adaptation of the novel Shoplifting from American Apparel, and co-­wrote the screenplay for Save the Date. How did you become involved in those projects?
JB: For Shoplifting, it was through director/producer Pirooz Kalayeh, who I first got to know when he interviewed me years back. I'd previously drawn the poster for another film he produced, The Human War, and with Shoplifting I drew the poster as well as some drawings used for the g-chat scenes. I was already a fan of Tao Lin's books, and had been corresponding with him for a few years, so I was happy to be involved with that adaptation. Writing Save The Date came about because of producer Jordan Horowitz, who emailed me to say how much he liked how my autobiographical books handled quiet, intimate moments, and asked if I'd ever considered writing something for film. Film was an interest for me from early on – I once considered a career as a storyboard artist, even – so this seemed like a nice opportunity to give screenwriting a try.
BAS: How does the process of creating graphic novels different from screenwriting?
JB: Writing and drawing my comics is a much more solitary experience, especially the autobiographical work, which is so personal there isn't even much room for editorial input. I was fully prepared heading into screenwriting knowing that it would be collaborative, and that whatever my initial vision or idea was, it would change and evolve with everyone else that would necessarily work on the final product. Jordan put me together with Egan Reich, who helped immensely in not only clarifying ideas I wanted to touch on, but adding his own, as well as doing the grunt work of formatting the screenplay properly and guiding the structure to film. Structure is another big difference between comics and film. The way I write my comics is often closer to poetry in terms of how the narrative is broken up, and doesn't translate as well to film.
BAS: How selective are you about the types of projects to take on when commissioned?
JB: I've been extremely fortunate that for a long time,  I said yes to nearly every opportunity I had, and it was basically always been something I wanted to do. Mostly the selectivity comes into play just with what the deadline is and what else I'm already working on. So as I've become busier now, I've been forced to be pickier. Still, I'm amazed when I think about how things have worked out for me, where being selective has rarely come into play.
BAS: I had the chance to speak to filmmaker Michael Mohan, one of the co­writers of Save the Date. Can you tell me a bit about how you met him?
JB: Mike first contacted me about drawing a commission as a wedding gift for his wife, something I used to do when I had more time – a way to connect more closely to the people reading my autobiographical books especially. So I had drawn a short comic for Mike to give to his wife, when she got in touch with me about doing the same thing for him, having no idea that he had done that. I debated on saying no, wondering if it'd be weird for them to essentially give each other the same gift, but in the end decided to do it, and it was well worth it. After they exchanged the wedding gifts, they commissioned me to make one more drawing, of them opening the gifts and being surprised. After that we kept in touch, with Mike continuing to read my books, and sending me his films to watch.
BAS: How did Mohan become involved in the project?
JB: Mike had already read an earlier draft of Save The Date that someone passed along to him, and let me know how much he liked it. The film was all set to be shot in Chicago with director Joe Swanberg, but fell apart at the last minute. When Mike heard that, he got in touch with Jordan and let us know he would love to be, as he said, at the bottom of the list of potential directors. I knew Mike had a sensibility and personality similar to mine, and also respect for my work in comics and what Egan and I had created with the screenplay, and I let Jordan know I thought he'd be a good fit. Mike set about reworking the screenplay one more time, consulting with Egan and I, and I think I can say we were all pretty happy with the result.
BAS: What's something about Mohan you think people would be surprised to know?
JB: That's a tough one – I think Mike is a pretty straightforward, heart-on-his-sleeve kind of guy, so I'm not sure I can think of something too surprising… he really is nice, down to earth, and humble.
BAS: How did you come up with the storyline for Save the Date?
JB: The initial idea was based on my own life, and then I tried to mix in other things – my wife's relationship with her sister, for example. Egan and Mike brought their own perspectives, changing characters a lot from that initial start, and reshaping events so that much of what happens in the film never happened in my own situation, At the same time, there's a lot of little moments that are completely accurate – tiny exchanges, looks between two people, awkward exchanges – the film is totally true in emotional terms to me.
BAS: What was the most challenging aspect of making Save the Date?
JB: For me, the hardest part was just rethinking my ideas to make them fit to film, but at the same time that ended up being less of a challenge once Egan came on board, which was fairly early in the process. My involvement ended up being fairly easy and carefree, and I'm smart enough to realize how incredibly lucky I am to have the people who ended up working on the film, and have it turn out in a way that I'm so happy with.
BAS: What are you working on now?
JB: As always there's a ton of ideas I'm kicking around for the future, but the main projects I'm working on right now are more Star Wars – a follow up to Darth Vader and Son and Vader's Little Princess, and book two of my middle grade reader series Jedi Academy.
BAS: Were you concerned about disappointing fans of the original movies in any way when you began creating the Star Wars-themed graphic novels?
JB: I wasn't really concerned, no. I sort of figured that the book would really only reach the fans who would be interested, and any fan who would be disappointed would probably already be avoiding the book. I also knew that I was approaching the material as a fan myself, and wanted to be careful to be true to the spirit of the movies and my own experiences of them. So I created the books with a lot of love, and I think any fan of the movies will get that.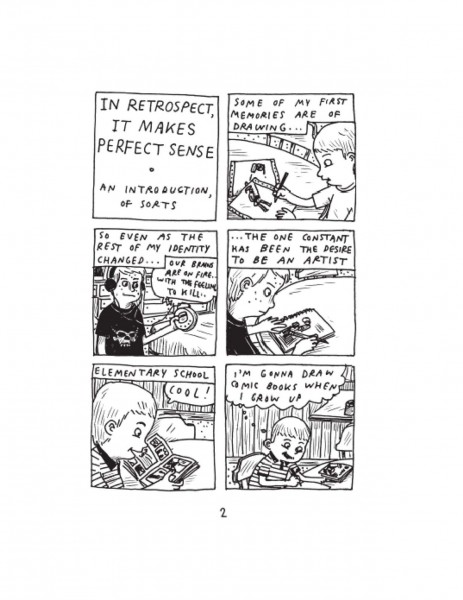 BAS: What are some dream projects or collaborations you'd like to take on in the future? 
JB: I'd like to write more for film – I'd be happy to work with Egan and Mike again on something, if our schedules ever align.  I have a lot of ideas for film, comics,  and children's books that I'd like to get to someday, and really my dream is to just be able to keep working on whatever projects I'm interested in at the time.