Guest post by Elizabeth Corr
There has certainly been no lack of political drama in Chicago over the past two years. Starting in November 2008, with the historical election of Barack Obama, a wave of excitement and pride swept through the city. This atmosphere proved to be short lived.
It wasn't long until Mayor Daley leased Chicago's parking meters to a private company in an attempt to account for a massive city budget deficit. The public was outraged over increased rates and the quickness with which the deal went down. A few months later, then-Governor Rod Blagojevich was indicted over his alleged attempt to sell Obama's soon-to-be-vacant Senate seat.
Things were going swimmingly, when Chicago was the first city eliminated from 2016 Olympic battle. And then, the icing on the cake for the Mayor's political legacy:  In June 2010, the U.S. Supreme Court officially overturned Chicago's handgun ban. Just prior to the ruling, an infuriated Daley, in a now infamous outburst, challenged a reporter's question regarding the effectiveness of the ban. Daley picked up a bayonet at the press conference from a slew of seized guns in Chicago police custody and said, "If I put this up your butt, you'll find out how effective it is." A mere three months later, Chicago was rocked by the announcement that Daley wouldn't be seeking a 7th term as Mayor of Chicago.
These political developments have provided excessive fodder for pundits, comedians and perhaps most interestingly, artists. In Chicago, Ray Noland has been pioneering the visual response with his fantastic graffiti art. Noland operates the Creative Rescue Organization (CRO) and works under the same name. During the 2008 election, he gained national attention with his street art campaign "Go Tell Mama!" His striking images appeared throughout Chicago streets and alleyways. The concept was particularly interesting because of its contemporary, urban aesthetic, which proudly defied traditional campaign propaganda and stood apart from the graffiti most of us are used to seeing.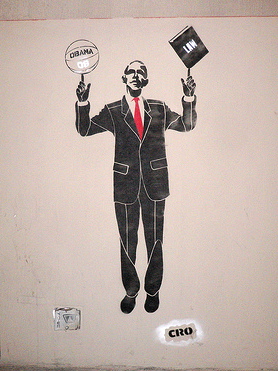 It was the beginning of a love affair with politics for CRO, who quickly followed up that series with "Run, Blago Run!" As the embattled former Governor of Illinois pleaded his case on national television, his image started popping up all over the Chicago's buildings and alleys and sure enough, CRO began garnering more and more attention.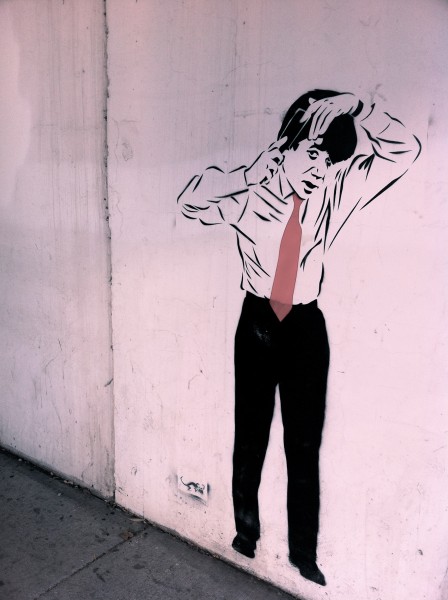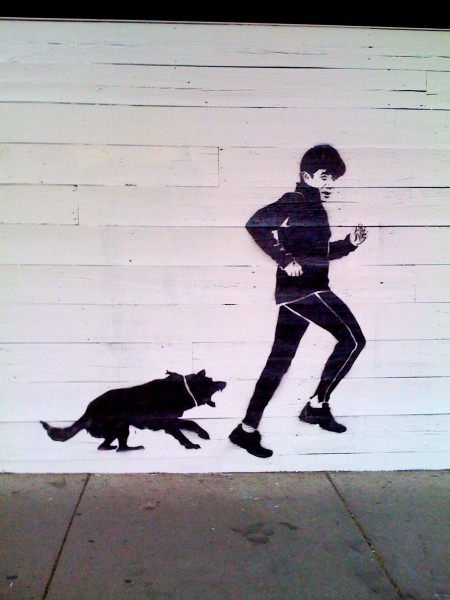 CRO hasn't skipped a beat, and since the announcement that Daley won't be running for reelection, graffiti images of the Mayor golfing have started to adorn vacant lots and alleyways throughout Chicago. The graffiti images of the Mayor are instantly recognizable, done in the same precise stenciling style as the Obama and Blagojevich pieces. The latest CRO endeavor, however, far surpasses the previous for one brilliant reason. Until now, CRO's imagery hasn't attempted to critique policy initiatives or laws. For the most part, the work has been lighthearted, satirical and just plain funny commentary on current political affairs.
CRO's Mayor Daley graffiti is particularly effective as street art not just for its aesthetic simplicity, but also because it takes one of the Mayor's signature political policies and flips it on its head, creating an added element of irony – the Mayor as graffiti – the Mayor, seemingly breaking the exact laws he enacted.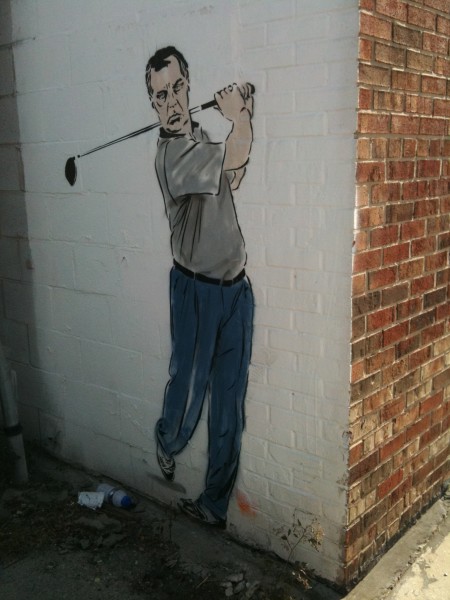 Way back in 1992, as an attempt to combat what was perceived as an increase of graffiti within the city, Chicago banned the sale of spray paint to private citizens within city limits. Sales were to be made only to government agencies, public utilities, and contractors. It wasn't until 1995 however, that the ban was actually enforced thanks to a ruling by Justice John Paul Stevens. A year after the spray paint ban was introduced, the Mayor established the Graffiti Blasters – a free graffiti removal service run by the Department of Streets & Sanitation, a service estimated to cost anywhere from 4 million to almost 8 million dollars annually.
In certain neighborhoods of the city, the Graffiti Blasters are ubiquitous. The trucks were all over my Wicker Park/Bucktown neighborhood as the 2016 Olympic committee was preparing its visit. Not a coincidence I'm sure. In fact, it's gotten to the point now where I can't even say the phrase "graffiti blasters" without finding myself humming along to an updated version of the Ghostbusters theme song.
If there's somethin' strange in your neighborhood
Who ya gonna call (graffiti blasters)
If it's somethin' weird an it won't look good
Who ya gonna call (graffiti blasters)
For those not familiar with one of the Mayor's oldest initiatives, it works like this. There are blaster trucks and paint trucks. The blasters remove graffiti from brick and stone surfaces, utilizing a pressurized mixture of baking soda and water to BLAST that graffiti away. The painters, in the most horrible color of brown paint imaginable, cover graffiti on metal, wood and even fabric based surfaces. According to the blaster website (where you can also watch blasters in action) "Graffiti is vandalism, it scars the community, hurts property values and diminishes our quality of life."
And this is the heart of the problem with the Mayor's initiative. Its infantile definition of graffiti makes no distinction between actual vandalism and street art. Instead, any act involving spray paint is automatically lumped into a category stripping it of conceptual value and artistic merit. It's been refreshing to see this argument played out in the streets of Chicago with the Mayor as primary subject. As I watch him golfing from my apartment, I often wonder if he's aware of his stenciled avatar, a legacy I'm sure he never expected to leave behind.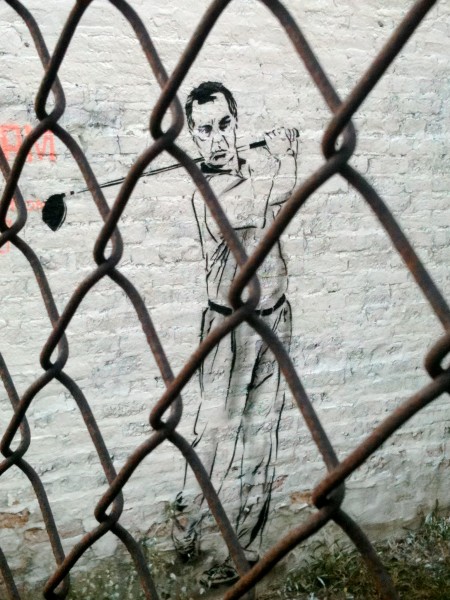 Perhaps due to the increasing popularity of his images, CRO is launching a new street endeavor called the [ASC] Project (check out the CRO's Tumblr page for details) – an approved stencil campaign. Business and property owners interested in transforming their surroundings can contact CRO and for no charge, they will transform your surroundings using stencils of their choosing. This is an interesting and unexpected partnership between property owners and graffiti artists, one that I hope might help Chicago's new Mayor better understand the distinction between graffiti as vandalism versus graffiti as street art.
As Chicago contemplates what a future without Daley might look like, CRO is already offering one such possibility….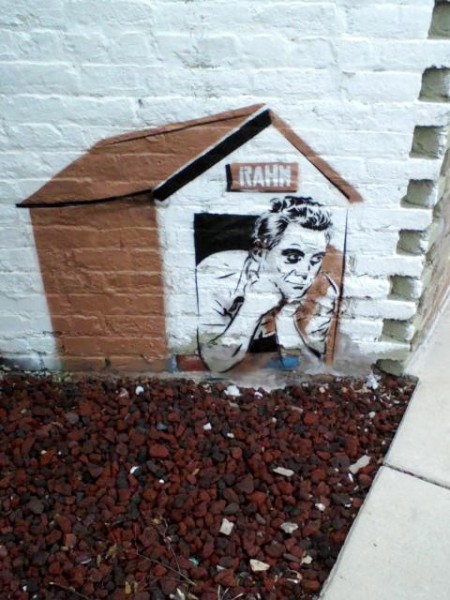 Elizabeth Corr received a bachelor's degree in Psychology and a master's degree in African Studies from the University of Illinois at Urbana-Champaign. Her graduate work focused on contemporary African art in post-apartheid South Africa. She lives in Chicago and works at NRDC, an environmental nonprofit.