Guest post by Julia V. Hendrickson
Notes on a Conversation.
With—John Corbett and Jim Dempsey (Founders and owners of Corbett vs. Dempsey)
In—the gallery, on the third floor, 1120 N. Ashland Ave., Chicago, IL
Commenced—on Thursday, February 17th, 2011, 10:15–11:20am
I am beginning this piece with a disclaimer: I'm writing about Corbett vs. Dempsey, and I work at Corbett vs. Dempsey. I work there, and I do so because it's a place that I am excited to walk in to in the morning. It's a place where I can be challenged, where I can always learn something new, and I'm conscious that my time there leaves me feeling energized and enthusiastic when I go home. I was not paid to write this, nor do I intend it to be a sales pitch for the gallery. However, it is one facet of my experience of the art world in Chicago, and I hope that my interview with John Corbett and Jim Dempsey can provide some useful insights into a gallery that seems to hold a treasured place in many Chicago hearts.
—————————————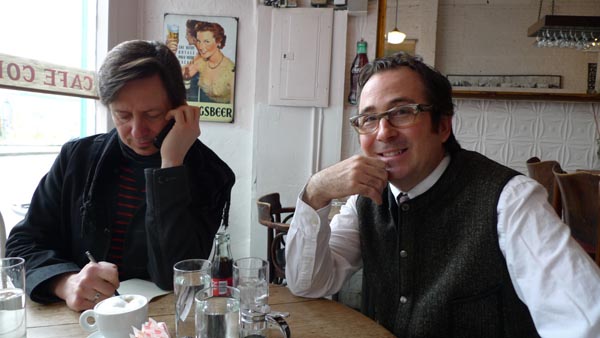 One of things I find most interesting about John Corbett and Jim Dempsey is that they both do so many other things outside of running a gallery. Jim is the house manager at the Gene Siskel Film Center, and has been involved with the Film Center for decades. John has taught at the School of the Art Institute (SAIC) since 1988, he is a freelance writer, he performs with his spouse Terri Kapsalis, and he is also immersed in the free jazz and experimental music scene. Their diverse interests allowed them to meet over a decade ago in 2000 (mutually enthusing over Sun Ra), and have continued to sustain the life and energy of the gallery since 2003.
JH: I think part of what drives the energy of the gallery, and both of your energies, has to do with all of the other things that you do outside of these walls. I have wondered if the gallery could even exist if you didn't do all of these other things, because you wouldn't be talking to the same kinds of people and be in the same kinds of settings. What projects are you working on right now that don't relate specifically to the gallery?
JD: "The Film Center has always been a great place to stay connected with students at the Art Institute who are all my box office workers. It's also a great place to tune in, it constantly gives me a great film education, and it's got an important mission. I've been a part of it for a long time, and I've always been proud of my association with it."
JH: You see a lot of interesting people at the Film Center—didn't you often run into Vivian Maier?
JD: "Yes, Vivian Maier, who has now got an exhibition at the Cultural Center, this unknown great photographer, she used to come to the Film Center all the time. She would come [to] the old space, at the Columbus building and I remember her from the way she dressed and her accent. She was an odd bird, and she would definitely come to receptions and occasionally pocket a few things from the food table for later, but she was always interesting to talk to. Occasionally she would have a vintage camera around her neck, and I just thought of her as a crazy old lady. I'd see her roaming around the streets and never gave a thought to her, and then these photos came out—I'd been following this discovery for the last few years, and saw some early self-portraits of her. It wasn't until I saw a later self-portrait of her on Chicago Tonight, and they played a cassette tape—she used to talk into cassette tapes—they played a clip and it was undeniably her voice. And I thought, 'You've got to be careful who you judge,' because this woman spent a lifetime out on the streets making obviously beautiful work and nobody knew about it."
JH: John, what else have you been up to?
JC: "I write a column in Downbeat magazine called 'Vinyl Freak' looking at LPs and other vinyl items that have never been reissued on CD. It gives me a forum to talk about record culture and there is a press that is interested in it. […] The book would be collected columns, and six or seven essays specifically on record culture. So they would be case studies, and the essays would be in-depth meditations on one aspect or another of vinyl culture—the idea of records as documents, as physical objects, the geekiness of record culture, stockpiling time—things that are all really interesting to me in terms of the way that people treat music."
JH: Aren't you working with J.C. Gabel on a couple of projects?
JC: "J.C. Gabel, who was one of the primary figures behind Stop Smiling magazine for fifteen years or so, he has a new imprint called Hat & Beard, which very nicely takes its title from an Eric Dolphy composition. He has a book project of mine that he's been shopping around for a while, and never got a satisfactory home for, but I think he's going to put it out in his first four books on Hat & Beard. It's actually something I found. It's a manuscript by an anonymous author from Chicago from 1931 or so: a dictionary of Chicago gangsters. It's written in this really fantastic sort of film noir style, the manuscript itself is hand-typewritten with marginal notes and edits, and the whole project is called Bullets for Dead Hoods. It's basically me editing and introducing this found document, […] bought at a second-hand store that was going out of business, […] probably seven years ago."
[…]
"I also teach one class a semester at SAIC, and I find that really rewarding. It provides me with a way to automatically be in touch with a younger artistic world, so I see where people are and what kinds of problems and thoughts they have."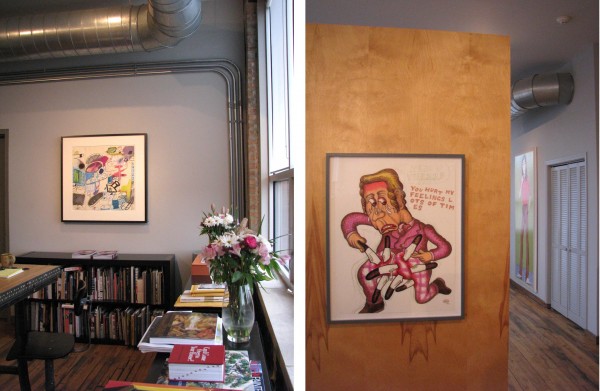 JH: John, I wondered if you'd thought about how your experiences learning here at the gallery have influenced your teaching at SAIC.
JC: "I think that the early years that I was [at the gallery], I ended up very much being a Chicago booster in my teaching. I found it affecting things. I am generally appalled at the way that art history works. I think the way that historiography works is very problematic. It works too much like the normal gallery world works, the way that it accumulates. The way that what we end up with is the sum total of people reading one another and crafting arguments based on what they've argued, rather than doing primary research and coming up with their own conclusions. If they were doing more of that, we'd end up with much richer, less narrow set of people that we're talking about, just very basically. You start talking to art historians about people who fall not so far from the tree, and they don't know who the hell you're talking about. And that's even true in specialist niches. I'm not knocking art historians, but I'm saying this is an artifact of the way that academics works.
When I was first here and realizing what a wealth of people there are in Chicago, that I'm teaching at an art school in Chicago and that those [Chicago] people don't get talked about, I couldn't contain myself. I would say the first four or five years that I was doing this and doing that, a lot of the energy I had, teaching-wise went into teaching classes, the basics of which were about region. Or trying to infiltrate some of the standing art history with a little bit of a sense of outrage that there wasn't more interest in a wider canon. One that would include as common knowledge what was going on, not only in Chicago, but in San Francisco, in LA, in London, in all of these major centers. Chicago is one of the major cities in the United States and just had no profile on a national scene: it just seemed ridiculous.
Now I feel like that is all part of who I am and what I do and I feel much less inclined to get on a soapbox about it. I just did, but in my teaching I don't feel like I'm as inclined to do that. Now I feel like what I do [at the gallery] is just part of what I do."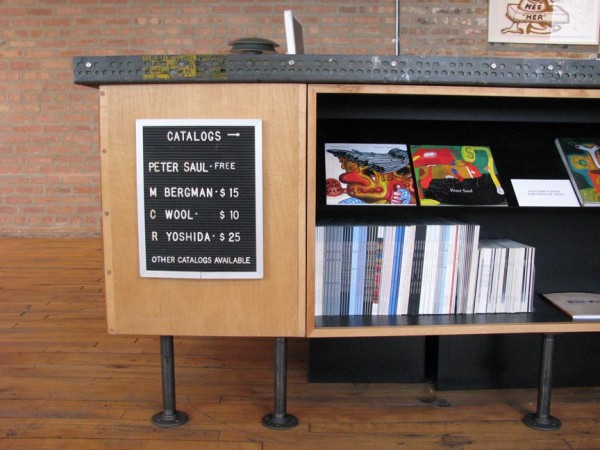 JH: You two are collaborators together, and I think that's a really unique thing about the way that you exist in the art world, because it's still a very masculine-centered world. Probably it's a lot easier for two men to run a gallery, rather than if you were two women doing it. But what I appreciate is that you're not 'monolithic mavericks,' running an institution that is one name only; you're doing it together, and I think it tempers the phallocentric nature of the business.
JD: "Some of the best moments are when I think I have a good idea and I'm talked out of it, or vice versa, and I'm happy to completely give up something that I thought was good. Every year I've learned that the more I let go of those things and not take ownership of them, that ultimately it makes for a better process."
JC: "You bring up the gender issue, and it's something that's important to us. It's important to us to keep up a diverse program. [In terms of collaborating], the problem with a lot of not-for-profits is that it's decision by committee. The problem with a lot of monolithic situations is that no one ever really questions, interrogates the decision-maker. If you can find a place that's in the middle, […] it's a trusting environment, a charmed circle, and I see it as a place where we can experiment all together and kick things around that we could never come up with [independently]."
JH: I like the idea of you two starting a business with virtually no gallery experience, and I wonder if you could talk about some important things that you've learned over the years about running a business in the art world. Was there a point that you remember thinking, 'Oh. We're a gallery now.'?
JC: "Neither of us was a business person, but we both were older when we got involved in it. We weren't inexperienced, and neither of us was inexperienced at dealing with managing people and managing events. So that part of it we kind of had under our belts. "
JD: "And we came at it from a free and improvised music background and art house cinema background. So we knew the challenges of people paying attention to what you were doing. Those kind of muscles were already in great shape. And we continued to do other things while we worked on this. Things that took the pressure of paying bills slightly off and we could really just work on presentation and not think about the economics of it. Ultimately it's a good strategy for any type of business."
[…]
JC: "We try to make decisions not always based on the bottom line, but really thinking about things as cumulative and long-term. All of the things that we do, they create a sense of goodwill. They create—to use a flogged-to-death term—'community' around a set of objects and ideas.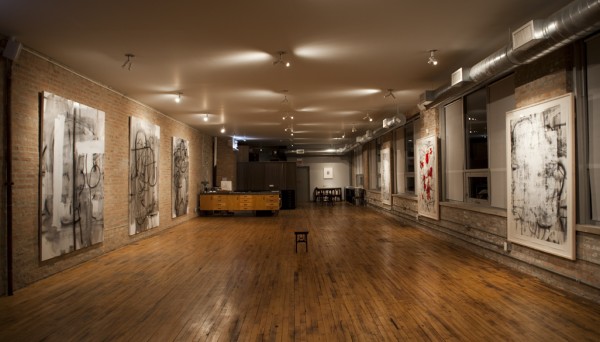 JH: In a 2006 Bad at Sports podcast, Jim, you described the gallery as a place where "we hang the work and tell the stories."  Is that still the case? What stories have you told recently?
JD: "That seems to have shifted slightly. Early on it was a combination of setting the stage and telling the stories. I think the stage somehow now is already addressed. There can be riskier things that can happen on the stage […] and we don't necessarily need to have people get to know us and our personalities before they get our jokes or the mission of the gallery."
JC: "Whatever we do, both Jim and I work by looking at context and thinking about if there is a narrative. […] We have a baseline interest in the history of Chicago and how the things that we're doing can relate to Chicago. I think we've become less reliant on that as an exclusive how-do-you-do."
[…]
"Also, the things that we do are different from what a lot of other gallerists do, which has ended up being a plus for us in some ways. Anything that sets you apart is attractive. The fact that we have musical connections here and we do musical events here, it is a novelty for some people in the art world. Very often the art world gets stuck about 1979 in terms of its musical interests. We end up bringing in some contemporary musicians, and we've got these film connections. It has ended up being really useful and really interesting."
[…]
"A really exciting story to tell, one that was unknown to almost everybody, including its participants in a way, is the secret history of the relationship between Christopher Wool and Joe McPhee. That was really something that came out of conversations. Literally just sitting down and talking, and realizing that Joe McPhee was not only somebody that we'd had this long-term relationship with, and adoration and support of (I re-issued four of his records on the Unheard Music series, in fact the first record we had on that series was Joe McPhee's Nation Time), realizing that was also something shared by Christopher. Then developing the entire program of having that exhibition around that story. What was gratifying was to realize that was no longer the side show to the whole thing, it ended up being really central to it, giving a title [Sound on Sound], this real centerpiece. It was really a magical thing for all of us involved. That whole experience of having the performance here, with the work, it created something much more than just having the work, or just having the performance, as great as those things would have been."
JD: "I think one interesting thing—I've been so deep in [preparing for shows] that I sort of felt that I know every aspect of that process—but Michelle Grabner wrote a nice review of the [Wool] show, and she started it off with a quotation. As I was reading it I instantly thought it was Christopher Wool talking about his paintings, and of course she set it up that way, and afterwards it's actually Joe McPhee talking about his music. It was exactly the same spirit that they had, making things, and the [same] struggle. That was a great moment for me, too, because it was a surprise and it really made me think that Joe and Christopher, in addition to being fans of each other, are speaking a similar language in how they make something and put it out there."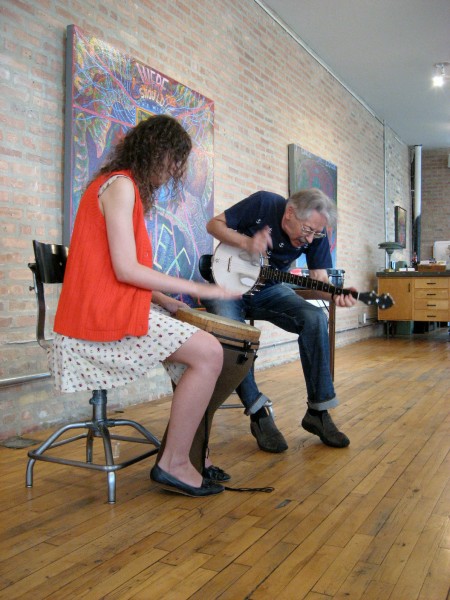 JC: "We end up talking with a lot of musicians about art, and with a lot of artists about music. We get caught in the crossfire, which is really exciting."
—————————————
If you're interested in joining the conversation about art or music this weekend, on Saturday, February 26th at 2:00pm Brian Labycz will be playing the solo synthesizer at the gallery, amidst Peter Saul's paintings and drawings (1120 N. Ashland, 3rd floor).
—————————————
ABOUT:
Julia V. Hendrickson is a native of eastern Ohio who lives and works as a visual artist, writer, and curator in Chicago, Illinois. In 2008 she graduated with a B.A. in Studio Art and a minor in English from The College of Wooster (Wooster, Ohio). Julia is currently the gallery manager at Corbett vs. Dempsey, as well as the office manager and design assistant for Ork Posters. She is a teaching assistant at the Marwen Foundation, an active member of the Chicago Printers Guild, and has taught at Spudnik Press. A freelance art critic and writer for Newcity, Julia also keeps a blog called The Enthusiast, a documentation of the daily things that inspire, intrigue, and inform. She is currently exhibiting at Anchor Graphics (Columbia College Chicago) in a solo show titled FANTASTIC STANZAS, on view through March 26th.