Guest Post by Carolyn Okomo
Middle of the Map Fest (Video)
Though Kansas City's Middle of the Map Fest ended this past May, the curators of the month-long salute to Midwest's arts scene are getting ready to make preparations for next year's activities. The festival, which just concluded its third year, is not-so-slowly but surely becoming an important cultural staple in the Kansas City-metropolitan area, the Midwestern United States, and arguably the nation. Its fusion of music, film and technology dialogs could make it Kansas City's answer to the SXSW Interactive Festival, though Nathan Reusch — one of the festival's founders — is caution in drawing too direct a comparison to the Austin event.
"I would say that we take plenty of notes from SXSW but I think we have tried to make it our own" says Reusch. "Things like spreading across multiple weekends have given each event a chance to have their own identity where SXSW has so much going on all at once."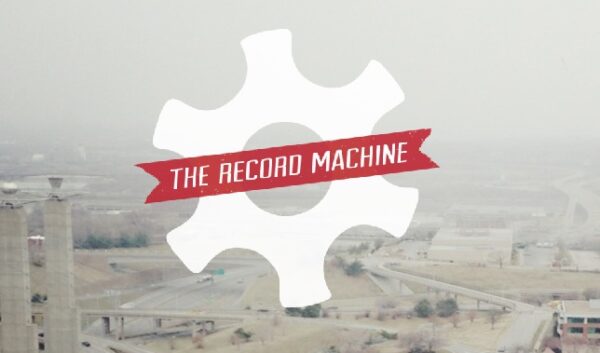 Reusch, along with Mike Russo and Richard Robinett, run The Record Machine — a Kansas City-based independent music label that's been releasing music for local and national acts since 2003. Since then they've assembled a heartily diverse ensemble of artists. At the heart of The Record Machine's mission is a desire to "make an organic community of artists and help connect them with listeners" according to the the label's website. The rapid growth of the Map Fest — co-curated along with local lifestyle and entertainment weekly Ink Magazine — certainly serves as a testament to the label's successes in realizing this objective. This year's three-day music fest was headlined by Brooklyn-based outfit Grizzly Bear and featured 140 local, regional and national bands; its first year just 50 bands were showcased, according to Reusch. In 2012 the Map Fest also added a 50-speaker Forum component to provide a platform for local creatives, entrepreneurs and community leaders to discuss topics like social connectivity, curating responsibility and sustainable wellness.
For the first time since premiering in 2011, the Map Fest incorporated a five-day film event that featured over 25 films.  The event kicked off on May 1 in Kansas City's Alamo Drafthouse with a screening of 1986 cult fantasy film Labyrinth (and opened with a David Bowie set by local band Soft Reeds). The film fest's curator, Kansas City-bread filmmaker Mark Harrison, says he began the process of identifying films for the event at the beginning of the year after being commissioned by The Record Machine to help out. The process included building a dream list of films the planners hoped to screen during the festival then individually pitching either the filmmakers and movie distribution companies.
"At the end of the day, I wanted to bring to films to Kansas City that I thought I could stand behind, that I personally wouldn't  think twice about paying $25 to go see, and that I felt offered unique voices to the festival that could be discussed by any and all who attended" says Harrison.
Harrison's own whimsically shot, self-described "factumentary", Vanuary, chronicled the month-long adventure of its star, Dave Drusky, as he completed challenges whilst living in a 1982 Volkswagen Vanagon Westfalia camper van during the month of January. Both Harrison and Druksy fielded questions about their experimental film post-screening to get a sense of whether it could work as a feature length film and were met with positive responses from the crowd.
"This was the first time people were watching it that didn't know me or didn't know Mark" says Drusky.  And, it's one thing to say 'hey, friends and family, sit down and watch this hour and a half movie of me and Mark just having fun and doing  all these activities in the van. But to have people not connected to us watch it and saying 'we want more' was kind of an inspirational moment."
The film's curatorial slant was unmistakably musical, Harrison admits (his band, Capybara, is a featured act on The Record Machine's label). Andrew Bird: Fever Year (2011, directed by Xan Aranda) — a film about about Chicago-based singer/songwriter Andrew Bird's return home after a year-long tour — was just one of the films showcased. Another music-doc featured was The Frames: In Deep Shade (2013, Conner Masterson), which chronicles the Irish band, The Frames, and their 20 year musical relationship;  A Band Called Death (2012, Mark Christopher Covino & Jeff Howlett) shed an incredibly gripping light into the lives of the newly-discovered first all-black punk rock band out of Detroit.
Other documentaries that screened included Eating Alabama (2012, Andrew Grace), which recounts young couple's attempt to eat only locally-grown food;  Mincraft: Story of Mojang (2012, Paul Owens) looks into the company behind the hugely popular virtual game. We Are Superman (2012, Kevin Bryce), expounded on the struggles of a group of Kansas City residents working feverishly to revitalize several blocks of a long-ignored urban neighborhood.
The film festival's roster also included a number of independent feature films. Campy martial arts-infused action Miami Connection (Y.M Kim, Woo-Sang Park, 1987) provided comedic nostalgia for fans of over-the-top 1980s action films. War Witch, a film that took its director Kim Nguyen a decade to complete, depicts the tragic pains faced regularly by African child soldiers through the story of 12 year-old Komona, played by a non-professional actress Rachel Mwanza and filmed over the course of a decade. Romantic drama Save the Date (2012, Michael Mohan) — a film loosely-based on the comics of graphic novelist  and co-writer Jeffrey Brown (read interview)– also screened.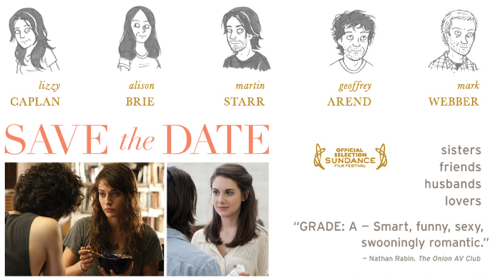 Reusch says he, Robinett and Russo are slowly easing into the planning process for next year, which patrons of the festival should undoubtedly appreciate given its steady successes throughout the years.
"We have always tried to keep evolving the event organically and not trying to push things out that don't seem to work" says Reusch. "We are still taking a little bit of a break and clear our heads start planning for next year."
The Map Fest was a much-appreciated introduction to region's cultural landscape for this author (an admitted newbie to the area). For years, The Record Machine and others (Golden Sound Records, the Kansas City Film Fest and the Midwest Music Foundation, to name some) have buttressed Kansas City's profile as a cultural hub amongst larger metropolitan regions like Chicago, Austin, and the obvious New York and Los Angeles. While one may not typically think to stay (or move ) to a place like Kansas City to make it big, the Map Fest could very well a spring board for many successful careers as it continues to expand and evolve in years to come.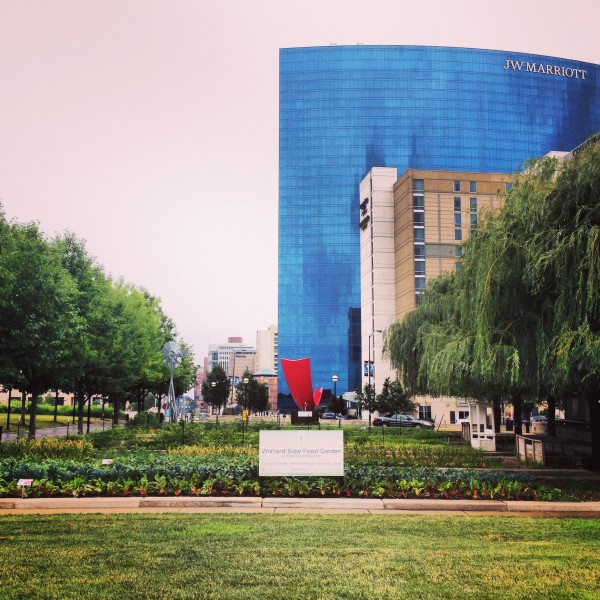 "The Cardinal" by designer Jeff Laramore behind the Wishard Slow Food Garden near Washington & West St.
Greetings from Indianapolis, friends!
I spent the majority of June rolling up the west coast, visiting other lovely cities, giving out poetry broadsides, and spreading Indpls lore and legend.
Here are a couple of things that I was really looking forward to that I missed in June:
June 1st Friday – We Buy White Albums by Rutherford Chang at iMOCA, Heather Stamenov, Stutz artist-in-residence: TA-DA! at Primary Gallery. And more!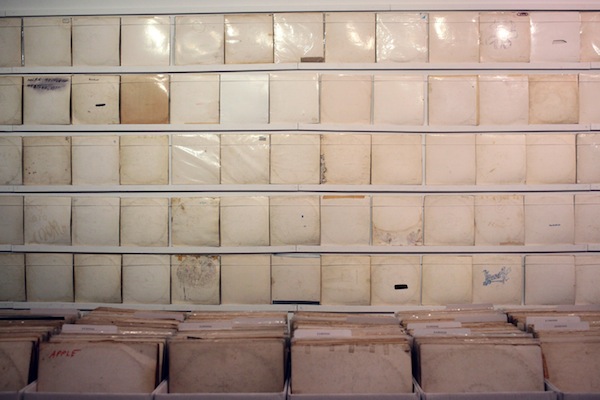 Image via Nuvo.net 

Independent Music and Arts Festival (IMAF)/ INDIEana Handicraft Exchange at the Harrison Center for the Arts: a yearly exchange of hand-made goods, visual art, and lots of music.
However, there were still plenty of artistic experiences to be had in the last two weeks of June.
When I arrived back to work at the Indianapolis Art Center I was greeted by a new exhibition called Under Construction that gets more fascinating every time I see it (which is every day). Giant wall "tapestries" made entirely out of duct tape by Garry Noland, paper cuttings of microscopic views of tree bark by Katie Vota, and objects handcrafted entirely out of pennies by Indianapolis-native Stacey Lee Webber.
The very next week at work I had an awesome experience of facilitating an Andy Goldsworthy inspired land art workshop with a group of about 80 urban teens. They made some seriously incredible stuff in just an hour and a half: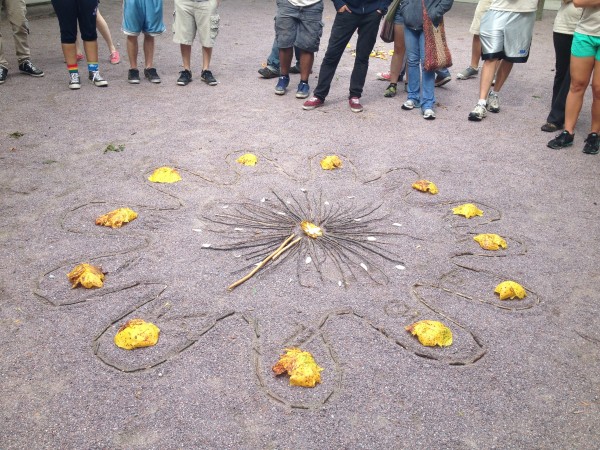 The following Saturday I joined a different group of teens on a public art bike tour in the city's center.
This got me thinking that I should share a few of my favorite pieces of public art here in Indy!
This project is part of the legacy project that came out of Indianapolis hosting the Super Bowl in 2012. In just a few months, 46 new murals went up all over the city. Here are some of my favorites: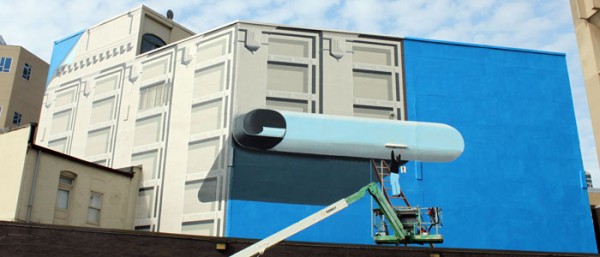 Image via Arts Council of Indianapolis
Indy's Always on A Roll by Michael Cooper at the intersection of Virgina, Maryland and Delaware.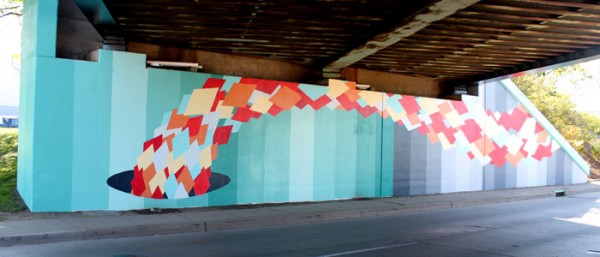 Image via Arts Council of Indianapolis
Trivergence by Carl Leck at the 10th st/Mass Ave gateway.
My absolute favorite mural in all of Indianapolis is a bit older though: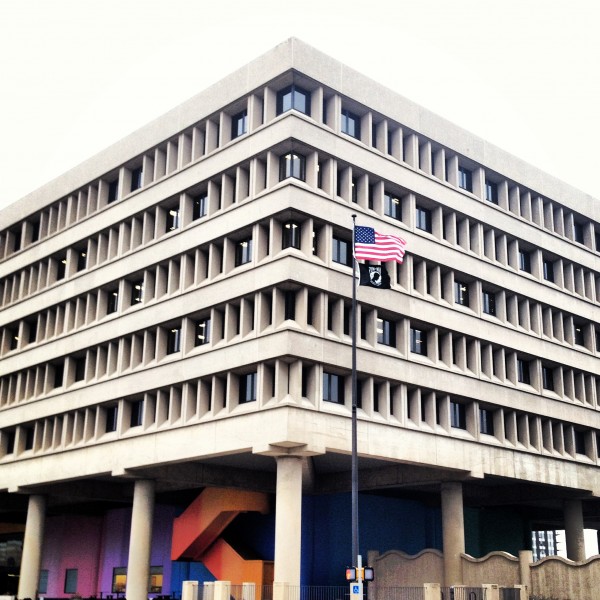 Color Fuses by Milton Glaser (1975) on the brutalist-inspired Minton-Capehart Federal Building. (corner of Penn and Michigan)
The mural is a giant rainbow that completely wraps the first story. The mural was recently restored to its former glory, and Glaser's vision completed with the addition of a fully functional system of lights for enhanced viewing after dark.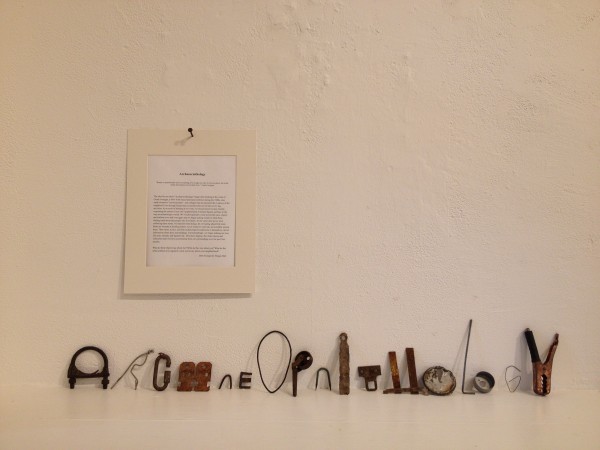 I stopped by my friend Megan Hart's show with Beth Eisinger, Archaeornithology – an Excavation of Urban Artifacts.
All of the objects and imagery included in the show were found in the neighborhood I live in on the near southeast side of Indianapolis – Fountain Square.
The show included Beth's incredible (and affordable) handmade bird's nests: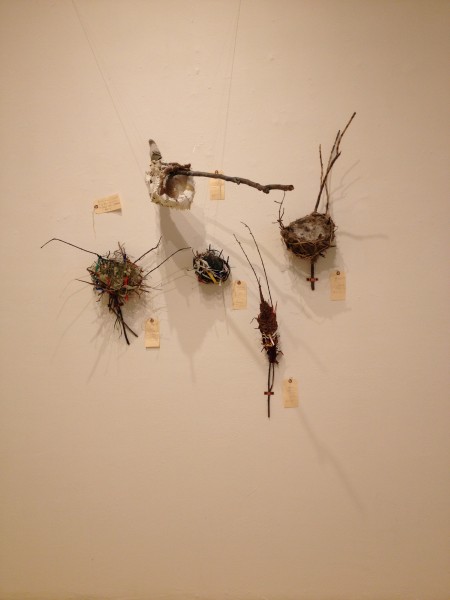 Including an enormous human-sized one: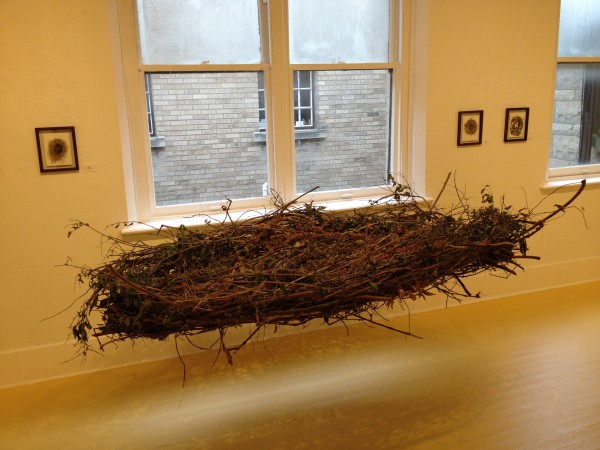 Megan is fascinated with the act of collecting and categorizing urban artifacts (trash) to learn about the secret lives of her neighbors: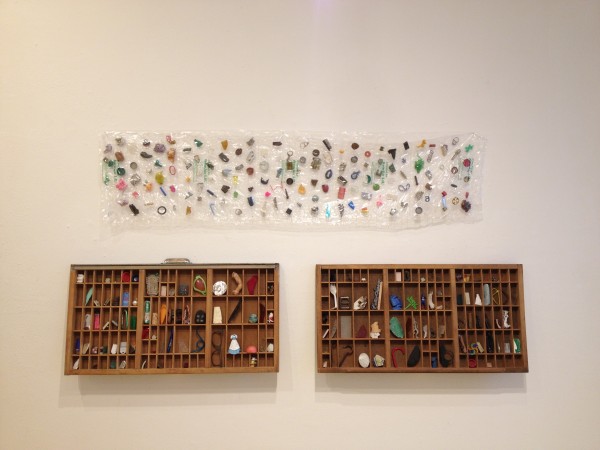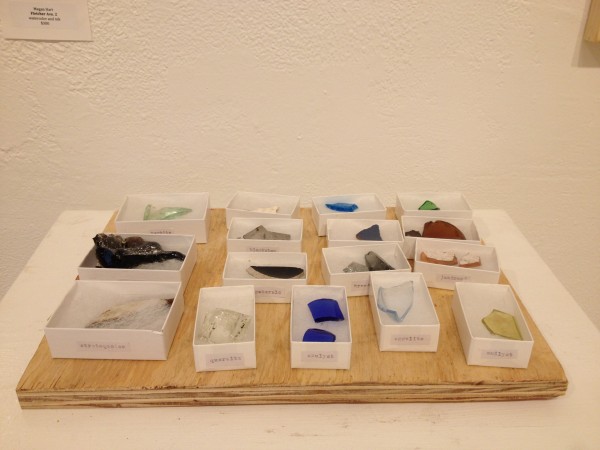 This show, coupled with homesickness from being out of town, has got me thinking a lot about art in Indianapolis, and how a lot of it celebrates our city, our neighborhoods, our streets, our friends.
And then, perfectly, this video about my favorite, wacky, DIY theater group, Know No Stranger was released! Video via our central Indiana contemporary art blog Sky Blue Window
Until next month!
Yrs,
Wendy
Wendy Lee Spacek is a poet who lives and works in Indianapolis, Indiana. She likes her city very much. She is a core volunteer of the Indianapolis Publishing Cooperative (Indy Pub Co-Op), publishes small editions of handmade books under the name Soft River and is an arts administrator at the Indianapolis Art Center. She will be posting monthly all summer long about her encounters with art, culture, creative experiences and resources in her city.
Guest Post by Robert Burnier
Whence this creation has come into being; whether it was made or not; he in the highest heaven is its surveyor. Surely he knows, or perhaps he knows not.
 From the Cosmology Hymn of the Rig Veda, c. 2000-1700 BCE
In the initial remarks of his recent lecture at Northwestern University[1], Tim Griffin[2] offered as foundational that there is no timeless or natural state for art. G. Roger Denison[3], in his polemic on the Museum of Modern Art's exhibition, Inventing Abstraction, employs a cyclical view of history to reel in some of the statements made by that exhibition's curators, suggesting that a "Re-" in front of the title would have gone a long way to calm his nerves[4]. Richard Kalina[5] writes of painting born from its perennial destruction, calling the prevalent cross sectioning and boundary exploration not a "stasis, but rather a new kind of growth."[6] These discussions can feel quite esoteric in a way, and yet if one pauses to consider the Sistine Chapel, for instance, and the way it sadly and slowly deteriorated over time, only to stir up an outrage at the garish colors produced after it's restoration, it becomes apparent that the public is constantly wrestling with its own expectations of art's duration. Additionally, Griffin spoke of a compressed, lossy JPEG image – seemingly complete and yet missing most of its original information – as a metaphor for spontaneous creation by art viewers and art historians; the radical necessity for reconstruction in the mind of someone observing. Denison takes a somewhat formalist approach as he draws comparisons among the art of differing eras, but nonetheless produces striking examples of historical syzygy, such as when he aligns the distant planets of Tantric and Supremacist painting two centuries apart or points out the sleek "modern" character of a Cycladic head carved perhaps 2,500 years ago. Kalina, for his part, seems compelled to fashion an outline of historical typologies as a kind of deck the artist can shuffle. He calls for "a non-judgmental format for viewing painting, and to allow for growth and expansion in a non-linear" way. From this I take the author to mean that nothing is entirely off limits form the standpoint of art history and time; that we should think instead terms of consolidation and dispersion, linking and decoupling. Similar to what I said in an earlier essay about craft[7], when I suggested we look for "usage before material specificity", we should look for the usage of an historical precedent in present terms. All of these views are reconstructions of history – welcome ones for me. Even as the historical lines they push against are themselves constructions, they revitalize an openness in how a single work of art endures. But this also points toward how contemporary art production can have access to this shifting ground as a generative source. As things have come back around in the past, they can do so again for us – the same but different. But this is not a merry-go-round, nor is it a journey toward some definite horizon. It is a widening field of activity expanding around us even as it reverberates and echoes the waves of the past. We can observe the freedom art and artists have had to loop and interact with, and not necessarily march through, history, even as they exist for the present and point toward the future.
Aside from any categories we might apply to our work, I like to think in terms of how things move; what dynamics keep us in the search, trying to create something, and trying to look critically at what is happening. There are aspects to life around the artist that change, like technology, politics, social tension and geography. These kinds of things morph at very different rates, some daily while others are fixed for millennia, which can create openings to explore as currents slide past each other. The artist can also look back and find a great deal unresolved, perhaps seeing something that was abandoned that could bear a lot more exploration. Alternately, in light of present circumstances, one can seek new meaning through an old, established idea. So in view of the approach to grappling with these issues as suggested by Kalina, I submit a few observations to consider in addition to the framing devices he offers us. I will touch on a few of these notions here, mainly focused on examples in painting and photography, knowing that they are only sketches or pointers toward a deeper investigation of these dynamics in future writing.
One steadfast source of change, as mentioned above, has been technological development. But as art observes this change it will necessarily index what came before as well. We can look far into the past, such as to the innovative oil painting of the 15th century Flemish master Jan van Eyck if we want to see the effects of a new technique or technology. He achieved a fidelity in surface and light that greatly added to the visual depth and presence of his paintings, enhancing the experience of story, idea and imagination in subjects that were themselves very well established. His Virgin of Canon van der Paele (1434–36) contains many of these innovations in the myriad facbrics, reflective surfaces and patterns, all bathed in a convincing light. And however utterly familiar the subject of Madonna and Child may have been, it is instructive how the artist could bring so much to it through his particular technique and vision, drawing it closer to the viewer than previously possible. And the cultural expectation to illustrate such subjects as the Passion of Christ, as exemplified in the Crucifixion and Last Judgement diptych (c. 1430–40) is fulfilled with new urgency and impact. The subject is reborn.
In our own day we can look at the work of an artist like Cory Arcangel, who has also tried to chisel something out of art history through new technological means. Although it got some mixed press, I thought there were a number of things to take from his 2011 Whitney exhibition, Pro Tools. There we saw a series of his Photoshop prints, which present themselves initially as machine-perfect geometric abstraction and color fields. On this level they speak plainly enough about modern art history, but more deeply they are conjugations of the character and limits of that digital medium on a most basic level. They seem to point toward a repeating, overarching pattern in history of medium exploration and technique discovery; of finding uses for them and expanding on the possibilities. It's also worth considering that many of the functions and terms in Photoshop are themselves borrowed from other traditions that just weren't worth changing, so they stayed in the software[8]. I've also always thought of Arcangel's work as both "fast" and "slow", liable to be obsolete in a year or sooner and yet connected to ideas that are truly glacial. An example would be his Paganini's Caprice No. 5. It is resolutely about the way change affects us as we strive to remember who we are or were. Paganini's romantic era composition is cut to ribbons by a software program that auto-tunes and selects the notes in the musical composition from a pool of amateur musical videos of mainly dudes on their couches playing guitar. The extremely short clips are reassembled back into a "song" of a decidedly estranged character.  This double-facing view – an old thing strained through new means – is essential to the way the work speaks of loss (or lossy-ness) through a distorted nostalgia, but also issues of the democratization of esthetics through a DIY impulse and the technological dispersion of information, for better or worse. In the end, as with van Eyck, our relationship to a cannon of art has been forever altered, but not erased.
Besides generally contrasting with something prior exists the possibility of flowing with and redirecting it. Chicago artist Jeremy Bolen takes a position that mimics some prevalent aspects of the post-industrial age but draws radically different conclusions. He essentially hijacks the scientific method, but collates his "research" in a way that produces more questions than answers. His alternate use of such a tried medium as photography – whereby, in his words, he makes it additive rather than subtractive – continues this line of redirection. The photographic plane is thus a base on which he accumulates rather than frames. Specifically, the images result from visiting the sites of particle accelerators throughout the world, and capturing echoes of the energy nearby on sensitive photochemical paper. It problematizes institutional research in the sense that it is not necessarily authorized (the scientists at the research facilities aren't always aware of where Bolen is working or what he's doing) and that the energy particles he's captured are arriving at locations they weren't ideally "meant" to go – they are traveling beyond their preferred targets, such as in the series 350 Feet Above the Large Hadron Collider #1-4. Bolen not only captures the stray energy in these images, but re-situates them in a displaced representation of the location by layering a "conventional" photo of the site beneath. This also causes a rift in how results are obtained, as his are essentially esthetic, provocative and non-deterministic. It is as if he's running behind the scientists plucking out the seams of everything they try to sew up. Bolen's work not only expands on the possibilities of photography with his alternative approaches of imprinting an image but broadens our thinking about empiricism and knowledge acquisition in general.
Even going back to using some method of photography to simply record something, we can see how photographic reproduction causes shifts in meaning based on its place in time. Veronese's The Wedding Feast at Cana (1563), now at the Louvre, Paris, was recently painstakingly scanned, duplicated, assembled and "reinstalled" in Palladio's refectory at the San Giorgio Monastery in Venice Italy, where it originated.  The reproduction of Veronese's work is an expression of a longtime trend to "originalize" works of art from the past, either by restoring them to a location nearer their origins, in proximity to their original people, or by providing a context for them to be seen in a way somehow closer to what people in their time might have. The process by which this was achieved is fascinating enough[9]; but almost like an artificial appendage, it is provocative to think about how it both provides a useful, educational facsimile even while it underscores loss and speaks to shifting world political power as a kind of prime mover.
If we're not necessarily breaking new ground all the time, does that mean we're only fussing with details and adding adornments, or is there another way to see this? As Kalina says, we can draw from these accumulations to "make new spaces between existing areas, [and] reference new subject matter as the world around us changes." I think of Robert Smithson's Spiral Jetty as a fitting metaphor. He was very interested in the idea of entropy, but instead of focusing on its implications of dissolution and decay, I prefer to think about how a crystal forms by the same process of lowering its energy state and yet arriving at more structure than before. The jetty seems to disintegrate slowly, even disappears and reappears as the water level changes, but it is in fact also accumulating accretions of salt crystals. To this we could add more earth, continuing the outward spiral. From any point we are free to look toward the center or toward the open sea, but we'd always be standing on its shore.
NOTES:
[1]Â 
Compression
, a lecture at Northwestern University, Block Museum of Art, organized by the Department of Art Theory and Practice, May 22, 2013
[2]Â Formerly the editor-in-chief of Artforum and currently the Executive Director and Chief Curator of The Kitchen, a non-profit, interdisciplinary arts organization.
[3]Â Critic, essayist, novelist and screen writer living in New York City who has written on art and culture for Art in America, Parkett, Artscribe International, Flash Art, Bijutsu Techo, Kunstlerhaus Bethanien, and numerous other international magazines and journals.
[4]Â Colonizing Abstraction: MoMA's Inventing Abstraction Show Denies Its Ancient Global Origins, http://www.huffingtonpost.com/g-roger-denson/colonizing-abstraction-mo_b_2683159.html
[5]Â Painter and critic. He is a Contributing Editor at Art in America and is represented by the Lennon, Weinberg Gallery in New York. He is Professor of Art at Fordham University, where he teaches art history and studio art.
[6]Â The Four Corners of Painting, The Brooklyn Rail, December, 2012, http://www.brooklynrail.org/2012/12/artseen/the-four-corners-of-painting
[7] http://badatsports.com/2013/catholic-craft/
[8] Operations like cropping were, of course, previously quite physical undertakings with scissors or blades. Masks were just physical barriers to light in a photochemical process, and layers were simply layered negatives. The list could go on.
[9] Bruno Latour and Adam Lowe, The Migration of the Aura, or How to Explore the Original through Its Facsimilies, Switching Codes: Thinking through Digital Technology in the Humanities and the Arts, ed. Thomas Bartscherer and Roderick Coover (University of Chicago Press, 2011), pp. 275-97
ROBERT BURNIER is an artist and writer who lives and works in Chicago. He is an MFA candidate in Painting and Drawing at The School of the Art Institute of Chicago and holds a B.S. in Computer Science from Shippensburg University of Pennsylvania. Recent exhibitions include The Horseless Carriage at Andrew Rafacz Gallery, Salon Zurcher at Galerie Zurcher, New York, the Evanston and Vicinity Biennial, curated by Shannon Stratton, and Some Dialogue, curated by Sarah Krepp and Doug Stapleton, at the Illinois State Museum, Chicago.
Over the past several years Spudnik Press has become a staple for Chicago printmakers and printmaking education. The space and scope of the project continues to grow; the latest expansion occurred about 6 months ago when an adjacent space in the Hubbard Street Lofts building became available. Spudnik director Angee Leonard jumped on this as an opportunity to have a more dedicated exhibition space and also to broaden the focus of the Printshop. This new space, called the Annex, is a center for writing, bookmaking, and self publishing. It houses a growing small press library, as well as a xerox machine, guillotine cutter, selectric typewriter (which I am a big fan of), hot foil stamper, long arm staplers, as well as a supply of bone folders, awls, linen thread, and other book binding materials. Programming includes writing, book making, paper making, and self publishing classes, as well as one day workshops, such as the zine making community workshop taught by Bad At Sports' own Caroline Picard this past week. I have also been lucky enough to be involved in teaching classes and workshops at the Annex since it opened last fall.
As more of a "clean" space than the printshop next door, the Annex also provides an expanded exhibition space for Spudnik. Curatorial duties rotate between Spudnik coordinators. The most recent show, Charlie Megna's Lost Tribes of Renni, which opened last night, was organized by Luke Daly – a Spudnik member who has been a driving force in developing the Annex. Luke co-edits and runs the small press arrow as aarow. I also co-teach a class with him at the Annex, which will be running for the third time in the fall. Charlie Megna is the director of the Peanut Gallery and a founding member of the Peanut Collective. His show will be up through early August.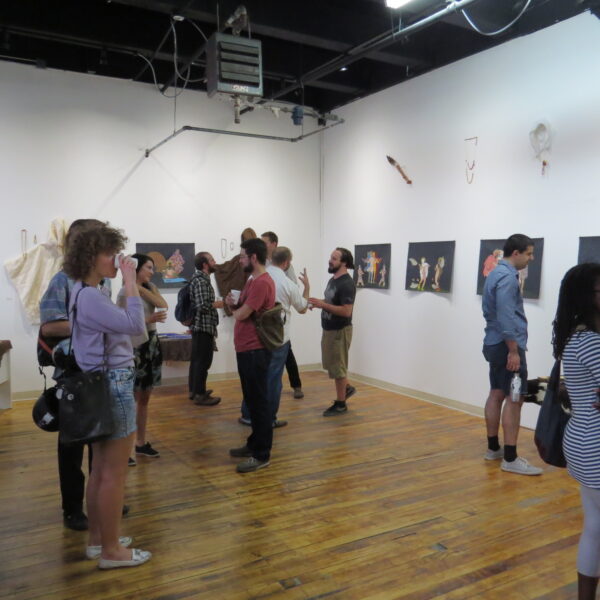 Over the week leading up Charlie's opening, Luke and I exchanged emails about his involvement with the Annex and the new show, which is the first in a series that creates small-press publications to accompany exhibited works.
Bailey Romaine: Tell me a little bit about how you came to be involved with Spudnik and about your current role there.
Luke Daly: I've been involved with Spudnik in one way or another since pretty early on, when it was still running out of Angee's apartment in Ukranian village. We started doing a reading series there which we then transplanted to the new space when Spudnik moved over to the Hubbard building. Around that time I took a screenprinting class and started printing there. Then last summer I approached Angee with the idea for what would become The Annex, which she and I developed together and worked on translating into reality. Now my title is Book and Writing Projects Coordinator. In this role I work with Angee on classes and programing, I recruit teachers, teach, design classes, and work to include Chicago's literary community in what we're doing and vice versa. Very recently a lot of my efforts have been directed towards programming for Printer's Ball which we're hosting at the end of July. I also curate our library of small press and artists books and curate three gallery shows per year, which like Charlie's show will all coincide with the making and publishing of an artist's book that somehow extends the work being shown in the gallery.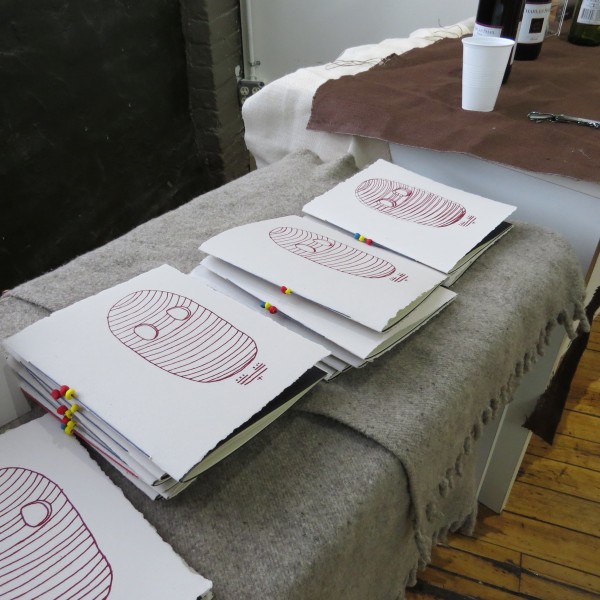 BR: It seems like things really came together in an amazing way with the Annex – it all happened within a really short time frame. There were classes being offered and a show up within a month if I remember correctly. The small press library is really exciting for me. It seems like what you are developing is pretty unique in Chicago, in terms of what is essentially a study collection in a small non-profit space for making.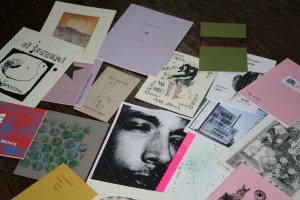 Can you talk a little bit about this curatorial project you have undertaken – both in terms of the library and the exhibitions? Did you know before seeing Charlie's work that you wanted to begin publishing books to accompany the gallery shows?
LD: Yeah, the library was an important part of thinking about what the Annex could be from the beginning. Mainly I was interested in having a physical home for small press, mostly very small-run and handmade literary books, since they are such an important part of the history of alternative or experimental writing in the US, and because they are so tactile and really need to be seen and held to be appreciated. Of course Chicago has places where similar things are available, like the Read/Write Library or Quimby's, but the focus of the collection that I was interested in putting together at the start was slightly different in that it sought to foreground small, specifically literary publishing from around the US.
Since I've been putting together the collection, my interests have developed in an organic way, and I'm finding myself interested in the intersection that seems to be going on between comics, zine and literary cultures. It seems like those categories are learning from one another, and people are doing work that very interestingly exist at the intersection of those different conversations. I'm finding myself more and more drawn to work of this nature. And always work that looks beautiful but that is made simply, since in the end we are a space that's built around making, and it's great to be able to have this collection here to show students or to consult for ideas when getting started on a project.
As for the Book Arts Series, which is the series of exhibitions that I curate at the Annex, my idea to pair gallery shows with the publication of artists' books started to come together while I was researching people who I thought would work well to show here. I knew that I was interested in work that was operating at the intersections of language work and visual work, but often the work that I was encountering that extended this as it's main goal or focus never totally hit home for me, and I started to feel that placing work at a crossroads of visual and literary could very well be a slightly more involved and creative curatorial task than just seeking and finding artists whose work, as is, fit with my own conceptual goals of the Annex.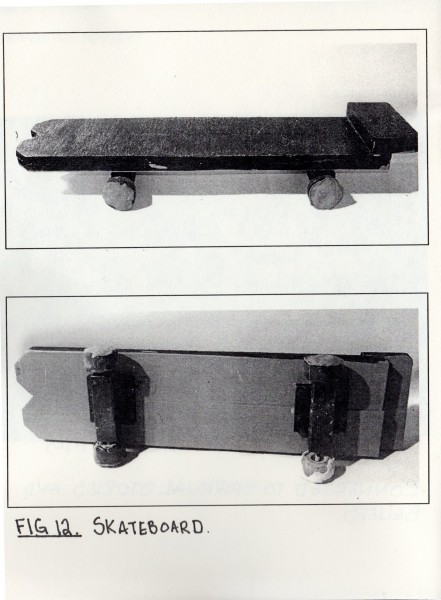 When I had the idea of doing a show of Charlie's work, I think that these ideas clicked, and that his work helped me to articulate to myself what I was interested in doing curatorially. Charlie was really excited about creating physical artifacts, tools, symbols, alphabets, and languages for his Renni tribes, and I was really excited about the idea of creating real material things that have been retrieved from an imaginary, non-physical world.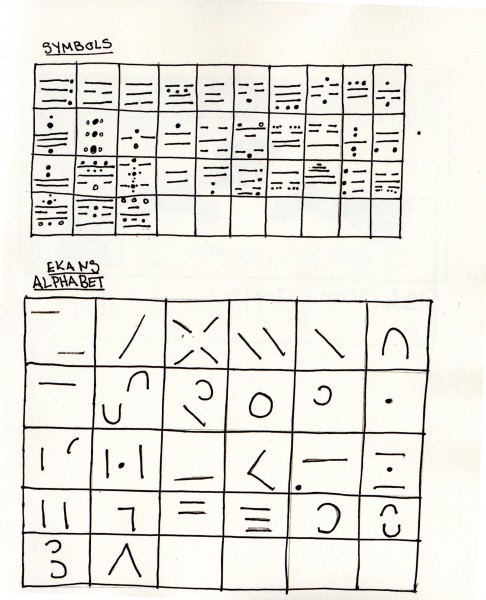 It reminded me of one of my favorite writers Henri Michaux, who wrote factual travel writings of impossible imaginary places, or Borges, who wrote intensely detailed scholarly accounts of imaginary texts, places, histories, people, feuds, conversations, etc. I knew that a book would further the fact of having Charlie's work existing in multiple planes, and it was exciting for me to locate his work in a place of literary imagination, and have that translation become the intersection that was being investigated or developed. I'm interested in doing books that extend the work that's being shown somehow, or that translates it across, so that it exists in a different kind of space (physical space to literary/imaginary space perhaps), or in multiple spaces simultaneously. I like the way that the books can live on and grow and complement and play off of one another in a series after the shows are long past.
Guest post by Eric Asboe
As a curatorial department of the Minneapolis Institute of Arts (MIA), the Minnesota Artist Exhibition Program (MAEP) is "dedicated to exhibiting and supporting artists living and working in the state of Minnesota." Begun in 1975, the MAEP is a creative partnership with the MIA, "founded by a group of regional artists interested in creating an innovative exhibition and programming space. What began as a year-long agreement has been extended into an ongoing relationship between the Minnesota artist community and the MIA." An elected artist panel representing the Minnesota arts communities selects artists from open calls who exhibit within the MIA. The MAEP is an integral part of the MIA's broader efforts to "enrich the community through art," expanding beyond its galleries, engaging audiences in ways that effectively utilize the assets and strengths of its collection, while continuing to question how that collection can continue to enrich Minnesota artists and visitors in new ways.
The current MAEP exhibitions embody and transform the MIA. In Posture is Everything, Kristina Estell gathers sheets of molded silicone across a series of armatures. The armatures seem to have caught the simultaneously flowing and visibly weighted silicone, interrupting the gravity we suddenly notice more intensely. On closer inspection, the silicone has been carefully layered, applied, and manipulated by hand. The manipulations of the silicone and the human presence they reveal disguise the fact that the area of the silicone sheets is exactly the area of the MAEP gallery floor. Estell subtly lures the visitor into examining the materiality of the museum, inviting visitors to question what they see and the environment in which they stand.
Allen Brewer's exhibition Verbatim begins with the MIA collection. MIA visitors were asked to describe any piece they liked in any way they chose. From those descriptions, Brewer created new works, continuing to solicit and create work throughout the exhibition. The conceptual framework leaves Brewer a lot of room, but, in the exhibition brochure, Brewer explains he preferred to work with "objective definitions, like 'round' or 'black.' Words such as 'beautiful' are unusable to me." Brewer playfully uses the objective words of the descriptions to create his works (e.g. the colorfield of "Lucretia" described by Sandra, the rigid shapes of "Linear Still Life" described by Katie Van Zante). The new works are diverse, and they show Brewer's close attention to the nuances of language and the difficulties of defining aesthetic experiences.
With the MAEP, the MIA asks and lives through difficult questions about the role of artists and arts institutions in the future of the arts. How can contemporary artists work within encyclopedic art museums? Through nearly forty years and over 180 MAEP exhibitions, the MIA has been dedicated to exploring the role it can play in enabling contemporary art, and it continues to be a unique model to other institutions. With free admission year round and a broad appeal through its collection and programming, the MIA exposes its many visitors of all ages and locations to vital contemporary Minnesota artists.
What role can local artists play in a global museum? MAEP exhibitions are far more than an experiment in thinking locally. The exhibitions are dynamic; the artwork is excellent. More importantly, by supporting an artistic peer selection process, the MIA helps build a community of artists, specifically in and with the resources of a major art institution. Alan Brewer's exhibition pushes the question further. When I met with him in his MAEP exhibition, he stopped to talk to a visitor, an older man who had written a description. They discussed his description and possibilities for recreations. The transformative power of that individual conversation and the way Brewer has empowered all visitors to the MIA to engage in completely new ways with its collection demonstrates to me the MIA is not just asking how local artists can shape a global museum, but, more importantly, how we can all shape the museums of the future.
Last weekend, Northern Spark, the all-night arts festival of the Twin Cities, a project of Northern Lights.mn, happened for the third time, 8:58pm Saturday to 5:26am Sunday. It is impossible to capture a festival with over 75 projects, multiple sites, and tens of thousands of visitors in words that do all of it justice. Those visitors, however, were the key to and strength of the festival as a whole. The visitors were the focus of many of the projects, whether learning (screen printing, letter press, cyanotype), watching performances (music, dance), or engaging on an individual level (soundscapes, sunrise boat cruises). Inside and around the Saint Paul Union Depot, the projects called for more than passing engagement. Hundreds of people joined in Christian Jankowski's Rooftop Routine, twirling hula-hoops. I saw multiple families camped at astronaut spirit academy, with children asking to return late into the night. The air in the Union Depot Carriage Way, under the main plaza, was thick with spray paint from hundreds of taggers participating in Underpass of the Eyes of Freedom. Piotr Szyhalski's sprawling, riveting performance, Permanent Labor, invited visitors to celebrate "the round of production and consumption, of making and using." The layered movements and labors of the performance, washed by waves of drumming and singing, were a stark contrast to the people waiting in the long lines for the nearby beer tent and food trucks for a different type of labor.
In a very different context than the MAEP, Northern Spark asks difficult questions about the place of arts festivals in the landscape of contemporary art. How can an arts festival shape our vision of a city? Northern Spark was focused in the Lowertown area of downtown Saint Paul, an arts and cultural district with artist live/work spaces, Saint Paul's only art museum, and the Mississippi River hidden on its border. The creation of a new light rail line through the middle of Lowertown, increased focus on creative placemaking, and the expectations of what an influx of the creative class might do are shining a bright light on Lowertown and downtown Saint Paul generally. Northern Spark's presence in Lowertown this year, the number of people who attended, and the economic impact of those visitors will continue to play a part in the area's ongoing development.
Can an arts festival attract more than artists, and can an all-night festival move past spectacle to real engagement? In the largest single event of the festival, thousands of people stood in the rain to watch Chris Larson's Celebration/Love/Loss, a full-size replica of a Saint Paul home designed by Marcel Breuer burned to the ground. The house was simple and beautiful, and the burn was awe-inspiring. (This video shows the house before burning, but this video shows how massive the flames really were.) Some of the quieter, less explosive projects, however, truly showed the possibilities of engagement. The all-night Singing From the Sacred Harp, organized by the Minnesota State Sacred Harp Singing Convention, brought home for me just how the conversations, techniques, and tools of an all-night festival can last far beyond that night. Sacred Harp Singing encourages people of all experience levels to sit together in an inward facing square to sing four part hymns and anthems without practice. During my first Sacred Harp experience, I was told that the most important part of singing is how loudly you sing. Since that time, I have rarely experienced anything as moving as a room full of strangers singing together perfectly, and the power of Singing From the Sacred Harp at Northern Spark was similarly palpable. The square of chairs was tucked away at the top of a little used stairway; all of the passers-by stopped in rapt attention at the beautiful music, the wide smiles, and the astonished laughter of the singers, even though it was well past 3am.
Eric Asboe is an artist, writer, and cultural worker. Asboe's creative works prioritize process over product and explore the boundary between practice as improvement and practice as way of life. Forthcoming projects include ubuwebtopten.com. He currently lives and works in Minneapolis.