Guest post by Lise Haller Baggesen
On Saturday September 19th –while Chicago was hustling and bustling with all things EXPO—the Suburban opened the doors to its new Milwaukee location.
Housed in a former Laundromat, which had suffered a total burnout leaving only the carrying structures intact, the property has had a gut rehab –Brad Killam style—and presents as a fresh, clean slate. Above the gallery is an apartment inhabited by de-facto gallery directors Alexander Herzog and Rosa DiSalvo-Herzog, who will be running the daily business of the space, as well as welcoming out-of-town artists in the residency upstairs.
With its large storefront right onto a street corner, the new Suburban vibe is less that of a backyard BBQ (sadly, Brad's brats were missing), and more of a Mom & Pop Store of all things minimalist.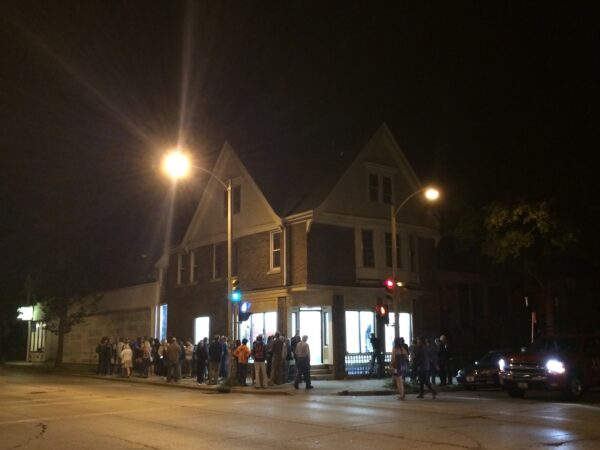 The works on show, by Scottish artist Fergus Feehily, were just that, as well as ethereal, elusive and cheeky –and as Michelle Grabner points out "not at all generous in the way Milwaukee is used to."
This was more than made up for in the in the adjoining alleyway, which doubled as the site of Paul Drucke's contribution to the 2015 Terrain Biennial –a pleasant reminder that you can take the Suburban out of Oak park, but you cannot take Oak Park out of the Suburban. A plaque on the wall baptized it "Angelique Roy's Passage" and the narrow space set the perfectly confined stage for a "Gangway Performance" featuring Joshua Bellow, Margaret Noodin and Laura Hunter.
As the evening progressed, and police officers on bicycles watched from across the street, a mellow crowd of art students and weathered Suburbanites co-mingled outdoors and in, and neighbors stopped by to say hello. After hours the party proceeded to a nearby craft brewery featuring a homegrown DJ, organized by Green Gallery's John Ripenhoff, but this was where I had to hit the road back to Chicago.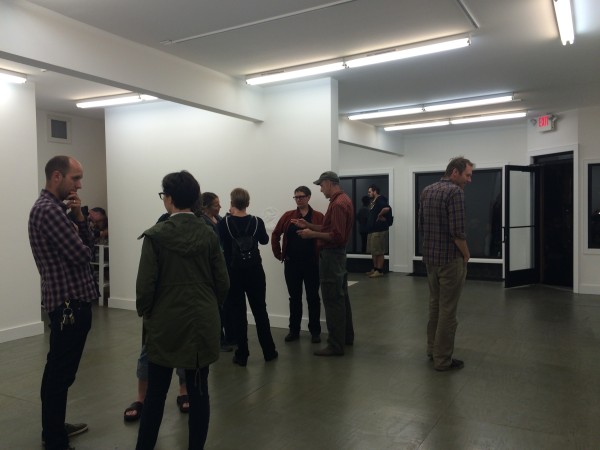 I made it home before midnight, and to all of you Chicagoans who used to be Suburban regulars, I will say: it is really not that far. So, if the post EXPO blues is getting you down, head North for some Suburban Saturday Night Fever!