Guest post by Lise McKean
The Lightning Testimonies, Amar Kanwar (2007)
Art Institute of Chicago (Modern Wing, Gallery 291)
Extended until April 20, 2014

      All photographs courtesy of the Art Institute of Chicago
Lucky for us in Chicago that Amar Kanwar is no stranger to our city. The Renaissance Society brought him in 2003 after Susanne Ghez, a co-curator of Documenta 11 saw his video, A Season Outside. Like gallery goers here and elsewhere, I've been following Kanwar since his Documenta/Ren debut. The sensuality and aesthetics of his work intrigue me—along with the heart-mind that infuses it. A longue durée of roaming, studying, and living in India further whets my interest in Kanwar. The past four months I've shared this interest with over a dozen friends, arranging visits to see and talk together about The Lightning Testimonies along with Artemisia Gentileschi's formidable painting, Judith and Holofernes.
The Lightning Testimonies premiered in 2007 at Documenta 12, and since then it's traveled the world. The School of the Art Institute invited Kanwar to Chicago in 2011 for its visiting artist series. He spoke about and screened past and current work, including Torn Pages and The Sovereign Forest, an ongoing multimedia, multi-site project. The Chicago opening of The Lightning Testimonies in October 2013 coincided with Kanwar's delivery of the AIC's annual Speyer memorial lecture on contemporary art. In the lecture, Kanwar talked about the big ideas he explores through his work—the passage of time, loss, and memory, violence and its celebrations, crime, evidence, and the struggle for justice, nationalist ideology and state power, poetry and prophecy.
Viewers get to The Lightning Testimonies after walking through two bright white galleries adorned with colorful artwork. White text on a black wall announces Kanwar's piece. A dark passageway gives eyes a moment to adjust to the dim light. The Lightning Testimonies is a multi-channel video installation: 8 screens on 4 walls; color and black and white synchronized video running 33.5 minutes in a loop. As director, Kanwar gets the lion's share of credit, but he's quick to acknowledge editor Sameera Jain and Ranjan Palit on camera for their integral artistic role as long-time collaborators, and the whole crew's invaluable contributions.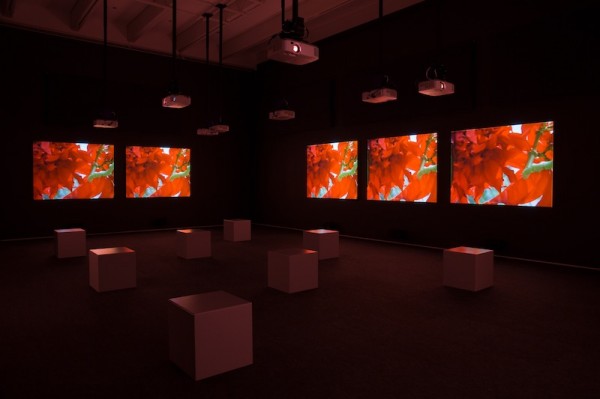 The work begins with the title page appearing on all 8 screens. Briefly a succession of images fills all the screens simultaneously. Then a dispersal begins as different images begin to fill each screen that consist of written fragments of spoken memories accompanied by footage, photos, drawings, and archival images that connect each memory to a specific place on the Indian subcontinent and to a particular moment in historical time. This multiplicity across the screens continues for about 20 minutes until 7 screens go black and the screen that's alone on its wall remains live until the title shot fills all the screens again.
Even if eyes can adjust quickly to the change in light, most viewers—myself repeatedly one of them—can't prepare for what's to come. Odds are that the viewer enters at a point when different images fill 8 screens. The absence of an obvious pathway through this work understandably challenges and unsettles those viewers who prefer more certainty about where to direct their attention.
The video formally starts with a short, stark black-and-white title shot. Soon comes the only time we hear Kanwar's voice. It asks, "How to remember what remains and what gets submerged?" The 8 screens blossom into a blaze of red poinsettias. Later the screens fill with yellow sunlight ricocheting off the window of a moving train. Throughout the work beautiful images come and go. We see the lush green perpendiculars of rice terraces, dewdrops balanced on tips of grass, delicate faces of young women. But it doesn't take long to realize the picture isn't pretty. Iconic black and white images of the subcontinent's 1947 partition appear that show a moving train bulging with people and a woman being pulled to its packed roof. On another rooftop under laundry fluttering in the breeze, a baby lies on its back vulnerable and alone.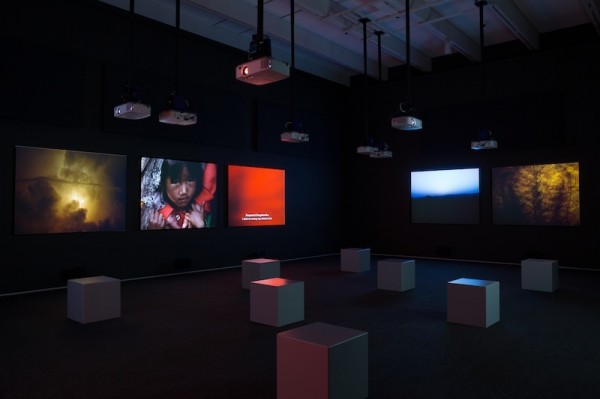 The Lightning Testimonies doesn't show images of the violence it interrogates. By citing the words of those who remember it, the work evokes a hair-raising sense of its pervasiveness, its lurking menace, and the impunity which it normally meets. For example, one witness rues, "Do you wonder sometimes how the attackers could be so brutal? Why they were not afraid. Is it because they knew they would not be prosecuted?" Images and words continue to pile up like survivors on a lifeboat. Just when you think it's going to capsize, the different fragments of testimony on the eight screens start here and there to loop. If the viewer stays long enough, this screen-specific looping might allay anxiety about where to look and how much is being missed.
Whether it's the rhythm of the rails, crackling fire, temple bells, plaintive saxophone, or the blood-curdling cry  "Ma Ho" by acclaimed Manipuri actor Sabitri Heisnam as she rehearses and then performs her role in Draupadi, the sound design by Suresh Rajamani gives viewers an aural guide. It also complements and augments the work's visual effects. Perhaps taking a cue from the grieving mother who wove an exquisite pattern into cloth to commemorate her daughter and the long struggle to bring her murderer to justice, image and sound are the warp and woof of The Lightning Testimonies.
The climax of the work—and this is where it especially resonates with the sure hand of Gentileschi and her Judith—is the unforgettable footage of women protesting in the northeastern state of Manipur outside the gate to an Assam Rifles post. The protest echoes Draupadi as the women decry both this paramilitary force for decades of criminal violence and the government of India that abets the violence by refusing to repeal the Armed Forces Special Powers Act (1958). The protesting women's rage and pain are even more searing than Indian poets and singers in Kanwar's Night of Prophecy (2003).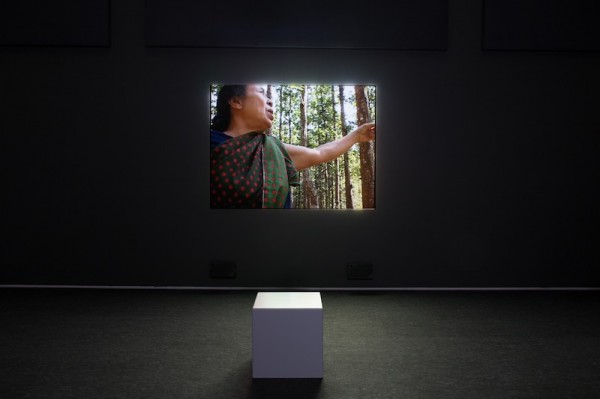 With so many ways for voices of authority to stake questionable claims—for example the Assam Rifles official website asserting, "Through its long deployment in the tribal belt, the Assam Rifles have developed an ethos primarily based on friendship with the people of the region and have earned their complete confidence," or a pair of Columbia University professors rehabilitating the reputation of Prime Minister hopeful Narendra Modi in a letter to the Economist—I'm immensely grateful for Kanwar's deliberative work. As for the relevance of the professors' letter, Kanwar attributes the explorations resulting in The Lightning Testimonies to his shock at the celebratory response to the rampage of rape, mutilation, and murder in Gujarat that took place in 2002 when Modi led the state as Chief Minister.
I've heard viewers criticize the work for being overwhelming, hard to follow, didactic, too documentary-like, and other aesthetic missteps. In the end our aesthetic judgments are based on our experiences of the work and mine tell me that this finely tuned team of artists succeeded in its complex, heart-rending, and hugely humane endeavor. Although Kanwar said he wasn't familiar with Images in Spite of All, The Lightning Testimonies breathes life into Didi-Huberman's ideas about montage and makes them visible: "Montage is valuable only when it doesn't hasten to conclude or to close: it is valuable when it opens up our apprehension of history and makes it more complex, not when it falsely schematizes; when it gives us access to the singularities of time and hence to its essential multiplicity."
In his Speyer lecture, Kanwar asked, "If a crime continues to occur is it invisible?" And later he said, "It does come down to the way we look, how we perceive." His montage starts in South Asia yet reaches wherever there are men and women. Whether we see them or not, signs of violence against women and girls are all around us all the time. Maybe it's a glamorous ingenue's broken forearm or a woman on Michigan Avenue the night of the Speyer lecture begging for bus fare to a domestic violence shelter. Or just possibly it's a trucking company forgoing its usual leprechaun and shamrocks to create a mobile testimonial: a truck painted the funereal purple of domestic violence awareness crawling through morning rush hour on the Eisenhower Expressway. It announces the name of a woman and the year of her birth and death. It's a co-worker's lament and memorial for his cherished friend whose life was stolen by a murderous man.
Lise McKean is a social anthropologist and writer based in Chicago. In 2013 she curated StreamLines, an exhibition of contemporary art in Vaishali, India.