Guest Post by Julia V. Hendrickson
Notes on a Conversation.
With—Mark Pascale (Curator in the Dept. of Prints & Drawings at the Art Institute of Chicago, and Adjunct Professor of Printmedia at SAIC)
In—the Prints & Drawings Study Center
Commenced—on Thursday, February 17th, 2011, 4:15–5:15pm
"It's a dream job. It's great place to work. Even under great pressure, when people are at their most difficult, there is still a lot of love here and we all know it. We give each other a lot of space, there's a tremendous amount of collaboration here, and people supporting everybody when they need the support. I think it's very collegial."
— Mark Pascale
In a curious corner of the Art Institute, beyond the lions and the ticket booth; through the first gallery on your left (filled, currently, with John Marin's watercolors); past a large glass door; and adjoining a nondescript long white hallway, lies a room full of natural light and very busy people. Dedicated to public inquiry, the Goldman Study Center in the department of Prints & Drawings is one of this city's quiet treasures. Open to the public by appointment only (available to classes in the mornings and to individual researchers in the afternoons), since the 1940s the department has made available over 80,000 works on paper that are part of the Art Institute's collection. Staffed by hard-working curators, collection managers, researchers, administrators, and interns (as well as its own paper conservation department), the study center serves as a visual library; it offers the rare opportunity to examine a small selection of major works of art in person, without the distancing of glass or display.
However, one of the most invaluable treasures in Prints & Drawings is not actually on paper. It is, in fact, embodied in a living, breathing, wise-cracking person: a curator, Mark Pascale, who is celebrating his 30th year with the Art Institute. I first knocked on Mark's door over two years ago, armed with the brazen assumption that he would meet with me based on a shared love of comic art and his connection to Ohio (he went to graduate school at Ohio State University). Since then, Mark has proved to be an encyclopedically resourceful, tirelessly supportive, always kind mentor and friend.
While visiting the study room last week, we looked at one of my favorite recent departmental acquisitions, a bequest from the estate of Sylvia Sights: a small collection of envelopes and ephemera illustrated by Edward Gorey (who was born in Chicago in 1925). Sylvia Sights and Gorey were childhood friends and Lakeview neighbors. Gorey attended SAIC for one semester in 1943, and after he left Chicago he wrote to Sights frequently. Many of the envelopes are from his time at Harvard (1946-50), and were often sent under fantastic pseudonyms like "Childeric Drool" and addressed to "Fascia Scorch." You can see more photographs of the collection in an album here.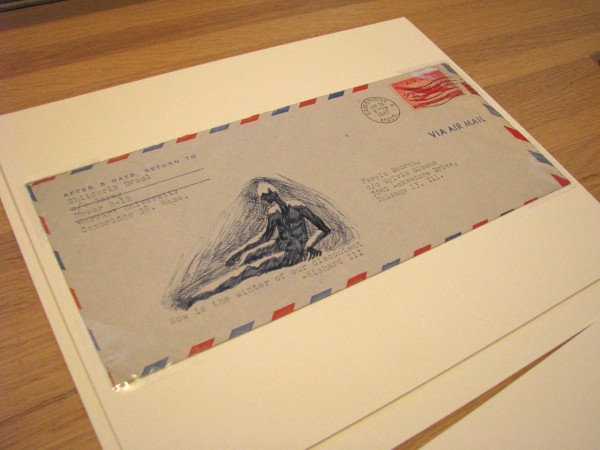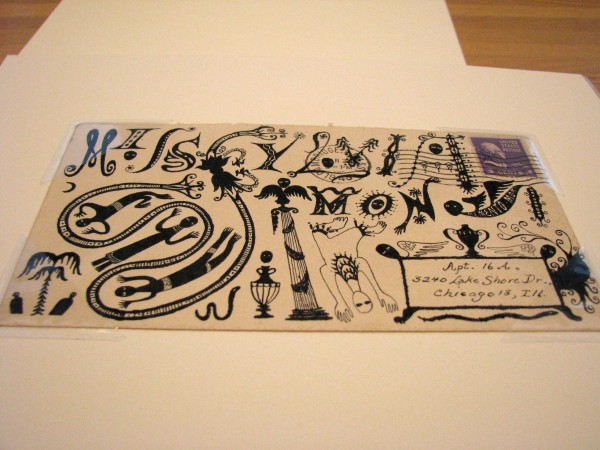 PAST PROJECTS:
I asked Mark about print-related shows he is proud of being involved with during his time at the Art Institute. He spoke of the intense research and collaboration that goes into major museum exhibitions:
"Being involved in the Jasper Johns: Gray show [in 2007] was a career changing moment for me. He was an artist that I had admired, as an artist, and I especially had admired his printmaking. It was hugely inspirational and instructive to me. It was a frightening prospect because he's very judgmental, and he is not known for his generosity. But I was asked to join the team and I did. […] That experience, working with James [Rondeau] and Douglas [Druick], Harriet Stratis, Christine Conniff-O'Shea, and Maureen Pskowski, having a cross-departmental experience was fantastic.
The other show that I've done that I'm extremely proud of is the one that was called After the Crash: Picturing the U.S. 1930-1943, which I did [in 2000] in conjunction with a curatorial assistant in photography and the special collections librarian in Ryerson. We incorporated prints, photographs, and texts from the Depression, [about] the Depression.
We used our WPA [Works Progress Administration] and FSA [Farm Security Administration] holdings, and it was based upon my question: 'If so many of the artists who worked for the WPA were urban, why are there so many farm images?' So, [we were asking] whether or not the FSA photographs played any role in what got depicted in printmaking. To some degree we found evidence that it definitely was true, and there were quite a few artists that worked both on the FSA project and the WPA project. […] The crowning moment for that was, even though we didn't get to do a book, we had a panel discussion that was chaired by George Roeder, who created the Visual and Critical Studies area at SAIC (now sadly deceased), and included Studs Terkel, who was still really sharp, he really had his wits about him, and the photo historian and photographer Naomi and Walter Rosenblum, respectively."
— Mark Pascale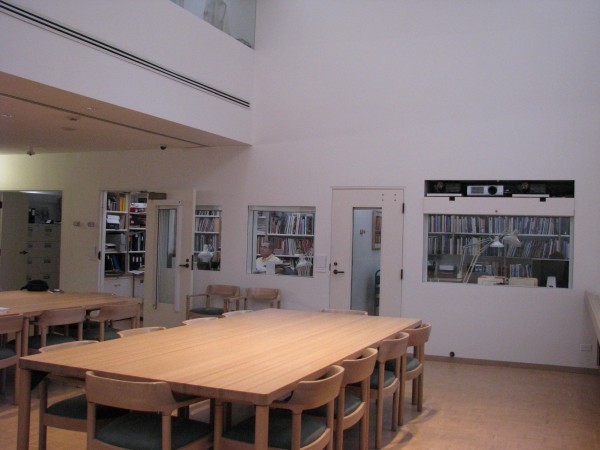 Mark also collaborates across the city with other museums and galleries. In the mid-1990s Mark was an advisor and catalogue contributor to one of the definitive Chicago print shows, Second Sight: Printmaking in Chicago 1935-1995, a survey exhibition at Northwestern University's Block Museum of Art. When I mentioned that show, he sighed and said, "I wish I could redo it because I've learned a lot more about the history of Chicago printmaking since then. But I covered some of it in the Chicago Stories exhibition."
(Chicago Stories is Mark's most recent departmental exhibit from the summer of 2010, an historical survey of local printmaking called Chicago Stories: Prints and H.C. Westermann's 'See America First'. While I served as an intern in the department with Mark, fellow intern Andrew Blackley and I collaborated with him on the research, writing, and exhibition planning for Chicago Stories.)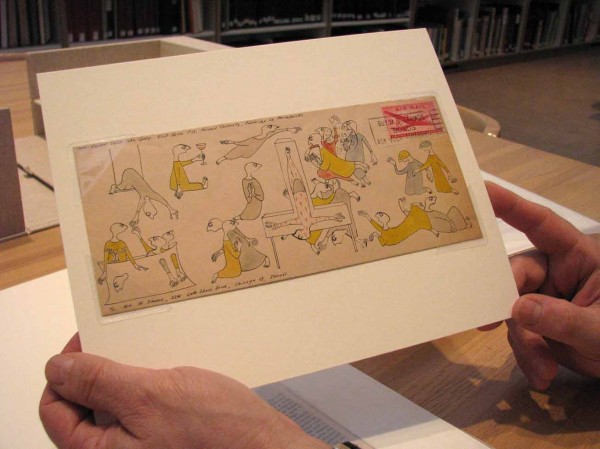 CURRENT PROJECTS:
Although Mark rarely has the time to advise or organize more than one show a year outside of the department, he is often asked to judge exhibitions. This year he selected a members exhibition for the upcoming Southern Graphics Council Tempting Equilibrium conference in St. Louis (March 16th-19th, 2011). At the Art Institute, Mark is currently working on a departmental exhibit showcasing a promised gift of over 100 contemporary drawings from a private Chicago collection. He notes that the museum recently has received a lot of criticism for doing private collection shows, but that it's simply a way to honor and celebrate the major support of private collectors:
"We're often accused of being an island, and we're not. To some people we might be.  We don't buy that much art. We spend a lot of time engineering gifts. […] The people who are quick to criticize the museum don't seem to know of the long and distinguished history of giving that Chicago museums enjoy, and don't seem to know that we don't receive much public money. There's a limit to what we can do, and a high expectation for what we put out. My feeling is that they should be excited and happy that this art stays in the city forever."
— Mark Pascale
The other big show Mark has been working on for the last few years, scheduled for 2013, is a Martin Puryear retrospective, focusing on Puryear's printmaking processes.  Although much of Puryear's early work was destroyed in a fire, Mark has been able to find a number of working and state proofs for his more recent editions. The exhibit will highlight Puryear's etchings from Paulson Bott Press (Berkeley, CA), and a major work from Arion Press (San Francisco, CA): illustrations for Cane, a 1923 novel by Harlem Renaissance writer Jean Toomer.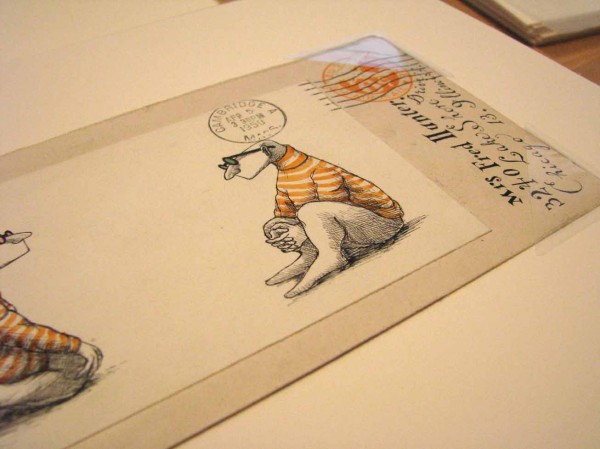 PASCALE'S PICKS:
Above and beyond his knowledge of modern and contemporary art, Mark also knows a thing or two about good food in the city. At the end of our conversation, Mark humored me with a list of a few of his favorite places to eat out.
"Any opportunity to eat badly, I will accommodate it. I have a very high threshold for people's hot dogs and fries, because it's such a Chicago thing. Chicago-style hot dog joints are not like what I experienced growing up. It's local, and I love local."
— Mark Pascale
1.) Hot dog and fries at Gene and Jude's Red Hot Stand (and many other places, but G&J is the best) (2720 River Road, River Grove, IL)
2.) Tom Yum Koong (shrimp soup) and Pad Ped Pla Dook (spicy catfish) at Opart Thai House (4658 North Western Ave., Chicago)
3.) Enchiladas Mole at La Oaxaqueña (3382 North Milwaukee Ave., Chicago)
4.) Bhendi Masala (okra curry) at Hema's Kitchen (2439 W Devon Ave., Chicago) or Udupi Palace (2543 W Devon Ave.)
5.) Hungarian Potato Pancake at Smak Tak (5961 North Elston Ave., Chicago)
6.) Chicken Fatoush Salad at Pita Inn (Skokie, Wheeling, and Glenview, IL)
———————————————
ABOUT:
Julia V. Hendrickson is a native of eastern Ohio who lives and works as a visual artist, writer, and curator in Chicago, Illinois. In 2008 she graduated with a B.A. in Studio Art and a minor in English from The College of Wooster (Wooster, Ohio). Julia is currently the gallery manager at Corbett vs. Dempsey, as well as the office manager and design assistant for Ork Posters. She is a teaching assistant at the Marwen Foundation, an active member of the Chicago Printers Guild, and has taught at Spudnik Press. A freelance art critic and writer for Newcity, Julia also keeps a blog called The Enthusiast, a documentation of the daily things that inspire, intrigue, and inform. She is currently exhibiting at Anchor Graphics (Columbia College Chicago) in a solo show titled FANTASTIC STANZAS, on view through March 26th.