Chicago artist Caleb Lyons, who was interviewed way back when on Episode 95 of our podcast, recently had a solo exhibition at the MCA Chicago as part of the Museum's 12 x 12 series. Lyons and his partner in life and crime Kathryn Scanlan are the forces behind Old Gold — the latter now continuing operations with new presentations at Heaven Gallery in Wicker Park. Caleb also co-directed the late great artLedge with Brandon Alvendia, and is involved in so many ongoing projects that I could never list them all in full here. The following interview focuses solely on his own, recent artworks, which include paintings, a video (of the nude artist, surrounded by potted plants, offering himself up as a readymade artist's model), and a mixed media installation of various cactii potted in handcrafted pipe-pots (or, um, pot-pipes? ANYWAY). It was a smart and provocative show, but unfortunately I was only able to catch it the last week it was on view, hence the un-timeliness of the following interview. Lucky for all of us, Lyons' paintings are now on view at  Golden's new auxilliary space, located at 3319 N. Broadway Ave, Chicago. (I also found some excellent pictures of Caleb's work in situ at Golden on Strange Closets blog, so go check it out the excellent photographs on that blog and then head on over to Golden and see the actual works of art in person!).
The wall text for Lyons' MCA show described him as a kind of Jack of All Trades, an artist whose practice "encompasses a diverse range of activities–gardening, DJing, and working collaboratively with other artists–reflecting his interest in the idea that 'everyone is an artist' and that everything can constitute an artwork." Yet Lyons' MCA show was called, somewhat ironically (and then again, somewhat not), "Abstraction in the 21st Century," a title that was clearly designed to provoke a certain amount of bemusement and even incredulity on the part of viewers, given the relatively short history of 21st century painting in general. This provocative title was the first thing I asked Caleb about during our written exchange about his show, which was conducted several weeks ago while Lyons was on residency at The Philadelphia Art Hotel (Bad at Sports' SF correspondent Patricia Maloney also happens to be on residency there this summer). I'm tremendously grateful to him for taking time out of his very busy schedule to answer my questions with such thoughtfulness and care.
Claudine Ise: "Abstraction in the 21st Century" is a ballsy title for an exhibition – at least for an exhibition by an individual artist at a major contemporary art museum. I really like the way this title appropriates the language of the encyclopedic museum (more specifically, the language that this type of museum would use to introduce its gallery exemplifying Abstraction in art), but here it's used to frame a solo show by an emerging artist. I am also intrigued by the fact that such a title implies the promise of a representative sampling of artists – which of course it doesn't. So can you tell me a bit about why you chose this title for your MCA solo exhibition?
Caleb Lyons: Well I do have balls, or a pair of testicles–they were on exhibit in my nude video: The Artist Is The Model: Do It Yourself, Still Life, Amateur Hour, Idiot Box, which was riffing on the ego and vulnerability of the artist, as well as the idea that through our immediate technologies everyone has become a producer, the "artist" has become the "model citizen" for exploitation.
I am interested in the way museums and other institutions feel the need to categorize and define genres for the public. It becomes generic. I use the generic as a catalyst in my own work –– as in, 'this is what an American abstract painting is supposed to look like'. I wonder why we feel like we need themes so badly. Will we really find it that hard to make connections otherwise? If museums didn't try so hard to define things, would the public be confused or would the public figure it out for themselves?
The presumptuous title also suggests that the work will be heroic in scale and intention, and I find it funny that the work is very modest, handcrafted and is both abstract and representational. There is no abstraction without representation and no representation without abstraction.
I think it is a symptom of our time (with best-of lists, and our need to categorize and rate the arts), the idea that abstraction would be surveyed only ten years into the century. The title also attempts to allude to our society's growing disconnect with reality, and our increasing (as far as I can tell) loss of power and freedom. There is something attractive and deceptive about the anonymity of abstraction. Maybe in such an audacious title for a small solo exhibition some viewers will find the absurdity in genre-defining elsewhere, or maybe they will just think I am a pretentious asshole; either way, I'm happy.
Claudine: Your paintings on view in the MCA exhibition are given the title "Real Pirates." Each painting within the series is referred to as "Untitled Document" from the Real Pirates series. In your abstract works I see references to, or inflections of, numerous abstract painters such as Robert Motherwell, Frank Stella, even a bit of Jules Olitski and Mary Heilmann here and there. But I'm also interested in the relationship between the term 'piracy' as you employ it, and that of appropriation as a tool of aesthetic discourse. Appropriationist strategies are associated with multiple generations of artists in the 20th century alone, each of whom have approached the idea of "appropriation" in different ways. What's the difference between appropriation and piracy? How do those acts differ and how do you approach the idea of piracy in your own paintings and in the other works in the show?
Caleb: When I started these paintings I did not not know I would call the series Real Pirates. I loved that title for something–it was stolen from an exhibition about the history of pirates at Chicago's Field Museum of Natural History (which I did not see, but I am pretty sure they did not have any real pirates there). At the time I was making the paintings I was referring to them as "casualties", both for their casual nature, destructiveness, or deadness, and their play on the word 'causality' –looking back at history, being surrounded by modernism. I had recently seen the exhibition Oranges and Sardines at the Hammer Museum in Los Angeles, a fantastic show curated by Gary Garrels wherein six contemporary "abstract painters"– Mark Grotjahn, Wade Guyton, Mary Heilmann, Amy Sillman, Charline von Heyl, and Christopher Wool each curated a room of work that was deeply influential to them. In Wool's room he had a later Picasso painting of a pirate (funny enough, one that I can't seem to find on the internet anywhere). Comparing it and the large abstract Wool painting, it seemed as if Wool was using nearly the same formal composition as the pirate, and it dawned on me, how perfect the content of a pirate was for abstract painting. So beyond stealing from other paintings or gestures, the look of much abstraction is wounded, slipshod, and jury-rigged (originally a nautical term), and you could look at each individual painting as a portrait of a pirate (if you wanted to, but I wouldn't encourage it).
I do agree that piracy and appropriation have somewhat different uses or conjure different images, but they practically mean the same thing. I prefer the violent and illegal sound of piracy over appropriation, although what I am doing would probably be better understood these days as appropriation. By calling them Real Pirates however, I am pointing to the absurdity and subjectivity governing most copyright laws which use the word liberally. I am bootlegging the language most often used for "theft" of software, television, and film and am applying it to painting. I like to participate in the nonsense of language, and by calling them a real fake (or, because it's not really piracy its a fake real fake), I get to play this game with language and meaning. I am pirating gestures and styles, not actual works of art (which would be boring and tedious). It is more like having a conversation with all these artists without them knowing about it. It is all intuitive; because of the internet, I am able to see more images in one day than some people will see in an entire lifetime, and as a result I have all these gestures in my mind when I am painting. I don't sit with my laptop open in my studio, painting what I see. It is only afterwards that I realize some move reminds me of somebody, and I choose to commit to that content in my work instead of trying to ignore it or fight it.
The exhibition poster was printed (with the show information, and a story by Kathryn Scanlan describing a frustrating experience describing experience) on the MCA's Felix Gonzalez Torres work, The End, which I collected over a period of time. In a way I pirated Torres's work for my own advertising needs and gave life to The End. J. Patrick Walsh 3's work: To My Enemies I Will Ruin You By Leaving My Fingerprints On All Of Your Crimes can be seen as a joke on piracy both for its title and placement atop my painting as well as for its form (a wooden cane).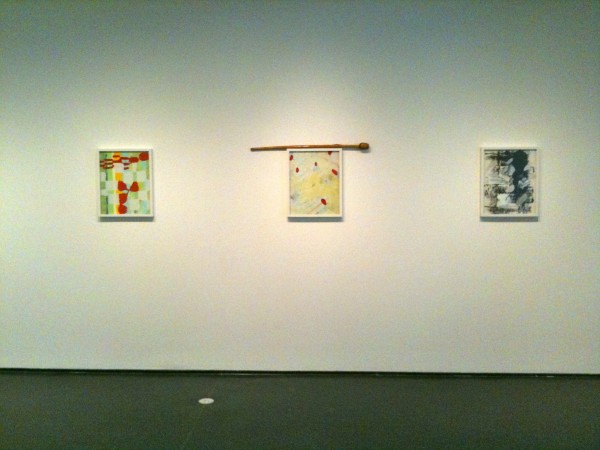 Claudine: You're an artist whose practice encompasses many different types of activities which, in turn, produce different results. Not everything you produce as an artist is necessarily an object to be contemplated in the traditional sense. But in the case of a work like "Landscaping (Canyons)," 2010, an installation which was placed in the center of the gallery, it did. This installation contained various ceramic pipes whose bowls were planted with different types of cacti – the type of plants that can survive with minimal care if given the proper conditions. I think this was my favorite piece in the show, because of the way it seemed to bring every other object on view in the gallery together in harmonious relationship. There's an almost decorative aspect to the way that all of the different types of objects in your show "hung together." The wall text discussed your interest in Abstract Expressionism's "relationship to home decor and design" — can you flesh this idea out a bit more for me?
Caleb: Again, I think of the paintings as playing the role of a painting, as a prop-painting would fulfill its part in the background of a motion picture. I enjoy the tension of authenticity and artifice, balancing aesthetic "quality" with the function of decor or design.
There is an inherent censorship in abstraction that reduces content to its essential form, and as such it is a visual relief in our image-ridden world. An interesting thing happens when a stroke is just a stroke; it's not something to look into anymore, it is something to live around. It becomes a prop for life and architecture. I understand this as one of art's greatest functions.
Since I was a child I have been drawn to the contradictory cultural space of bad as good, wherein artists intentionally disappoint, baffle or alienate the viewer (not necessarily to shock), or don't believe in failure, or believe in a conversation rather than a meter of quality.
I think that Landscaping (Canyons) pulls all of these generic and essential qualities together and interacts with the viewer in a familiar, decorative way that is wrongly poetic. The exhibition is a boutique of meaning.
Claudine: Tell us about the residency you are participating in right now. Are you working on anything specific that you can talk about?
Caleb: The residency is called The Philadelphia Art Hotel and I am working on a few site-specific videos including a remake of Rear Window and a psychic/intuitive, flies-on-shit piece titled "The Source Of Life" for a Drive-In/Bike-In/Walk-In video screening we are presenting in an open lot near the hotel. Kathryn Scanlan is also here with me to work collaboratively on a sculpture project we are calling The Arrangement.
Thanks so much for this virtual chat, Caleb! Here's the poster for Caleb's MCA show, referred to above. (Sorry for the blurriness; I think the text is just about readable and my eyes aren't great).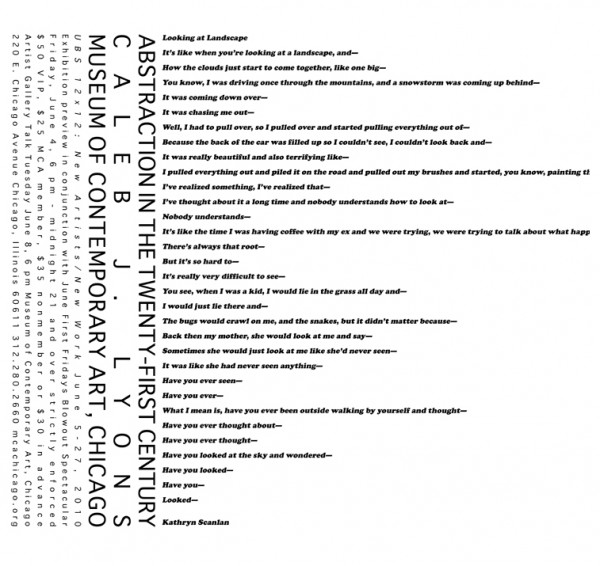 (Exhibition poster for Caleb J. Lyons, "Abstraction in the 21st Century," at the MCA Chicago).
Latest posts by Claudine Isé
(see all)