John Waters' upcoming exhibitions at Gagosian Gallery in L.A. and Marianne Boesky Gallery in New York will feature his series of movie stills titled "Children Who Smoke." Love it. Now I'm trying to think of other artists who depict children smoking (preferably real cigarettes, but I'll take Sally Mann's fake one too). I'm pressed for time and can only come up with a few examples, but I know there is oh so much more. Who else?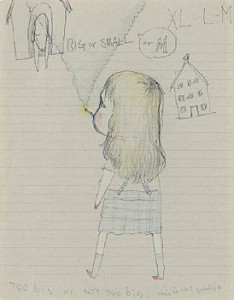 Yoshitomo Nara, Guston Girl, 2000, Deutsche Bank Collection
Claudine Isé has worked in the field of contemporary art as a writer and curator for the past decade, and currently serves as the Editor of the Art21 Blog. Claudine regularly writes for Artforum.com and Chicago magazine, and has also worked as an art critic for the Los Angeles Times. Before moving to Chicago in 2008, she worked at the Wexner Center in Columbus, OH as associate curator of exhibitions, and at the Hammer Museum in Los Angeles as assistant curator of contemporary art, where she curated a number of Hammer Projects. She has Ph.D. in Film, Literature and Culture from the University of Southern California.
Latest posts by Claudine Isé (see all)