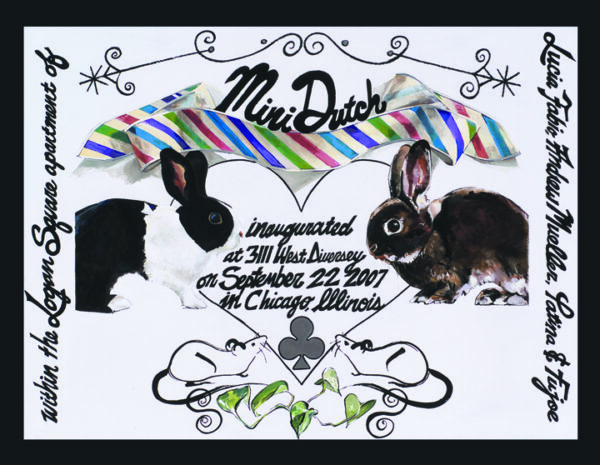 Start. A continuation of thoughts from the end of mini dutch. November, 2009.
mini dutch ended a two year run in July, 2009. Subsequently, I moved to Los Angeles. Not to pursue a career as an artist or curator in a more viable city, but to be near my mother who was diagnosed with ovarian cancer. This is pertinent because it sets up my inability to be as involved in the art scene as I was in Chicago. At least, for the time being, I long for the tight knit community I felt forced to leave, and detest the highly commercial and impenetrable community that I have not been inducted into. I feel confident that I will find myself in a much more optimistic mood after the unpacking ceases and I can start going to gallery openings, panel discussions, and lectures regularly again. I know that I now live in a city with a larger art presence, with a lively art market and community, but I am still am at a complete loss over leaving Chicago and my contemporaries. My thoughts have recently been drifting toward Chicago and its unique culture of the apartment gallery. What purpose do these spaces serve the city, and what did mini dutch do for me?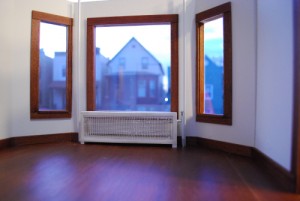 During my time as the director of mini dutch, I was an active participant in the apartment gallery scene. Along with my involvement with threewalls gallery and paid position as a preparator at the MCA (among other institutions) I was constantly aware of shows, events and the thereabouts of different artists. I prided myself on running an apartment gallery, giving it as much energy and attention as I could (even more than my art making). I had relationships with the artists who showed in my living room, and was able to bring new work into my domestic space each month. My life revolved around mini dutch and the overall art community with the lines between work and play becoming a warm and comforting blur. In my biased opinion, the apartment gallery is an essential part of the larger Chicago art community. It is the underlying energy that drives the rest of the city. Take away the multitudes of these homebound alternative spaces, and it would be a lackluster scene. Don't get me wrong, there are some truly notable commercial galleries in Chicago showing progressive and challenging work. But honestly, these spaces are few and far in between. Two such spaces, Tony Wight Gallery and Western Exhibitions didn't start their careers as straightforward commercial entities. Though never being "apartment" galleries, these two started out as alternative spaces. Similarly, spaces like Roots and Culture and The Green Lantern Gallery and Press would never have been able to develop into legitimate 501(c)3 non-profits if they weren't first able to experiment within the comfort of their domestic space.
Within the small, incestual community that makes up the Chicago scene, the apartment galleries look very similar to the commercial ones. Many of the artists who show at commercial spaces also show at the apartment galleries. The crowd of people who attend openings in the West Loop would also come through the doors of mini dutch. Apartment galleries have very little overhead and don't have to worry about making a profit. This is one of the most desirable attributes of running an apartment gallery. They should be operating as low cost, experimental spaces, where work can be shown and profits are not a priority. Occasionally, a visitor will be interested in a work and will want to purchase it. The allure of having some of your time and money compensated is tempting. Even mini dutch sold several pieces, though the amount I received put me nowhere close to breaking even. And that's the thing with apartment galleries; they aren't designed to be sustainable. Because these spaces are managed inside of apartments, they aren't zoned by the city to be a business and to make a profit. Therefore, they are not sustainable within their own practice, but need to be supported by their creators.
Here in Los Angeles, what little exposure I've had to its people, few are aware of the concept of the apartment gallery. Once I explain that living spaces are converted to show artwork people are flabbergasted. Especially once I elaborate and say that these spaces usually have month long shows with regular viewing hours. If, on the off chance someone does recognize the idea of the apartment gallery, I'm confronted with "Oh, like what they are doing in New York." This is where my fury begins. Chicago has a long, rich history of facilitating these spaces. Not only these spaces, but the whole city has a strong DIY attitude. Maybe it spawned from the stereotypical friendly hardworking mid-western upbringing, but I doubt it. The problem is that Chicago only operates within the confinements of the city. These apartment galleries should be used as the building blocks to a strong, viable, exciting, sustainable, commercial art scene. If not directly turning into a commercial space, but to train young artists, curators, dealers, collectors and critics within a supportive environment to eventually represent Chicago on a national and international level. An apartment gallery can be a means to its own end: not every apartment gallery should become a non-profit or commercial entity.
This has led me to my problem: have I just wasted two years of my life by being part of this microcosm with in the little known Chicago art community, just to move to another city to be dismissed? Or was this an invaluable experience where I had the opportunity to make a small impact within a specific community? Chicago offered cheap rent, lots of space and a supportive network, making mini dutch nearly impossible to run in any other city with the expectation of making the same impression. I hope to think that it wasn't a waste. I just have to work a bit harder to persuade Angelinos that yes, Chicago does have a thriving art scene: one where many dedicated people are doing remarkable things out of their homes. This weekend will be the first in which I will be attending openings. My first stop is Machine Project- a venue I was made aware of when I was researching alternative spaces for the threewalls and Green Lantern publication, Phonebook. I hope in the spirit of alternative spaces I will feel comforted in this lonely city and begin to search for a community.
And eventually, to be part of it.
Lucia Fabio is the former director of minidutch gallery. She now lives in Los Angeles.
****

Editors' Note: This week we're running some of the essays written for Floor Length and Tux's "Untitled Circus" event this past weekend. A number of essays on Chicago's thriving domestic/apartment gallery art space scene were solicited from local writers/artists/curators involved in the running of such spaces, and we're posting some of them here on Bad at Sports as a way to extend the discussion. Please feel free to email us with your comments at mail@badatsports.com, or if you'd like to contact the folks at FLAT directly, you can email Erik at erik@ floorlengthandtux.com.