If Don Colley's drawings were movies, I'd be first in line to see them. The Chicago-based artist's noirish, grab-you-by-the-throat depictions of evil clowns, brawling boxcar hobos, and flamboyant carnie types are intensely cinematic, evoking angsty narrative scenarios that are part Nicholas Ray, part Coen Brothers, and part Mad Men, with a dash of Bruce Nauman thrown in for good measure. They're sinister and alluring, able to suggest entire storylines within a single drawing (many of which are seen in close-up, tightly wrapped in beautifully carved wooden frames that are themselves reminiscent of artisinal tramp art).
Colley's drawings and paintings can currently be seen in Midwestern Blab! (on view through July 22nd at Columbia College's A+D Gallery), an exibition of five Midwest-based contributors to Monte Beauchamp's Blab! magazine. There are some terrific large-scale works by Colley there that can only be seen in the exhibition (photography was not permitted in the gallery) so if you're in the Chicago area, try to check it out before the show closes in a couple of weeks.
Colley has also had shows at Carl Hammer Gallery in Chicago, George Adams Gallery in New York and Philip Slein Gallery in St. Louis.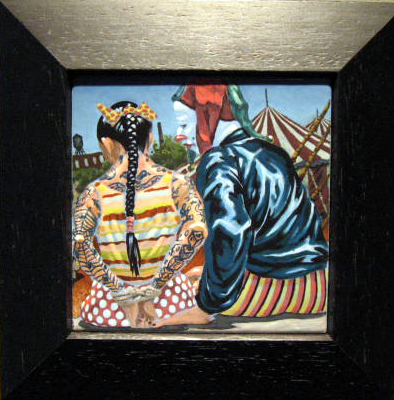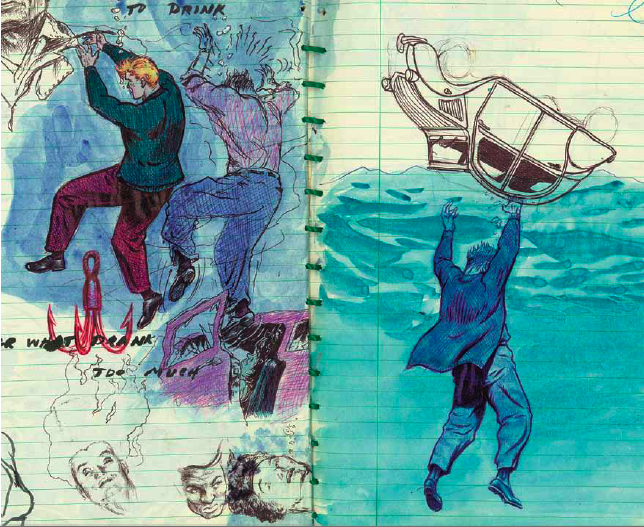 Claudine Isé has worked in the field of contemporary art as a writer and curator for the past decade, and currently serves as the Editor of the Art21 Blog. Claudine regularly writes for Artforum.com and Chicago magazine, and has also worked as an art critic for the Los Angeles Times. Before moving to Chicago in 2008, she worked at the Wexner Center in Columbus, OH as associate curator of exhibitions, and at the Hammer Museum in Los Angeles as assistant curator of contemporary art, where she curated a number of Hammer Projects. She has Ph.D. in Film, Literature and Culture from the University of Southern California.
Latest posts by Claudine Isé (see all)