download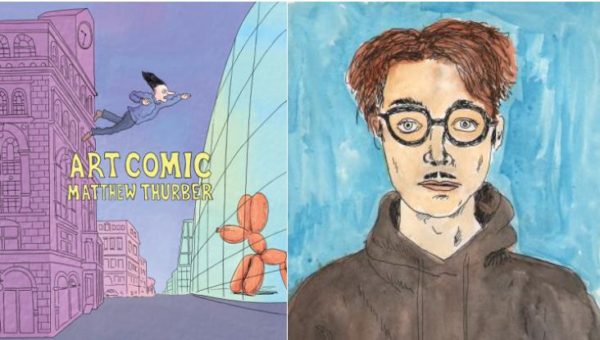 Duncan and Matthew discuss what the art world feels likes, how a comic can be institutional critique, and what good art might be, all from the basement of Quimby's Chicago!
From Drawn and Quarterly the publisher of Art Comic…
Matthew Thurber's unpredictable practice has included: Mining the Moon, a full length musical play; Moon Tube, a week of movies each made in a single day; an olfactory performance, dressed as a giant nose; Mouse Maze, a mosaic labyrinth installed in an elementary school; Terpinwoe, choreographed noise dance about a carrot-based economy; an interactive novel about handwriting analysis.
As Ambergris and in other ensembles he has performed at the Serpentine Gallery in London, the Hammer Museum, the Fumetto Festival, Abrons Art Center, and in an eyeglass store. He co-founded Tomato House, an art gallery in operation from 2012-2015, with Rebecca Bird. Finally he is the author of 1-800-MICE, INFOMANIACS, and Art Comic. T
Hurber resides in New York's Hudson Valley where he is working on animated and live action film projects. He is the operator of Mrs William Horsley, a mobile theater devoted to creating works of narrative experimentation and scientific investigation using puppetry. Thurber curates the Sweet16 Cinema Club, a film series dedicated to watching films on film.
https://www.drawnandquarterly.com/author/matthew-thurber
http://www.matthewthurber.com/