Miley Cyrus is growing up in a fishbowl, where every awkward moment and undeveloped thought is on display for the world to see, react to and comment on, endlessly. As a country, we construct the cult of Miley sometimes even more than she, her publicist or record label does. Miley Cyrus has become an avatar, just as Hannah Montana was, as customizable as a Scion and as real as an American Girl doll. As we have a hand in creating her personae, her personae is a reflection of us, or our fantasies. Therefore, no matter how much she rebels against the mainstream, she can only help define it. The more she destroys her past image as teenage Miley, the more she canonizes it. The more she rebels, the more rebellion we want, even as it looks a lot like Low Sodium Rebellion in a can. We act shocked though we really aren't, because we too are playing a role, just as she.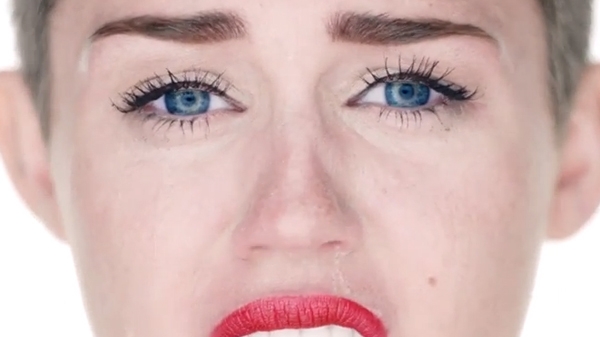 We love celebrities who represent the idyllic American: Beautiful, powerful, strong, intelligent, talented, with the same moral standards as us. We shower them in wealth in order to see how they use it, and so we can have it vicariously. We want these celebrities to act out roles in their real lives, not just in films. They appear on late night interviews promoting their films, on the Red Carpet and charity events as they pose for us. This isn't enough, so thankfully, we also see them walking their dogs, eating out, drunk at clubs, entering and exiting Hollywood parties. We see them grocery shopping without makeup, with their kids, with other celebrity lovers, in court, hungover, and having sex in grainy cell phone videos. We have so much footage of their lives "off the screen" that they don't need to exist otherwise.
When we actually come face to face with a celebrity, it is a collision of our lived world and our media world. It is a revelation of mutual existence: that they exist in our space, they can see us as we can them, and so we exist as well. Needing proof for ourself and our friends, that they exist, and that we exist too, a cell phone photo of them is imperative. This must get uploaded to the internet immediately, and now we have returned them to their natural habitat: the media world. Just as they primarily exist in the media world, we only exist in their world as long as we tweet, post, like, share and comment. By uploading a selfie to our facebook feed, we are attempting to insert our lived reality into the media world, used as a mirror to prove our existence, to define our character and how it fits within the pantheon of American myth. It is pedestrian cosplay and hipster role playing.
Its human nature to internalize our faults and dwell on them until they manifest into something larger and looming overhead. The past decade has seen serious changes to our country's image: warmongering, weakened, bankrupt, obese, fragile, homeless; as well as a growing rift between the working class and the capitalist class, almost completely obliterating the middle class, which is far smaller than any politician will ever admit. While these perceptions have been there since the 80's and 90's, it took until 9/11 for us to see them. Global media, 24/7 coverage of war and a need to understand why anyone would want to "attack our freedom", has led to a breathtaking reflection and reassessment of who we are as a culture, through the Biggest Loser, RuPaul's Drag Race, Extreme Couponing, Here Comes Honey Boo Boo, Lost, Breaking Bad, Weeds, etc., etc. We don't even consciously understand it, but we have seen ourselves as the underdogs, the unabashed scum, those who can break free of their past, those who can overcome and those who will crumble. Ordinary people who set out with good intentions but became greedy and selfish monsters. Yet as we assess ourselves through the entertainment we consume, we lose a true basis for assessment. It is calculated recycling of American myths, regurgitation of roles and tropes, filtering of current events that are replayed as fiction in order for us to learn how we feel about them. As we gravitate towards the fiction to teach us, and blur the lines of what is real and entertainment, it all starts to become real, in some way.
Latest posts by Thomas Friel
(see all)