To tell you the truth, I was late to the whole 3-D movie thing. I'm not philosophically opposed as some of my filmmaking friends are. It's just that until very recently there were no 3-D movies that seemed interesting to me. Much of what is being produced appears to be fantasy children's stories, filled with magical characters and inanimate objects imbued with supernatural powers, or mindless special-effect heavy action flicks. Now, don't infer that I'm action adverse. I mean how cool would Die Hard have been in 3-D? Luckily for me and maybe for you things on the three-dimensional front seem to be changing.
I've been kicking myself for more than a year since I missed my chance to see Werner Herzog's brilliant documentary Cave of Forgotten Dreams. In a rare instance, Herzog is permitted to take his team and 3-D cameras into the Chauvet-Pont-d'Arc Cave in  southern France. By virtue of an avalanche, this cave was sealed from both the grubby hands of humankind and the grievous effects of time until it was discovered in 1994. For 30 thousand years dozens of beautiful cave paintings were preserved just as they were when the artist created them. Herzog believed that 3-D was a way to bring a sort of tactile reality to a marvel that is closed to the public. Did he succeed? I couldn't tell you, because I didn't get to see it in 3-D.
Last weekend I saw my first 3-D movie, Wim Wender's documentary Pina. Pina Bausch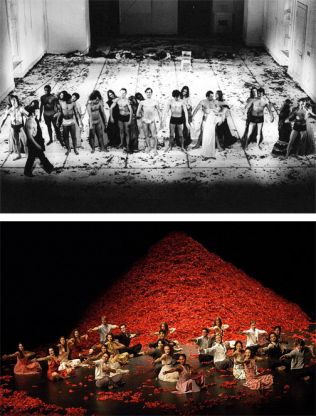 was a German choreographer most known for her modern dance works. Sadly, she died right before filming began. Instead of being a tribute, Pina became a memorial. But of course I didn't know this when I walked into the theater. I just knew I was going to see a 3-D modern dance film by Wenders, and that was enough. The film was everything I could have hoped it would be. Pina presents non-contiguously four works by Bausch. Within the film, the works don't exist as discrete pieces unto themselves. Instead, Wenders edits these works into a sort of narrative that becomes surprisingly emotional by the end. Although the film contains traditional elements of a biographical documentary (history, interviews, old film footage) Pina doesn't feel like a documentary at all. Instead the film itself feels vibrant and alive as if the members of Tanztheater Wuppertal were performing the pieces right in front of me.
On the train ride home, I thought about what I'd just seen. I felt as if I'd seen something completely new, perhaps even a new medium. High-end theaters no longer show just films. They host live group meetings. Last year A Prairie Home Companion lured its listeners away from the dulcet voices of NPR and into movie houses across the country, where the show was broadcast live into theaters. The Century 12 Evanston/CinéArts 6 is currently hosting the Metropolitan Opera in High Definition, live! Imagine what that might be like in 3-D. It could be like being there. Maybe even better. It would mean that any town with a mall could also have an opera or a symphony, or an experimental German modern dance troupe. Of course, it wouldn't really be a live performance, I know that. Wenders toyed with the idea of filming Wagner's Ring Cycle in 3-D but it fell through. Too bad, perhaps that would have been the perfect marriage of art, action, and magic.
Latest posts by Terri Griffith
(see all)