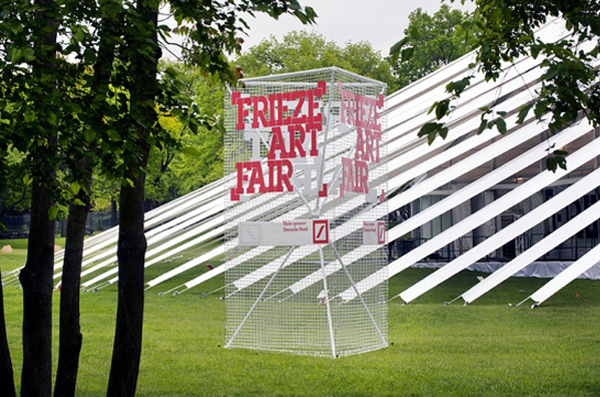 This past weekend Frieze mounted their inaugural New York fair on Randall's Island in an extensive, 180 gallery showcase of contemporary art. With large financial backers like the Financial Times, BMW, and Deutsche Bank, it seemed the big concern on everyone's mind regarded the state of the contemporary market as well as whether a new fair for Frieze stateside would prove to be a good investment. For all intense and purposes, it appears that Frieze made a good bet. Covering a large swath of commercial contemporary art movers and shakers, the fair catered well to not only the blue-chippers, but also to the more independently minded. Of the artists, critics, and curators that I talked to, the general sentiment was "As art fairs go, Frieze was pretty good." I tend to agree with this sentiment even though the abundantly transparent "safeness" of galleries dominated the conversation. As a result, work on display was often limited to paintings and sculptures that reenforced the hierarchy of fine arts over more experimental practices. That being said, there were some good moments and what follows is a rough and tumble round up of noteworthy booths.
One thing that immediately struck me about Frieze was the amount of work on display from non-major player and specifically those considering themselves emerging art spaces. Galleries like Seventeen (UK), Tanya Leighton (DE), Bartolami and Team Gallery (both NYC) represented well, although again banking on somewhat safe measures. I wasn't thrilled with what Team was showing, considering that they had a large corner booth right in front of the main entrance. A Banks Violette sculpture of #88 that Dale Earnhart Jr. drives in Nascar dominated a lot of attention in their space, but didn't really hold up much beyond being a big metal sculpture. Tanya Leighton and Seventeen both showed work by Oliver Laric – Seventeen focusing more on wall pieces, and Tanya Leighton emphasizing more his exploration of variations in sculpture and rapid-prototyping with long time collaborator Aleksandra Domanovic. Tanya Leighton's space was certainly popular and by Sunday it seemed as though they had sold a good portion of the show. I'd argue that these works are actually not the best pieces of these artist's repertoire, but in the context of this fair they served as very acute examples of how to move a traditional fine art conversation into more digital, research based, experimental directions.
Where Tanya Leighton only showed these two, Seventeen showed a bit more of their stable crew. One work that really stood out to me was a series of pieces by Kate Owens called The Speaking Exercise. This series comprises of backwards facing, cheaply framed "poorly" (according to Seventeen manager Tim Steer) reproduced works by High Modernist masters like Josef Albers and Barnett Newman. The works are then tilted upwards against the white wall creating a saturated aura that speak to the original paintings. Although one would argue that this might appear to be a rather tired combination of cheap materials with canonical art history, the experience of the glow of these works is what propels them beyond being a simple one-liner and into elegant comments on the metaphysical materials of the avant-garde.
Bartolami's booth, although slightly inconsistent for my tastes, had some fantastic works by Ben Schumacher that delicately tight-roped the line between very salable and very contemporary works in that they clearly evidence a need for reconsidering material, surface, and painterly form. The three gray works by Schumacher used a foamy and artificially rendered surface that seemed to seep through or over an infrastructure of mesh that covered the under layer of this "painting." These works almost appeared as if rendered through the use of some preset glob brush in something like z-brush or mudbox, but the subtitles of patterning and flecked paint show a hand of the maker in what could otherwise be considered a personality-less work.
Besides some of these emerging spaces, some of the "bigger guns" of the fair also had good showings. Although mega-galleries like White Cube (UK) and Gagosian (Everywhere) basically acted like micro-museums/retrospectives, some of the other larger booths did display some worthwhile works and at times risky choices. One such large booth that I particularly liked was Contemporary Fine Arts from Berlin that showed about a handful of large mixed media works by Anslem Reyle. The combination of humor, high craft, and play on monumental tackiness mixed together well, however I thought that the more evident displays of the artists hand with purposeful sloppiness that existed on the outside of the booth were more interesting. The coldness of the interior pieces were certainly worthy of attention, but I felt like the humor of those works could've transcended the simplicity of their formal considerations if buttressed with pieces that more deliberately referenced painting, craft, and the artist at work.
Lisson (UK) was also one of those blue-chip galleries that had some fairly interesting artists on display. A plethora of experimental sound, electronics, and installation work from Haroon Mirza interspersed the space to create a sonic interjection into a primarily "silent" fair. Their decision to even display work of a non-traditional variety – albeit Mirza is one of the most digestible artist of this ilk – was a relatively gutsy move, particularly when juxtaposed with several large sculptural works by Ai Weiwei. This obviously attention seeking interruption worked in Lisson's favor as I noticed that both times I thoroughly walked through this space I had to navigate troves of visitors and spectators. This is not to congratulate Lisson too much, but their effort to expand the fair out into mediums that rarely get proper displays within this context was definitely something that stood out within the fair.
One of my favorite booths was without a doubt Elizabeth Dee (NYC) due to their very well rounded display of historical and contemporary works. The standout here was the six TV screens displaying a recent compilation of rarely-seen early video works by Adrian Piper. In a fair almost completely devoid of media works, Elizabeth Dee's decision to show works that not only require headphones and a certain attention span, but also works intended for museum collection was a bold move. These videos were then nicely paired with some delicate painted pieces by Mark Barrow and a stunning optical wall piece by Philippe Decrauzat.
There were other notable statements from international booths, including a superbly put together booth by Galeria Vermelho from São Paulo, a great Chris Burden mock-up by Wien based Galerie Krinzinger, as well as some nice photographic works by Willie Doherty presented by Kerlin Gallery in Dublin. That being said, I was disappointed by the majority of the Frame project spaces for galleries established less than six years ago. These spaces, situated in the middle of the fair, were almost too safe by either showing conservative work or else relying solely on spectacle. That being said, 47 Canal's booth displaying work by Michele Abeles stood out amongst these spaces. The digital collages that blended scraps from previous works seemed both dense and flat at the same time. This series of roughly ten works created a tension showing an active (almost impatient) mind, willing to spread images and ideas evenly to sort through a personal past.
As stated above, the general sentiment of Frieze was both jolly and practical. Amidst the crowds of art enthusiasts one could find enjoyable work in regular frequency, and booths devoid of interested audiences were few and far between. Even though I would have liked to have seen more experimental work, the understandable need for predictability within the contemporary art market didn't prove to make for a bland experience. See below more images of noteworthy works and booths of last weekend.
Latest posts by Nicholas O'Brien
(see all)