Eric May is a founder of Roots & Culture, a nonprofit gallery space in Chicago that features stellar group and two-person shows throughout the year. May is also the longtime chef at Ox-Bow, a 95 year old summer school/retreat for artists located in Saugatuck, MI. (You can read more about Ox-Bow on Art21 blog here). It's not completely uncommon to see houseplants in a contemporary art gallery, but the front-window "garden" at Roots & Culture is truly special – the first time I visited R&C several years ago, it was the foyer that really captured my fancy. It's earthy, beautiful, completely unpretentious, and somehow those plants seem to encapsulate everything that Roots & Culture and its approach to exhibiting art (and creating community around art exhibition) is all about. Heidi Norton and I talked to Eric about how he came to found R&C, his passion for sustainable living, his life at Ox-Bow, and a range of other topics. We're truly grateful to him for taking the time to talk with us.
*****
Claudine Ise: Tell us about how you found the space that Roots & Culture is in. I've always been struck by the fact that although it's a storefront space, the setup inside is really homey – and in fact, there's a full kitchen in back, and you have a "garden" in the front, not unlike a home. You transplanted the kitchen from Ox-Bow – why? And what kind of plants are in the front window? They all seem to be thriving there.
Eric May: Initially, I had been shopping around for a space without a clear idea of what I had in mind. Really, I had been growing bored with the Logan Square area where I had lived for seven years and it was time to move. The Noble Square/ East Village area was appealing. It was affordable and seemed much more central. So I started looking in that area for a few months. My dad actually first came across the space at 1034 Milwaukee and let me know that it was a potentially interesting space to house many activities. I was looking for a place that would be multi- functional, a live/work type of environment but not exclusively an exhibition space. I was for sure captivated by the idea of art cohabitating with daily life which I had come to experience through apartment galleries and the like in the Chicago scene in the early to mid 2000's. I was also working as a curator at another nonprofit gallery, so when we found the storefront it seemed like a natural choice to open as a gallery. And it had ample studio space in the basement and a modest loft that we built out as an apartment.
I really lucked out I think, because I had enough space to build out a clean, professional gallery. I remember consulting John Corbett about my initial plans to open an apartment gallery and he said, "just make sure that there aren't stacks of pizza boxes everywhere".
Also I was really impressed by spaces like duchess and 65GRAND, which I felt were very successfully exhibiting work in crisp, clean spaces while still feeling welcoming and homey. So a certain level of professionalism was always in mind as we designed the space. That said, I deeply believed in the idea that by creating an exhibition space which had a domestic, holistic feel, it could slow down the viewing process- a space in which an audience can linger and exchange. Offering food at our events seemed like a great way to encourage this type of viewing experience, since I have a background in cooking. As for the stove- Ox-Bow had begun renovating and rebuilding certain buildings on campus in late 2005, which included the kitchen. I asked them if I could keep the old stove (which I had learned to cook on), at the time having no idea what to do with it. My friends were kind enough to let me store it in their barn on the farm in northwest Indiana and fortunately a year later I had a space to move it into. The party is always in the kitchen, so we designed an ample kitchen as a reception area with the old stove as the focal point.
The hearth, a source of warmth and nourishment, is an essential nucleus of a happy, healthy home and I thought this would be a wonderful attribute of the space. I like to see Roots & Culture as a bigger project, an experiment in ecology both social, domestic, and also biological, more on the latter to follow.
Heidi Norton: My parents spent their 20's living off the land- building cabins, raising animals, crops and subsequently it has influenced my art and life extensively in a variety of ways. You have been committed to Ox-Bow for many years, can you talk about how a space like Ox-Bow and it's relationship to nature and land has influence your philosophies around art and food? What is Ox-Bow to you?
EM: Ox-Bow is my favorite place, my second home, and a place that has taught me a lot in my adult life. I grew up in places with access to nature and was super interested in plants and animals as a child. In fact I spent most of my summers in the Western Michigan area, so the Saugatuck area was very familiar and a landscape that felt native to me. Ox-Bow's land is a treasure of untouched natural beauty in the Midwest and has a rich and diverse ecosystem. I have encountered many a breathtaking natural experience in my years- the mating dance of the ichneumon wasp, finding giant moths on my cabin, stumbling across a family of barred owl chicks, spotting a red fox darting across the meadow, foraging from a dead tree in full bloom with chicken-of-the-woods mushrooms. A few of my early co-workers in the kitchen grew up in rural areas, so they proved to be a wealth of knowledge in the old ways and taught me many old timey skills such as canning, pickling, homebrewing, slaughtering chickens, and gardening. We have an ethos of wasting as little as possible, composting everything, using scraps for stocks, etc. The area is a fecund and robust agricultural region and we have access to an amazing bounty of naturally raised produce. Its funny because the mantra of seasonal, local, farm-to-table eating has become so fashionable in the city and it's the kind of philosophy that has existed in the Ox-Bow kitchen for decades. And our producers, until recently, did not have to advertise the virtues of their products because they have all along just adhered to the old ways, generations of sustainable farm practices. So clearly living and working in the heart of the country has had a huge influence on my approach to cuisine. There is a more meta influence that Ox-Bow has had upon my broader practice and I think its pretty simple- in this experience which is closer to the land, I have learned a sensitivity toward relationships between ourselves, our environment, and the other beings that populate it. Equally central to this is the closeness of the community and shared experience, which is focused 24/7 on the pursuit of creative endeavors. The proximity in which we work and live requires a sensitivity to others and a sense of collectivity. These are core values to what I do.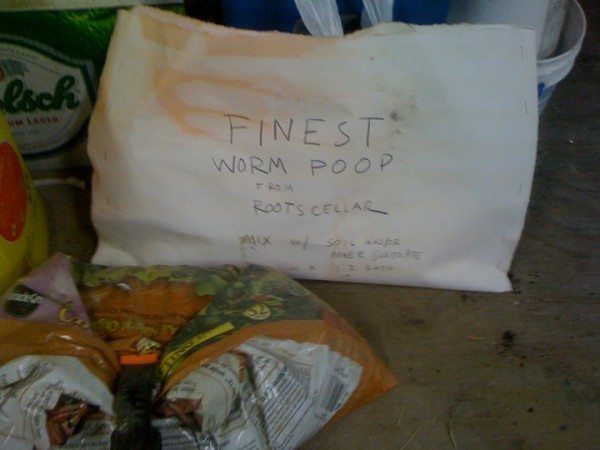 CI: Do you have a garden at home? If so, what's in it?
EM: You might call our horticultural dabblings at R & C "gardens". I like to keep a diversity of plants and animals around me, so I have always kept pets and house plants. The foyer garden at the gallery began as a collection of my houseplants. It's probably the efforts of Mike Wolf, who has been a resident of the space for four years, that nudged the houseplant zone into what you might call a garden. Over the years, he's started fruit trees up there. Green onions grow pretty successfully. I was really impressed when he pulled up some voluptuous bulbs of ginger out of one of the pots recently. He has also ran a compost program in the basement and always has seeds germinating down there. Last year I built out an unused room in the basement into a garden and contemplative space that I call the "Grow Room." I successfully grew lettuces, radishes, and herbs, but ultimately felt like the produce was lacking in a robust flavor that I reckon is developed from natural sunlight. The electric bills also did not exactly make the endeavor a sustainable practice in terms of energy produced versus energy consumed. I also have grown mushrooms down there, which require far less light, and now I primarily grow exotic mushrooms down there these days- shitakes, blue and pearl oysters, and lion's mane mushrooms.
HN: Claudine and I recently stumbled upon this restaurant at the Crocker Museum for Art in downtown Sacramento, opened by a "philosopher", chef and artist, Jonathon Keats. Keats says,  "this is not a restaurant for humans to eat plants; rather, it is an exercise in creating a dining experience for the plants themselves, with a menu of enhanced sunlight that is designed to appeal to their sophisticated sensory apparatus, providing them with not only energy, but also a satisfying, piquant, and delightful experience." In your opinion, what does this "solar gastronomy" offer to human mankind and to plant/botanical mankind? What are your views on this dining by the electromagnetic spectrum philosophy? Gimmick or cool?
EM: This "plant restaurant" project looks pretty silly to me. I like the idea of revering plants and drawing focus to their life cycle. But to call it a restaurant and to frame the serving of light to organisms that do not perceive pleasure to cuisine seems a bit of a stretch. And this is coming from someone who has hosted dinner parties for wild animals. In my work, though, I am highlighting the differences in consumptive habits of people to animals and unpacking the anthropomorphizing of animals. I'm having a hard time locating intention for Keats' framing this work as cuisine. In my grow room project I have been interested in the co-presence of consumption and production of horticulture. That said, an aspect of this work, the idea of granting plants their own time and space to consume is kind of cool. Maybe it would be more complicated for an audience if they were invited to dine upon plants as the plants "dine" upon light. I like his cookbook format though, recipes are a great discursive tool for work like this, a strategy I've used in some of my own writing. It kind of harkens back to the old school conceptualists and their lists of directives for recreating their work.
CI: To me, the name 'Roots and Culture' has a kind of retro-hippy vibe that doesn't scream out "Contemporary Art shown here!" What does the name of your space mean to you?
EM: The name, I get this question every once in awhile. Retro- hippy vibe works for me! The name comes from my love of reggae music, Roots & Culture was a movement in Jamaican music during the early to late seventies, which is aligned with the Rastafarian movement and Garveyism. Of course it's more than a little clumsy to reference such a specific historical moment that my only real connection to is through cultural fandom. More generally though, the music represented a shift from more base, popular subject matter to socially conscious meaning. I like that as a metaphor for our activities. I like the slipperiness of signifiers too, and I like the openness of the name. It is very clear in a way, but also layered with other referents, like to botanical and fungal ideas. This kind of broad way to talk about ecology is at the core of my practices and I couldn't really articulate that when I first opened the space, but have now come to as my practice has expanded.
Latest posts by Claudine Isé
(see all)