Culture's a funny thing; so many of us accept it as a ubiquitous and powerful force, yet we tend to undervalue the level to which it influences our choices. Cognitive dissonance of the highest magnitude.
I've seen this in high-relief over the last 18 months, commuting between Wisconsin and Brooklyn. From television to cuisine to high-art, culture seems bent on sanding us down even as we strut about thinking of ourselves as unique splinters in the side of society. And me too, flying back-and-forth, literally feeling above the fray in mind and distance. But with my family settled safely in Wisconsin, all that commuting ends soon. At which point I'll be back on the ground, in the fray, trying to protect my nose and exposed fingers from the ever-normalizing orbital sander of prevailing culture.
April 8 will by my last Thoughts from the Cultural Divide from the trenches.
Speaking of rugged individuals and sandpaper, today I showed my class the famous photo of 'The Irascibles' along with segments of Hans Namuth's videos of Jackson Pollock in East Hampton. The imagery seemed especially dated this time around. So musty and conservative. I had to work harder than usual to remind myself that the New York School once represented a viable avant-garde. One woman. All white and self-satisfied. All in suits and clean-shaven, though Theodoros Stamos has a mustache in the photograph that would humble the most pretentious Brooklyn bartender.
As mothballed as the New York School seemed this morning, the contemporary alternative as described in Randy Kennedy's New York Times article about contemporary social practice didn't seem any more promising when I read it tonight.
The piece, "Outside the Citadel, Social Practice Art Is Intended to Nurture" describes a movement of art centered on affecting social change rather than making objects for the marketplace. All fine; fighting for a good cause is hardly something to root against. But the quick rise of this approach to art feels somewhat overt to me. My suspicion is that social practices, like much art throughout history will end up sacrificing content on the altar of self-conscious form. Form that will become apparent only after the initial seduction of the movement has evaporated. Or to paraphrase Roland Barthes from Mythologies, "a little formalism turns one away from History, but a lot of it brings one back to it."
Even more to the point, and to my skepticism, Michael Kimmelman from a piece called "DIY Culture", in the New York Times a few years back:
"The myth of an avant-garde serves the same market forces avant-gardism pretends to overthrow. Art may challenge authority; and popular culture (this includes clownish demagogues like Glen Beck) sometimes makes trouble for those in charge, the way Thomas Nast's cartoons did for Boss Tweed in Tammany Hall. But art doesn't actually overthrow anything except itself, and never has, not in 19th-century France or 20th-century Russia or 21st-century China or Iran. Even when it manages to tilt popular thinking, it still ends up within the bounds of existing authority, and there has never been a true "outside" that really stayed outside: public consumption, by definition, adapts to the change, co-opts and normalizes all culture."
The pop analogy I often use to explain this phenomenon is the life cycle of a fashionable name. Take, "Jennifer" over the last 50 years. Not biblical and of obscure origin, the name just kind of tipped over into the popular consciousness in the 20th century. It went from the 20th most popular name in 1965, to 10th in 1966. It was the single most popular baby name from 1970 through 1984, but by 2000 it had fallen out of the 25, usurped by all the Abigails, Brianas and Madisons. While one can't determine which mothers were channeling popular consciousness and which were drawing from their own independent creative sources, the numbers suggest most are a case of the former.
Like Jennifers, art come in waves that build, crest and crash. This might all sound a bit cynical, but it shouldn't. It's not the name "Jennifer," nor that my neighbor here has a Green Bay Packers flag mounted to his house, nor making art as social practice that pricks me, it's that the numbers, the movements and the waves all suggest that culture is shaping us while we think we are in control. That we picked 'Jennifer', and the handlebar mustache, and the social practice, and the DIY collective gallery space in Ridgewood, when in fact, they probably picked us. And, who knows, maybe you were inspired, but we should have some humility because the numbers show that you and I aren't as fiercely independent as we might think.
I've also gleaned via crude armchair sociology over the past year-and-a-half that, yes, it's probably true that Brooklyn gets bartenders with handlebar mustaches a year or two earlier than Wauwatosa, Wisconsin, but being the first to start a wave of pretentious affection is a dubious distinction, and simply more proof of cultural homogenization, not individuality. And we should make doubly sure that our art doesn't follow the same trend psychology that our facial hair does.
So I suggest we leave the handlebar mustaches to Theodoros Stamos and try to avoid being battered and worn down by the relentless waves of culture.
---
Recently, while trolling the facebook site for Works Progress, an artist-led public design studion in Minneapolis, I came across a thread on Colin Kloecker's page (who co-runs the studio with Shanai Matteson) compiling a list of must-reads on the subject of Creative Place-making. What I gathered from the thread and then from talking more with Colin is that we share an interest in how new funding opportunities, that are becoming available under the rubric of "creative place-making" (most significantly through granting organizations like ArtPlace), are affecting and intersecting with socially-engaged practices. Most recently this conversation came up in Chicago when Theaster Gates' Rebuild Foundation along with the University of Chicago and the Bruner Loeb Forum held a conference called The Art of Place-making.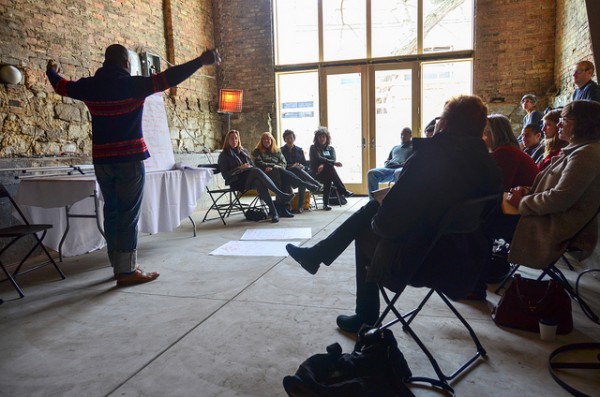 Artplace was there in attendance, my highlights were the presentations by Kennedy Smith and Walter Hood, presenting on the importance of small business development and creative urban design respectively (arguably the two poles of Theaster's initiatives.) There were tours of the various properties and lots of conversations about what is unfolding at Dorchester Projects, Stony Island Arts Bank, the Washington Park Arts Incubator, and all the rest in development. Â One of the moments that stood out for me came in a meeting leading up to the actual conference where Theaster convened community members, local organizations, and neighbors at Dorchester Projects to talk about what was going to happen at the forum and getting feedback on a smaller-scale. I ended up in a break-out group on the Washington Park Arts Incubator and the community-building initiatives now in formation. I don't pretend to fully understand the complexity of that project, in that neighborhood, with that set of partners, and while I am really excited about what's happening there, I am also struck by the enormous responsibility being placed on an artist residency program sited in a neighborhood with a historically decimated economic infrastructure. A lot of people spoke about needing educational programs or job training, or of the difficulty in explaining to the neighborhood why they should embrace this place. Â And I thought, this is a really complex, long-standing socio-economic context to wade into and a lot is being put on artists to have a significant impact in the shaping of that conversation. Perhaps that's just naive, but I also think it bears repeating. These issues are really, really complicated, the struggle against gentrification is a hard battle and the issues of good versus bad economic development are very deep and hard to parse out. And it is kind of a bizarre world in which artists are put forward to lead the way, while being asked to speak about economic development and community impact. Perhaps that's where they should be, I'm not sure.
So with that in mind, while cribbing Colin's list and adding some of my own, I thought it would be interesting to compile a list that reflects the dialogue as it is in this very moment. With the 10th anniversary of Richard Florida's book "The Creative Class", the much-criticized and massively influential book on urban development that ties arts funding to innovation culture and business development, rather than inherent social good, we're primed to revisit the failures and the successes that are now the received wisdom as to the state of arts funding.
Creative Place-making from the government:
The original white paper from the NEA
In creative placemaking, partners from public, private, non-profit, and community sectors strategically shape the physical and social character of a neighborhood, town, city, or region around arts and cultural activities. Creative placemaking animates public and private spaces, rejuvenates structures and streetscapes, improves local business viability and public safety, and brings diverse people together to celebrate, inspire, and be inspired.
And from ArtPlace on "Vibrancy Indicators"
ArtPlace is a collaboration of 13 leading national and regional foundations and six of the nation's largest banks. ArtPlace is investing in art and culture at the heart of a portfolio of integrated strategies that can drive vibrancy and diversity so powerful that it transforms communities. To date, ArtPlace has awarded 80 grants to 76 organizations in 46 communities across the U.S. for a total of $26.9 million.
And then the analysis:
Dead End on Shakin' Street in which Thomas Frank explains how Creative Place-making pits Cincinnati versus Rockford versus Kansas City versus Akron in the vibrancy test. It is perhaps unfair to pit funds for city tourism over what should go towards universal health care coverage, but it might as well be put in perspective. A very trenchant and important critique here.
This guy has some beef with Frank, writing from Asheville, NC. I think he misunderstands Frank's larger point which to me is about pointing out the disinvestment in the public sector on a wide scale, not that universal health care is being specifically defunded via the millions spent on vibrancy initiatives. He also writes for what looks like a marketing firm called Placemakers.  They "cultivate livability."
The Fall of the Creative Class, a first person story of why following Richard Florida's plan to the letter in deciding where you live might not be a good idea by Frank Bures. Madison-bashing and a totally baffling set of unrealistic expectations aside, this has some good analysis. Also as a side note, the part in here where an overweight woman who he imagines as never leaving her apartment stands in as a symbol of his existential angst is totally problematic. Fat people are not signs of the world coming to an end.
Richard Florida responds to Bures directly here in his "What Critics Get Wrong About the Creative Class and Economic Development" which is basically a rehash of the correlation versus causation debate and then Bures responds back here. And more from Richard Florida in More Losers Than Winners in America's New Economic Geography.
And here Florida talks at the Aspen Ideas Festival with our retiring NEA chairman Rocco Landesman who cannot wait to spend more time in Miami Beach.
Ian David Moss from Fractured Atlas and Create Equity blog (which is really good) has some great analysis  in Creative Place-making has an Outcomes Problem. This will truly take you deep into art administration nerd-dom but his critique of ArtPlace and its vibrancy indicators is coherent and worth reading. And there are links at the bottom of his post that will lead you to more Florida backlash.
Roberto Bedoya on Creative Placemaking and the politics of belonging and dis-belonging writes about creative place-making strategies of community engagement not adequately meeting the challenges of spatial justice and how "place-making" has to contend with the very real histories of displacement, colonization and indigenous struggles. As Bedoya writes, "Creative Placemaking activities' relationship to civic identity must investigate who has and who doesn't have civil rights."
And here's a hilariously raw assessment of Richard Florida's consulting group "The Creative Class Group" implementing a program to train "community catalysts" in Charlotte, North Carolina; Duluth, Minnesota/Superior, Wisconsin; and Tallahassee, Florida, conducted by Knight Creative Communities Initiative (KCCI) that Frank Bures talks about here. And a similar aggregate of the arguments with Can Creative Placemaking Be Proven? The (New) State of the Arguments.
Enjoy the rabbit hole!
Photo by Eric Rogers
---
Last month we closed a trio of social justice exhibitions at Sullivan Galleries—and Laurie Jo Reynolds closed Tamms, the state's solitary confinement prison. Art did that. Artists made work, called others to do so to, and then brought in a population that usually doesn't come to see shows at SAIC. Why should they? But these shows made art matter because the artists leading these efforts—Tirtza Even and Laurie Palmer, Mary Patten, and Ellen Rothenberg—cared and had practical, human rights goals about which they were clear on both the subject and their commitment.
When I read Grant Kester's essay in a new book, Engagement Party: Social Practice at MOCA, 2008-2012, my heart sank, twice.  First, to read that for this series artists were to present work on the first Thursday of three consecutive months; it was a program of, for, and by the museum. Oh, there were claims this made the museum more transparent, a late entry into institutional critique, and questioned the "boundaries of art, museum, and broader culture," but really what it offered were bookings and entertainment, and Kester, too, cites complicity.
The second sinking feeling is worse, because he goes on to list questions he feels are critical to "participatory practices." Ok, let me pause here: he says participatory, not social practices. It's not the realm that Abby Satinsky cites as the "Chicago attitude." But I am not the only one to juggle apples with oranges, and social is the title of the book in which he writes, so I'll proceed.
Here are Kester's critical points. (1.) His need to categorize by the structure of the project. (If you must; he's got four.) (2.) The viewer's relationship to "the work-as-thing." Now I am among the first to rally for process-based work, but to say that the history of modernist art "provides a virtualized inter-subjective encounter" and that "these experiences are virtual and aesthetic," is to have never had an experience with art. Dewey, the spokesperson for art-and-life within a wider understanding of "aesthetic" is rolling over in his grave. This includes a rather wooden description of "plural relationality" that hardly conveys vitality. We have to move beyond the passive/active participant paradigm. Meanwhile the "consciousness" he cites as perceiving other's actions is not the consciousness to which I aspire and which art can give. This curiously leads him to the tired issue of authorship in collaborative art. (Get over it.) (3.) Finally, ethics. Well, if we were talking about "Opening the Black Box: The Charge is Torture," or "Natural Life," or "Tamms Year Ten Campaign Office," there'd be something at stake. Stop letting Claire Bishop set the terms, Grant (his language aesthetics vs. ethics, hers—autonomy vs. morality). You're better than that. We are better than that.
I return to my colleague Abby Satinsky's mention of a "Chicago attitude" that she said she was struggling to articulate. How to encapsulate all that this city spawns and sends out in the world, all that artists do and keep doing here. And with this knowledge of what's at stake, we don't have to give up on art, and at the same time, we will never give up on social relations.
So I turn to Japan…bear with me…. because our alliances in this endeavor are wide, and our dialogues on other terrain both contribute to them by our example, while furthering our own understanding of what the Chicago attitude is. (Isn't that what dialogue does?) I took up this conversation in Tokyo with two Korean artists, Kyungwon Moon and Joonho Jeon, whose News from Nowhere presented at documenta 13 will go a step further with the Chicago Laboratory this fall, and I invite you to Sullivan Galleries to look and participate. But to get to the origin of making art, participation and the society, I started with the question:  What personal transformative or, well, moment of crisis brought you to this point in your work?
JEON: To create art is to contemplate your own circumstances, learning through experience and expressing through art forms. Thus, art must necessarily be intensely private and subjective. I had merely been expressing subjective opinions when I began to doubt whether any of my opinions mattered to the rest of the world.
That prompted me to wonder if I could grasp the true nature of this doubt, and whether I could take it beyond my own personal views and work together with someone else to make it part of the public discourse. That's why we decided to collaborate and brought in people from fields outside the art world to participate.
MOON:Â The making of art is commonly thought of as a private act. Working alone used to make me feel a sort of deprivation, as if the only voices I was hearing were my own echoes. While I still acknowledge individual exploration as being inseparable from art, I started this project because I came to realize that collaborative systems are also important, and began to wonder what sort of practical influence a collaborative project such as ours could have on society.
I also wanted to know how art forms would change in the future. What changes in relationships and modes of communication in art itself could affect society in entirely different directions? How will art be transformed in the future? The very process of asking these questions was a way to think about the evolution of art and its future prospects.
MOON & JEON: Having participated in a number of exhibitions together since 2007, we began discussing our thoughts and concerns on contemporary art, including the meaning of art, the expendability of exhibitions, and the absence of the critique. We came to think we should create art that is not only practical but also introspective, that is, in the sense that it would provide us with the opportunity to reflect upon ourselves.
We began asking questions about social function and role of art, looking at values and beliefs, and these led us to ponder: What would other artists in different fields think about our questions? So we organized News from Nowhere as an open discussion platform that reflects on art not just through arts but also through the humanities, sciences, economics, education, and religion.
Our initial motivation was to break free from art's polarity of "the self and the other" by listening to others, sharing problems, and finding solutions together. Our priority has been on people's participation. Each discussion is part of the process, part of the work.
We don't offer any answers or a particular message. We want to share our discussions, processes, and views with those in the art circle as well as the society-at-large, and re-think and re-flect.  In this project, the word "re-think" does not equate with "reset," as in starting anew. Instead, our use of "re-" involves empathizing and joining forces with others to think, solve, and share ideas.
---
Audio clip: Adobe Flash Player (version 9 or above) is required to play this audio clip. Download the latest version here. You also need to have JavaScript enabled in your browser.

download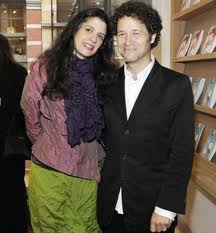 This week: The final installment of SoPra fest 2013, Paul Ramirez Jonas!
Ramirez Jonas has said of his work:
"I create as I speak: I consider myself merely a reader of texts. The pre-existing text I treat as a score: a diary, an old photo, a footpath, music, etc. The reading can take the form of performance, sculpture, photo, or video. Thus, a musical score results in a sculpture, a diary, in a video, or the plans for a flying machine in a photo. In my works, what looks like invention is but re-enactment. Being a reader, don't I have more in common with the public than with the author? I find that commonality in working with pre-existing materials."
Currently, Ramirez Jonas sees his role as "extending beyond the private reader, and into someone who invites viewers to join in. The result of this shift is the reassertion of a contract between the artwork and its public."
In 2008 at the 28th Sao Paulo Biennial, Ramirez Jonas arranged for members of the public to a receive a key to the front door of the biennial venue, the Ciccillo Matarazzo Pavilion. Each person who received a key was required to leave behind a copy of one of their own keys as well as sign a contract that established an agreement between themselves, the curators, the artist and the biennial foundation.
For the 7th Mercosul Biennial in Porto Alegre, Brazil in 2009, Ramirez Jonas altered three large boulders by carving into them a space for monument plaques to be placed. Instead of creating permanent monuments to a State honored figure or event, he turned the monuments into platforms for cork boards for the fleeting message or personal note-the ephemeral voice of his public.
In the summer of 2010, Ramirez Jonas created the Key to the City project in New York City with Creative Time. Though keys were only distributed up until June 27, the locks will remain accessible throughout the summer, until September 4, 2010.
He is represented by Alexander Gray Associates in New York and Roger Bjorkholm in Stockholm
---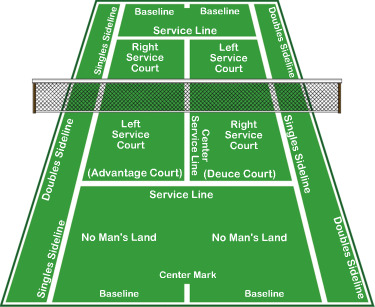 I came on as the Managing Editor of the Bad at Sports blog about a month ago. It's been an exciting turn and I hope to do well by it. A few people have asked what my vision going forward is, and I thought I might say something about it here. I hope to continue reflecting on the dynamic energy in Chicago's contemporary art world while connecting to conversations and aesthetic agendas in other cities and disciplines. That agenda was set in place a while ago and I believe I can continue to guide and focus that intention. There is room for experimentation in that vision, which seems necessary to me. Bad at Sports has never presented a tidy, singular package and as such, I believe it would go against the nature of the project to filter content and tone through a single, editorial lens. Its roots in independent, DIY and Punk Rock collectivism remain at the heart of the project's vitality and the blog is a platform for unique and individual voices that pass through the subject of contemporary art and culture. As such it becomes a nexus of concerns and responses to culture at large. That is something I hope to preserve under my stewardship. As an artist-run forum, Bad at Sports has the unique capacity to reflect on a host of subjects, exposing the intellectual, aesthetic and social networks that define and subsequently influence cultural production. I believe it is our job to explore and discuss the contexts we inhabit. In doing so, we further establish a living touchstone and future archive of contemporary discourse.
Some changes should be apparent already — others will fall into place like pieces of a puzzle in the coming months. The process is organic, but I've been trying to set up a casual, thematic architecture  that unfolds over the course of a given week. Eventually, I hope to schedule two posts a day, one before 2pm and one after. Built in to this, is room for special occasions and guest writers — those posts would either go live in the evenings, or fill in existing gaps. To that end I've been inviting a number of new writers, many of whom I have admired for a long time.
Here is something of a loose schedule:
Mondays: Essays and reflections from old favorites Jeriah Hildewin, Shane McAdams and Nicholas O'Brien — writers who have been posting with consistent dedication. In addition, I'm excited to announce a new bi-weekly column by Dana Bassett, whom you may know for her ACRE Newsletters.
Tuesdays are dedicated to three subjects: Performance, Social Practice, Language (or the performance thereof) and Object Oriented Ontology. Confirmed participants include longstanding contributor Abigail Satinsky and Mary Jane Jacob (Social Practice), Anthony Romero and João Florêncio (performance), Gene Tanta (language), Robert Jackson (OOO).
On Wednesdays, we will read about artists and art in other cities. The following writers will post on rotation: Jeffery Songco is covering the Bay Area, Sam Davis continues to represent Bad at Sports' Los Angeles Bureau, Sarah Margolis-Pineo is writing about Portland. Juliana Driever will be relaying posts, interviews and artist profiles about New York, and then we'll bring it back to the Midwest with Kelly Shindler's dispatch from St. Louis, and Jamilee Polson Lacy writing about Kansas City.
Thursdays herald our illustrious Stephanie Burke's Top 5 Weekend Picks and a new monthly contribution from author/translator Johannes Göransson whose writing you can also find here.
Fridays have been set aside for art reviews and artist profiles with contributions from Danny Orendoff, Monica Westin, Abraham Ritchie and myself.
WEEKENDS will feature a range and flux of the above, plus Brit Barton's Endless Opportunities, cultural reflections and short essays by Terri Griffith, continued posts from Jesse Malmed, in addition to a monthly contribution from the newly confirmed Bailey Romaine and Adrienne Harris.
My last note is this — there is room in this schedule for additional posts, posts that would feature special events, festivals and conferences in the city. That space would also be available to, at times, connect the blog and the podcast. As a first indication of this, we will be highlighting IN>TIME, a performance festival that is going on as we speak, from January until March.
Otherwise if you have any comments, suggestions or, even guest posts you would like to submit, please feel free to contact me at: caroline@lanternprojects.com
---