First there was Hevetica, the documentary about the font and typography in general. It was all the rage in art circles for a week and now comes the spiritual sequel Objectified which promises to do the same for industrial design.
Check out the trailer below.

---
About a month ago I was able to catch a showing of the Swedish vampire film Let the Right One In after much nagging from my film buff sister. Adapted from John Ajvide Lindqvist's 2004 best selling novel Låt den rätte komma in, the film centers on the relationship that forms between Oskar (Kåre Hedebrant) and the undead Eli(Lina Leandersson).
Oskar a 12-year old who spends his days being bullied at school and his nights imagining revenge. He meets Eli another outcast who has recently moved next door to Oskar. Set in the suburbs of Stockholm in the mid 80's, the frozen landscape becomes the perfect setting for the sudden rash of murders. The film is remarkably beautiful but also is playful with its use of vampire folklore. Finally we see in a film what happens when a vampire enters a room uninvited. Hands down the best contemporary vampire film I have seen.
*Note: I rewatched the film this weekend after I picked up a copy at Target. I thought I had seen some subtle changes in the conversations but didn't think much of it. The consumerist yesterday posted an article about the dumbing down of the subtitles. Hopefully they will release a copy with the original subtitles soon.
---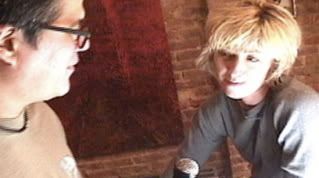 One of my favorite blogs, C-Monster, has an interview with 'Guest of Cindy Sherman' director Paul H-O. "During a series of exclusive interviews, Paul and Cindy fall in love and begin a romance. Unexpectedly, the relationship forces Paul to confront issues of ego, gender and identity as he gets caught up in the aura of Cindy's celebrity.With unprecedented access, the documentary places us in the company of the great artist. Spanning over 15 years and including more than fifty interviews with art world and entertainment luminaries…" The interview is a bit random. No mention of Sherman, mainly just some random questions but might be worth it if you like Paul H-O.
Guest of Cindy Sherman opens March 27th in selected theaters.
via C-Monster
C-M: What's the biggest stereotype about art?
H-O: That tremendous macho attitude that someone like Picasso embodied. Martin Kippenberger established a certain style for himself that way, too. Then there's Schnabel. People don't think I like Julian Schnabel, but, in fact, I adore him. He's given me great material. He is that larger-than-life figure. He adopts the attitude of being Picasso, and since he's such a visible figure, Hollywood people see him and say, "Here's an artist!"
Read the entire interview here.
---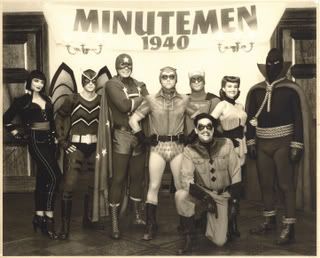 I went in with low expectations of The Watchmen after reading reviews and speaking with my sister, who saw a midnight showing in LA. Her review was "Eh". Typically I am really anal about showing up on time to movies. I forced my girlfriend to show up about an hour and a half early expecting a line for the 7:00 Saturday showing. No line was to be found. We began to realize that not even half of the theater was going to be filled. At around the end of the pre show countdown (approx 6:45) a mother and her brood of toddlers not only showed up to this rated R film but decided to sit next to us. Not exactly next to us, but I could see the whites of their eyes as they peered at me during violent parts of the film.
If you have read the comic you already know what is going to happen within the first ten minutes of the film. I did enjoy the alternate reality flashbacks accompanied by Bob Dylan's "The Times They Are A-Changin'". This point marks when my viewing experienced was ruined, as the kiddos began to scream and tell each other to shut up. I will save you the details of their other antics but after about half way through the movie security came in to escort the toddlers out and deny the mother a refund.
As for the film, I say less romance, less slo-mo, less action. Alan More is clearly a genius when it comes to comics (excluding Promethia) but in the film something was lost in the dialogue even though much of it was lifted directly from the book.
I left the theater (approx 9:45) feeling similar to my sister, but wondering what the meetings were like when they decided what size Doctor Manhattan's penis would be and how much it would sway as he walked.
---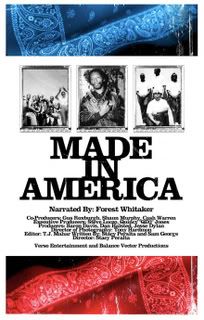 February 6th-10th
Gene Siskel Film Center
Ever since I heard about Stacy Perralta's (Dogtown and Z-Boys) latest documentary Crips and Bloods: Made in America several months ago I have been waiting for the film to make it to the Midwest. CBMA looks at the roots of Los Angeles' two most notorious gangs through interviews with current and former members and traces it's not so violent origins.
View the trailer here.
For More information please visit the Gene Siskel's website.
---