By Kevin Blake 
This is a recurring dream.
I am suspended over an in-ground pool of which I can only see a portion. The pool juts out of the bottom left corner of the frame–a rectangular frame. The edge of the pool makes an L shape–horizontally to the middle of the frame and at a right angle to the bottom boundary. The negative space is a surrounding sun-bleached concrete–an infinite wall contained only by the imaginary frame of the image. My limbs are sprawled out as if they are tied to an invisible force that keeps me from retracting. I lay idle just inches from the water, but I cannot touch. I cannot feel the textures. I cannot sense the temperature, though it appears to be warm–it appears to be late afternoon. It appears to be desert-like. Arid. Crisp. Cloudless. Stark.
The same external force that keeps me afloat, pulls me wildly in a spinning motion to an extreme height where I can see the pool in its entirety. As I reach the apex of this pull, it allows me a brief pause before dropping me and stopping me just inches before I hit the water. It leaves me there, in what feels like dangerous proximity to a glass-like surface. I have no physical control. No power. I can only wait to be pulled from idle and dropped again. As I plunge toward the pool, the water disappears, and I break through the powerless dream–returning to a powerless reality. I wake up with the feeling of being dropped that often plagues the dreams of many. That uneasiness. That bubble in the stomach. That rush to the brain.
The value of a dream is only quantifiable in the mind of the dreamer. It becomes something more than a dream only when a metaphor is established–and thereby attached–as the answer to an otherwise abstract experience. Like spinning around with a blindfold and trying to find people in the dark, the recurring dream becomes something more, when anticipatory and imaginative thinking creates an alteration of behavior, a change in consciousness, or a way to find things in the dark. It can become the blueprint for an artistic practice.
In Tom Torluemke's latest offering at Linda Warren Projects, Blind Man's Bluff, the artist seems to be fueled by the necessity to communicate his ideas–both to himself and to a perceived audience. Here, metaphors(capitulated by the title of the exhibition) are born in cultural experience, unadulterated thought, and dreams–they are the conduit by which this artist transmits his signals in this densely populated exhibition.
The main gallery is filled with paintings, mostly executed with acrylic paint on irregularly shaped MDF panels. This device is useful. It appears to extend his metaphor. To exemplify the oddity that is his commodity–his ideas. Torluemke's ideas may be his bread and butter, but his ability to execute and transmute his thoughts into compelling objects, is equally evolved.
Torluemke's metaphors come alive in works like Day Dream 2015. This decisively cut panel adopts the profile of a man–a shape that is repeated again and again to develop the edge of the painting. A surreal landscape occupies the mind. Faces form the face. Dark matter makes the shadowy abyss beyond the dream. Paint is liberally applied to these slick surfaces, making it a joy to discover the miniature paint galaxies in the depths of the work.
In the smaller gallery a more intimate but more direct version of Torluemke's metaphor adorn the walls. The drawings are made while blindfolded, with one continuous line–details are added later. What is interesting to me about these works is less the product(though I like the drawings), and more so, the idea of creating an action born in metaphor.  If Torluemke feels like his artistic process is often like doing a frankenstein walk blindfolded in the dark, as a child does in Blind Man's Bluff, then it is this thought, this metaphor, that has driven him to thoroughly explore and excavate this idea and all of its potential. As a dream only becomes understandable by way of syntactic dissection and cultural grounding, so too must a metaphor be broken down into its component parts for reassembly as something new. Something learned. Something useful to the pursuant.
There is a multiplicity in these works that contextualize the conditions under which these objects are made. I can sense an urgency. I can feel the excitement. I can see ideas mutate on the surfaces. The work seems to be in constant transition–from panel, to sculpture, to blindfolded drawing and back again. Torluemke's process plays out like a dream as he traverses from one unexpected place to the next. There are no answers here, only snippets of dreams. Remnants of action. Links to a lineage of ideas that are constantly evolving.
By following the hunch, pursuing the dream, and unraveling the metaphor, Torluemke seems to have developed a method for finding his way in the dark.
Linda Warren Projects
327 N Aberdeen Suite 151
Chicago, IL
Gallery Y & Gallery X: Tom Torluemke, "Blind Man's Bluff"
April 17 – June 13, 2015
Opening Reception: Friday, April 17, 2015, 6-9pm
Artist Talk: Saturday, May 16, 2015, 3-5pm
---
By Kevin Blake
"Four score and seven years ago," is how my mind tells me to start every essay I sit down to write. This is my memory at work. I remember the tone of the words that follow in Lincoln's famous Gettysburg Address. I remember the cadence. I remember that it was taught as a triumph. As a novel speech from a novel man. I can see the address in a block quote in a semi-thick American history textbook. It was highlighted in blue with Lincoln's portrait in the top right corner of the elongated box, at the right side of the page, and at the end of a chapter covering the Civil War. I was given the task of memorizing the words and reciting it to my classmates, but all that remains are the first words. The image of the words. The feeling of time passed.
When I am staring beyond my computer screen–perhaps out the window–searching for the right words to begin with, Lincoln's words make up the phrase that my mind tells me to jot down. It seems as much a method of mocking myself for my own distrust in my ideas and the effectiveness of recording them in this way,  as it is a natural beginning. A way to set the tone. A point of abstraction. Only now am I realizing that the attention I have paid to it–in this introduction–may either eradicate its insistence in my writing regiment, or forever disturb any ingenuity it may have had. Today, the words are there and I'm responding to them.
I recently admitted to a habit of writing my articles the day before the deadline, and since then, I have been stewing over the probability of procrastination. I've been questioning my routine and routinely questioning the validity of the way I think, rationalize, and project my ideas. I am forever convincing myself that my ideas are valuable and that the time I have spent Not preparing this article, has been used to decompress the information that has consumed me in the month prior. I am often successful in my persuasion, however, there also exists an acute awareness that convincing is essential. Therein lies the paradox. Therein lies the necessity for crackerjack acumen–or the ability to form enterprise with intuition and memory despite one's rational concerns that may encourage otherwise.
I'm constantly waiting for a bolt of lightning to electrify my thoughts–to send a signal from brain to stem which results in an action–in this case writing. Molly Zuckerman-Hartung revealed to me the genesis of the lightening bolt as Hans Hartung's signature. He believed the lightning bolt was especially for him, and that its form (the zig-zag) represented spontaneity in a way that was true to the idea of what spontaneous action might look like–erratic pivot points descending from above a surface it will eventually contact. It will be surrounded by other bolts (they come in storms), and will offer the conscience a choice at every zig and every zag, eventually determining where the bolt will be grounded.
Last week I was struck at Devening Projects by the drawings of Monika Bartholomé. Before reading any literature about the work, I felt the drawings had allowed me to access very intimate spaces that were not only intimate in their portrayal of domestic interiors. Though there is ample information to suggest that these drawings are simple representations of the artist's habitation, a closer look reveals imaginative brushwork, a keen understanding of light, and most importantly, an uncorrupted investigation of memory.
My memory of the Gettysburg Address and the application of it,  is a corrupted memory in the way it has manifested in this piece of writing. It was stimuli that has since been captured, dismembered, and postulated as metaphoric reasoning. We reason from metaphors in our attempts to make sense of ourselves, our actions, other people, and the physical world around us. We engage in metaphoric thought processes simply because much of our experience is metaphorically structured, and it is from our experiences that we reason. It is through this type of reasoning that I have abstracted more rigid or formal strains of logical connections to perpetuate my ideas, and to understand Monika Bartholomé's drawings through my own narrow framing device.
When I visited Devening Projects, Bartholomé's drawings had the zigs and the zags of the lightning bolts. I could see choices being made. I could see the movement of the brushes as well as her hand, and I felt a connection to the impulses that drove those decisions. I envisioned the way the  brushes moved across the drawing surface and quickly made jagged sloping turns to radiate in a resting place. In each conglomeration of intuitive marks, a space would emerge. These spaces are ultimately derived from memory, but are defined by the hand's memory rather than metaphoric representations of existing places. The work seemed to be about the impulse to move the hand from one place to the next using a tool that makes a mark on paper and leaves a trace that creates a dilemma for the maker. This dilemma and the response to it, is how her images are made. Everything else is corruptible. Every attempt to create, rather than respond, would be a false step in the process of creation.
Looking at the drawings that materialize as living spaces, one can see how the hand's memory is as familiar as the mind's. Bartholomé makes repetitive decisions in similar situations. When she reaches an edge, one can see the pressure applied to the brush gradually subside. As the hand recognizes its place in space, it makes adjustments to the tool. The tool, in turn, responds with a trace of that impulse–a mark of muscle memory and the basis for the next drawing move.
Bartholomé has an incredibly efficient economy in her mark-making strategies. However intuitive it may be, it is also learned. The labor and reduction required to arrive at such simple, yet elegant, descriptions of space doesn't occur on a whim. In her essay, "The Eyes Following the Hand," Bartholomé describes the marks she makes: "…they do condense into pictorial language by means of abstract abbreviation…The lines bring something into the open that I once perceived, for the most part unconsciously and incidentally, and that is recorded here in whatever form. To be able to get what has been recorded, to the connections that the perceived thing entered into, and then create a place for it and be surprised by it–this is what interests me, among other things, in the medium of drawing."
Bartholomé's drawings seem to posit that metaphor is a pervasive, yet indispensable structure of reasoning that calls into question some deeply rooted views about the nature of knowledge and understanding. This balancing act is at the heart of her work. The artist is both visible and absent. The spaces are both intimate and ordinary. Recognizable and abstract. Reductive and chock full of imagery. These drawings are easy to get lost in, but only a few steps backwards will bring your eyes back to a reasonable place.
I'm at that place of reason right now after having written this piece. I'm standing in a place that is far enough from the image I have created, and it seems to make plenty of sense–at least to me. My distortions of Baratholomé's work are my attempt to regurgitate her production schematic–letting memory serve as the metaphor that describes the process.
---
Audio clip: Adobe Flash Player (version 9 or above) is required to play this audio clip. Download the latest version here. You also need to have JavaScript enabled in your browser.

download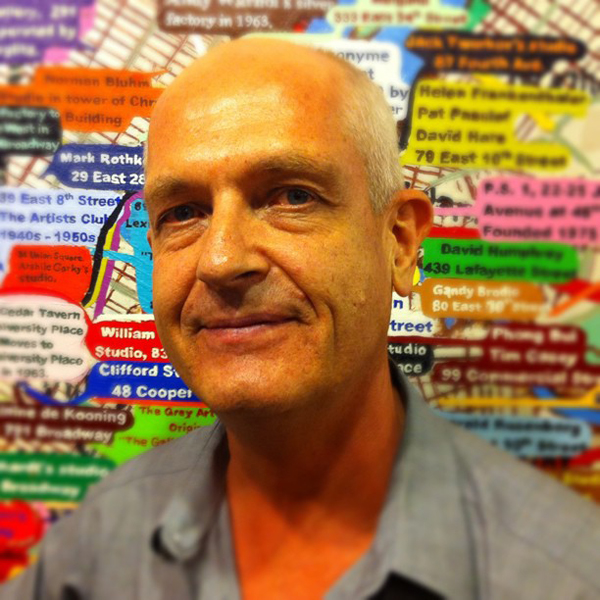 This week: Amanda and Richard talk to Loren Munk about his career, his paintings and his secret life as James Kalm of the Kalm Report.
The artist Loren Munk (born 1951) is a maker of contemporary paintings. He is known among New York artists primarily for his cubistic paintings of urban imagery. Munk also has received accolades for his drawings and mosaics. He differs from traditional mosaic artists by the manner
Munk's work debuted in SoHo in 1981 with a double show at J. Fields Gallery and Gabrielle Bryers. Since then, he has overseen a truly international career. In addition to exhibiting in Brazil, France, Germany and the United States, Munk has received national and overseas, public and private commissions. He is well represented in important collections throughout Europe, South and North America and the Middle East.
Most recently, Munk has been producing a series of paintings which tackle the subject of art itself through a historical and diagrammatic lens. Also, he has expanded upon his role in the artistic community, publishing numerous reviews and essays, curating and promoting several shows, and offering his acknowledged expertise on the Williamsburg arts scene.
Munk documents the New York art world in YouTube videos, using the name James Kalm. The Kalm Report is shot from a first person perspective using a hand held camera. Kalm arrives at an art show by bike—he calls himself "the guy on the bike"—and then walks through the show while providing commentary.
---
In the spirit of the holidays, I thought I'd post something a little on the playful side: a comic I recently revised while thinking about the relationship between text and narrative, how we propagate myths as a society and (even) how drawing can be a kind of dramatic reenactment.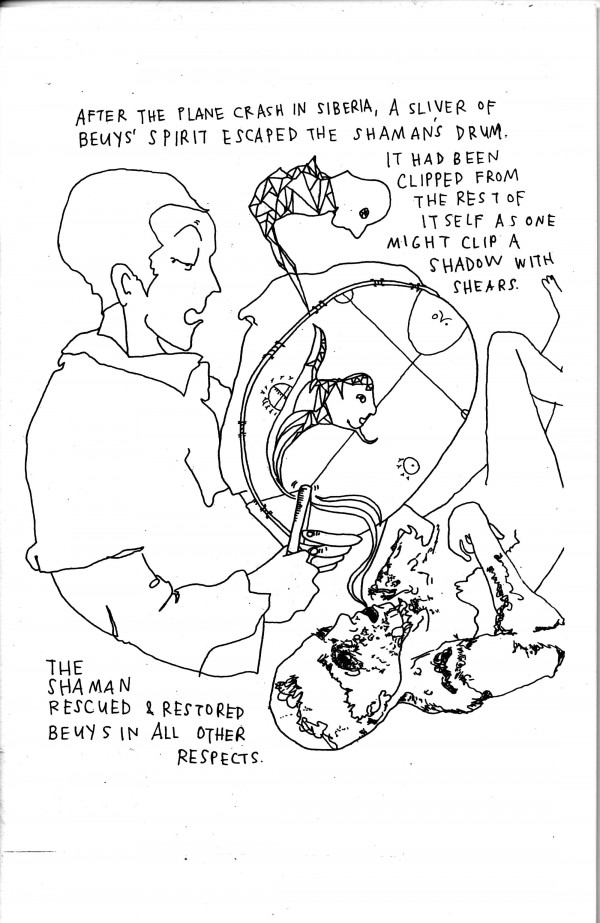 ---
Audio clip: Adobe Flash Player (version 9 or above) is required to play this audio clip. Download the latest version here. You also need to have JavaScript enabled in your browser.

download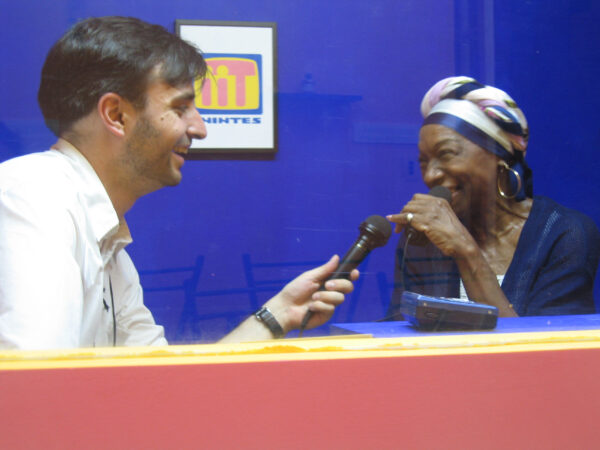 This week: More Open Engagement "SoPra"! This week we talk to Pablo Helguera!
Pablo Helguera (Mexico City, 1971) is a New York based artist working with installation, sculpture, photography, drawing, and performance. Helguera's work focuses in a variety of topics ranging from history, pedagogy, sociolinguistics, ethnography, memory and the absurd, in formats that are widely varied including the lecture, museum display strategies, musical performances and written fiction.
His work as an educator intersected his interest as an artist, making his work often reflects on issues of interpretation, dialogue, and the role of contemporary culture in a global reality. This intersection is best exemplified in his project, "The School of Panamerican Unrest", a nomadic think-tank that physically crossed the continent by car from Anchorage, Alaska to Tierra del Fuego, making 40 stops in between. Covering almost 20,000 miles, it is considered one of the most extensive public art projects on record.
Pablo Helguera performed individually at various museums and biennials internationally. In 2008 he was awarded the John Simon Guggenheim Fellowship and also was the recipient of a 2005 Creative Capital Grant. Helguera worked for fifteen years in a variety of contemporary art museums. Since 2007, he is Director of Adult and Academic programs at the Museum of Modern Art, New York.
He is the author, amongst several other books, of The Pablo Helguera Manual of Contemporary Art Style (2005), a social etiquette manual for the art world; The Boy Inside the Letter (2008) Theatrum Anatomicum ( and other performance lectures) (2008), the play The Juvenal Players (2009) and What in the World (2010).
---