In the wake of the recently announced Detroit bankruptcy, and amid the uncertain fate of the Detroit Institute of the Arts' collection, the Knight Foundation revealed the winners of Knight Arts Challenge: Detroit last week. 56 winners — from individuals, collectives and established organizations and institutions — were awarded grant money ranging from $5,000 to $120,000, given the chance for art to lift a community in the way an emergency manager and bankruptcy cannot: spiritually, mentally, passionately; with love and tenderness. While the Detroit bankruptcy proceedings will be fat cats and brass tacks, pushing elected officials and community members further out of the decision making, the Knight Challenge grant recipients will aim to return power to the people, on micro levels, yet with respect and agency given to the very people in the communities these artists and groups will work with. Thus, the award winners, in total given $2.1 million, represent a ray of hope in the city's immediate future and may quickly change the landscape of the city if they are successful.
The Knight Arts Challenge: Detroit is an initiative of the John S. and James L. Knight Foundation, and is a $9 million dollar campaign to draw from the talent of the city, to keep creative people in the city, as an investment in the arts of Detroit. It follows from the adage "Where culture can breed, people will breed" (I just made that up), but its a lot like "If you build it, they will come" in that it is the arts that build a city or community, that the vitality of the culture sustains the soul and makes people want to live somewhere, that they need to live there, even if there's no public transportation, lack of basic services like trash removal or functioning street lamps; even if the rest of the country has given up on the place, it still has potential that can be seen and felt. Because art and music has a deep history in Detroit, as does innovation and invention.
The winning entries are diverse, and as all were required to take place in or affect Detroit directly, most of them are geared towards working with the communities of the city to instill positive change, empowerment and growth. They ranged from creating a lending library of contemporary Detroit artwork for residents to live with and potentially buy, creative writing workshops, hyperlocal radio broadcasts to create a sound collage while driving through the city, a residency program for musicians outside of Detroit to collaborate with the local musicians, a competition to foster more talent in contemporary Jazz, production of guitars made from reclaimed wood from demolished homes in the city, an artist residency program in city elementary school, seed money to expand an established film fest into a larger event with national status, a nationwide tour of an interactive project geared at engaging viewers with ground roots change, and many many more. One that I find compelling just from its blurb on the website is a video project conceived by the Charles H. Wright Museum of African American History:
"To illuminate some of Detroit's dark neighborhood streets physically and spiritually, the museum will commission a series of video art installations showcasing the faces and wisdom of the city's elders. In conjunction with a team of Detroit media artists, distinguished filmmaker Julie Dash will create the works. Each will seek to bring light to the legacy, vitality and fabric of Detroit, while providing safe passage for residents in a city in which a recent survey said some 40 percent of streetlights were in disrepair."
The phrase "40% of streetlights were in disrepair" is not an exaggeration, but should say "are not working at all". So many streets in the city are completely dark at night, inviting all sorts of violent crime, not to mention further lowering the quality of life experienced by residents in those areas. The temporary lighting of these streets, with proud images and text of the city's past will no doubt be a jolt to the senses. What is needed, of course, is for working streetlights to once again be installed. Ultimately, this will be more powerful than an artwork in terms of transformation. One hopes that this project acts as a catalyst for that to happen, by literally shining a light on a huge problem in the city.
I sincerely hope Emergency Manager Kevyn Orr is devising some way to get the street lamps, as well as other crucial needs of the city taken care of. Obviously, he isn't interested in the arts, as he wants to strip the city of its culture for quick cash. Which art institution will be next on the chopping block? It seems important that now someone is trying to invest in the arts of Detroit. Along with Kresge, a more established arts grant in the Detroit region, a big push is being made to not only keep talent in the city and to nurture the arts, but together they breed an outlook on the art of Detroit as a whole: within five years time (or hell, right now) if someone wanted to quickly distinguish the art of Detroit, they would probably throw out words like "community engaged", "guerrilla", "activist", or the foul phrase "social practice". Not to poop in the punchbowl, but as a narcissistic artist bent on only furthering my own artistic hopes and dreams, I find this potentially disturbing, that a city's identity could be considered along terms of social practice, as aesthetics are so often ignored with work that is community engaged. For now, though, I am more than happy to content to leave this issue for the future, a future where we can afford to consider beauty alone, and not pragmatism and politics. Knight Arts Challenge is opening doors that seemed demolished long ago. Hell, its national news that we just got a grocery store in downtown for christsakes.
It is important to note that ALL of the recipients of Knight Arts Challenge will only get funding if the recipients find matching funds within one year. For more information on the Knight Arts Challenge, visit their website:
http://www.knightarts.org/knight-arts-challenge/detroit
---
In about a week the city of Chicago will be upturned with contemporary art fervor. The art fair, EXPO Chicago, returns for its second year, along with a satellite, Fountain Art Fair. Already the city is buzzing with preparations. In the midst of all this I had a chance to email with Elizabeth Tully, Fountain Art Fair's official Producer, about the history and aesthetic of the organization along with what we might expect at Fountain.
Caroline Picard: Can you talk a little bit about the history of Fountain Art Fair? What is Fountain's ideology?
Elizabeth Tully: Fountain was started in 2006 as a platform for three galleries (Capla Kesting Fine Art, McCaig Welles Gallery and Front Room Gallery) to access collectors, curators and critics during the New York Armory weekend.  We have grown to represent over 100 international galleries, artists and collectives.  Our model is "alternative" because we give free-reign to our exhibitors, and are not exclusive to just galleries, or just independent artists.  Our mission is for people to come to Fountain and connect with whats happening inside through installations and performances that engage visitors and push boundaries.  Of course, people want to sell art, and they do.  But the overall vibe is one of community and goodwill as opposed to commercial frenzy.
CP: How do you facilitate a community vibe? 
ET: There is something special that happens when the Fountain Team gets together, and all the exhibitors show up. Â I'm sure part of it is the type of art we showcase tends to bring in exhibitors that are open-minded and down for adventure (and the Fountain Team certainly personifies that as well) People start installing their art, checking out their neighbors, borrowing ladders, lending drills, etc. Â The energy is palpable and really starts to build, by opening day its reached a fever pitch. Â That sense of "we're all in this together" is really what Fountain is all about. Â For Chicago especially, we are working with Johalla Projects as our partner out there. Â They have been incredible, making connections and fostering relationships to help get this show off the ground and build a new Fountain community in Chicago. I think visitors can feel that goodwill when they come, and its something we take a lot of pride in.
CP: What was it like shifting the fair from something created as a satellite to the Armory, in NY, to a fair that travelled? 
ET: Fountain has always operated as a satellite to these larger fairs (Armory, Art Basel Miami Beach, Art Platform Los Angeles).  Our purpose is to provide a platform for these alternative spaces to showcase their work during these major weekends, but as an affordable art fair, our budget is always tight. The challenge is to keep the show affordable while still creating an environment that is going to be conducive to our clients selling art. Working as a satellite allows us to take advantage of opportunities created by the large shows and the audience they attract.  It also gives us the freedom to explore new markets in new cities, and bring Fountain's particular brand of art + vibes around the world. CP: This is related, I think, to the last question — but your name, Fountain and logo, point back to the infamous Duchampian urinal. Is that a moment in art history that the fair is particularly inspired by? And what bearing does it have on the contemporary art fair model? ET: Just as people were shocked by Duchamp's Fountain, we aim to bring that refreshing spirit into everything we do.  We want visitors to engage with art they wouldn't normally be open to, and break from the things they have seen at all the other fairs.  This spirit of "art for art's sake" is at the heart of the Duchamp/DADA paradigm.
CP: Do you have an example of a work or a couple of works from Fountain that managed to turn your audience's heads? 
ET: Where do I even start??!  Over the years there have been some amazing moments that have happened at Fountain.  Many of them center around the performance programming, which has been curated by Bushwick-based Grace Exhibition Space for the past few years. They invited a world-renowned group of artists from Estonia called Non Grata to Miami in 2010 that resulted in a car almost being blown up!  Non Grata returned to Miami this past December with incredible programming involving live branding. (See photos attached). During my first Miami show in 2009, I remember Russell Young pulling silkscreens live using viles of his own blood.  I remember watching him, disturbed but so intrigued.  It was a defining Fountain moment for me. New York 2012 exhibitors Creamhotel also brought in an amazing performance involving aerialist Seanna Sharpe and her team suspended from the ceiling of the Armory, 130′ above the crowd.  Watching that with a couple of thousand people on the floor was breathtaking, we were all just looking up with our mouths hanging open. Performance art for this show will be curated by chicago-based performance space and I'm really excited to see what they bring! We will be announcing the lineup next week.
CP: How do you encourage your galleries to be experimental? Is it simply the result of the ecology you have developed over the years — for instance do you all try and work exclusively with galleries prized for their experimentation — or do galleries apply with specific projects in mind, projects that you vet from your end? 
ET: I think its a little bit of both. Â Fountain has a reputation for showcasing progressive, sometimes challenging work, so we do attract exhibitors who like to think outside the box. Â I love when potential exhibitors reach out to us with a wild idea(examples above), bringing all the elements together to help them realize that vision is, for me, one of the best parts of producing a show like this.
CP: What brings Fountain to Chicago? 
ET: Fountain staged an exhibition in Chicago back in 2007, and we have been waiting for the right time to return. Â We were very excited to see EXPO Chicago launch in 2012, signaling a renaissance in the Chicago market. Â Then this spring, our now-partners at Johalla Projects reached out to us about organizing an alternative fair during EXPO week. Â There were so many amazing, progressive spaces in Chicago who were interested in participating in a fair, but there was no fair to represent them. Â The timing was finally right and everything has been clicking into place. We are excited to showcase our unique take on whats happening in Chicago, Brooklyn and beyond!
CP: Often I feel like fairs inadvertently reflect a trending icon or strategy — like a deer's head cropped up repeatedly at the last Chicago Merchandise Mart fair, for instance, last year several galleries at EXPO featured paintings with holes or tears in the canvas — are there any trends you anticipate this year at Fountain?
ET:Â  I suppose there may be a trend towards accessibility in art. Â If that's the case, I'm glad we're on the front lines! I think more and more people are realizing that it is possible to have fun with art, and that they can bring amazing, original work into their home or office without breaking the bank. Â That's a beautiful thing, for both the artists and art-lovers.
CP: You all are planning a benefit for the DIA, I believe. Can you talk about how that decision came about? 
ET: We were alarmed by reports of Christie's valuing the DIA's collection and the possibility of these works being hawked to pay off the city's debt.  Fountain co-Founder David Kesting has a long-time affinity towards the City of Detroit and the DIA.  We believe that these works have been given in trust to the people of the Detroit and that legacy must be upheld.  By pledging to funds from our VIP Preview day, we hope to ensure that this conversation continues, and that support builds momentum.
---
Guest Post by James Pepper Kelly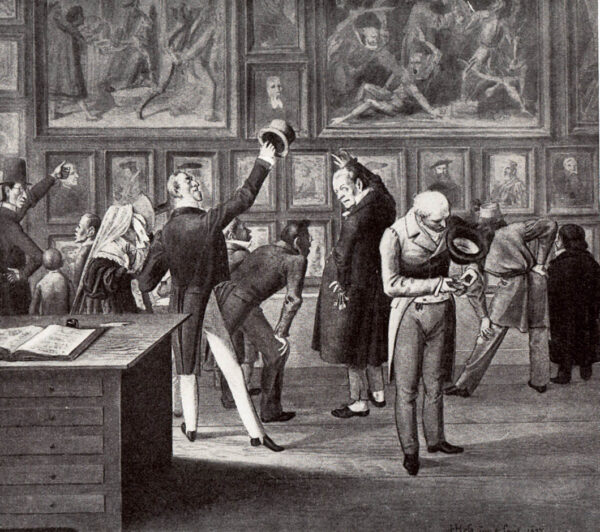 Imagine that a writer named Judith H. Dobrzynski boards a plane. She's ambivalent about her recent op-ed for the New York Times, "High Culture Goes Hands-On," in which she mourned the loss of a classic, passive museum experience. The response was decent (63 comments and a spot on the "most-emailed" list), and the negative response didn't go much beyond baseless ad hominems ("crank," "elitist"). But real-world impact? Judy sighs. She tries not to think about institutions these days, their obsequious rush to digitize, crowdsource, and create a "fun experience" for all. Instead, she thinks about real change: about her upcoming fellowship at the Salzburg Global Seminar in Austria, and how she helped influence the country's new Holocaust restitution laws. Judy sinks back into her business class seat (being a Fellow has perks!), orders a tomato juice and relaxes, thinking of all the reading she'll be able to catch up on in the air.
Imagine that a writer named James Durston is excited. He's boarding the brand new Boeing 797 Dreamliner and is going to be live tweeting the experience from business class (dimming windows PLUS free booze!). He's got way too much editing to do, but right now he's feeling good about his latest op-ed for CNN Travel, "Why I hate museums." Sure, only 400 comments (something like 10 times that many for the "fat tax" piece) but he did score official responses from the Art Institute of Chicago and the American Alliance of Museums. He makes a mental note to re-stir the pot with a follow-up in early December. James tosses his bag in the overhead and sits down, mentally composing a tweet about the woman beside him and WHY anyone drinks tomato juice on planes?? Still, he did use SeatID–they must have something in common. He'll save the introduction for later when he runs out of content for his posts.
Imagine that now, today, both look back and still wonder what happened. They remember the start—the Eyjafjallajokull volcano waking up, their flight being grounded in Greenland, the nervous stewardesses plying them with drinks, and more, and more. The introductions, the argument, and then the gradual, dizzy belief that their two opinions needed to be reconciled. Had to be, in fact. What if this was the end of world? Reconciliation–for humanity, for the future. So they set about writing the op-ed of op-eds, tapping out the characters on James's phone. Finally an op-ed truly for everyone. The Dobrzynski/Durston piece appeared on a brand new WordPress site, shocking the likes of Robert Connolly, Dana Allen-Griel, Dennis Kois, Ed Rodley, and all the other voices of studied moderation stuck further back in economy, sipping orange juice, thoughtfully biding their time. As Judith and James know, sometimes the world needs action. We should thank them for reminding us of that. Below is the full transcript of the Dobrzynski-Durston article.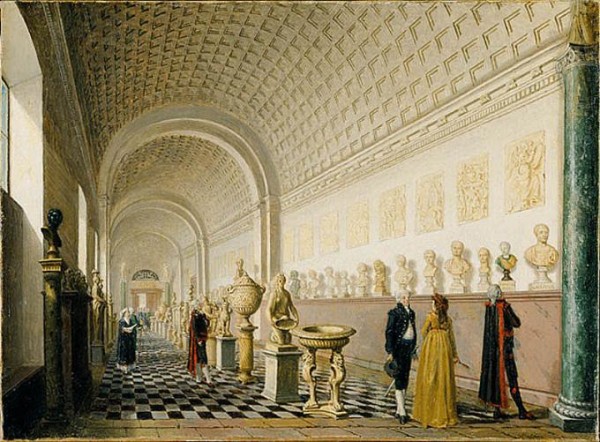 The Greatest Proposal for hi-fiving high culture
The current institutional climate is unsustainable. And no fun. Most museums are in grave financial straits, mostly because there are better things to spend money on. It's time for institutions to become the friendly, self-supporting, no-gift-shop entities they always should have been. The following is a list of proposals we urgently urge to be effected.
1. We've heard about museums, especially smaller, local ones, creating wonderful exhibitions on tight budgets. Maybe so. Those people sitting back in economy can really chew your ear off with examples. We both enjoy periodic visits to the provinces, and writing about them too,  but let's be honest—it needs to start in New York or Hong Kong. Trickle-down culture is real.
2. Institutions claim to generate 7 public dollars for every $1 invested. (Right. Where'd they get those numbers?) The people of Detroit did vote to raise their own taxes to support the DIA—it's called millage, James—but that's an exceptional case. Ann Arbor residents were forward-thinking enough to reject a new art tax. Bleeding heart art lovers need to be realistic: public funding = not the answer. Private funding = yes.
3. Museums do need to sell off work—that's called deaccessioning (thanks, Judy). Some call up the auction houses and rush the work out the door on a stretcher. Others are models of ethical responsibility–the Indianapolis Museum of Art, for example, lists all the work being sold on its site along with reasons for each sale. That's good, but not good enough. They should show their reasons, not just tell us about them. Imagine if the DIA did something like: [pic of Diego Rivera mural] = [pic of 25 million open lunchboxes with PB&J, apple, milk]. #Prioritize.
4. Old vases are boring (especially ones from Iran, imo). They should be sold to established patrons of the arts and other old rich people. Who else cares about/truly appreciates them anyway? Same goes for anything  more than 30 years old or that doesn't inspire transcendence. If in doubt, just tweet us a pic.
5. In the spirit of compromise, museums should divide their days between different audiences. On Wednesdays through Saturdays they should distribute free popcorn and edamame, fill the gallery with animals from a local petting zoo, and encourage full interaction—touching, smelling, licking—with the entire collection. On Sundays through Tuesdays, the cicerones will make sure that no more than four people are in any one room at the same time, monitor how fast individuals walk, and confiscate any and all electronic devices. Individuals will be required to spend set minimum amounts of time contemplating each piece. If any individual fails to adhere to these measures, they will be required to write an essay explaining why.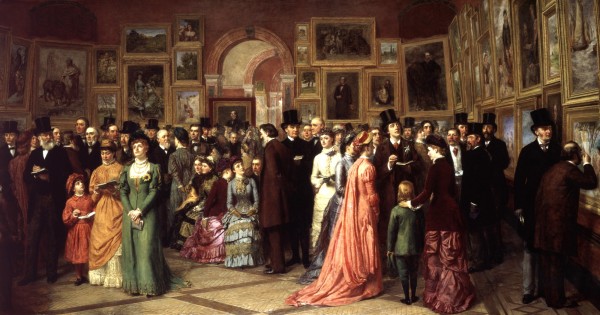 6. Eliminate gift shops and cafes. They're so bourgeois.
7. To generate revenue, offer paid chances to feed the animals and the option to limit the gallery to even less than the standard four people (on respective days, of course). Employ local actors who will alternate between impersonating art world authorities, historical figures, and general celebrities.
8. Reenact the creation and history of items throughout the week. It will be a little like Dante's Inferno, each actor trapped in a different area, telling his story over and over again (Judy's description, my idea). For example, one of the actors can be Leonardo da Vinci: put the Mona Lisa on an easel in front of him and have him paint and tell the sad story of Lisa over and over to the general audience. Add drama when appropriate, regardless of accuracy. Reach out to Hollywood and book publishers, offering to add their narratives to the "official" institutional version in exchange for sponsorship.
 9. Fully integrate work on display with life by created rentable, themed rooms, e.g. The Birth Room, The Death Room, etc. True art lovers will be able to pass with their eyes locked on an original Georgia O'Keeffe, or to bring a new being into the world under Van Gogh's sunflowers, or to make love under the Venus de Milo. Anyone attending that day will be able to watch. Both sides will pay—
Phone's about to die, got to post now. Whatever happens, this is the truth. Follow me online!
Imagine that that this is how the op-ed ends. The volcano went back to sleep and the sky over the Atlantic cleared. Fifteen hours later the Boeing landed at Heathrow, the passengers half drunk and half hung-over, but otherwise unscathed. There, Judith H. Dobrzynski and James Durston seem to have parted ways, never to collaborate again. Judy went back to lucid commentary on the art world, James to commissioning and writing popular travel articles.
If the phone had been fully charged, how would the Dobrzynski-Durston op-ed have proceeded?  What unfortunate circumstance might the expert commentators have leant themselves to next?  Whether "real people" can or can't actually afford to collect art? Would we be more prepared to address how an elderly Romanian woman destroyed several masterpieces in an effort to protect her son? How much change to give beggars outside famous institutions? The alleged difficulty Chicago's south siders have had in visiting Theaster Gates's Dorchester Projects, even as the art star is lauded for the project's success at Art Basel?
What further op-ed wisdom could we have learned from? We can only imagine.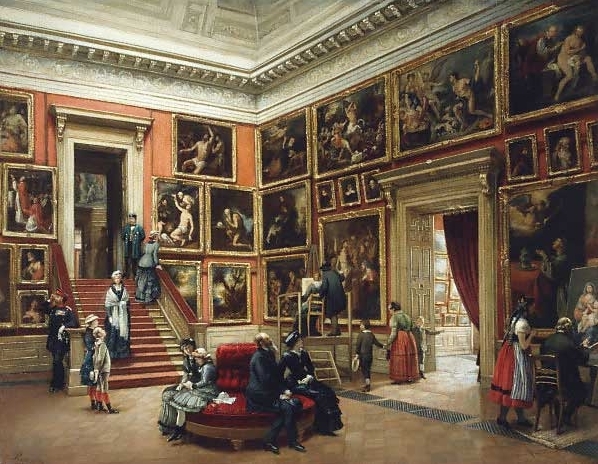 James Pepper Kelly likes words, images, and the plants in his apartment. He writes for ArtSlant and Bad at Sports, and he serves as Managing Director of Filter Photo. He is currently studying to be a pataphysicist. For a little while, back in the early '00s, he was really good at Ms. Pac-man.
---
---
---