1. Take Aim at The Hills Esthetic Center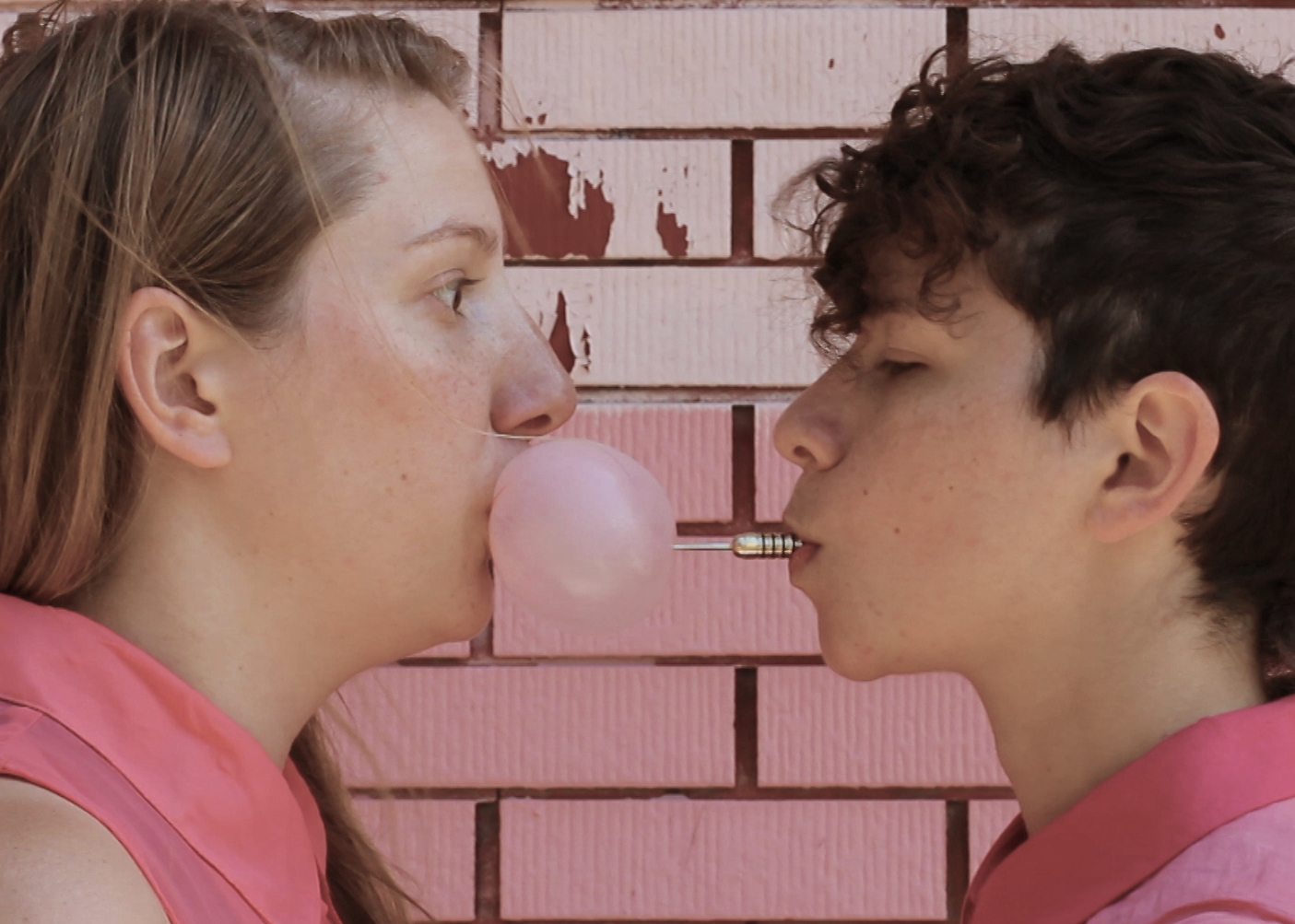 Work by Hope Esser and Daviel Shy.
The Hills Esthetic Center is located at 128 N. Campbell Ave. Reception Friday, 7pm-midnight.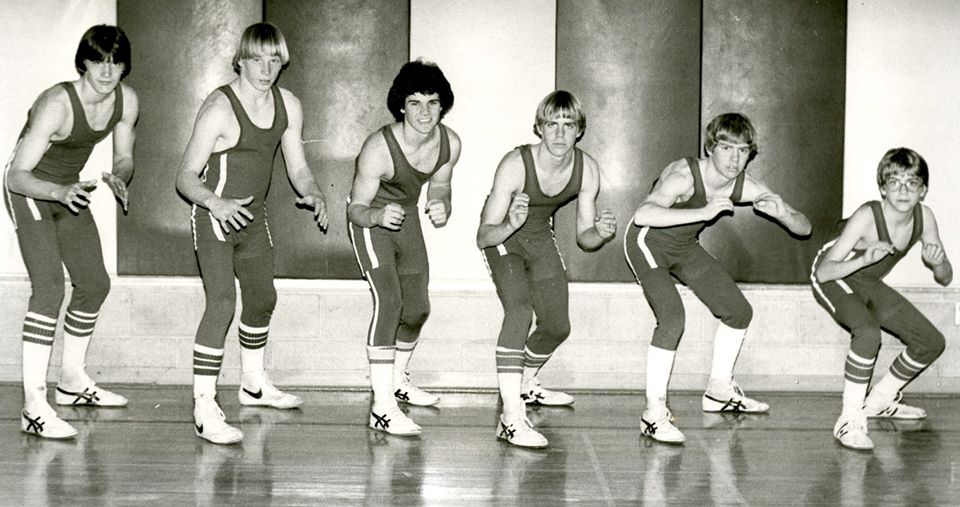 Curated by Molar Productions, with by work by Benjamin Bellas, Judith Brotman, CC Ann Chen, Meg Duguid, Andreas Fischer, Jeffrey Grauel, John Henley, Andrew Holmquist, Greyson Hong, Theodore Horner, International Chefs of Mystery!, Carol Jackson, Carron Little, Nicholas Lowe, Ryan Noble, Susannah Papish, Steve Reber, Oli Rodriguez, Joshua Slater, Rafael E. Vera, Rebecca Walz and Ryan Michael Pfeiffer.
slow is located at 2153 W. 21st St. Reception Friday, 6-9pm.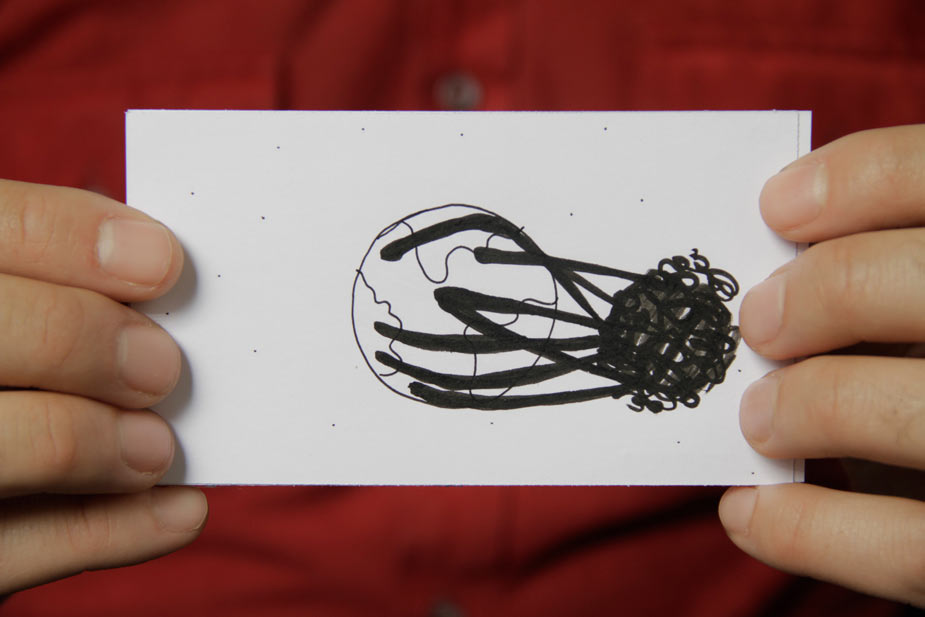 Work by Kendall Babl, Sarah Berkeley, Buki Bodunrin, Meg Dugid, Julia Klein, Nicole Marroquin, Mothergirl, Sabina Ott, and Erik L. Peterson.
DfbrL8r is located at 1136 N Milwaukee Ave. Reception Friday, 6-9pm.
4. Six Sigils for Saint Lucifer and Other Works at Peanut Gallery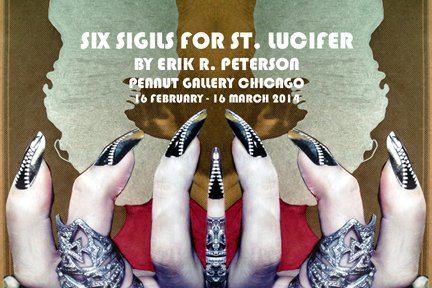 Work by Erik R. Peterson.
Peanut Gallery is located at 1000 N. California Ave. Reception Sunday, 5-9pm.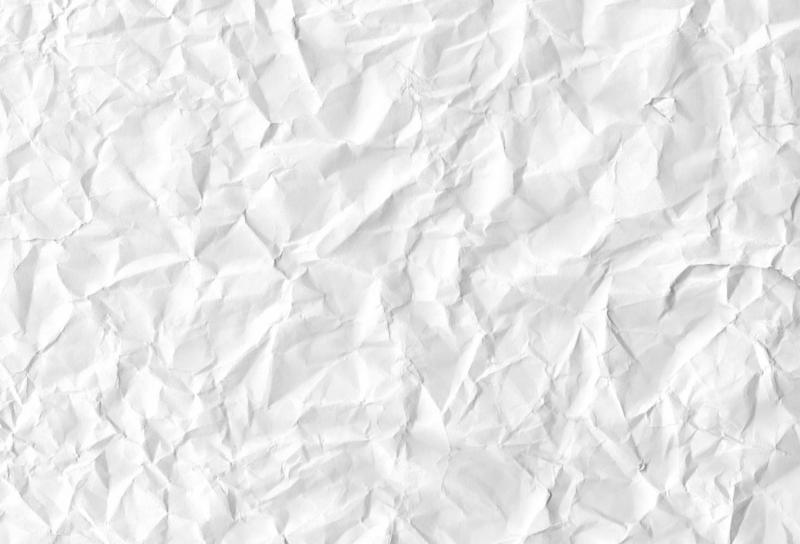 Work by Anastasia Samoylova and Julie Weber.
3433 is located at 3433 Kedvale Ave. Reception Saturday, 6-9pm.
---
So, for some reason I thought the 2014 Whitney Biennial list was supposed to be revealed in December but instead it came out today!
Congrats to all our friends and the folks we do not yet know. We can't wait to see the show.
As curated by Anthony Elms, Stuart Comer, and Michelle Grabner:
Academy Records and Matt Hanner
Terry Adkins
Etel Adnan
Alma Allen
Ei Arakawa and Carissa Rodriguez
Uri Aran
Robert Ashley and Alex Waterman
Michel Auder
Lisa Anne Auerbach
Julie Ault
Darren Bader
Kevin Beasley
Gretchen Bender
Stephen Berens
Dawoud Bey
Jennifer Bornstein
Andrew Bujalski
Elijah Burgher
Lucien Castaing-Taylor, Véréna Paravel, and Sensory Ethnography Lab
Sarah Charlesworth
Yve Laris Cohen
Critical Practices Inc.
Matthew Deleget
David Diao
Zackary Drucker and Rhys Ernst
Paul Druecke
Jimmie Durham
Rochelle Feinstein
Radamés "Juni" Figueroa
Morgan Fisher
Louise Fishman
Victoria Fu
Gaylen Gerber with David Hammons, Sherrie Levine, and Trevor Shimizu
Jeff Gibson
Tony Greene curated by Richard Hawkins and Catherine Opie
Joseph Grigely
Miguel Gutierrez
Karl Haendel
Philip Hanson
Jonn Herschend
Sheila Hicks
Channa Horwitz
HOWDOYOUSAYYAMINAFRICAN?
Susan Howe
Jacqueline Humphries
Gary Indiana
Doug Ischar
Carol Jackson
Travis Jeppesen
Alex Jovanovich
Angie Keefer
Ben Kinmont
Shio Kusaka
Chris Larson
Diego Leclery
Zoe Leonard
Tony Lewis
Pam Lins
Fred Lonidier
Ken Lum
Shana Lutker
Dashiell Manley
John Mason
Keith Mayerson
Suzanne McClelland
Dave McKenzie
Bjarne Melgaard
Rebecca Morris
Joshua Mosley
My Barbarian (Malik Gaines, Jade Gordon, and Alexandro Segade)
Dona Nelson
Ken Okiishi
Pauline Oliveros
Joel Otterson
Laura Owens
Paul P.
taisha paggett
Charlemagne Palestine
Public Collectors
Sara Greenberger Rafferty
Steve Reinke with Jessie Mott
David Robbins
Sterling Ruby
Miljohn Ruperto
Jacolby Satterwhite
Peter Schuyff
Allan Sekula
Semiotext(e)
Amy Sillman
Valerie Snobeck and Catherine Sullivan
A.L. Steiner
Emily Sundblad
Ricky Swallow
Tony Tasset
Sergei Tcherepnin
Triple Canopy
Philip Vanderhyden
Pedro Vélez
Charline von Heyl
David Foster Wallace
Dan Walsh
Donelle Woolford
Molly Zuckerman-Hartung
PS. Thanks to Jerry Saltz's facebook for the list.
---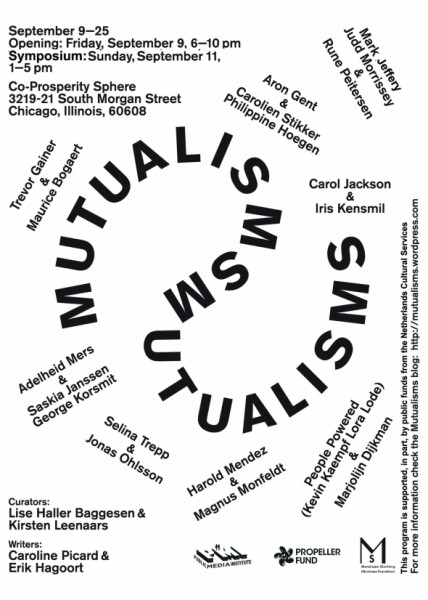 Several months ago, I was invited to share a blog with a stranger. On that blog, I was asked to write about art & reciprocity. I met Erik Hagoort that way. I read his posts and he read mine. Sometimes we responded to one another. The blog itself came from a larger project artists Kirsten Leenaars and Lise Haller Baggesen were curating. That show, Mutualisms, (opens this Friday September 9th at the CoProsperity Sphere) features work made by artists paired together–half of the pair comes from the Netherlands, the other half is local to Chicago. Over the last six+ months, these pairs have been working together, building a dialogue more or less from scratch, in order to install work here. It's a show about networks and relationships. It's a show about community, and how that can arise with an ocean between us. In addition to the exhibit, CoPro is also hosting a symposium on Sunday (September 11th, from 1-5) to address the issue of art and reciprocity: an interesting question, given that so much of what we think about in terms of community building and art relies on expectations of return, or taking turns, or sharing. How do those themes also manifest themselves in a discrete work of art born from collaboration? In the following interview, Erik and I asked Lise and Kirsten some questions about the origin of the show, how to think about it critically, and even how its global perspective addresses arts funding strategies.
Caroline Picard: So often an exhibition is the culmination of work; while of course, Mutualisms is a culmination,there has been an on-going dialogue taking place on-line via blogs (both the one that you all keep as the Mutualisms site, and of course the blog you invited me to participate on with Erik). How did you think to frame the project via blogs and exhibitions? And what was it like pairing artists in different parts of the world?
Kirsten Leenaars &Â Lise Haller Baggesen: We had just met in Chicago last year, right before the Propeller Fund application was due. One of the things we had been talking about is that we at times had missed an international influx of artists in Chicago. The other thing that struck us is that while having both lived in Amsterdam and now in Chicago we had been part of quite different artistic and friend networks that only partially overlapped. Adding these elements up thought we could combine our networks to create an extended grid from which to organize a show. So, you could say that the show also came about as a mutual exchange between us [Kirsten and Lise], due to a need of expanding our own artistic and social horizons, the main idea being that the art world functions more or less through connections and relationships. We wanted to create a platform through which we could facilitate these relationships and form new connections amongst our combined networks.
Because we both are primarily artists, makers, and curators and thinkers secondarily, we curated the show very much from the point of view of the individual artist's practice, rather than as an illustration of an intellectual or theoretical idea (not that we are anti-intellectuals, far from it!). So, we tried to combine artists that we felt had a similar approach or a similar sensibility, hoping that the connections we observed were something they could see too, or that they might discover their own links through a dialogue with each other about their own practices. When we invited the artists to participate in the show we made very clear that the dialogue between each pair was an essential part of the concept and that they needed to be willing to engage in this what undoubtedly was at times-especially at first – potentially an awkward exchange. Kind of like any first date can be. Some of the pairs readily jumped to the occasion and hit it off immediately, others definitively needed a little bit more time and coercing. Both and even the potential for a mismatch are part of concept of the show and we guess in some ways a risk we as the curators or organizers took. Our main objective really was to plant some seeds for potential mutual relationships that would grow and develop and extend beyond the scope of the Mutualisms project.
The blogs seemed to just be a very logic consequence of the fact that the artists were residing on different continents and the blog became a space where they could meet. Not just as a pair but also as the group on a whole. The blog allowed them to also see how the other pairs were connecting and what ideas were being exchanged. In addition we thought it would be make this process visible and public — often this kind of exchange often remains quite private – because the dialogue can get quite personal – but it gives great insight to the artist's practice and creates almost organically a context for the work and the show on the whole.
CP: Â There are some really incredible (and devastating, I think) movements in Europe (I guess I'm thinking largely about the UK) to cut funding for philosophy departments, art departments and even departments of literature. I understand from talking to you all the first day we met that a similar situation is taking place in Holland–and then too, I feel like some of the fears have twinged American consciousness as well (for instance, I'm thinking of what compelled Martha Nassbaum to write Not-for-Profit, which struck me as a defense of the arts). How do you feel this show might speak to that? In some ways, I'm asking because you're relating two vastly different arts-funding strategies (the mostly private American version vs. the largely government subsidized (is that even the right way to think about it?)) and suddenly the work of those systems is materializing here in Chicago which is so interesting, I think. Maybe especially because you both have had such extensive experience in both worlds…
KL & LHB: To begin with, the show was curated 'organically', from a practice kind of view; it's not really meant to illustrate a point about the pro's and con's of arts funding, or anything like that. That kind of got thrown in the mix, because of the rapidly deteriorating situation in the Netherlands, which came about simultaneously to us curating the show and, ironically, receiving a considerate amount of financial support from the Netherlands, for the show. So it kind of both reinforced the cliche about the 'spoiled' European artists, while at the same time highlighting the possibilities and the fragility that kind of position affords. Through that government support, Dutch artists were able to all come to Chicago, allowing for the artist pairs to actually meet. We have noticed that these physical encounters fortified the connections and dialogue and are raising the show to the next level. Bearing in mind too that the show in Chicago is only part one. Next summer we hope to host a show in the Netherlands, and we are asking the current participating artists to continue their dialogue with each other. How we will fund this show will be our next challenge…
Funnily enough, both sides of the arts funding argument like to pull the 'quality' card, as an argument for their stance. I.e. a private art market leads to 'better art' because the artists have to fend for themselves vs. art funding leads to 'better quality' art because you have a 'peer support system' that is free of commercial interests. But, when you look around in the show, it's not lack of quality that characterizes either group, to the contrary! There are different sensibilities of course, that are typical of American vs. European works, that has to do with a sense of place and belonging to a certain cultural heritage, but just as often it's hard to tell off hand which is which, and quality wise they are certainly level pecking!
Erik Hogaart:Â Â Since the mid nineties of the last century the so-called relational tendency in the art world seems to prevail. This is not only referring to Nicolas Bourriaud's famous statement of art being a state of encounter. The 'relational' has had a much wider impact, even extending into a feeling that networks of artists, curators, and audience not only surround the art work but become even artworks in themselves. This doesn't exclude the appreciation of artworks of course, artists and curators involve other artists and curators on the basis of what they make and do. Yet, relations, even friendship seems to take a bigger part of the "art's cake". Russian curator Viktor Misiano has called it the tendency of confidentiality. And a project such as Mutualisms could, thinking along, also be called a confidential project. What do you, Lise and Kirsten, think of this? What is the balance for you between creating an opportunity for artists to make works, and creating an opportunity for artists to relate to one another. These two aspects of Mutualisms are of course connected, but in what way?
KL & LHB:Â Two things were very clear from the beginning. One, we wanted to be transparent about
the way we had curated the show and where these artists were coming from. Yes, these artists were selected from our pool of friends and acquaintances. This is perhaps often an unspoken given — something acknowledged behind closed doors — but being transparent about that is really at the base of our concept for the show. And in that sense never confidential. In addition these relationships are documented and visible for the public on our blogs. Secondly, yes, the primary reason for choosing each of the artists was based on their own strong practices, not on how much we liked the individual. One does not exclude the other, and what could be potentially more productive than fostering a relationship between a pair of driven practitioners? The dialogue ultimately has the objective to allow new ways of looking at each other's practice, to inspire a dialogue about ways of thinking and making that ultimately find their ways back to an artist's practice. Of course if the match truly was a productive one, perhaps this can lead to other opportunities, further productions and collaborations etc. We do hope for these relationships – as mentioned before – to extend beyond Mutualisms. And if friendships are formed through this dialogue as well, than that is an added bonus.
EH: A question, which is philosophically triggered by Jacques Derrida's statement: "the artwork is vertical, and slightly leaning." This idea of the verticality of the artwork stresses confrontation, awe, being struck. Quite opposite is the idea of relationships and networks, which stresses horizontality, encounter between entities in the same/ equal position. Especially when artists connect to each other, and form mutual networks, how does these two models fit in? Mutualism, or reciprocity: how does it relate to these two concepts. Is there still space for the vertical within the horizontal?
KL & LHB: What you are implying here, is that inherent to an open 'democratic' curatorial process is the risk that the resulting product will also be 'democratic: i.e. not 'sublime', a risk you are also touching on with your questions for the symposium when you state: 'in the arts a strong tradition has opposed reciprocity. Art's autonomy should prevail above exchange.'
Yes, that is a risk, and a risk we embraced as we were preparing for the show, because the encounter or the exchange that this structure entails, also invites the possibility of the whole being greater than the sum of the parts. Just like the idea of democracy: 'together we are strong' this show was an open invitation to the artists to participate in a dialogue, in which they could make new art works that lay outside the boundaries of their own practice, or by pairing individual (existing) works that would allow the work to be contextualized in a new way. Some of the artists involved really stepped up to this challenge and engaged in a creative process, with an outcome that was surprising both to us, and to themselves. Others, you could say, 'played it safe' and are showing more in parallel.
Every art work implies an encounter, social relationship. Namely between the art work and the viewer. Approaching art in this way implies an investigation of the social situation in which art takes place and encounters society. It focuses on the encounter in the moment of perception and communication, it underlines the role of projection in the exchange with a spectator, a public which is constantly being reconstituted. What does that ephemeral, individual or collective imagination bring forth? In what way does imagination not only produce the artwork, but also a social relationship? This question is the primary one. Each of the artists that participate, create work. They have different ways of engaging in this process. But for none of the artists is the encounter in itself the artwork. Neither do we as the curators of the show, see the encounter, or the relationship as the work. The show is a model for exchange, this exchange happens between the artists, the curators and ultimately between the viewer and the work that is on display – a result of prior conversations. So with this show we also ask who participates in this process, and what does participation mean in this context? So the horizontal and vertical in our Mutualisms project are two axes in a grid where each of the artists individually and as pairs can be located on different positions within this grid.
---
1. Pleasures and Pursuits in Georgian England at Northwestern University Block Museum of Art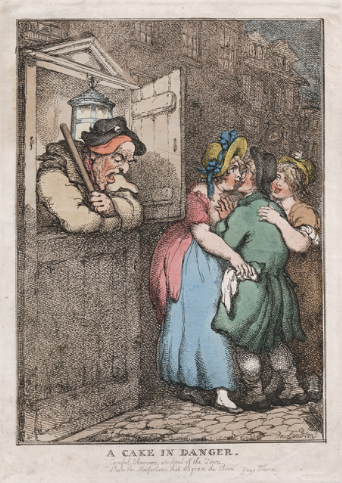 Work by Thomas Rowlandson.
Northwestern University Block Museum of Art is located at 40 Arts Circle Dr. Exhibition begins Friday.
Work by Nicholas Knight.
65Grand is located at 1369 W. Grand Ave. Reception is Friday from 7-10pm.
3. Heads on Poles at Western Exhibitions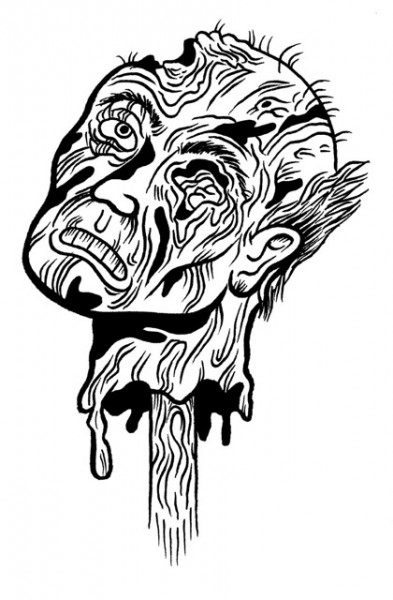 Work by Mike Andrews, Ali Bailey, Jason Robert Bell & Marni Kotak, Nick Black, Daniel Bruttig, Andrew Burkholder, Lilli Carré, Joseph Cassan, Mariano Chavez, Ryan Travis Christian, Vincent Como, Bruce Conkle, Jean-Louis Costes, Vincent Dermody, Mike Diana, Edie Fake, Scott Fife, R.E.H. Gordon, John Hankiewicz, Keith Herzik, Carol Jackson, Bob Jones, Chris Kerr, David Leggett, Mike Lopez, Teena McClelland, Dutes Miller, Miller & Shellabarger, Joe Miller, Andy Moore, Max Morris, Rachel Niffenegger, William J. O'Brien, Onsmith, David Paleo, John Parot, Michael Rea, Tyson Reeder, Dan Rhodehamel, Bruno Richard, John Riepenhoff, Kristen Romaniszak, Steve Ruiz, David Sandlin, Mike Schuh, Mindy Rose Schwartz, David Shrigley, Edith Sloat & Sophie Greenstalk, Edra Soto, Ryan Standfest, William Staples, Ben Stone, Bill Thelen, Jeremy Tinder, Sean Townley, Jim Trainor, Anne Van der Linden, Jason Villegas, Sarah Beth Woods, and Aaron Wrinkle.
Western Exhibitions is located at 119 N. Peoria St., suite 2A. Reception is Friday from 5-8pm.
4. He Opened Up Somewhere Along the Eastern Shore at iceberg projects
Work by Jason Hanasik.
iceberg projects is located at 7714 N Sheridan Rd. Reception is Saturday from 6-9pm.
5. Oooopa! at Johalla Projects
Work by Sean Fader.
Johalla Projects is located at 1561 N Milwaukee Ave. Reception is Sunday from 7-11pm.
---
Alright, so last week was slow. This week is quite the opposite. There are a bunch of things going on. Because of that, I have decided, in response to my Top 4 of last week, to do a Top 6 this week. Don't like it, well, then you can just get out! For the rest of you, here it goes…
p.s. don't mind the pics, sometimes I have to make my own
1. The Chicago Project III at Catherine Edelman –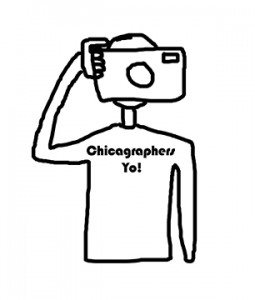 I generally avoid River North. Not because it's bad, per se, but simply because most of what I see there is somewhat boring and repetitive. Edelman is one of the exceptions (there are a few) that keep me coming back every now and again. Her fare is photo, and only photo as far as I've seen. I have yet to see something there I didn't like, and this upcoming show is no exception. On top of that, you probably know people in the show! Everybody likes seeing their friends work up in a nice gallery, right? Opening this week is The Chicago Project III. The Chicago Project is an online gallery Edelman runs of Chicago artists. Each year she selects work from it and puts on a live exibition. Selected artists this round include: Shannon Benine, Philip Dembinski, Bill Guy, Eric Holubow, Julie Meridian, Jason Robinette, James Rotz, David Schalliol, Daniel Shea, Sarah Stonefoot, Leasha Overturf and Alan Thomas. Friday night, get there early though, she closes her doors promptly at 8pm.
Catherine Edelman is located at 300 W. Superior St.
2. Size Matters!!! at Packer Schopf –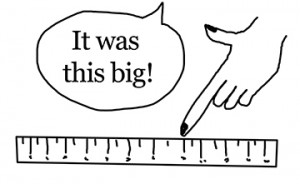 Huh huh…huh huh…ok, now that that's out of the way. Good old Packer's done it again. I like it when he does group shows from his stable. Most of what he shows there appeals to my taste, so going to a group show is like being a kid in a candy store. Or, in this case, an elephant store? Packer shows a lot of huge work, so for his, as his website says "Summer Group Show," he's trotting out the biggies for us to feast out eyes on. Featured artists include: Rebecca Ringquist, Mark Crisanti, Laurel Roth/Andy Diaz Hope (collaboration), Victoria Fuller, Jenn Wilson, Michael T. Rea, Jud Bergeron, Renee McGinnis, Don Cameron, Catherine Jacobi, David Hooker, Doug Smithenry & Krista Wortendyke. Stop by while you're in the West Loop Friday, opening's from 5-8pm.
Packer Schopf is located at 942 W. Lake St.
3. In Memory Of…A Love Story at Spoke –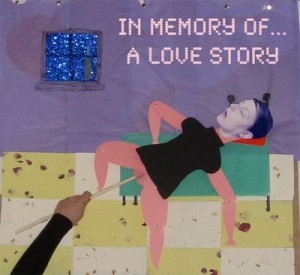 Hit number two for the West Loop. While you're hiking up the stairs at 119 to ThreeWalls, make sure you make it all the way to the top floor and head for Spoke. This tiny gallery, in (I think I'm remembering this right) the space formerly occupied by GardenFRESH, has been putting on exhibitions and durational performance pieces for about a year now. This round, they are hosting Karolina Gnatowski, who is performing In Memory Of…A Love Story. Pulling from Spoke's own website, the event is described as "an evening of classic rock, whiskey, puppetry and bitter sweetness as K.G. performs a tragic tale of romance." How could you possibly go wrong with that? Spoke is open Friday night from 6-9pm, the performance starts at 7pm. Again, be on time, that place is tiny, and it sucks having to listen to performances from the hallway.
Spoke is located at 119 N. Peoria St.
4. Dogcat: FBI (Feline Behavioral Institute) vs. Canine Fashion at Swimming Pool –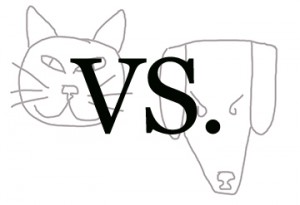 Now you can finish of Friday night with some good old feline (or canine) fun up at Swimming Pool. Located in Albany Park, it can be a bit of a trek from down town, but this show is probably going to be worth it. It is time for the ultimate battle between the self proclaimed "cat" people and "dog" people. Well, maybe not that, but get ready for a truck load of cat themed art, and a doggie fashion show. Now, I know what you're thinking: "a doggie fashion show?" Well, this is a doggie fashion show put on by pooch, and assumingly, booze loving artists (pronounced ar-TEE-sts). Just watch your ankles, you don't want someone begrudgingly lifting their leg on your shoe while you admire the pretty kitties. Open Friday, from 8-10pm.
Swimming Pool is located at 2858 W. Montrose Ave.
5. Selections From the Fabio-Mueller Collection at Mini Dutch –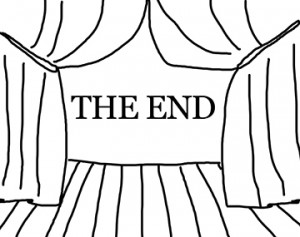 Saying good bye is always hard, and this is the last goodbye for Mini Dutch. Owner Lucia Fabio is shutting down and moving back to So. Cal, so this is your last time to check out this well-known apartment gallery. For her final show, Lucia will be showcasing work from her own collecting that she has acquired over the course of Mini Dutch's run. Artist work included in Fabio-Muller collection that will be on display: Daniel Anhorn, EC Brown, Blazo Calovic, Peter Hoffman, Andrew Holmquest, Mathew Paul Jinks, Carol Jackson, Stacie Johnson, Chris Millar, Liz Neilsen, Vivien Park, Caroline Picard, Mark Porter, Renee Prisble Una, Chris Shaefer, Shane Swindler, Matthew Whiting. This is a one night only event, Saturday night from 7-10pm.
Mini Dutch is located at 3111 W. Diversey Pkwy.
6. Nah Pop No Style at Roots and Culture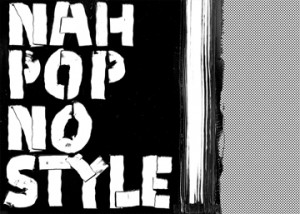 This is purely an allegiance to where I've lived selection. The subtitle of the show is Work by painters from Baltimore and Providence. My husband went to grad school at MICA, so I lived in Baltimore for a year. Weird-ass place, but there are defiantly a lot of good artists from there. I don't recognize any of the names, but I'm hoping I recognize some of the work. And hey, maybe they'll be serving Carmen corn again. B-more and Providence artists strutting their stuff at R&C include Lucy Campana, Chris Day, Alex Griffith, Andrew Goett, Thomas Harrington, Annabeth Marks, Clay Schiff, Quinn Taylor, Chloe Wessner, Kandis Williams and Blade Wynne. Show opens Saturday from 6-9pm.
Roots and Culture is located at 1034 N. Milwaukee Ave.
---