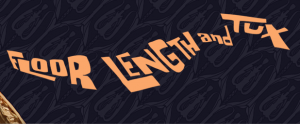 This coming Saturday evening (that means tomorrow night people), Floor Length and Tux (aka FLAT), the Chicago project space run by EC Brown, Catie Olsen, Michael Thomas and Meg Duguid will host a one-night only event they're calling "Untitled Circus." There will be refreshments and much conviviality and music and some free CD giveaways, but what I'm most interested in with respect to the proceedings is the compilation of critical writings on Chicago's thriving apartment gallery scene that Brown et. al have solicited from a number of Chicago artists who are deeply invested in it.
These booklets, which contain essays written by Caroline Picard (Green Lantern Gallery/Press), Liz Neilson (Swimming Pool Project Space), Eric Mays (Roots and Culture), Lucia Fabio (of the late lamented Mini Dutch) and many many more luminaries from the scene will be distributed via a spinning magazine rack owned by Mr. Thomas. With the kind permission of the writers, we'll be posting some of these essays here next week for the benefit of those of you living outside of Chicago – think of it as a kind of "mini-series" / online symposium on Chicago's apartment gallery scene, made possible by the ingenuity and generosity of the FLAT folks and, of course, all of the participating writers.
Over email, I asked EC Brown, Michael Thomas and Meg Duguid to answer a few questions about the event. Their responses follow. Check out the Circus for yourself tomorrow night, Saturday, December 5, from 7-10pm, at 2332 W. Augusta #3F.
What will FLAT 4: Untitled Carnival consist of beyond the distribution of the booklets? Will there be a discussion? What can people expect to see/experience? Read more
---