OK, so here's the deal for right now. Every week (well almost every week) I do a pick of shows that I think are most likely worth seeing (I am often wrong). The problem is that I sometimes don't get to go to all the shows on my list (I generally see art on the weekend and usually just go to openings, I don't have the "it's so crowded in here, I can't see the art" issue, I just shove my way through and look, but I digress). So this week I am giving y'all a list of where exactly I am going. I chose this route because I noticed something odd this weekend, there are seven apartment gallery show openings and closings in the next three days. I figured, what the hell, I'm going to be out, some of these places I like, some of them I don't really like, some of them I've never visited, why not make a circuit of them all, a selection of this Chicago art institution known as the "Apartment Gallery" and see the "State of the Apartment" so to speak. And (this was added after the list was mostly done), I like openings that go till 10 or 11 at night, you can cram a lot more in that way.
APARTMENT GALLERY OPENINGS (AND CLOSINGS) THIS WEEKEND:
1. Australia at Concertina Gallery
And I quote, "Acting as a springboard for works by both Anthea Behm and Aron Gent, Baz Luhrmann's 2008 movie Australia provides loaded content for each artist to pick apart and reconstruct. Though the artists work off the same source material, they diverge in form and intention. Triggering questions of cultural ownership and responsibility, Behm and Gent address the cultural transmission between those represented and those representing." This is how the gallery describes the show. I'm most interested in going to see Anthea's work, she's a friend of mine and I'm curious to see what she's been doing.
Concertina Gallery is located at 2351 N. Milwaukee Avenue, 2nd Floor. Opening Reception: Friday 7-10pm
2. Double Fantasy at Noble & Superior Projects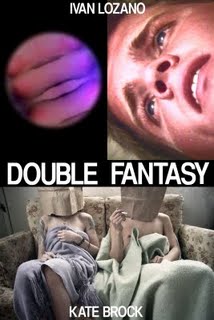 So this place is brand-spankin'-new. I don't even know if it is actually an apartment gallery, though all indicators point to that (especially the directions that once you get to the address, "Rear House, Through The Gate!!!"). As you can see by the ever-so-informative card-announcement-thingie, the show features the work of Ivan Lozano and Kate Brock. I can't find a website for Kate Brock, guess you'll just have to go to the show.
Noble & Superior Projects is located at 1418 W. Superior St. #2R. Opening Reception: Friday 6-10pm
3. 2-for-1: After Effects at secondBEDROOM and Side Effects at Medicine Cabinet.
A two for one in Bridgeport. For those of you who haven't been there, these two "galleries" are both part of the same apartment, secondBEDROOM located in, you guessed it…and Medicine Cabinet is the name for the installation space/bathroom.
In the secondBEDROOM: "Thad Kellstadt's After Effects attempts to explore the possible afterlife of objects, once dependent on human touch, now neglected but possessing a new presence. Some believe that the breaking of a mirror brings a lengthy stint of bad luck due to the soul confiscating power of the mirrors reflective surface." Yep.
and in the Medicine Cabinet: "Pharmaceutical marketing strategies and scenic nature photography combine to serve up a warning: Don't get too comfortable on that plateau. While the view is spectacular there are other forces at work, just out of earshot and bubbling their way toward the placid peaks." Uh huh.
secondBEDROOM and Medicine Cabinet are located at 3216 S. Morgan Street Apt. 4R. Opening Reception: Saturday 7-11pm.
4. The Trunk Show at Barbara and Barbara
Barbara and Barbara do love you, as their web address so astutely says. For this round the Barbara-ganza is putting on a show dealing with the idea of travel.The show includes the work of a crap-load of people, incuding: Sierra Berquist, Ben Bontempo, Peter McLean-Browne, Evan Burrows, Pete Cuba, Fred Frederick, Julia V. Hendrickson, Landon Manucci, Colin Nusbaum, Emma Powell, Scott Reinhard, David Schalliol, Elizabeth Stoutamire, Christopher Sykora, Sean Sykora, Jessie Vogel, Kelly Wallis, Rustél Weiss, Hannah Zurko
Barbara and Barbara is located at 1021 N. Western Ave. Opening Reception: Saturday 7-10pm.

5. Exhibition 2. 10242009 at MVSEVM
Ok, so I'm a bit confused as to who exactly MVSEVM are and whether or not there are two of them. So, instead of linking to the blog that seems like it might be theirs but says they are on vacation, I'm linking y'all to the On The Make (another wonderful site) page about the show and gallery. And I quote, "For its second exhibition MVSEVM invites eight diverse artists to contribute site specific works and installations that address the ambiguity of the space as both domestic and professional, private and public, as well as external concerns. In Exhibition 2.10242009 these inquiries manifest in an interrogation of social paradigms, raising questions pertaining to human relationships filtered through biological and technological themes." Artists in the show: David Brooks, Joe Cruz, Chris Cuellar, Szu-Han Ho, Jesse Vogler, Gabriel Martinez, T UM', Andrew Yang and Harley Young.
MVSEVM is located at 1626 N California Ave. #2. Opening Reception: Saturday 6-10pm.
6. Deedee Davis and Casey Roberts at Home Gallery

Less of an apartment gallery and more of, well, a home (go figure), Home Gallery is located down in Hyde Park and run by Laura Shaeffer. For this round of exhibitions, Home will be featuring the work of Deedee Davis and Casey Roberts.
Home Gallery is located at 1407 E. 54th Pl. Opening Reception: Saturday 6-9pm.
7. Marginal Waters at Golden Gallery
So, this isn't and opening, it's a closing. Golden is also, like Home, on the edge of the "apartment gallery" definition, but what the hell. For this round of Golden-tastic-atude, they are closing out Marginal Waters, work from the 80s by Doug Ischar. And I quote, yet again, "Ischar will exhibit a body of photographs from 1985, never before seen in its entirety, taken on the now defunct Belmont Rocks in the city of Chicago, and a new single-channel video work." The closing is also rolled together with the catalog release, and there'll be an interview with John Neff.
Home Gallery is located at 816 W. Newport. Reception/Catalog Release: Sunday 3-6pm.
Latest posts by stephanieburke
(see all)