Off-Topic invites artists, curators, writers, and cultural workers to discuss a subject not directly related to the practice of making art. We would like to welcome Elijah Burgher as our latest guest. Earlier this week Elijah participated in the magic-themed Cabinet of Curiosities at the MCA, hosted by Bad at Sports' Duncan MacKenzie.  His Off-Topic post takes the form of a narrated YouTube tour of his favorite group Coil.
COIL ARE MY FAVORITE
Elijah Burgher
On November 13, 2004, Jhonn Balance died after falling from a second floor landing in his home. His death effectively ended the mighty Coil, which he had founded in 1982 with Peter "Sleazy" Chistopherson. Along with Psychic TV and Chris & Cosey, Coil rose from the ashes of Throbbing Gristle—Sleazy is a member of TG, who recently resurrected—and, with Current 93, Nurse with Wound,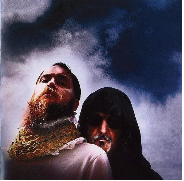 Death in June, plotted a new course for the various strains of experimental music that issued from the first wave of industrial music in the mid-to-late 70s. For more information about the band's history and recordings, look at the Threshold House site, Brainwashed's Coil page, or the brief entry on them on the Disinformation site.
Coil are also my favorite. I love a lot of things, and have named possibly hundreds of artists, bands, filmmakers, books, etc. as my "favorite" at one time or another. When Claudine asked me to write an Off-Topic post for the BaS blog, I knew I wanted to write about something that I loved, and considered Swans' Children of God, Dennis Cooper's George Myles cycle, and Pasolini's Salo, the latter of which I've seen too many times to justifiably claim anything resembling mental health. But Coil really are my favorite. They are what I listen to when I work in my studio. And I have a Coil t-shirt that I consider a good luck talisman and wear when I feel particularly stressed out or sad. They inspire exactly this type of ecstatic, pathologically intense fandom in their followers. For this blog post, I'll be leading you through some of my favorite songs by the band.
Balance had long suffered from alcoholism and drug abuse, which contributed to his untimely death. Since we started with news of his death, here is "Heartworms," where he reflects self-deprecatingly on his addictions, intoning "there's too much blood in my alcohol." (Also I stole the name of my drawing blog from a lyric in this song: "Ghosts vomit over me.") An enterprising YouTuber has added a super 8 short by Derek Jarman for visuals:
I first heard Coil when I was a teenager and a big fan of industrial music. I loved Ministry, Revolting Cocks, Pigface, and My Life with the Thrill Kill Kult. Originally, I had picked up their cd, Love's Secret Domain, because I'd buy anything Wax Trax put out. It came out in 1991, so I must have been 13 or 14 since I didn't buy it too long after it had been released. That record soundtracked much of my high school years, from toothy teenage blowjobs to acid comedowns watching the dancing patterns of my bedsheets, and numerous late night sessions hunkered over my journal writing bad poems and drawing cute boys. I remember playing their track "The Snow" on repeat. It is now a veritable classic of early 90s house music, albeit still somewhat anomalous for the genre. Here is the "Answers Come in Dreams II" remix from "The Snow Ep": [Read more]
an Essay by Vanessa Gravenor
Is liberation a blessing, or a curse?
A curse disguised as a blessing, or a blessing feared as a curse?
Zymunt Bauman[1]
I.
The Internet is as anarchist zone where virtual creolization and dissolution of cultural boarders can occur ad infinitum facilitating intellectual freedom by masses access to global commodity culture. Yet a typical and altogether problematic West/ East and first world/ third world dichotomy emerges when considering Cuba's use of the Internet, highly moderated by the government, to the proper "West's" open and constant access. Two exhibitions, In the Absence of a Body (February 2015) and Cuban Virtualities[2] (December-February 2014), explore the complex semantics of freedom through virtual mobility and emigration asserting but also blurring this traditional dualism. Cuba as a country has a unique relationship with digital technology as connectivity and access are largely withheld from general populations and heavily moderated by the state. Historically, Cubans also faced impingements upon travel, mobility to the U.S. through the embargo, and immigration. For these reasons, America could be characterized as a designated promised-zone that, if ever reached, would help to facilitate liberation. The Internet and digital media can be seen as another gateway to mobility and freedom. The artists Alejandro Figueredo Diaz-Perera (In the Absence of a Body) and Susana Pilar Delahante Matienzo (Cuban Virtualities) reverse this traditional dichotomy by drawing the audience attention to the artificial promises of these thresholds and desired states. While not present directly, the post-Snowden discourse that ensued after the wikileaks scandal offers another enforcing layer that freedom and endless free-speech in the West might in fact have much more in common with Cuba's overt censorship.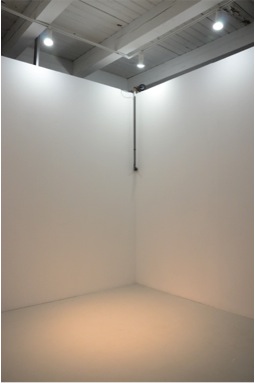 II.
During In the Absence of a Body the artist, Alejandro Figueredo Diaz-Perera, explores his current status as a Cuban émigré in the United States. With a childhood marked by the Cuban embargo and the collapse of structures in 1991, Diaz-Perera has in many ways broken through the invisible iron wall and reached the ultimate post-modern utopia through travel as an artist: acceleration and mobility.[3] Yet, it seems that he commiserates this freedom because he is cut off from his family and political moments. It is for these reasons that his installation takes on the appearance and the motif of the prison cell where he has taken up occupation for the twenty-day duration of the show.
In Diaz-Perera's installation and performance, he is invisible from the audience's gaze yet present behind the false wall of the Chicago Artists' Coalition gallery space, where he pulls a make shift levy system attached to a microphone. The undulating pulling motion causes the microphone to thud loudly against the wall— a rhythm reminiscent of a beating heart or an internal pounding of the head when the body's equilibrium has been overturned. Diaz-Perera's performance is reminiscent of Vito Acconci's Seed Bed and other early performance artists such as Valley Export's early occupation of architectural spaces. It is the austerity of The Silence (…) is overrated, part of the larger installation of In the Absence of a Body, that links it immediately to 1960's and 70's performance artists and also connects Diaz-Perera's work to earlier generations of action-based performance artists such as Tania Bruguera (Cuba) and Regina José Galindo (Guatemala).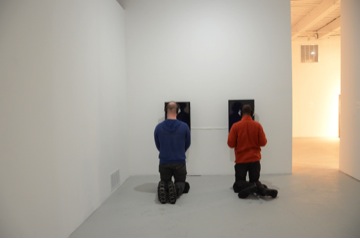 The Silence (…) is overrated, a performative gesture, is founded between two auditory documents from activist figures that have also suffered a loss of voice and silencing by the government. The audience is asked to kneel in order to hear the audio from the two activists figures inviting them to make a choice between hearing what officials call dissident speech and what others call proclamations of freedom. When the viewer makes the choice to kneel down, he or she is confronted with a strange dialectic between being in a position of crouching that can be used as a tool of political torcher or the spiritual position of prayer. This dialectic is mirrored by the artistic choice to only include two voices and accounts: that of Tania Bruguera, a performance artist living in New York but from Cuba, and Assata Shakur, an American and member of the former Black Panther Party and Black Liberation Army who resides in Cuba as a political refugee. Both attest to their homeland as a place of surveillance and political assailant on free speech and property. Particularly, Bruguera testimony demands that the government release performers and the artist's property, which were seized in the unrealized performance #YoTambienExijo (I also Demand) in December 2014.
There are no images attributed to the sound that the viewer hears through headphones. Instead a black monitor screen with white text that translates the speech either English or Spanish depending on the language of the speaker. This suggests that experience and testimony can always be mirrored into another lens by language and through this simple refraction can turn into incriminating testimony. In this case, it is Shakur attesting to the hegemony of the American police mirrored against Bruguera's assertion of Cuba as a police-state. The black TV-monitor is oddly reminiscent of a narrow window, the type of geometric form that one would find in a gothic cathedral, and yet in reality is a threshold for a virtual world that has been foreclosed.
Yet to view Diaz-Perera's work as a closed circuit triangulated work would be to miss the political context or the absent link. This missing link is Bruguera and her uncompleted and censored work #YoTambienExijo (I also Demand). Writing on the failed work's reception, Coco Fusco discusses #YoTambienExijo, a performance that was planned to take place in Revolutionary Square in Cuba but was censored by the government, as a work that neither the Cuban world nor the Western world understood because of the restricted means of communication and organization imposed by the Internet.[4] The plan for the performance, Fusco explains, was to place a large microphone within the public square for citizens to step up and call the government out for its crooked and what Fusco calls "draconian" censorship. Instead, Cuban citizens criticized Bruguera for creating a grand gesture that was completely out of touch with the possible realms for real subversive actions. Exhibition planners of Cuban Virtualities, J. Gibran Villalobos and Wil Ruggiero, explain that Cuban artists toe the line between political action and submission so that this vacillation between two oppositions could somehow function as a safety net against incrimination. Diaz-Perera hints to this paranoid conflicted zone and space by borrowing key motifs in his In the Absence of a Body. His overturned microphone becomes a direct referent to Bruguera's unrealized performance that in many ways was supposed to fill in what she presumably deemed as a public space vacant of expressed concerns. Yet, since Bruguera lives most of her time outside of Cuba, she is seen as a cultural elite and her extreme plans for the performance in December of 2014 only exacerbated an already heated situation. Therefore, Diaz-Perera's work can be seen as a complex meditation but also response to Bruguera's failed gesture. In his iteration, the microphone itself has lost all of its utility and can only create a deafening music.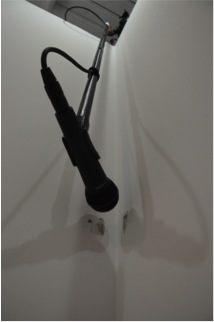 III.
Cuban Virtualities, a traveling exhibition that was on view at Sullivan Galleries from December-February, explores the individual's relationship to the Internet. Unlike Diaz-Perera's work, which questions the role of the émigré caught between two opposing yet similarly violent worlds, Cuban Virtualities focuses on individual's access to the Internet and how this can be a tool for political expression. Cuban Virtualities suggests a similar US/Cuban dualism as the viewer experiences the works from a point of estrangement.
Geert Lovink authored a 2014 article in Journal #54 of e-flux where he claims that the digital world had returned to a point pre-1984, which he then explains as the year before the apple computer had been introduced and marketed to the individual.[5] Before, he states, computers were large expensive machines for corporations and were not associated with file sharing programs, chat rooms, and borderless connections between individuals. Geert Lovink writes "Now, thirty years later, the computer is once again the perfect technical instrument of a cold, military security apparatus that is out to allocate, identify, select—and ultimately destroy—the Other." Lovink is writing for a journal based in the U.S.—the proper West— that unlike the Cuban artists at hand, enjoys a very specific so-called freedom.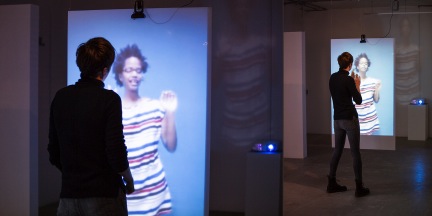 On the island where the artists of Cuban Virtualities live, their experience of the Internet is radically different than that of the United States. The Internet is overtly monitored, withheld, and often times not available to the individual. In Cuba, the Internet never reached a post-1984 position, yet that is not to say that individual expression ever suffered, rather that individual expression on the Internet was always elevated to political action. For instance, in Mirror of Patience, Susana Pilar Delahante Matienzo is present in the gallery through a live feed. Exhibition organizers J. Gibran Villalobos and Wil Ruggiero explain the huge monetary negotiation that had to take place in order to allow Matienzo to be present in the live feed. They explain that ultimately a company called ONCuba Magazine provided sponsorship for a network connection to broadcast with SAIC.
In the live feed, which was ultimately only possible at certain points in the exhibitions duration because of cost, the artist calls out to the viewer and asks him or her to place his or her hands on the backlit projection screen in order to mimic her actions. While playing the game, the viewer wonders if he or she has been dubiously tricked into staring into an unknown or othered reflection of the self. During the opening night, Matienzo waited for participants to come interact with her. Many looked on her with caution and often would utter anemic laughs while shooting glances to the virtually present artist. Often times Matienzo would laugh herself and ask— "who is there"— unable to see beyond the shallow range of the web cam.
Mirror of Patience, conceived by the artist in 2013, at first seemingly places the viewer and artist on a level playing field. Upon closer inspection, while the gallery has unlimited Internet access, the artist is only able to use the Internet through a special sponsorship she was able to receive because of her status as an artist, someone who in Cuban society has much more mobility and capital power, Villalobos and Ruggiero explain. In a post-Snowden cultural climate, Matienzo use of the Internet is a testament to the remaining possibility of dissident action. Yet, one is all too aware that the gesture is not utopian, she is not celebrating the world without borders but pointing to the artifice of the image of a timeless and borderless space.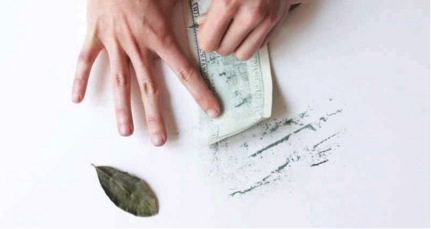 Glenda Leon's Inversion also muses on structures of meaning. In the single channel video, the artist scrapes the ink off a 100 dollar bill and then snorts the particles that remain after her intervention. This could be interpreted as a metaphor of the Internet, for accessing the Internet in 2014 or 15 is to reach a promised utopia but when one scrapes the surface, this essential freedom seems to fall apart. Cuban citizens can create a simple act of protest out of a simple action of hacking, and yet these actions and words are always being archived, cross-listed, and can and will be used against them.
IV.
In the CAC take-away pamphlet, Diaz-Perera describes how he was born in Havana, Cuba in 1991 "at the beginning of the Special Period, an economic crisis resulting from a combination of the collapse of the Soviet Union, the U.S. Embargo, and the internal systemic controls." Most of the artist in Cuban Virtualities also lived through this Special Period where power structures crumbled and the nation was isolated by the embargo. In many ways, Cuban life has been defined by the cross-pollination of U.S. and Cuban relationships and the continual reconfiguration of identity through absorption of other cultures in colonial periods. Yet in a sense, these other cultures, specifically American in this incident, have been an imposition. Villalobos' comments on Mirror of Patience as a "laying bare" of the reality of this co-dependency or in other words, the hell that connectivity can usher in as one side waits to begin to continue to communicate. It is in fact this waiting (awaiting) for information, for a sentence, or for connectivity, the same game that Diaz-Perera also plays in jest, that turns the would be freedom of emigrating or live-stream into the first of many entrapments.
[1] Bauman, Zygmunt. Liquid Modernity. 2nd ed. Cambridge: Polity Press, 2012. 9-19. Print.
[2] Cuban Virtualities: curated by Rewell Altunaga and Liz Munsell, Assistant Curator of Contemporary Art, Museum of Fine Arts, Boston; organized at SAIC by Gibran Villalobos (Dual MA 2013) and Wil Ruggiero
[3] Zygmunt Bauman explains one of the attributes of power in post-modern or liquid modern times is the access to mobility and the rate of this acquisition: "Velocity of movement and access to faster means of mobility steadily rose in modern times to the position of the principal tool of power and domination" (9).
Ibid
[4] Fusco, Coco. "The State of Detention: Performance, Politics, and the Cuban Public." e-flux.com. N.p., 6 Jan. 2015. Web. 8 Mar. 2015.
[5] Lovink, Geert. "Hermes on the Hudson: Notes on Media Theory after Snowden." e-flux.com. N.p., Apr. 2014. Web. 8 Mar. 2015.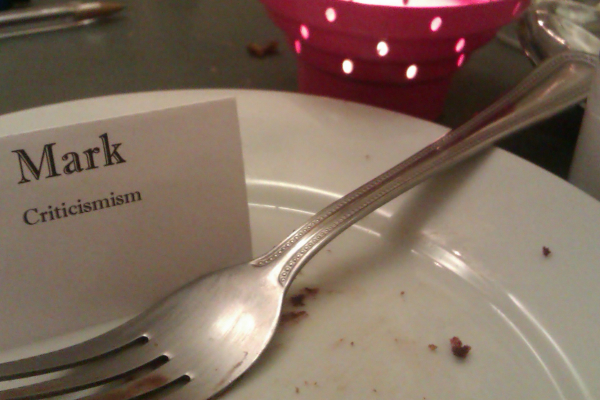 In the popular imagination, bookshops in Notting Hill may be where bumbling Englishmen meet Hollywood filmstars. Last night it was where a bumbling art writer, played by myself, got to meet some of the UK's most successful bloggers.
The venue was Book and Kitchen, who deserve props for the bohemian setting, mean jazz  soundtrack and fantastic three course meal. Since there's no such thing as a free meal, we bloggers were encouraged, between mouthfuls, to discuss our medium of choice.
You can check out the results on @blog10, an enterprising venture by a PR agency called Marmalade. There was a lot of talent and success in the room: from a book blogger who's landed a UK and US publishing deal (Ann Morgan) to a young vlogger who has the brands queueing up to feature on her profit-making lifestyle blog (Abisole Amole).
Thankfully, eclectic London blogger Katie Antoniou had plenty to say, recalling the time when blogs first emerged as the honest antidote to "bullshit" editorial. (Integrity, it seems, is still a blogger's best friend, even in the current climate of bribery and gifting.) "I don't have the ego for journalism," she explained, which seemed to resonate around the table.
Rona Wheeldon has a niche even more obscure than contemporary art. She is a flower blogger, who waxed lyrical about the potential for filming posts and hosting a YouTube channel. "Vlogs can show emotion!" she insisted, even though last time I checked, the written word can sometimes do the same.
Things turned comic when book bloggers Morgan and Kim Forrester revealed statistical spikes from wayward web users who stumble upon their sites in search of resources for  sex tourism. We laughed about it, but it was a reminder that despite its academic origins, the web is still not the best place for serious discussions. Nevertheless, with their literate audiences, both bloggers have built readership and communities within their crowded field.
Indeed it was widely reported that finding an audience and a network of peers could still be the number one reason for starting a blog. Even if in recent years comments are very hard to come by ("Who's got time to comment?" we asked). Time is an increasing issue, as one faces the introduction of a two speed internet where large web corporations choke smaller players. Morgan raised fears of losing the level playing field bloggers now enjoy.
Several of us bemoaned the encroachment of social media ads and promoted posts. The latest platform to introduce ads appears to be Instagram. Starbucks and UK supermarket Waitrose had reached out to a couple of the photobloggers among us. Although to be fair, their presence wasn't totally unwelcome. Amole revealed a thriving existence of the coffee giants' #redcups hashtag. She is relaxed about it.
As the meal drew to a close we took questions about blogging from twitter. One eager user requested three tips from each of us in turn. Find a niche. Use social media. Build a brand. The wisdom was flowing by this point. But perhaps interiors blogger Kate Baxter had the last word. Don't get into blogging to get free stuff or money. It probably won't happen. You may however one day be invited to a West London blogging salon. Things could be worse.
Mark Sheerin blogs at www.criticismism.com and can be found on Twitter.
"Out of the Mouths of Artists" is a new bi-monthly series on the Bad at Sports blog. The series presents a space for guest artist bloggers–of varying career statuses–to write, to reflect, to pontificate on their current situations, failures and/or successes, and ideas on what it means to be an artist. "Out of the Mouths of Artists" also gives readers a glimpse into artists' portfolios and studios.
The Man who saw the Man who saw the Bear
Guest Post by Michael Gimenez
For my first trip to the United States in the summer of 2000, I accompanied a contemporary dance company on tour in several Michigan towns as their photographer. I was afraid to live this journey through the visual prism of thousands of hours of American television series and movies that had saturated my mental images. I promised myself that I would look at each thing with virgin eyes, cleaned of any cinematographic references. Upon landing in Chicago, the view offered up and framed by the plane window struck me: I clearly remember having the impression of traveling through a TV screen, materialized by a yellowish haze and a myriad of swimming pools.
My very first vision of the American territory was exactly like a thousand other shots I had seen on television series. An aerial shot above a sunny metropolis.
Baseball fields. Traffic. Highways. Reflections. Skyscrapers. That was a bad start.
Twelve years later, some of which were spent in the School of Fine Arts of Montpellier in France and some producing art in Prague in Czech Republic, I planned a second trip to the United States. I had decided to fulfill a desire growing inside of me since first viewing motion pictures that had been made in the U.S.A.—a desire that 95% of French boys from my generation secretly wished to achieve. A road-trip across America. Skyscrapers. Spanish moss. Dusty roads. Red sunsets. Close encounters?
July 2012: Before I leave, my friends tell me that during their stay in a campsite a few hours from New York, they saw bears sneaking around their tent and eating their food. They tell me to be careful because I will probably cross paths with some during my trek.
For this trip, I also aimed to start a film project questioning why we still want to see and represent Native Americans as imaginary Indians. For this reason, I decided to stay a few days on the Pine Ridge reservation in Wounded Knee, which would be my last stop before dropping the car off that I had borrowed in Chicago. Wounded Knee is a highly symbolic place within Native history. It's where more than 150 men, women and children were massacred in 1890, and it later became the catalyst of the American Indian Movement. The day before I hit the road to Wounded Knee, I looked at one of the movement leaders' Wikipedia page—born in Pine Ridge, activist but also movie actor, Russell Means. I was surprised to see a date of death beside his name, thinking that it was a mistake. I was immediately stupefied to learn he had died that very day. For lack of meeting Russell Means in person, I would go to his funeral. He had returned to the reservation to die. A missed encounter.
September 2012: While I'm stopped in Marfa, Texas, the young French girl who is hosting me tells me all about the beauties of Big Bend Park, where she and her friends had met a bear, and how it was wonderful.
I recently started creating 3D models of edifices and monuments to incorporate into Google Earth. I started it somewhat spontaneously after finding out that the factory chimney towering over my hometown of Rive-de-Gier, which is classified as an historical monument, didn't exist in this virtual world. The chimney is more than a century old and is as high as the hills that surround the industrial valley where I grew up. At one point in history, it was the tallest chimney in all of Europe, standing 360 feet tall. The landmark is visible from many spots over town, even from my parent's house. My dad worked in the metallurgic factory connected to the chimney for 45 years.
Currently, I am finishing a model for the gate and memorial of the Wounded Knee cemetery. Next, I will make the Haymarket Square Memorial. On May 1st of this year, I found out that International Workers' Day originates from the workers' struggle to install an eight-hour shift right here in Chicago, back in 1886. Many of them were killed. These types of edifices also need to exist on the virtual globe.
Mid-September 2012: While crossing the Navajo Reservation in Arizona, I give a ride to Native hitchhiker who is going back home to Kayenta. When he gets out of the car, he tells me to be careful because there are a lot of wild animals on the road. I won't see a single one.
For the past three months, I have been working on a documentary about a movie that made a mark on me when I saw it in the nineties, and didn't receive fair recognition. Clearcut is a great thriller, but it primarily presents an unseen and non-stereotypical characterization of Natives. The Canadian film was actually made by Polish director Ryszard Bugajski. In April of this year, just before leaving for Chicago, I met and interviewed Ryszard in Warsaw. His analysis regarding the way his film was received in North America—very well by Native people, very badly by Canadians—was revealing for me. He defended the proposition that a European person would actually be in a better position to depict a sensitive and typically American issue like Native genocide. Ryszard himself had to flee Poland to Canada to escape the Communist regime; he knows about oppression. Empathetic, but impartial. Free of guilt.
End of September 2012: I'm in California, halfway into my road trip. The grizzly waving on the state flag is the only bear I have seen so far.
The more I learn about the United States, the better understanding I have of European history. Because I lived in Central Europe for several years, I can now see the Polish, the Czech and the Hungarian influence on the construction of American history (especially on cinema) and on Chicago, which houses the largest Polish community in the U.S. and the artists' neighborhood Pilsen.
October 2012: I stay for a few days in Yellowstone Park, set on seeing a bear. Bears are extremely active in the fall because they have to fill up before going into hibernation. The park is overpopulated… with warning signs explaining how to hide your food and stay alert, et cetera. Instead, I venture off treks with my camera as my only weapon. Not a single fur.
I also approach my work by focusing on new formats generated by what we call "the Internets". I make use of different on-line media (comments, forums, YouTube, Google Earth, newspapers, etc.) as raw material to incorporate in my installations. For instance, in the installation Punctum Remotum, I wrote a short novel narrating various YouTube videos. And in the video Drammatical, I transformed the user-comments of an online USA Today article into a multi-dialogued video.
November 2012: Just before I return to Europe, a friend takes me to the Chicago Zoo so I can at least see a real-life bear on American soil. It's already very cold, and the zoo seems to be asleep. Most of the animals are trying to keep warm. We finally reach the bear neighborhood to find the other side of the fences completely deserted. We run to the polar bears' swimming pool—it's empty. Even the polar bears are cold in Chicago? Anyway, they're invisible. At least until spring.
Today, two months after landing in the Windy City for the fourth time, I'm starting to seriously get used to the idea of living, working and creating in this city. Then my girlfriend is offered her dream job—a job that will take us away for three years to Glasgow. Scotland. Back to Europe.
I look at the red carnation that has been poised in a glass jar on the kitchen table for more than two weeks. Its petals haven't quivered. In this country, flowers don't rot. The red flower is mocking me as if she knew she was just a picture. Eternal. Virtual.
Now, I think back to a typically French expression used to define a person who speaks of things about which he doesn't know: "the man who saw the man who saw the bear."
Michael Gimenez (b. 1977) received a MFA from the School of Fine Arts of Montpellier, France. Recent exhibitions include 'Rio, Ano Zero' at 37a Mostra Internacional de Cinéma, São Paulo; 'Global Locals' at Galerie NTK, Prague; 'Drammatical' at ETC gallery, Prague; 'Exuvies' at Galerie 35, French Institute, Prague; 'Punctum Remotum' at Galerie Living-Room, Montpellier; and 'C'est mieux si on reste amis.' at Galerie Saint-Ravy, Montpellier. See more of Giminez's work at www.michaelgimenez.com.
Guest post by Virginia Konchan
Photography must annihilate itself as medium to be no longer a sign, but the thing itself.
 
—Roland Barthes
Ben Gest's photorealist photography, comprised of stark, neo-classical tableaux, depicts alienated subjects engaged in workaday and domestic tasks, and carries a full fetishistic load in an image saturated culture—that of the evacuated figure, from painting, as well as the signature of the "author," as declared dead by structuralist critics.  The "surface reading" strategies of Sharon Marcus' and Stephen Best, Francois Dosse's call for the "descriptive turn," and Bruno Latour and Erving Goffman practice of "flat" reading based on actor-network theory (the game model of human interaction) connect to the "flat" or two-dimensional evacuation of depth fields, suggesting that as the text is now being "read" like a screen (the orthographic significance of the word alienated from semantic, affective, and cognitive percepts), so too are the visual images (in figurative art, the appearance of the other), we consume.
For Roland Barthes, this surface quality was a limitation of medium (the photograph is undialectical, as a denatured theater where death cannot be contemplated, reflected and interiorized:  the foreclosure of the Tragic excluding catharsis), yet this slickness of surface is also a function of the occluded depth of capitalist subjects, wherein intimacy, futurity, and affect, because unable to be represented (priced, and sold), ceases to exist first as a cultural value, then, as a cultural experience (temporally, of duration rather than instantaneity).   A privatized market first commodifies then distributes the sensible (Marx's dream of the  'liberation of the senses' of unalienated individuals in unalienated communities) fueling desiring-machines to demand, yet never receive, aporias of meaning:  presence, aura, soul.  [i]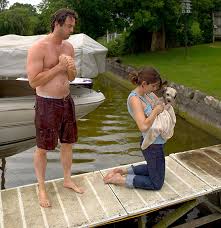 The digital reproduction of the photograph and the text share an analogous relationship, foremost in hierarchies between the word (letter, or sign) and image (symbol, or referent).  Today's medium specificity (Clement Greenberg's belief that "the unique and proper area of competence" for an art form corresponds with the ability of an artist to manipulate those features specific to a medium) is now metaphorized in the relationship between a reader and a text, or a viewer and an artwork, not as an encounter or relationship, but an interfacing, between user and electronic text, or screen (N. Katherine Hayles's media specific analysis in "Print is Flat, Code is Deep").  Barthes' descriptions of photography as "messages without a code" describes the limitation of the medium, for the photograph, yet this obviation of meaning has become an conscious aesthetic in post-structuralism, evacuated of content and intention.   For Hegel, "art" was only art in subordination to meaning:  modern art, in a post-Reformation world, for Hegel, wasn't therefore "art," but rather abstracted potential.   [ii]   The desire to decode photography's "message without a code"  may be what constitutes the dream of absolute (not reified) presence (Barthes' Winter Garden Photograph):  the "the text of pleasure" or sublime (dynamic or technological, wherein perceptual synthesis temporary collapses in experiencing the material force of a supersensible idea, whether of beauty or horror).
Affect theory provides a rational-empirical account of what we know intuitively:  the sublime has a life of its own.  The jarring quality of paintings such as Edward Hopper's "Nighthawks," Edvard Munch's "The Scream," Francis Bacon's apocalyptic friezes, and Frieda Kahlo's self-portraits, fix such images forever in our collective imagination, for giving form to a mediated, yet still felt, aspect of human experience.  Just as Cézanne sought to capture the "apple-ness of apples," and Russian formalist Victor Shklovsky the "stony-ness of stone," any discussion of the sublime returns us to logos (language's ability to embody, and evoke, objects).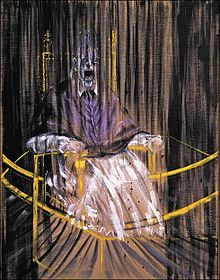 (Francis Bacon, "Study after Velázquez's Portrait of Pope Innocent X," 1953)
The absence of meaning in photography is its power, conveying its "message" through semiotic rather than semantic means.  In writing, an absence of meaning can take, according to Derrida, three forms:  mathematical meaning; agrammaticality ("abracadabra"); and the social contexture of meaning (preestablished symbolic and linguistic codes), implying that the limitations for what one can "say" are scripted, in photography, by medium, and in the text, by culture as well as genre:  the associative logic of poetry requiring a different reading strategy than that of linear prose.
Modernist paintings, like Egyptian hieroglyphs or the intricate symbology found in the Lascaux caves, complicate the boundary between image and text (Cy Twombly's abstract expressionist paintings were inspired by texts from Stéphane Mallarmé to Alexander Pope, incorporating baroque themes and titles, such as Apollo and the Artist and traces, or erased marks of textual inscription).  Belgian surrealist artist René Magritte, of course, creating the watershed moment in art history when the act of visual representation was, in his 1928 "Ceci n'est pas une pipe" rendered counterfactual (ironic) through the insertion of text.
Flatness is not always the image's refusal to yield meaning:  it can be its apotheosis.  As Aloïs Riegl says:  "Bas-relief brings about the most rigid link between the eye and the hand because its element is the flat surface, which allows the eye to function like the sense of touch; furthermore, it confers, and indeed imposes, upon the eye a tactile or rather haptic, function . . . ensur[ing], in the Egyptian 'will to art,' the joining together of the two senses of touch and sight, like the soil and the horizon." [iii]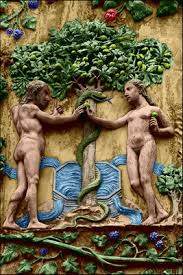 During the 1920s, Russian film director Sergei Eisenstein and Dziga Vertov explored the technical potential of montage, developments new media theorist Lev Manovich claims to underlie the aesthetics of contemporary video.  Eisenstein believed montage could create ideas or have an impact beyond the individual images (two or more images edited together create a "tertium quid" or third thing making the whole greater than the sum of its individual parts).   How is this "tertium quid" experienced in a photograph, or, for that matter, a text?  Gests' figures are "all end" (terminal subjects, trapped in contingency) and flat to the point of disappearing from the surface of the plane.  To say, however, that flat images are a "realist" or photorealist art, or that visual art depends upon language to enter signification has troubling implications, refusing to consider the bounds of perspective (from the artist, the medium, and the spectator).  Yet, in exploring photography's medium (indexical and reproducible), we can begin to understand how the assignation of "post-photography" relates to that of "post-literacy."
Even Dickinson understood depth perception (phenomenologically, and politically, in the granting of subjecthood, rather than treating the other as an object or manipulable industrial machine – vending, milking – in the service economy) to be predicated upon metaphoric hierarchy:  " . . . We can find no scar,/ But internal difference,/ Where the Meanings, are–").    The rise of the image and subsequent degradation of language to emoticons is a function of technocapitalism, advertising and marketing blitzes, and bipartisan racketeering, whereby independent thought is crushed by neo-fascist fears of the unknown (the wizards behind the screen?)
Rather than aspiring to the denotative powers of text (a Gordian knot, interpretatively), highly stylized photography (Gest, Thomas Struth, David LaChapelle) suggests a desire for the image to become purely connotative, appropriating the iconicity of the mirror (the only purely indexical object).  Struth:  "Photographs that impress me have no personal signature," and yet this depersonalized aesthetic doesn't impede the sheer pathos of his museum photographs, juxtaposing spectators at the Louvre with, for example, the shipwrecked figures in Théodore Géricault's Raft of the Medusa.  Struth's museum-goers observe rather than participate in history (religious and mythological narratives), formalizing Western Art's debt to Christian symbolism, but not attempting to subvert or parody this tradition.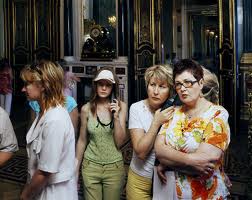 (Thomas Struth, Hermitage 1, St. Petersburg, 2005)
Reading demands, as Guy DeBord says, making judgments at every line;  how does this description of literacy accord with an accurate perception of the imago, as a two-dimensional object?  [iv]  Modernists' dream to find forms of representation adequate to experience of phenomenal "reality," once declared a failure, in morphing from the rejection of authority, the subject, and meaning, to a worship of the object, now worship the frame (material context) itself.  For visual art the context of the image is doubled:  the literal frame, as well as the cultural space in which the work is displayed, distinguishing it as an objet d'art, worthy of consecration in a public space.The shifts, in constructivist and futurist movements, between art's use-value (e.g. painter Alex Rodchenko's poster art, furniture, wallpaper and fabric), to l'art pour l'art, had aesthetic and economic implications (the feared aestheticization of politics and politicization of aesthetics):  today, conceptual art trumpets its value-lessness as a form of waste aesthetics:  resistance to cooptation by the market, and utilitarian ideals.
Following suit, Gest's figures, while ranging in age, largely white and middle class, are pictured in nuclear family couplings, or alone, tending to tasks in well-appointed homes and state-of-the-art kitchens, en route to work, or at the workplace itself.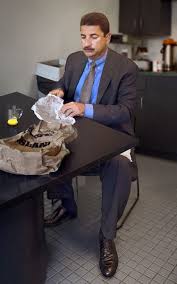 (Gest, "Joe Finishing Lunch" 2005)
In Gest's work, these quotidian scenes (shaving, shelving books at a library), are a form of anti-epic:  representing the habitus of daily living.  In "Ben and Dawn" (below), the couple is preparing dinner:  Dawn manifesting the vacuity of non-presence, and Ben, absorption in his task (forming meat patties).  How to read these allegories in which narrative is supplanted by the gaze (either off-center or vacant)?  Gest heightens the post-Enlightenment collapse of progress narratives and a unified self by refusing the viewer a vanishing point or horizon line:  his subjects' expressions are frozen in shock or ennui.  The unmitigated solitude of many of Gest's subjects also suggests the impossibility of self-knowledge or consciousness, particularly of class.  Mired in transitional situations, and rarely facing the camera directly, these subjects, as they water the lawn, or pause before exiting a brand-new SUV, manifest an innocence of themselves as complicit agents in or victims of commodity culture—or, as posed subjects.  Sentience is indeed on display in Gest's portraits, but this sentience is often in the service of material entrapments rather than the subject's experience, shown benumbed in these portraits of status quo maintenance without the promise of deliverance (through class ascension, religion or theater).   As Baudrillard says, we live in a "jungle of fetish-objects":  in order for an art object to free itself from fetishization it must first emerge as a "newly victorious fetish," then work to destroy itself as a familiar object by becoming monstrously unfamiliar.  "This foreignness is not the strangeness of the alienated or repressed object," he adds.  "It excels through a veritable seduction that comes from somewhere else . . . by exceeding its own form as a pure object, a pure event."  [v]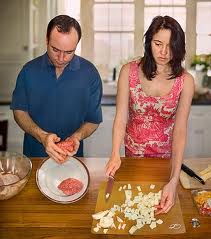 The fantasy of art qua object is a desire for it to eventually become, in a Zarathustrian sense,  event:  Brechtian theater, Jerzy Grotowski's "theatre laboratory" (Teatr Laboratorium), the Opernhaus Wuppertal of Pina Bauch.  Michael Fried opposed art and objecthood in his 1967 essay relating objecthood to theatricality, wherein the reader or viewer is necessary to bring the interpretive act to completion:  in other art forms, however, the line is easily blurred.  A wholly intentioned work of art, or Frankensteinian, bioengineered production of human life (dramatized in movies such as Synechoche, New York, The Truman Show, and the Tom McCarthy novel Remainder) enact the fantasy of a subject with the power to micromanage contingency (i.e. weather), creating others as a pure extension of the author-producer's will (the sinister sine qua non of formalist aesthetics)?  From Remainder:   "Opening my fridge's door, lighting a cigarette, even lifting a carrot to my mouth: these gestures had been seamless, perfect. I'd merged with them, run through them, and let them run through me until there'd been no space between us. They'd been real; I'd been real without first understanding how to try to be: cut out the detour."   McCarthy contemporizes the Wagnerian dream of the "total" work of art, by attempting to solve for indeterminancy in plot, language, nature:   the post-industrial spectacle of by which citizen-consumers, are already, albeit unconsciously, enthralled.
Fried turned to photography with the 2008 publication of Why Photography Matters as Art as Never Before,  exploring works by Bernd and Hilla Becher, Jeff Wall, and Andreas Gursky, asserting that the poles of anti-theatricality and absorption are central to the turn by recent photographers towards large-scale works "for the wall."  The tableaux vivant of these photographers, and the work of Gest in particular, attenuates the politics of spectatorship by rendering the viewer complicit in the subject's performance not of self-consciousness, but the lack thereof.  In Gest, we observe, voyeuristically, subjects in media res, or engaged in repetitious labor (domestic and corporate):  these scenes may be "for the wall" but their very nature is theatrical (constructed), forecasting the transition from art as object, to event.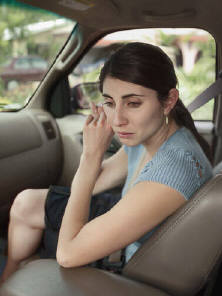 (Gest, Kate Fixing her Earring, 2005)
Narratives of subject formation (or, in painting, a reconstitution of the figure, whether rendered as grotesque by Dana Schultz, or pornographized, in Egon Schiele), continue to be elided by the neoliberal death of extra-aesthetic context, heralded by Francis Fukuyama as the end of history (therefore allegory, Manichean and otherwise, and narrative): Â the fracas of the negative sublime (eco-catastrophes, Warhol-inspired readymades, appropriated and digitally reproducible art).
Art-as-event (the "revised sublime") has the potential to loosen the hypnotizing  inertia of the image, encouraging passive spectatorship, and the dangers of pure formalism (the reduction of art to ornament, or frame, and language to citational and ironic metacommentary, ceasing to exist in or interpolate with the world) allowing space for critical reflection, eroticism, and presence-as-grace.
Whether all art is reification, as Hannah Arendt said, or whether the war is still being waged between aesthetic reification and the counter-concept of aesthetic use value (both prey to commodity fetishism, whether by cognitariat aesthetes and/or the market), the final criteria for artistic "value" or proof of art's autonomy may not be decreed by the moral majority (popular or critical opinion) or its price tag (floating or fixed), but its participation in a sacrificial economy, for the purposes of extirpation:  to reject the bankrupt calculus of credit economies and fiat aesthetics to risk annihilation, so as to rise from the death of ontological and literal debt (posthumously, for Van Gogh) into the shock of signification (G.H. Hardy's aesthetic criterion marrying unexpectedness to inevitability):  the real.
Notes
---
[i]Â  Roland Barthes, Camera Lucida (New York:Â  Hill and Wang, 1980), p. 90.
 
[ii] Roland Barthes, Image-Music-Text, trans. Stephen Heath (New York:Â  Hill and Wang, 1978) p. 45.
[iii]  Qtd. in Gilles Deleuze's Francis Bacon: The Logic of Sensation (Minneapolis:  University of Minnesota Press, 1995).
[iv] Â Guy DeBord, Comments on the Society of the Spectacle (Verso Press, Brookyn, 1998), p. 29.
[v]  Jean Baudrillard,"Simulation and Transaesthetics: Towards the Vanishing Point of Art" (International Journal of Baudrillard Studies), web, Vol. 5, No. 2:  July, 2008.
Virginia Konchan's poems have appeared in Best New Poets, The Believer, The New Yorker, and The New Republic, her criticism in Workplace:  A Journal for Academic Labor, Quarterly Conversation, New Madrid, and Boston Review, and her fiction in StoryQuarterly and Joyland, among other places.  The recipient of grants and fellowships to Scuola Internazionale di Grafica, Ox-Bow, and Vermont Studio Center, Virginia is co-founder of Matter, a journal of poetry and political commentary.  She lives in Chicago.