I posted about this little gem of a film a few weeks ago here; since then, I've had a chance to view "Herb and Dorothy" (directed by first-time filmmaker Megumi Sasaki) and just as I'd hoped, it's terrific. It's screening in Chicago this weekend at the Gene Siskel Film Center, so here's your chance to see it too. The film has already been widely reviewed; I don't have anything more to add other than to note that I particularly enjoyed the brief but sensitive observations about the New York contemporary art collectors Herb and Dorothy Vogel made by Richard Tuttle, an artist whom I've rarely seen interviewed on camera. Quite simply, this is a film about what it takes to be a great collector: not tons of cash, not connections, not a prescient view of the market. It's about a way of looking at art, exemplified by Herb Vogel's manner of staring down an artwork with a look of ferocious, devoted intensity. Don't miss it.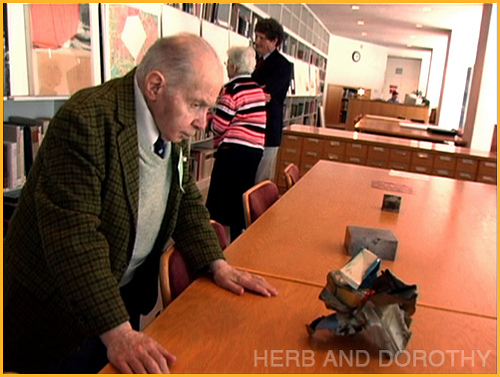 The film screens at the Gene Siskel Film Center on Friday, July 3rd at 6pm, Sunday, July 5 at 5:30pm and Tuesday July 7 at 6pm.
This may be the coolest thing I've seen all week: Looking into the Past, a Flickr photo pool started by Jason E. Powell, is a collection of images that literally overlap past and present incarnations of everyday spaces. Photographers seek out archival images of a particular spot via old postcards, photographs, etc., then return to that spot, camera in hand, to capture it again, this time with the archival image held up to roughly coincide with the place where it once stood.
People are doing this to their own homes, to hospitals, rail stations and neighborhood joints, as well as to historic landmarks. Some of the most compelling and poignant examples from the pool include images of participants' now-deceased relatives, or still-living friends and family members in younger days, superimposed over the spots where they were once photographed. When interviewed about the project in Wired U.K., Powell explained how the idea originated.
"I was searching around for a way to illustrate the phrase 'modern-day equivalent', and my original idea was to do a typical then/now shot, perhaps as a diptych or with some Photoshop work. After I printed the source imagery for my first test shots of my hometown from the Library of Congress, I went out to shoot the photographs and flashed on the idea of paying homage to another Flickr collection, Michael Hughes' Souvenirs project, but only with historical imagery. Looking at the result, I immediately fell in love with it and decided to do a series of images."
As far as I could tell, right now there are only seven contributions from Chicago or Illinois (see one of these photographs, by Chris Gansen, below; click on the image to be taken directly to Gansen's Flickr page). If you're a street photographer, urban planning buff, or collector of vintage postcards, why not do a little Eugene Atget-style detective work of your own and uncover the secret history of some of your favorite Chicago haunts. I'll be looking forward to seeing what gets added to this fascinating pool of images.
On this weeks video pick we bring you an interview with writer Mei Chin and painter Dana Schutz from 2005. Just be warned, not the best sound quality.
I don't know why but I seriously can not stop laughing at this. Skip ahead to 1:25
I was leafing through my alma mater's quarterly magazine over the weekend and, while intending to flip straight through to the Class Notes and Obits like I usually do, I found myself absorbed instead by a fascinating profile of Pomona College Assistant Professor (and Northwestern University grad) Sarah Sood, a computer scientist whose research focuses on the emotional content of the blogosphere.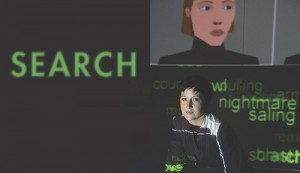 Sood is interested in connecting people via the stories they tell. For the past six years, she's been designing programs that enable computers to identify the emotional components of blog-based narratives. The results thus far have produced Buzz, a search and retrieval system that mines blogs for interesting and emotionally compelling stories.
If you're a Chicagoan, you may very well have seen Sood's work in 2005 when for a period of one year Buzz was displayed in the lobby of the Second City Theater. Taking the form of a multi-media theatrical installation, it presented four talking-head avatars, each of whom related stories derived from Sood's research. A description of the project can be found on Northwestern University's Infolab website, excerpted below:
"Buzz is a multimedia installation that exposes the buzz generated by blogs. Buzz finds the blogs which are compelling; those where someone is laying their feelings on the table, exposing a dream or a nightmare that they had, making a confession or apology to a close friend, or regretting an argument that they had with their mother or spouse. It embodies the blogger with virtual actors who externalize these monologues by reading them aloud."
Click the image below to be taken to a demonstration clip from the installation: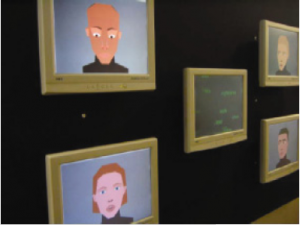 Sood also used the Buzz retrieval system to explore emotional reactions to Chicago landmarks (click here for demo):
While installations like Buzz provide entertaining diversions, Sood's next project promises to be far more rich in its possibilities. She is developing an "emotional-state search engine" that will seek out web content driven by one of six emotions: happiness, fear, sadness, surprise, disgust and anger. Writer Lori Kido Lopez, who authored the aforementioned profile of Sood, points out that the Buzz-based emotional search engine "is vastly different from a typical search engine." Lopez explains,
"If you put the words "happy" and "Obama" into Google, the sites that pop up include information about Obama's White House happy hours and a mix tape called "Obama's Happy Ending"-neither of which have distinct emotional content. Sood's goal is to be able to search for content about "Obama" but also to be able to specify that the stories are emotionally "happy"-and actually be able to come up with a list of articles where the writer is feeling joyous about the topic of Obama. These stories might include topics like the euphoria and love surrounding Obama's family, or excitement toward his message of change."
Sood hopes to have the website ready for public use by the end of this summer. I'm already thinking of emotional buzzwords and topics to pair them with…the possibilities are endless.