Audio clip: Adobe Flash Player (version 9 or above) is required to play this audio clip. Download the latest version here. You also need to have JavaScript enabled in your browser.

download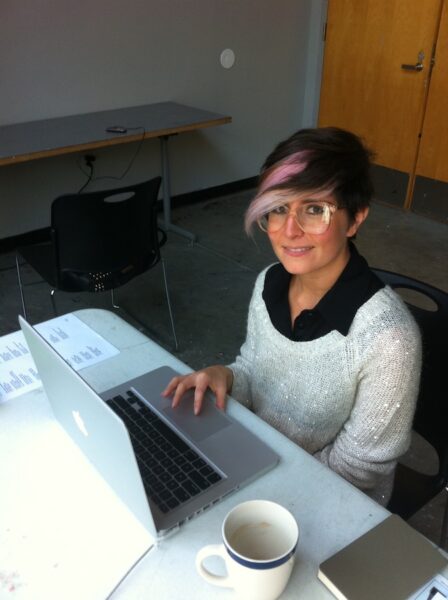 This week: BAS on the west coast! We talk to Adriana Salazar and John Spiak, director and chief curator of the Grand Central Art Center, which has an exhibition of Adriana's work up currently. Also, we talk to Sabina Ott about The Terrain Exhibitions Biennial which is this coming weekend!
Plan your life around seeing us at EXPO!!! You know you want to.
ADRIANA SALAZAR: NOTHING ELSE LEFT
2013 California-Pacific Triennial Partnership with Orange County Museum of Art
July 6 through September 22, 2013
Is there an end to our existence? Can we be separated from our bodies and be transformed into something else? Adriana Salazar's work has continued to revolve around these questions in different ways. This is why the realm of mortuary customs appeals to her: it presents numerous ways to approach the ultimate unknown.
Her past series of works have attempted to bring inanimate objects to life; crystalize human actions into mechanical devices; worked to blur the line that separates the natural and the artificial. Death has been an ever-present part of her work, understood in a broader sense, in her own words, "I want to address death as a dare to the certainties of knowledge, and as a challenge to deeply rooted traditions. Thus, my work has taken its course transforming mechanical actions, obsolete objects, fading plants and passing life into installations and objects that could become questioning situations themselves."
For this current series, created during a two-month residency at Grand Central Art Center, the artist desired to go deeper into that moment of transition between life and death, finding out as much as she could about what happens with our bodies, with our consciousness and with everything we build around the death of others. In her words, "I found, amongst other things, that there is an aesthetics of transition, that there are rituals trying to maintain life after death, and laws which govern our bodies, even when we are not fully present. I also found out that there are transitional techniques and an intricate industry around them."
Some of these techniques of transition have the purpose of dematerializing the body – its physical presence, associated to life and its impermanence – replacing it with a different kind of immaterial presence. In the crematory, a compartment ignites at a very high temperature until the body is almost entirely dissolved. In order to secure the transparency of this transition, all particles of bone are carefully separated from any other solid object that might exist in our remains. These foreign bodies – implants, replacements, metal bodily parts, and every sign of our artificial self – must be removed. All that is left are bones, which are then reduced to the size of grains of sand. These remains are kept in homes, spread at symbolic locations, interned at traditional burials site, or used in other creative manners. The artificial parts, on the other hand, are usually recycled for their metals or tossed away.
Salazar has decided to rescue as many cremated artificial body parts possible. These parts remain as solid as they were inside their bodies and are nevertheless considered residue. She found their value in this very ambiguity. They embody the question of the status of our own existence on a physical level: their materiality creates confusion between those objects as parts of a physical body and our own body, thus opening the gap between our certainties and uncertainties, beyond the matter of human death itself.
The simple presence of these objects puts the status of life into question, allowing us to see, on one hand, the death of usage and value as something applicable to our own bodies. They allow us to see, on the other hand, the possibility of our existence as purely impermanent, earthly and physical. They allow us to see our possible becoming.
Terrain Exhibitions Biennial
September 15 – October 19, 2013
Opening Block Party: September 15, 1 -10 PM
Utilizing multiple homes on the 700 Highland Avenue block, nine artists have created site-specific interventions for this month long event.
Exhibiting Artists:Â 
Alberto Aguilar
Stephanie Barber
Tom Burtonwood
Robert Gero
Gunnatowski
Ames Hawkins
Alexandra Noe
Megan Taylor Noe
Judy Rushin
Opening Block Party:Â 
Terrain artist Claire Ashley will produce an event featuring her inflatable sculptures. Ellen Butler, neighbor, will exhibit her paintings and Elizabeth Rexford's The Harmonia Quartet will play on the Longfellow Elementary school steps. A reading from Ames Hawkins' Paper Violets will be performed in addition to Paul Hertz conducting the interactive "Ignotus the Mage" at intervals throughout the afternoon. There will be a plethora of activities and constructive projects for the whole family, such as bookbinding, fluxkit exchanges, Exquisite Corpse drawing games, and a chance for all to participate in creating a surrealist poem imagined by Stephanie Barber. The Taco Bernardo Food Truck will be in Oak Park serving dinner from 5:30 – 8:00PM, an assortment of treats will be provided by neighbors and all are welcome to add to the potluck! The day's activities will be accompanied by the DJ styles of Rae Chardonnay then followed by neighbor Ryan Todd's band Officer Friendly. Terrain artist and Director of Aspect Ratio Gallery, Jefferson Godard, will wrap up the event with a curated video program that will be shown from dusk until 10PM.
Audio clip: Adobe Flash Player (version 9 or above) is required to play this audio clip. Download the latest version here. You also need to have JavaScript enabled in your browser.

download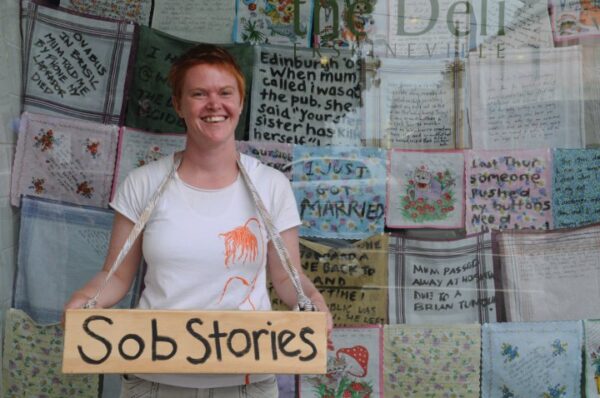 This week: The second installment in our Open Engagement 2013 series! Caroline Picard talks to Amy Spiers.
Amy Spiers is a Melbourne-based artist and writer interested in socially engaged and participatory art. She employs a cross-disciplinary approach that includes photography, video, installation, text and performance for both site-specific and gallery contexts. Amy completed a Master of Fine Art at the Victorian College of Art in 2011. During her studies she explored strategies for inviting viewer participation in her art.
Amy has presented numerous art projects in festivals and galleries across Australia, including Melbourne Fringe, Next Wave, Tiny Stadiums, This Is Not Art, Performance Space, Platform, Inflight ARI and SASA Gallery.
For more information about Amy's work go to: amyspiers.tumblr.com
Audio clip: Adobe Flash Player (version 9 or above) is required to play this audio clip. Download the latest version here. You also need to have JavaScript enabled in your browser.

download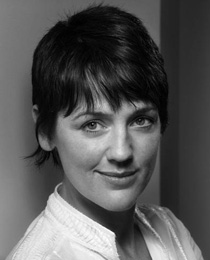 This week: Part one of the Open Engagement conference 2013 series. Caroline Picard talks to Caire Doherty!
Claire Doherty is Director of Situations. Claire initiated Situations in 2003 following a ten-year period investigating new curatorial models beyond conventional exhibition-making at a range of art institutions including Ikon Gallery, Birmingham, Spike Island, Bristol and FACT (Foundation of Art and Creative Technology), Liverpool. Claire has worked with a diversity of artists including Lara Almarcegui, Uta Barth, Brian Catling, Phil Collins, Nathan Coley, Lara Favaretto, Ellen Gallagher, Joseph Grigely, Jeppe Hein, Susan Hiller, Mariele Neudecker, Cornelia Parker, Roman Ondak, Joao Penalva and Ivan and Heather Morison. She has advised a range of organisations as curatorial consultant including Tate, Site Gallery Sheffield and is author of the public art strategies for the University of Bristol and Bjorvika, Oslo Harbour.
In 2009, Claire was awarded a prestigious Paul Hamlyn Breakthrough Award as an outstanding cultural entrepreneur. Claire directed One Day Sculpture in 2008-9 with David Cross, a year-long collaborative series of 20 commissioned, 24-hour public artworks across New Zealand. In 2010, she was Co-Curatorial Director of Wonders of Weston for Weston-super-Mare.
Doherty lectures and publishes internationally. She is editor of Contemporary Art: From Studio to Situation (Black Dog Publishing, 2004); Documents of Contemporary Art: Situation (Whitechapel/MIT Press, 2009) and co-editor with David Cross of One Day Sculpture (Kerber, 2009), with Paul O'Neill, Locating the Producers: Durational Approaches to Public Art (Valiz, 2011) and with Gerrie van Noord, Heather and Ivan Morison: Falling into Place (Book Works, 2009). She was also an external advisory member of the Olympic Park Public Realm Advisory Committee and a Fellow of the RSA.
Audio clip: Adobe Flash Player (version 9 or above) is required to play this audio clip. Download the latest version here. You also need to have JavaScript enabled in your browser.
This week: 8 years!!! We wrap up season 8 with the Artist as Arbiter panel from CAA 2013.
Moderators:Â Duncan Mackenzie, Columbia College, Chicago/Director, Bad At Sports AND Shannon R. Stratton, The School of the Art Institute of Chicago, Chicago/Director, threewalls
Panelists:
Anthea Black
With our powers combined: queer collaboration, distribution, intervention, gentrification
Independent artist, curator and critic
Laurie Beth Clark & Michael Peterson
Where's the art? Hosting/Framing Creativity
University of Wisconsin & University of Wisconsin-Madison
cafeallonge.net
spatulaandbarcode.net
E. G. Crichton
Migrating Archives: how I became a matchmaker and archive activist
University of California Santa Cruz/The GLBT Historical Society
Reni Gower
Parallel Practice: The Artist as Curator
Professor, Painting and Printmaking, Virginia Commonwealth University
Philip Von Zweck
On Nested Authorship
Columbia College, Chicago
Audio clip: Adobe Flash Player (version 9 or above) is required to play this audio clip. Download the latest version here. You also need to have JavaScript enabled in your browser.

download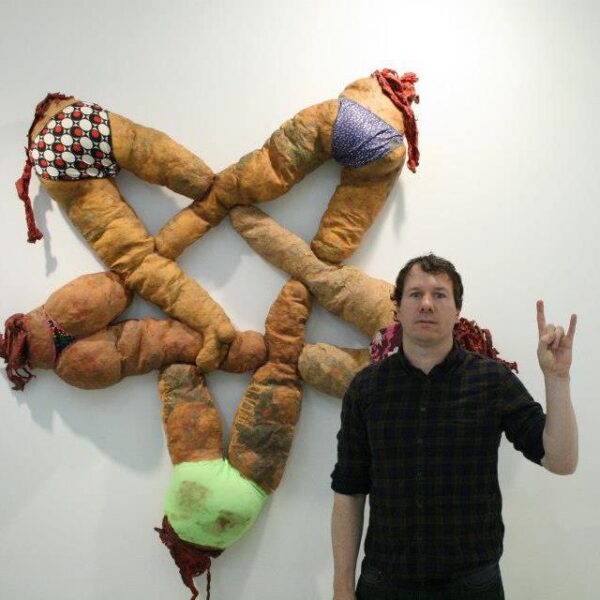 This week:Amanda Browder (of the Amanda Browder show) chats with artists and curators Keri Oldham and Jacob Rhodes, founders of the artist run space Field Projects located in Chelsea, NYC. Listen to our conversation about artists as curators, the current gallery system and the ways these two have worked to make Field Projects a space for innovation and a more open dialog between artist and gallery.
Next, Max and Hank do the shortest interview in the history of the show at Chicago Comic Con.
Lastly, Bad at Sports remembers Eydie Gorme.
Field Projects is an artist run project space and online venue dedicated to emerging and mid-career artists. Centered on short-term curatorial projects, Field Projects presents monthly exhibitions at their Chelsea location in addition to pop-up exhibitions throughout New York City. Artists and curators are invited to submit their work for consideration in future exhibitions through our open call submissions guidelines.
Curators/Founders/Artists:
Keri Oldham is a New York-based artist and curator working in watercolor, paper and video. Her work deals with issues of identity, religion, love and death in cinema. Originally from Dallas, Texas, Oldham has exhibited her work throughout the country, including: Jen Bekman Gallery in New York, Kirk Hopper Gallery in Dallas, The Hardware Store Gallery in San Francisco, Camel Art Space in New York, The Dallas Contemporary, The Reading Room and 500X in Dallas. She was a 2011 Summer Central Track resident and has received other awards including a 2010 New Media Fellowship with BRIC Arts in Brooklyn.
Oldham is also founder of Field Projects, an artist-run project space in Chelsea. Her work has been spotlighted and reviewed by Beautiful/Decay, Gwaker Arts, Glasstire, D Magazine, San Francisco Weekly and others.
Jacob Rhodes' work explores codes of masculinity, class and the inherent violence in homo-social interaction. The middle child of three boys born to a car mechanic and a school cafeteria cook, Jacob spent his youth touring in punk bands, publishing zines, and self producing records. He received his BFA in New Genre and Photography from Otis College of Art and Design in Los Angeles where he studied under Larry Johnson, Bruce Hainley, and Richard Hawkins. After graduating, he joined the US Army, spending three years in Alaska at Fort Wainwright's 172nd Arctic Infantry Brigade. In 2005, he returned to school attending Skowhegan School of Painting and then earned his MFA in Sculpture at Yale School of Art in 2007. Jacob has shown at the Bronx Museum, Alona Kagan Gallery, New York, Federal Art Project, Los Angeles, Galerie Im Regierungsviertel, Berlin, and Bart Wells Institute, London. He currently lives and works in Brooklyn, NY.