Audio clip: Adobe Flash Player (version 9 or above) is required to play this audio clip. Download the latest version here. You also need to have JavaScript enabled in your browser.

download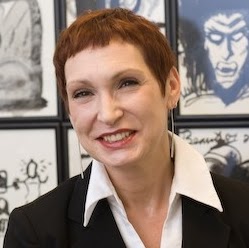 This week: From our St. Louis series! We talk with Roseann Weiss the Director of the Community & Public Arts Department at the St. Louis Regional Arts Commission.
Roseann Weiss is Director of the Community & Public Arts Department at the St. Louis Regional Arts Commission (RAC). In this position, she oversees the Community Arts Training (CAT) Institute – an innovative program centered on the belief that art can amplify the voices of communities, be a key factor in regenerating neighborhoods and be an agent for positive social change. Roseann also leads RAC's artists' support programs and creative community initiatives, which include identifying resources for new projects. She has over 25 years of experience in arts leadership in both nonprofit institutions and gallery settings.
The Community Arts Training (CAT) Institute, now considered a national model, provides professional level, comprehensive cross training for artists of all disciplines, social service providers, community activists, educators and policy makers in order to develop partnerships for successful arts-based programs that impact the community at large, and particularly under resourced communities. The program provides skills as well as explores creative techniques to assure success in collaboration and community work.
Roseann has initiated the expansion of the Institute's scope, including the design of a graduate program and an alternate, place-based model for community arts training. These initiatives were underwritten by the Kresge Foundation.
In March 2010, the Community Arts Training (CAT) Institute presented the first At the Crossroads: A Community Arts & Development Convening. This national conference in St. Louis, underwritten in part by the Nathan Cummings Foundation, attracted a cross section of leaders in arts-based community development. In April 2012, a second arts-based community development Convening, funded in part by the Kresge Foundation, attracted about 300 participants from as far away as Dublin and Singapore.
Before joining the RAC staff, she was Director of Education and Programming for the Contemporary Art Museum St. Louis. In her ten year post at the Museum, she instituted programs such as New Art in the Neighborhood for teens, the critics and curators studio visit and lecture series, and a docent program designed to connect high school students with contemporary art, along with many community collaborations.
Roseann has curated contemporary art exhibitions in both commercial and non-profit galleries, served on arts panels, juries, committees and boards and has lectured about contemporary art and community. She is a founding member of The AIDS Foundation of St. Louis (now part of Doorways) and Critical Mass for the Visual Arts. In honor of her active involvement in the arts community, Roseann received a Visionary Award in 2009. The award is given to those who have demonstrated a unique vision to further the arts in new and innovative ways.
St. Louis Regional Arts Commission
Community Arts Training Institute
Information on TIGER: CAT institute Alum program
Contemporary Art Museum St. Louis
Pulitzer Foundation for the Arts
Audio clip: Adobe Flash Player (version 9 or above) is required to play this audio clip. Download the latest version here. You also need to have JavaScript enabled in your browser.

download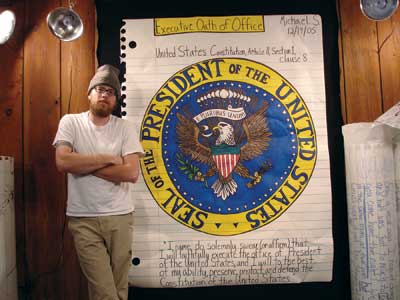 This week: The Amanda Browder Show rolls back into town! Amanda talks to artist Michael Scoggins.
Michael Scoggins was born in Washington D.C. in 1973. Growing up in Virginia and relocating later to Savannah, Georgia where he gained an MFA in painting from the Savannah College of Art and Design in 2006. In the summer 2003 he attended the prestigious Skowhegan School of Painting and Sculpture in Skowhegan, Maine. He has shown extensively, gained international recognition and has gallery representation in Atlanta, Miami, New York, San Francisco, Vienna and Seoul. Michael currently lives and works in Brooklyn, NY.
Audio clip: Adobe Flash Player (version 9 or above) is required to play this audio clip. Download the latest version here. You also need to have JavaScript enabled in your browser.

download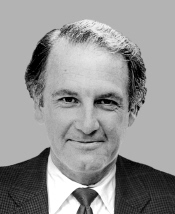 This week: Our faithful correspondent Patricia Maloney sat down with former US Congressman Pat Williams and his son Griff Willams at Gallery 16 in San Francisco earlier this month to discuss the turbulence of the Culture Wars during the late '80s and early '90s. Patricia finally learned how legislating works in a conversation that ran the gamut from explaining Piss Christ to conservative parents and why Poker Jim Butte is the best place to catch some Shakespeare to how the NEA is vital to cultural production in rural communities and why now might be the moment to demand the return of federal grants for individual artists.
Rep. Pat Williams, who served Montana as its U.S. Congressman for nine terms, from 1979-1997, was Chairman of the House Committee that oversaw fiscal authorization for the NEA. He was one of the most vocal champions for Federal Arts Funding and has been credited for saving the NEA at a time when it was threatened with extermination by the religious Right. When the National Endowment for the Arts came under attack for subsidizing what some legislators considered sexually explicit art, Williams led the fight to save the agency. "As long as the federal government can support the arts without interfering with their content, government can indeed play a meaningful part in trying to encourage the arts," Williams told The New York Times. "The genius of the NEA has been that the peer- review panels, made up of local folks, chose art and artists by using criteria based upon quality and excellence, never touching subject matter."
"He was a tireless and fearless supporter of the arts," reports John Frohnmayer, who served as chairman of the National Endowment for the Arts during that tumultuous era. "He risked his political career in doing so." Frohnmayer recalls that Williams "called out the congressional critics of the Endowment for their duplicity and moral posturing."
Audio clip: Adobe Flash Player (version 9 or above) is required to play this audio clip. Download the latest version here. You also need to have JavaScript enabled in your browser.
This week: After an inexcusably self-indulgent, alcohol fueled intro where Duncan, Richard, Dana and Emily and Nick from ACRE join us, we get on to an excellent interview. Part three of our St. Louis series recorded at the Contemporary Art Museum-St. Louis. This time we talk to Juan William Chavez and Kiersten Torrez about the Northside Workshop, bees, social practice, and record an advert for penicillin.
Northside Workshop (NSW)
Mission
Northside Workshop (NSW) is a non-profit art space dedicated to addressing cultural and community issues in North Saint Louis. Our programming focuses on incorporating socially engaged art and education with the goal of fostering social progress in North Saint Louis communities.
Description
In 2010, a collaboration with the Old North Saint Louis Restoration Group, the Kranzberg Arts Foundation and artist/cultural activist Juan William Chavez began an intervention to regenerate a historic North Saint Louis brick building in danger of being destroyed. Two years in the making, this building is now transformed into a dynamic community art space.
Juan William Chavez
Founder and Director
Juan William Chavez (born in Lima, Peru) is an artist and cultural activist whose studio practice focuses on the potential of space by developing creative initiatives that address community and cultural issues. His projects include Urban Expression for the Pulitzer Foundation for the Arts, the Northside Workshop and the Pruitt-Igoe Bee Sanctuary. His awards include the Art Matters Grant, the Missouri Arts Award and the Graham Foundation for Advanced Studies in the Fine Arts. In 2012, Chavez received a John Simon Guggenheim Memorial Foundation Fellowship.
Kiersten Torrez
Director of Programming & Sustainability
Kiersten Torrez is an arts organizer focused on innovative sustainable practices. She has aided in developing community-based projects such as Beautification of Vacant Space, the Pruitt-Igoe Bee Sanctuary and Team Cookbook (creative workshops designed to community build through the sharing of recipes and stories in Old North Saint Louis). Torrez is currently planning a Year of Listening, a series of socially engaged events focused on co–generating programs to address the physical and social dimensions of the Old North Saint Louis neighborhood.
Audio clip: Adobe Flash Player (version 9 or above) is required to play this audio clip. Download the latest version here. You also need to have JavaScript enabled in your browser.

download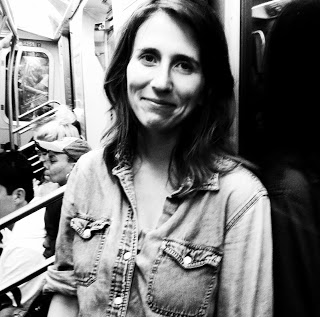 This week: Part 2 of our residency project at the Contemporary Art Museum of St. Louis! This week we talk to critic, poet, gallerist, the award winning Director of the Fort Gondo Compound for the Arts Director and Art in America contributor Jessica Baran. This was one of those interviews that I will look upon as a personal favorite. Besides Bad at Sports declares war on Art News. What could be better.
Contemporary Art Museum St. Louis
Fort Gondo Compound for the Arts
"Close Reading" The art of Close reading
Jessica Baran is the author of the poetry collections "Remains to be Used" (Apostrophe Books, 2010) and "Equivalents" (winner of the Besmilr Brigham Women Writers Award, forthcoming from Lost Roads Press, 2013), as well as the poetry chapbook, "Late and Soon, Getting and Spending," produced by All Along Press (2011). She lives in St. Louis, Missouri, where she is a freelance art writer and co-curator of the fort gondo poetry series.