Audio clip: Adobe Flash Player (version 9 or above) is required to play this audio clip. Download the latest version here. You also need to have JavaScript enabled in your browser.
The five year behemoth is upon us! Episode 260 kicks off with a discussion with Mary Jane Jacob and Michelle Grabner about the artist and studio. Then we turn the camera on ourselves and have a discussion about where we are and where we are headed, if anywhere.
Thanks for listening! It has been a great five years!
P.S. Cauleen S. you are a sad, sad, petty whiner. Grow the hell up.
The great part of the Art World is that it is in constant flux and endless energy. Artists and other members of the community create more commerce, impact, reach & community with $100 then most corporations can do with $1,000. The Art World cleans up and resets urban landscapes, moves when the price gets too high and then does it all over again. Lower Manhattan is a testament to the Art world and not anything City Hall has singlehandedly done. Yes there are aspects that can drive you mad; as in the endless herding of cats, debating fringe points of view that even Fox News would balk at and the deep seated hatred/fear of money or success. That said though, I would take a smart art world person over a smart MBA any day of the week. Ideas come and go but drive and tenacious originality/agility makes them a reality. Vegas was once a dream like that.
For good or ill there was once a dream to make Las Vegas an art capital. To make what was already a destination place for many into something that would include an art & culture discussion. During the time of the drive to reinvent Las Vegas as a family friendly, high culture venue, many casinos built collections and galleries to showcase great works for a small admission fee. Years later that proved to be a dead end. People didn't want to pay to see works that were not of the highest order of notoriety while in Vegas and even fewer would make the trip with that as a priority. The casino's multi-million collections now adorn the check-in areas and the galleries are reconstituted for other uses. Interestingly enough once again the poor artist comes along and is renting out the space to work in for later exhibitions in LA. You can read more here.
All in all though that is the Art World every day and the Business world every fiscal quarter. You dream what could be, do as much preparation as possible, swing smart and hard and hope at the end of the day you get your investors more then they paid and build an core infrastructure that can grow into something more. Something better.
You go out swinging every day, hoping that you can find that one idea that is better then the rest and you can gladly spend a lifetime building into something that brings joy, growth and money to all who enter it. You suffer the pain, the failure and the missteps knowing that she is out there just waiting to be found, that opportunity to plug in your skills and view with the needs of the community. Thats why we do this every day, that is the art world where dreams die daily so that other, better ones, might take their place for us all.
---
Audio clip: Adobe Flash Player (version 9 or above) is required to play this audio clip. Download the latest version here. You also need to have JavaScript enabled in your browser.
This week: Tom and Amanda talk to NYC based painters Aaron Johnson and Ryan Schneider.
BAS sends mucho congratulations to the MacKenzie family.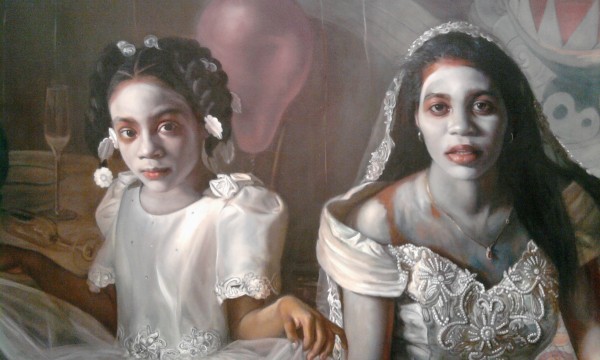 I flew to Washington, DC this week for many reasons but while here made a point to see as much Art as I could and after a few galleries, museums and private collections some of which were sprinted through, some I could spend more time in I found much of the art venues to be a tad sparse  and fragile. Lacking the solidity and permanence you would think would come naturally in the nation's capital. The one gem that stood out surprisingly was The National Portrait Gallery.
I mentioned it last week in posting the video that Spielberg/Lucas produced to showcase their collection of Norman Rockwell works and planned to take time to see the show but had low expectations even though I did like the attempt to contextualize Rockwell as a directors painter.  The Rockwell series was enjoyable and pleasant to see his paintings side by side with his preparatory drawings (which in many ways do overshadow the finished works) and the Spielberg/Lucas collection is a well curated and thought out collection with only a few stranglers (works based on the four seasons) which could easily have been early purchases and they were smartly set aside in a small corner by themselves apart from the main body of work. I wish I could have photos to share but they were militant on retaining their photo copyrights and even chased me away from photographing the entrance to the exhibition from over 15 feet away (which is a all time high for me after 8+ years of trying to document things like this).
What made the National Portrait Gallery stand out for me above the various Smithsonian collections including the National Gallery (which is staffed by some of the most pleasant customer service & guards I have ever dealt with, makes you wonder if the fact that the recession hasn't even scratched this town having anything to do with that disposition?) was that it was both a dense collection of works that were smartly pooled into thematic bite size chucks but also very romantic and intimate as a venue. A throwback to the turn of the century parlors of old where you felt you had a more intimate one on one with a artist or series of works.
The term portrait gallery is apt for portions of the collection but it's just meaningless for a large part and gives a misconception of what lies under the roof of that building. Many of the works being smart or rarely seen examples of pastoral or figurative 19th century works that feel fresher and challenging then their age would hint in this day of clinical detachment.
One of the interesting temporary exhibits in the museum was the annual portrait competition by various young artists, grad students and such. The work was surprisingly strong and continued to show the diversity that still exists in this 21st century bouillabaisse of style. About 20% of it wasn't worth comment but much was fresh and well executed and even the parts that were derivative from more established but lesser known artists were still interesting.
For once as well the top award given by the public to Margaret Bowland's girls in wedding gowns and white face was more deserving in some ways then the top juried choice. You can see a gallery list below. Have a great weekend!
Audio clip: Adobe Flash Player (version 9 or above) is required to play this audio clip. Download the latest version here. You also need to have JavaScript enabled in your browser.
This week: We talk to Artist Nathan Carter who has a work in the current MCA Exhibition "Alexander Calder and Contemporary Art: Form, Balance, Joy"about his work, the youth perspective, and the secret trasmissions of numbers stations.
Here is a slightly outdated bio I lifted: Nathan Carter's wall reliefs, sculptures, collages, and hanging objects are inspired by myriad aspects of contemporary society: modes of transportation, mass communication devices, sports insignias, and architecture for mass gatherings like stadiums and parade grounds. At once gestural and reductive, his works amplify strategies first explored by modernist artists in the early 20th century. Deeply rooted in a fascination with how visual abstract codes represent a means of abbreviated, if not universal, communication, Carter's free-form compositions are simultaneously non-objective and referential.
Playful at first impression, Carter's art contains allusions to mundane yet foreboding engagements, such as radio transmissions, encoded transcriptions, and other electronic communications that serve not only to link us to world networks, but also to place us under surveillance and deprive us of our privacy. Often our dependence on these tools and the despair that results from their failure to properly operate is a recurring leitmotif in his work.
Nathan Carter was born in Dallas, TX, in 1970 and currently lives and works in New York, NY. He received his MFA from Yale University, New Haven, CT, in 1999. He has had solo exhibitions at Galería Pilar Parra, Madrid (2007); Casey Kaplan Gallery, New York (2006, 2004, 2001); and Esther Schipper, Berlin (2006). He also participated in Art 33 Basel, Basel, Switzerland (2002). Selected group exhibitions include Neo Baroque, DA2 Centre of Contemporary Art of Salamanca, Spain (2005-06); Greater New York 2005, P.S. 1 Contemporary Art Center, Long Island City, NY; and GNS, Palais de Tokyo, Paris (2003).