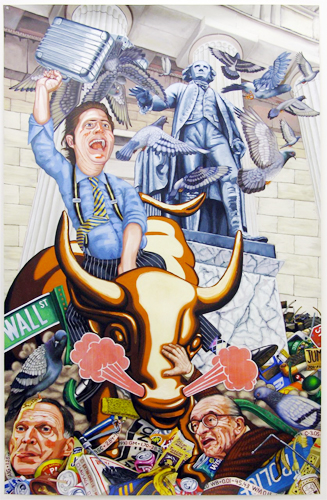 Tom Sanford with friend, collaborator and fellow genius painter, Ryan Schneider have been working on the show "Big Picture" for about a year and are very proud and excited for it.
In simplest terms BIG PICTURE is just that, a show of big pictures. The pictures – all paintings – are big in terms of size, subject matter, energy, ambition and visual generosity. Many are aggressive or even garish in the color, they are often over worked, heavy layer upon layer of paint, combining dissonant styles and subject matter. These paintings are big in that there is a hell of a lot to look at. Some of the pictures are so big in scope that they seem unresolved, open ended, too big for the canvas they are on.
Schneider & Sanford organized this show to make a case for a young generation of New York picture-making painters who have emerged over the past decade. We asked each of 19 painters that we invited for one big picture that would serve as a strong argument for that artist's position. Ostensibly, these paintings vary widely and wildly in style, subject matter, and point of view. However, when we look at the show, we like to view it in terms of the big picture.
These are all painters who make pictures of things, in that they all refer to the culture at large; their paintings are about painting, but they are about other things as well. The pictures deal with the biggest of universal themes, like Love, Sex and Death. The big subject matter is often juxtaposed with more idiosyncratic information about subculture or the extremely personal, political or emotional. These are painters of a generation to whom irony and collage-like juxtapositions are second nature, where high/low cultural distinctions are meaningless, to whom technology allows access to every image that has ever been seen or even imagined. These are painters who take advantage of the vastness of their surroundings, the open-endedness of their culture, and this Big Picture is reflected back in their work.
Featuring paintings by:
Kamrooz Aram, Colleen Asper, Paul Brainard, John Copeland, Holly Coulis, Justin Craun, Van Hanos, Dan Heidkamp, Aaron Johnson, Emily Noelle Lambert, Wes Lang, Liz Markus, Eddie Martinez, Brian Montuori, Lisa Sanditz, Tom Sanford, Ryan Schneider, Michael Williams, and Jeremy Willis
BIG PICTURE
JULY 8 – AUG 7 OPENING PARTY JULY 8 6-9PM
Priska C. Juschka Fine Art
547 W 27th street, 2nd floor.
Opening Reception 7/8/2010 6-9 pm
We hope everyone had a great Fourth of July and a even better Fifth.
Audio clip: Adobe Flash Player (version 9 or above) is required to play this audio clip. Download the latest version here. You also need to have JavaScript enabled in your browser.
This week: We talk with artist and visionary Nils Norman.
Nils Norman was born in Kent, England in 1966. He studied fine Art Painting BA Hons at St. Martins School of Art in London. After graduating in 1989 he moved to Cologne, Germany. There he lived for three years and collaborated with the artists Stephan Dillemuth and Josef Strau at their experimental storefront project Friesenwall 120, during this time Norman also set up a small gallery space in London, which later became Milch. In Cologne Norman worked for one year assisting the German painter Gerhard Richter in his atelier.
His first US exhibition was at the Pat Hearn Gallery in Chelsea (with Denis Balk and Simon Leung), after which he began to be represented by the late Colin Deland at American Fine Arts.
Norman founded an experimental space called Poster Studio on Charing Cross Road, London. This space was a collaborative effort with Merlin Carpenter and Dan Mitchell. In 1998 in New York he set up Parasite, together with the artist Andrea Fraser, a collaborative artist led initiative that developed an archive for site-specific projects.
Norman now lives and works in London Copenhagen. He exhibits internationally in commercial galleries, museum, and in public and alternative spaces. He writes articles, designs book covers and posters, collaborates with other artists, teaches and lectures in European and the US. Norman completed a major design project: an 80m pedestrian bridge and two islands for Roskilde Commune in Denmark in 2005 and is now working together with Nicholas Hare Architects on a school playground project for the new Golden Lane Campus, East London. He has recently finished an artist residency at the University of Chicago, Chicago, USA.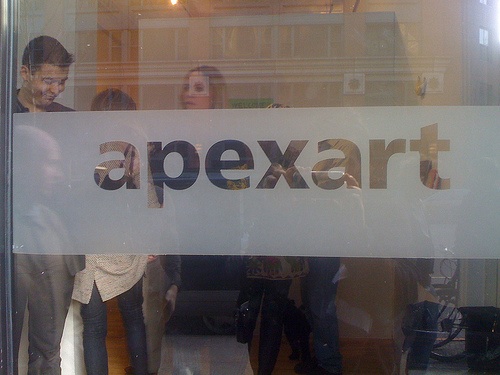 "Commercial" Art: Video Call
Open call for video submissions with an opportunity to win $2,000.
Accepting submissions through October 31, 2010.
Commercials may or may not be the most creative thing on TV or the Internet, but we know you can make them better. Take any broadcast commercial, cut it, dub it, repeat it, or flip it and make it art for an upcoming apexart exhibition that will be on view from November 10 – December 22, 2010.
more info
---
The Franchise Program: F 2011
Let us finance your exhibition anywhere in the world.
Accepting submissions from July 14 – October 1, 2010.
Mount your own group exhibition anywhere in the world. For the past two years, apexart has presented The Franchise exhibitions in Los Angeles (2009) and Thailand (2010). apexart will present two Franchise exhibitions anywhere in the world in 2011.
more info
---
Unsolicited Proposal Program: UP 2011
Open call for
apexart
exhibitions.
Accepting submissions January 14 – February 14, 2011.
For the 14th year running, apexart accepts 600-word, idea-based proposals for exhibitions in New York City. Reviewed independently, anonymously and without support materials, submissions are evaluated solely on the strength of the idea. No mountain too high, no river too deep!
more info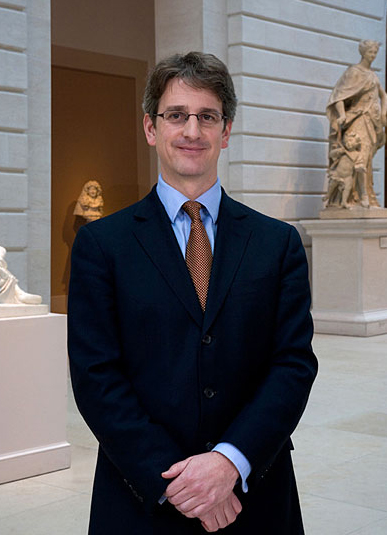 Director Thomas P Campbell who took over as Director of the Metropolitan Museum of Art in New York 18 months ago speaks out in an interesting interview on how he sees the new landscape of Art and the public's relationship to it and how he is looking to position the Met to best fit in that world.
The Met has long had a distant relationship with Contemporary Art for half a centurty now almost and Campbell talks about that shifting possibly since  he feels there is more of an audience for it then before and there is enough context to properly align it with the 5000 years or more of collected art under the Met roof.
Most interestingly Campbell talks about Contemporary Art as being the first step in a "fundamental shift" in the Met's operation and presentation of displays. The goal in making them more accessible and a less steep knowledge prerequisite to even simply engage shows. Saying such things as:
"We assume people know who Rembrandt is, for example. We have wonderful, thoughtful labels next to each Rembrandt painting, but there's no overview of who he was and, frankly, considering our international audience, I doubt whether many of them do know who [he] was, or the significance of a particular period room, in a broader context.

"What I'm trying to do is to get the museum rethinking the visitor experience from the moment that people arrive at the museum: the signage they encounter, the bits of paper they pick up, all the way through to the way we deliver information in the galleries. And obviously that's an enormous task. We've got a million square feet of gallery space and tens of thousands of objects on display, so nothing's going to change overnight."
Thomas Campbell who is not looking to do anything radical with the Met's conversation and was largely apointed for that reason among others is also someone who sees the writing on the wall a bit it seems when after trying to describe a Titian bacchanal to a Italian teacher at Christie's to no success with typical termiology shifted gears to saying:
"It is a drunken orgy and they are all having sex!"
To which the point hit home and Campbell said his lesson from that was:
"Academia at its best embraces and speaks to a broad audience"
It will be interesting to see where he takes the self described "inward-looking" culture that permiates the Met currently and many organizations in the Art world.
More can be read here