Time like Ming the Merciless, tyrant of the doomed planet Mongo, catches up with everyone and not even Flash Gordon can rescue you from it's clutches. Al Williamson the Artist that helped bring more comic characters to fame then you can count passed away Saturday June 12th in upstate New York, his wife, Cori, recently released. He was 79.
Williamson the milti award, two time Eisner award winner (1996, 1997) worked from the 1950's steadily till his retirement in 1999 illustrating everything from Flash Gordon to Secret Agent Corrigan to what personally was my first comic his work bringing Luke Skywalker to the illustrated page. If Williamson wasn't making some of the best penciling even before there were such companies as Marvel or DC Comics he was inking the work of other great artists like Jack Kirby. While other artists were thinking about shadow, volume and representing the human figure in dramatic 2d space (even Kirby who's early work when compared to Williamson is dramatically different) Al Williamson was executing that with unparalleled skill and complex sensitivity.
"He was one of the more sublimely talented artists to work in mainstream comics, His men were handsome, his women were beautiful, and the landscapes he drew — alien or westerns or battlefields — always seemed lushly authentic. He made panels you could lose yourself in."
said Tom Spurgeon, editor of the online magazine Comics Reporter.
Alfonso Williamson born March 21, 1931 in Manhattan, one of two children of Sally and Alfonso Williamson. His Scottish father, was a citizen of Colombia, and soon after his son was born the family moved to Bogotá.
At the age of 9, his mother took him to his first movies which he saw a chapter in the "Flash Gordon Conquers the Universe" serial, was sold and immediately started sketching scenes from memory when he got home.
The family returned to New York when Alfonso was 13. He took classes at the School of Visual Arts (then called Cartoonists and Illustrators School in Manhattan), and was later hired by EC Comics.
Mr. Williamson's first wife, the former Arlene Sattler, died in 1977. In addition to his wife of 32 years, the former Cori Pasquier, he is survived by his sister, Liliana Gonzalez Williamson; a daughter, Valerie Lalor; and a son, Victor.
Al Williamson was a pioneer in countless ways in defining comics as we know them today and will be greatly missed.
Audio clip: Adobe Flash Player (version 9 or above) is required to play this audio clip. Download the latest version here. You also need to have JavaScript enabled in your browser.

download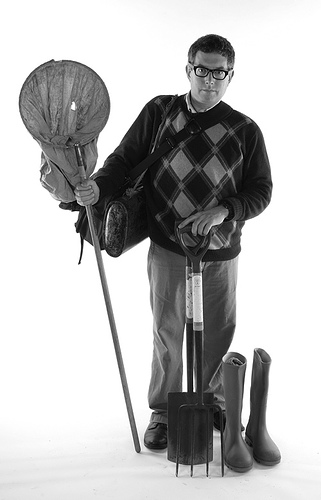 This week: We talk to artist Mark Dion, about social practice, the Museum of Jurassic Technology, cabinets of curiosity. The word "taxonomy" is bandied about at great length.
Mark Dion was born in 1961 in Massachusetts; he lives and works in Pennsylvania.
Dion is known for making art out of fieldwork, incorporating elements of biology, archaeology, ethnography, and the history of science, and applying to his artwork methodologies generally used for pure science. Traveling the world and collaborating with a wide range of scientists, artists, and museums, Dion has excavated ancient and modern artifacts from the banks of the Thames in London, established a marine life laboratory using specimens from New York's Chinatown, and created a contemporary cabinet of curiosities exploring natural and philosophical hierarchies.
His approach emphasizes illustration and accuracy but is charged with a biting undertone. Dion has a longstanding interest in exploring how ideas about natural history are visualized and how they circulate in society. Dion's work has been presented at many U.S. and international museums and galleries, including solo exhibitions at the Vancouver Art Gallery, Vancouver; Galleria Emi Fontana, Milan; Wexner Center for the Arts, Columbus, Ohio; Tanya Bonakdar Gallery, New York; and Deutsches Museum, Bonn. Dion has been commissioned to create works for Aldrich Museum of Art, Ridgefield, Connecticut; the Tate Gallery, London; the Yerba Buena Center for the Arts, San Francisco; and The Museum of Modern Art, New York.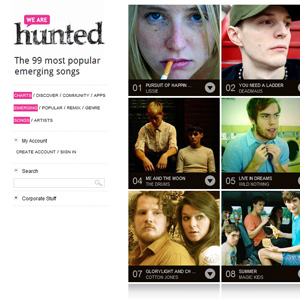 It's nothing dramatic to say that radio is largely dead and discovering new music you like is both simultaneously easier and much much harder then ever before.
Myspace was a solution at one time, as was marketplace solutions like iTunes, Amazon & Zune.
Thesixtyone.com was a solution for a specific genre that was and still is quite good and in that vein "We Are Hunted" was created. It attempts to crawl the web for the top 99 relatively new songs that a majority of people are talking about then displays them on the site for your listening pleasure.
It's not a one stop shop but definitely a nice tool in your music safari arsenal.  Enjoy and find that new song for your summer fun or maybe just this weekend.
The Guggenheim as of this past Monday has begun accepting submissions for a video art exhibition in October that will be at all of the foundation's museums: the Solomon R. Guggenheim in New York, the Deutsche Guggenheim in Berlin, the Guggenheim Bilbao in Spain and the Peggy Guggenheim Collection in Venice.
The catch is they want all submissions via Youtube.
The plan titled "YouTube Play" is planned on being a  biennial event to discover innovative work outside of the contemporary art track. Deadline for submissions is July 31st and will go before the Guggenheim curatorial staff. Submissions will be trimed to 200 from which 20 will be chosen via a jury of diverse disciplines.
The final 20 will then go on simultaneous view at all the Guggenheim museums. The 200 will be promoted on the YouTube Play channel.
All in all this will help bump the visability of  the Guggenheim, give Youtube some cultural cachet and remotely possible, court the Guggenheim some atypical advertisers which are becoming more and more sought after players.
There is concern from various sections that this type of potpourri art that is only good for a short time and then tossed out, doesn't build a common voice in the greater art discussion, doesn't build artists and allow them to grow and doesn't give institutions any foundation for future work. As much as I am more egalitarian on this subject then many I whole heartedly agree that it's just junk food.
I agree with the Guggenheim's response that if this was the only thing they did it would be an issue but it isn't and honestly this is better then a motorcycle exhibit potentially in the long term.
I still think largely the issue that is the elephant in the room is the general populace is caring less and less and the numbers on multiple fronts reflect that and even pandering doesn't work.
This Youtube Play is little more then a American Idol, Art/Design Star attempt on a zero budget and maybe something good will come out of it? I am still interested more so to see what MOCA will produce in the months to come. I feel that is the most intelligent and serious test case for this debate in play.
I don't see institutions solving this problem, nor more focus on curatorial practices sadly. We are at a back to basics issue in my mind and the first group of banded artists that can properly create remotely unified work that speaks to the general public on a regional level while having some teeth and is smartly marketed will be the spark that can get things rolling again on a mass level.
I almost caught a glimpse of that in 2008 with the election, the general public seemed to remember the power of the visual image and joyfully get caught up in it. I would love for something other then politics or sex to do that but it's still interesting.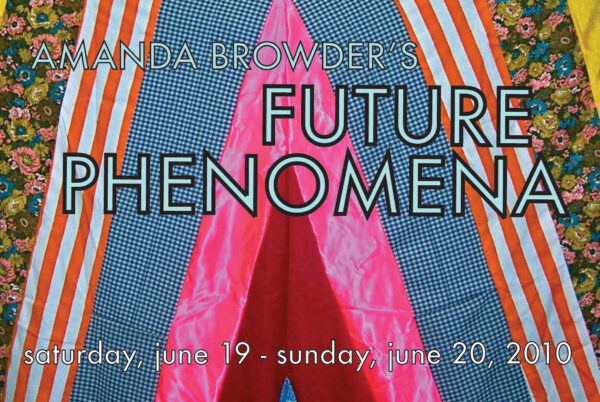 Bad at Sports own Amanda Browder (the hardest working artist in designer glasses) unveils this Saturday June 19th a large-scale fabric sculpture that will blankets the façade of a Greenpoint, Brooklyn building.
The outdoor installation presented in partnership with the North Brooklyn Public Art Coalition (NbPac) will be presented to the public at 3pm on June 19th with a opening celebration roof party at:
The Ceeflat
988 Manhattan Avenue (at Huron)
Greenpoint, Brooklyn
We hope everyone can make it out to celebrate the work and hopefully a great beginning of Summer day.