Guest blog post by Thea Liberty Nichols
Email interview conducted with Susannah Ribstein
Susannah Ribstein is the director of Corbett vs. Dempsey gallery in Wicker Park. She is also completing an M.S. in Historic Preservation at the School of the Art Institute. Her thesis for that degree focuses on the origins and development of the late modern architectural style known as Brutalism. She received a B.A in art history from the University of Chicago in 2005.
TLN: Congratulations on the recent unanimous acceptance of your historic landmark nomination! Can you tell us a little bit more about the nomination itself— what it is, what you were nominating and what went into writing it?
SR: Gee, thanks Thea! I'll try to be as concise as possible here, but it's a long process and one that's probably pretty unfamiliar to most BaS readers. I think that anyone with an interest in fine art could benefit from a better understanding of how preservation can be used to support investigations into all kinds of cultural history. Although this project required a lot of art history, I'm going to talk more about the preservation-specific parts because that might actually be news to someone.
In the summer of 2009 Lisa Stone, the curator of the Roger Brown Study Collection, asked me to nominate the collection's building (Brown's former home and studio, now owned by the Art Institute) to the National Register of Historic Places. I was in the middle of SAIC's master's program in Historic Preservation, and I'm the gallery director at Corbett vs. Dempsey (specializing in modern and contemporary art from Chicago) so I thought writing the nomination would be a good way to combine my interests in architectural preservation and Chicago art history.
The Study Collection is one of Chicago's greatest architectural, art historical, and cultural landmarks. The building, which dates from 1888, is located in Lincoln Park, at 1926 N. Halsted Street. Brown bought the building in 1974 and with his partner, the architect George Veronda, converted it from a rundown storefront with 3 apartments to a modern studio for him on the first floor and an apartment for both of them on the second floor. Over the years the apartment filled with Brown's incredible collection of art and artifacts, which is now preserved in one of the best house museums you've ever seen. All of Brown's great Chicago Imagist colleagues are represented in the collection (Jim Nutt, Christina Ramberg, Ed Paschke, Philip Hanson, Karl Wirsum, etc. etc.) as well as work by self-taught artists like Joseph Yoakum and Jesse Howard, vintage toys and ephemera, and modernist furniture. The building and its contents are still essentially as Brown left them when he moved out in 1995, two years before his death in 1997. (Read more about the collection here, and plan a visit!) As wonderful as the art collection is, it's not technically part of my nomination, which is limited to the building itself, the backyard that Brown landscaped, and the frame garage he built out back to house his 1967 Mustang.
TLN: Can you tell us a little more about what the National Register is?
SR: It's a program overseen by the National Park Service, created in 1966 at the dawn of the modern preservation movement as part of the National Historic Preservation Act. It's intended to be a method for building an inventory of American architectural, archeological, and cultural landmarks, and anyone can nominate a property, or a collection of properties (as a district) for listing. Every state has a Historic Preservation Office with at least one staff member responsible for helping people with the listing process. It is in theory a very egalitarian program, but in reality the process is quite involved and requires a particular approach to writing the nomination that I think would be hard for a layman to navigate. Most property owners – both individual and corporate – hire historical consultants to do the nominations for them because they are so time-consuming and really do require a relationship with the preservation bureaucracy in order for them to go smoothly.
TLN: So tell us more about what comprises a nomination.
SR: The main written components of the nomination are a description and a statement of significance. The description is supposed to be detailed enough that you could re-create the place without pictures if it fell down. That's a pretty rough task. Even with an undergraduate specialization in architectural history and (at that point) half of a master's degree in preservation, I found I still had plenty to learn about building descriptions. As mind-numbing as descriptive writing can be, it's also a kind of great exercise for a writer to really focus on how to create an accurate diagram of something using only words. Finding the right vocabulary, figuring out how to organize the parts in space – it's like a puzzle.
The statement of significance is where you make your historical argument for the property's significance. Coming from a family of lawyers made this a really delicious prospect for me. Using historical narrative and context to build a clear and convincing case for something's significance is a pretty foundational skill for an historian. In the nomination process it gets stripped down to the essentials: use the facts, make your case, convince someone. It's fun, especially when you think you've got a resistant audience, as I did. Several years ago, based on a much shorter submission, the Illinois preservation office said they didn't think Brown was significant enough to justify pursuing the entire nomination. That really lit a fire under Lisa (Stone), and under me to prove them wrong. I think most of the problem with their initial understanding was that there are very few art historical landmarks in this state, despite its incredible art history, and preservationists generally don't know as much about art as they do about architecture and political history. On top of that, the National Register is not friendly to landmarks that have achieved significance within the last 50 years. The period of significance for Brown's home and studio was 1974 to 1995, which is absurdly recent to preservationists who are used to evaluating buildings that are a century old – and many of whom personally remember 1995 like it was last week. In order to list properties less than 50 years old you have to prove that they are exceptionally significant, either because they are a unique remnant or because the history that they represent is crucially important to American civilization. So I felt like I had my rhetorical work cut out for me with this project.
TLN: So how did you make your case for the significance of the Study Collection within the larger historical, and specifically preservationist perspective, the Council was coming from?
SR: Preservation activism in general relies heavily on establishing historical context, and the statement of significance in a National Register nomination is a great example of this. The emphasis on contextualization is one of my favorite things about preservation writing. I love setting up an environment in which people can come to appreciate buildings and landmarks. It's no use to try to appeal to taste and nostalgia – those things are too idiosyncratic to provide a solid foundation for the kinds of funding and legislation that support preservation work. You have to paint a picture of a moment in the past, and situate your landmark within it in order to give an objective view of its status and meaning.
In the case of this nomination, I argued for its significance based on its association with Brown because he was an important and well-known American artist, and based on its connection to Chicago Imagism because that was arguably this city's most important contribution to 20th century American art. Although detailing the history and proving the significance of Brown and Imagism took up most of my nomination, I also wanted to make a case for the importance of the building as representative of the historical evolution of Chicago's industrial production. Like so much of this city, it began its life as a commercial and residential property built during the city's population boom in the late-19th century. It then served a variety of retail and light-industrial purposes before (with Brown's tenancy) becoming a focal point for the kind of cultural production that replaced manufacturing as this city's most vital export. I love that this one building will always be a way for people to touch and feel the story of how Chicago has changed over the course of the century. Rather than being a pure, embalmed example of an architectural style, it's a building that testifies to a much broader historical narrative. I think it's an incredibly valuable place for that reason alone. Preservation is traditionally geared to value landmarks that have impeccable integrity to their original form. Valuing buildings because their alterations tell a story is a practice that is relatively new to the field, and I think one of the more exciting directions it is taking. (I have to also give credit here to Anthony Rubano, an architect in the state preservation office who was an indispensable resource to me throughout this process. He first suggested the idea of adding a discussion of this kind of evolutionary significance to the nomination – among a million other wonderful suggestions.)
The main surprise to me about this nomination process was that the writing was actually a relatively small portion of it, time-wise. I finished the bulk of the writing in the summer of 2009. Corresponding with the National Register coordinator for the state (in Springfield) and going through multiple rounds of editing took many months. Finally, in the fall of 2010, the nomination was presented to the City of Chicago Landmarks Commission. When you nominate a landmark in a city that's big enough to have its own historic preservation office, like Chicago, they are allowed to weigh in first even though it's the state that has the final say. The Chicago Commission was really enthusiastic. It was so gratifying to hear from these historians who perhaps didn't know much about their city's amazing art history. They really got how important Brown and the Imagists were to Chicago, and made great associations between the art and other social and cultural elements of the city's history with which they were more familiar. One commissioner picked up on a mention I made of Brown and his colleagues Ray Yoshida, Christina Ramberg and Philip Hanson going to the Maxwell Street market to find artistic inspiration. He knew a bit about some of the Imagists already, and knew a lot about Maxwell Street, but didn't realize that there was an important relationship there. Learning about connections like that is what makes being an historian in this city great.
After the Chicago commission, the Illinois Historic Sites Advisory Council votes on it in one of their quarterly meetings. Lisa and I traveled to the meeting in Springfield last December to make a short presentation and see the vote. I was still worried that the council would not understand how something that happened so recently (in geological time, anyway) and in an area of history with which they might not be familiar could be exceptionally significant. But again, they responded enthusiastically and favorably and all voted in support of the nomination (with the exception of one abstainer). Now it's winding its way through the rest of the process with the National Parks Service, and will be officially designated in the coming months.
I do want to say something about what listing on the National Register actually means for the building. It's a very common misconception that listing confers some kind of protection for a property. It doesn't. If federal money is going to be used to demolish or alter a listed property, the responsible agency is supposed to go through a mitigation procedure in which they make some attempt to find an alternative to alteration/demolition. But they can always decide it's not possible and go ahead with whatever work they want. And if it's private money you don't have to ask anyone before you knock the whole thing down. The Register is more of a carrot than a stick. The main reason that people pursue listing (apart from the prestige) is that it makes the property eligible for a variety of tax incentives.
Brown's home and studio is already a prestigious site as a house museum and there is no danger of alteration or destruction since the Art Institute is a committed steward. So I saw the nomination process mostly as an opportunity to produce a piece of writing that made a case for the broad historical significance of Brown, his colleagues in Chicago, and the building as a cultural landmark. It was also important to me that my product would be available for study at the building and online (via the National Park Service, eventually. They're in the process of digitizing nominations here. The database is incomplete and buggy, but still a gold mine of historical information). Preservation usually only comes onto the radar of the general public when there's a heroic effort underway to save an endangered building. That aspect of preservation is of course really important. But I think it's equally important for people to know that its mechanisms have the potential to support cultural investigations that are much wider, richer, and less desperately functional than architectural maintenance alone.
Thea Liberty Nichols is an arts administrator, independent curator and freelance writer.
Guest post by Thea Liberty Nichols
Email interview conducted with Dee Clements
Dee Clements is the founder and director of The Paper Crane.  She is a painter, book maker and art writer. Dee received her BFA from The School of the Art Institute of Chicago a long time ago but still looks like she is 20. Sometimes her work can be seen here. Dee formed an acappella glee club once with her best pals and she loves the Midwest the most. She lives in Chicago with her boyfriend, dog and their two cats.
TLN: As an artist with a background in painting and sewing, can you tell us a little bit about your inspiration for launching the Paper Crane? Do you consider writing part of your art practice too?
DC: Yes, writing has always been part of my painting practice. Although with painting it has always been a way for me to articulate ideas to myself so that I can talk about my own work later. 

The Paper Crane started as a personal blog that I began in order to chronicle my studio practice on a regular basis. In 2009 I was laid off from my full time job at The Joffrey Ballet, at first I was worried and scared but then I saw it as an opportunity to stop doing something I didn't care about just to make money and start doing something that was meaningful and important to me. So I started working in my studio every day, kind of treating it like I would a day job. Soon I started curating shows in my studio, then the writing I was doing on my blog evolved from writing about my own work to writing about other people's work and the shows I was curating. I decided to start working toward making The Paper Crane legitimate. I got a domain name, asked my friend Eric Gallegos to help me design a better website for The Paper Crane, I rented a bigger studio and asked a long time friend Leslie Carlson to join up with me and start the space and started taking steps to become 501c3. The Paper Crane is now an artist books and works on paper studio and exhibition space. Presently, I am working on preparing for the first big exhibition of the year meanwhile developing an artist books pop-up library that will be permanently housed in the space.
TLN: I find it really interesting and exciting that your electronic, internet based blog in some ways birthed the real life, hard copy artists book and works on paper space. Can you talk a little bit about navigating the divide between digital and print? How does that enhance or inhibit your ability to communicate with others?
DC: The blog and the brick and mortar space kind of keep each other informed. The blog is a quick and easy way for people who are sitting in their office on a Wednesday at 2pm to check out what we are doing and thinking about over at the space. For me, I tend to use the blog to write exhibition reviews or post about an event or class we are hosting at the space. The internet can be such a wonderful tool that it has really enhanced our projects at The Paper Crane. I am curating a show that will be opening in March that features artist books by 26 artists. I put up a call for artists for this show and the amount of emails I received was overwhelming. In that sense it is great for getting the word out about what we're doing. I work really hard at keep our posts constructive and positive and I think because of that we really have not experienced anything inhibiting as a result. I'm really fascinated by the internet and how accessible everything is because of it's existence. Starting the Paper Crane would have been so much more difficult and slow going with out the help of having a website and social networking tools.
TLN: I know you gauge interest and enthusiasm of the Paper Crane gallery by the crowds at your openings and the students filling up your classes– how do you evaluate engagement with your blog? The comments section? Google analytics? And do you feel like one (real life) impacts the other (virtual reality) at all?
DC: I get a lot of emails from people telling me how much they like the site. This is really encouraging. We are starting an artist books library and I have gotten a lot of snail mail lately from people who read the blog and wanted to submit their work to the library. It never ceases to shock and humble me that people outside of my group of friends read the blog and are interested in what is happening at the space. The blog has a built in analytics that I track daily. It interests me to see what posts people are interested in reading. However I do not tailor the posts around this. I would like for the blog and the space to by synonymous however right now, they are still separate. The blog is obviously a lot more accessible and I hope it encourages people to come to our exhibitions and visit the space. It is a process integrating the two and it's not easy. But the slow evolution of it is worth the time, effort and wait.
Thea Liberty Nichols is an arts administrator, independent curator and freelance writer.
Guest post by Thea Liberty Nichols
Email interview conducted with Erik Wenzel
Erik Wenzel deals with interdisciplinary art making, writing and exhibition organizing. He co-edited and contributed to Internal Necessity: a reader tracing the inner logics of the contemporary art field published by Sternberg Press in 2010, and has contributed a piece to the forthcoming Shifter17: Re___ing. Recent solo exhibitions include Live A Little, Live Ennui at the President's Gallery at Harold Washington College, New 'N' Lonelier Laze and Warm For Your Formalism at DOVA temporary and Belief in Doubt in Painting at 65GRAND. Wenzel is a Senior Staff Writer for ArtSlant and has run Art or Idiocy? since 2004.
TLN: I remember around the opening of your solo show at DOVA you mentioned a listing in a local serial publication that described you using your "least favorite" descriptors strung together, i.e. Local Artist and Critic. Care to elaborate?
EW: The exact phrase from Time Out Chicago was: "Wenzel, a local artist and critic who's a U. of Chicago alum, conjures a show from a deliberately sparse 'collection of things': a new video and some objects." Which is basically a great description. I guess thinking about it now it's not that big of a deal, but it bothered me because "a local artist and critic" seems so diminutive. "Local" sounds so small town and shut off from the rest of the world. Like a little newspaper for a little suburb that writes only to the interests and concerns of "locals". It bothered me because it ties into a bigger problem with art in Chicago in general: the local is monumentalized. It's privileged to the point of becoming a kind of provincial isolationism. This is a big international city, there's no reason to have such an insular mentality.
As far as "critic" I kind of bristle at that term because I never have identified myself through that role. To me the word has negative connotations, people use it as a put down, like you aren't even a writer, you're just a critic. Or a critic is a failed artist, failed writer, failed musician etc. Sure it's just semantics to a certain extent. But you do constantly ask yourself, "are you an artist who writes or a writer that makes art? Or maybe you should give up making art and just write about it." It was actually during the installation of that exhibition, "New 'N' Lonelier Laze", that I finally arrived at a definitive answer to that question. It is one of those things that you might know intellectually, but have to internalize over time before you truly believe it. It is clear to me that I am an artist first and foremost, everything else stems from that.
TLN: So if I'm understanding you right, can you tell us how you've absorbed writing into art practice? I've certainly seen some work by you that's text based, or more conceptually driven— is that related at all to the other writing you do for say ARTslant or your blog?
EW: I guess I'll give a little history here. While I've drawn and made stuff as long as I can remember, it was in high school when I began to develop my art making along side my writing. I was fortunate to go to a really amazing public school (Homewood Flossmoor HS, in the South suburbs) that had a pretty extensive art program. We basically had to write research papers that pertained to the projects we were working on, both of which only got more rigorous over the four years.
So the writing has always sort of been there. Things have been compartmentalized though; I think of writing about art was separate from making it. Which again goes back to what I was saying about understanding something versus actually feeling it. In theory it would make sense to say that this is all my art practice, but for me there is a distinction. Especially the writing for ArtSlant, which is pretty much straight up criticism. I look at it in a bit of a schizophrenic way because at various times–quite often within one review–I feel like I am coming from the position of a maker, an historian/critic or as someone making meaning. I consider them, the best ones anyway, to be primary sources. Ideally they will be of historical value beyond just a line for the CV and a clipping for the press book. I am interested in participating in the history–as someone writing about contemporary art, not just making it. Especially with "emerging" artist's who don't yet have a discourse surrounding them, you can sort of start that conversation. And in that way I hope they are of use to future curators, artists and thesis writers–anyone doing research, to use that popular term.
I guess the criticism could be looked at aesthetically. It is controlling and assigning meaning. I think the way information moves around is one of the most important concerns for art because this is really what contemporary life is about right now, economically, politically, culturally and socially. And art is the one thing that allows us to look at any thing in any way and ask any question of it. So that would be where a piece like the Bullet Point's About Art comes in, it's a set of memes that attempt to define some edges of the art field. It can take the form of vinyl lettering on a museum wall or as a sound piece. Bullet points can be added, deleted, re-written and so-on. It's not just about the content of each statement, it's about trying to present ideas as material. And addressing the fact that ideas change as they go through the world and move through time.
At this moment I look at my practice, to use another popular term, as a constellation of activities that include art and the things around art.
TLN: To that end, can we close with having you tell us a little bit about a project you completed last summer, Internal Necessity? Also, what's next on your horizon?
EW: I feel like this is the late night talk show portion of the interview. Please welcome to the program Erik Wenzel, his new book is out now from Sternberg Press.
The book Internal Necessity came out of the Sommerakademie residency I was a part of at the Zentrum Paul Klee in Bern, Switzerland in 2009. Each year a different curator is invited to put together the program. The year I did it Tirdad Zolghadr was the curator.
The tenor was very conversation-oriented with numerous guests leading discussions as well as us fellows presenting our work and projects. As it progressed we (the fellows in the residency) felt that these conversations–which carried over to dinner or riding on the bus the next morning–were valuable, especially since certain things kept coming up.
We also wanted to make something tangible and lasting of the experience since Tirdad had forgone the usual exhibition that is a part of the Sommerakadamie. This decision was what ultimately allowed these exchanges to take place. I think we were a lot more open to each other's ideas and practices without the pressure of making some kind of exhibition out of it. Tirdad described his take on the notion of Internal Necessity, which is the "conceptual jingle" he came up with for his Sommerakademie, as being a productive break from the cycle of externally motivated art activities, such as exhibition making, fairs and biennials, where practitioners are expected to present product, not work in progress. The residency provided a time that could be used for contemplation rather than to display a polished surface. An intensive academy provides a special isolated situation ideal for being used as a sounding board to get input and feedback.
So a little ironically we, came up with the idea of a book. Not as a memory book, or a catalogue, but something that would be a forum to continue the thoughts that had been developing organically. We got together one night in the dining room of a gasthoff on the side of a mountain in Appenzell and hashed things out. There seemed to be four main themes that kept cropping up: Withdrawal/Refusal, Free time/Work time, Im/material Labor and Specificity. Originally we were going to organize the book into sections, but everything kept bleeding into everything else. To expand the discourse we all had the option of inviting people from outside the residency to participate. Some contributed separate pieces, others collaborated with their guests.
The whole experience furthered a profound shift in my approach to art—art making, "art" as a whole and my identity as someone who is in "art". For a while I have been noticing that social interaction–I guess verbal interpersonal communication–is really important to me. It is almost a studio practice. When I am participating in a really good conversation I feel like I am making art. This can be a casual thing, such as when you are at a party and a few people end up talking for a long time about something everyone is interested in. Or it can be more formalized such as with the Sommerakademie. It's a kind of immaterial production and is connected into my interest in information, content and value, all of which are things today that are completely dematerialized at the same time behaving very much like a physical material. Or can at least be conceptualized in sculptural raw material way. It's something I'm working through and thinking about, so I can't really give you a definitive statement. Right now I am trying to sort out a way where it makes sense for there to be these specific immaterial things going on at the same time art objects are getting made.
To that end, I organized a series of talks called Evening Academies as part of my exhibition at the Harold Washington College. The idea was to have a slightly formal, slightly casual situation where invited guests could present a topic for conversation. It was extremely important to me that it be productive and not an aestheticization of social interaction. Equally it was important that it was not oriented toward achieving a specific goal or again, presenting a complete package. I am interested in situations where useful things take place but are not immediately relevant or are only tangentially relevant. This is how things grow, evolve and move. This goes back to what I was saying before about information and how it moves through the world.
Thea Liberty Nichols is an arts administrator, independent curator and freelance writer.
Our big thanks to Julia Hendrickson for last week's superb series of posts on printmaking and print curators, Sonnenzimmer, Spudnik Press and Corbett vs. Dempsey. This week Thea Liberty Nichols, a Chicago-based arts writer and arts administrator, is guesting on the blog. Starting today, she'll bring us a series of posts exploring issues in contemporary arts writing.
For these posts, Nichols conducted interviews with friends and colleagues, all of whom are either artists, art writers and/or art administrators and who shared their insight on the various forms their writing takes. They'll talk about how they define their written work within the constellation of their expansive practices, and how writing can be a tool for expressing themselves and also engaging with others. Chicago folks will remember that Nichols recently organized a panel on the form and content of arts writing in conjunction with Nomadic Studio – an audio recording of that conversation will be available later this week, so check out Thea's posts for the link when it becomes available.
Here's the bio scoop on Ms. Nichols, the woman who I've always said has a name befitting a rockstar superhero fighting machine – which no doubt she is, in her spare time: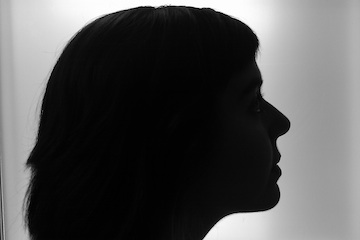 Thea Liberty Nichols is an arts administrator, independent curator and freelance writer. Formerly, she served as Director of 65GRAND gallery and Study Center Manager at Intuit: The Center for Intuitive and Outsider Art. Presently, she works for The School of the Art Institute of Chicago's Visiting Artists Program which selects, hosts and facilitates opportunities to engage with dozens of international contemporary artists via lectures and symposia.
Guest post by Julia V. Hendrickson
Notes on a Conversation.
With—Arielle Bielak (Coordinator of Alumni Programs & Exhibitions at the Marwen Foundation)
In—Marwen's classrooms and galleries, 833 N. Orleans St, Chicago, IL
Commenced—on Tuesday, February 22nd, 2011, 7:00–7:30pm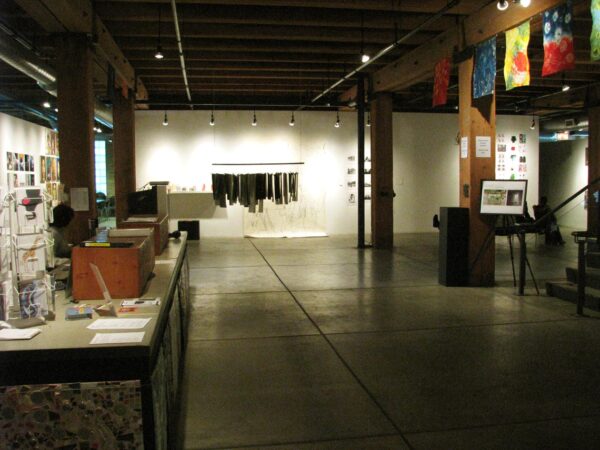 Unless you grew up in Chicago, there is an art school in River North that you've probably never heard of. Marwen is a particular kind of secret, one that is kept by this city's young people. Offering free visual art classes to underserved Chicago youth in grades 6 through 12, this non-profit organization has a mission of wide-reaching creative education. Despite its low profile along the well-trodden Chicago artways, if you are a creative person and you start to ask around, I bet you'll find at least one person that you know who has a connection to the school.
I started assisting with classes this summer, and it is to Marwen's credit that the educators often learn a lot there, too. The environment is incredibly supportive, and it is so rewarding to interact with young people who are actively excited about creativity, while watching creative projects unfold before your eyes. Students do projects outside of Marwen's walls, too, such as working with artist Jan Tichy and the MCA on Project Cabrini Green: a public piece with LED lights illuminating the last days of the housing project, blinking in time to audio recordings (which will be available at the MCA), allowing young people to share stories about home, community, and public housing in Chicago.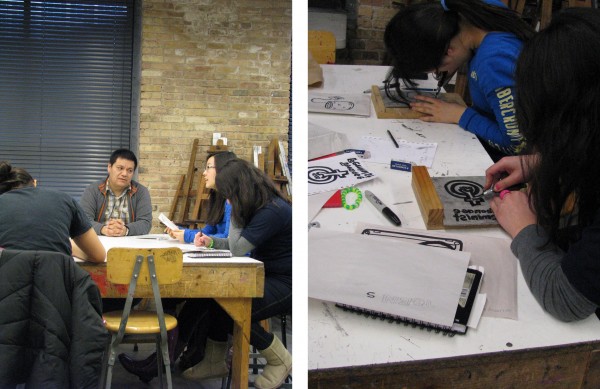 Marwen also holds another well-kept secret; on the second floor of the building lies a contemporary art space called the Untitled gallery. Designed to connect Marwen alumni with each other and back to the school, it is also an added educational component, with an aggressive exhibition schedule and powerful presentations by contemporary local and international artists. In 2010 the gallery's exhibits showcased radical printmakers from Oaxaca, Mexico; emerging artists from Mexico City and Chicago; contemporary fiber and sculptural works; photographs from the Ukraine and Chicago; and more.
Coming up in the Untitled gallery, the exhibit opening April 1st is a curatorial project of mine, group show called Territories. It will feature works on paper by Suzanne Caporael, Ryan Travis Christian, and B. Ingrid Olson; paintings by J. Austin Eddy, Erika Hess, and Ryan Ingebritson; sculptural work by Maria Gaspar, Jessica Taylor, Matt Nichols, Josué Pellot, and Kevin Reiswig; experimental video by Russell Weiss; zines from Anne Elizabeth Moore via Cambodia; and a performance piece by Aurora Tabar and Sara Zalek.
My friend and colleague, Arielle Bielak, is the Untitled gallery coordinator, as well as a talented photographer in her own right. She is very much the driving force behind this gallery, and I asked her to answer some questions about her life and work. [Note: all of the photographs that follow are copyright Arielle Bielak].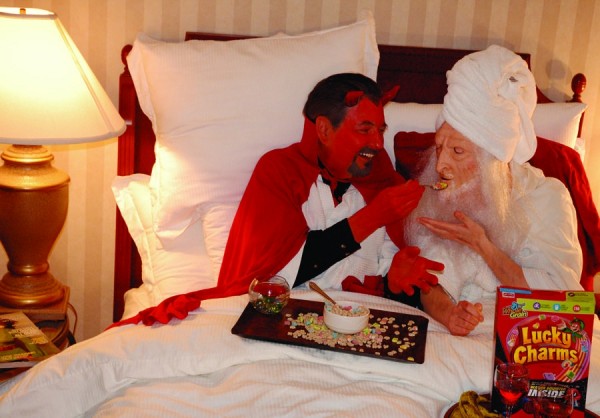 JH: Can you give some background on the history of the gallery and your vision, goals, and ideas for Untitled?
AB: The Untitled Gallery at Marwen, formerly known for nine years as the Alumni Gallery, shed its Title in 2010. The whole shift is a culmination of years of hard work and relationship building with alumni, art educators, artists and curators. Its main inspirations are the Museum of Jurassic Technology, Antonia Contro, Sadie Woods, and the Arts Club of Chicago. The gallery is as unique as the building and community that it holds. It is due for a logo treatment and slick neon sign at its entrance.
My choices in artists and co-curators in 2010 were pretty intuitive, steeped with international aesthetics, microcontroller technology, and a sense of wonder. The whole run was organized around a Marwen sensibility of gallery education, a huge commitment to engage students and alumni at several levels, and a deep desire to manifest the art of social justice and the social justice of art.
2011 is moving forward with all of the direction of 2010, but there is a greater collaboration with other staff and programs in the Untitled space.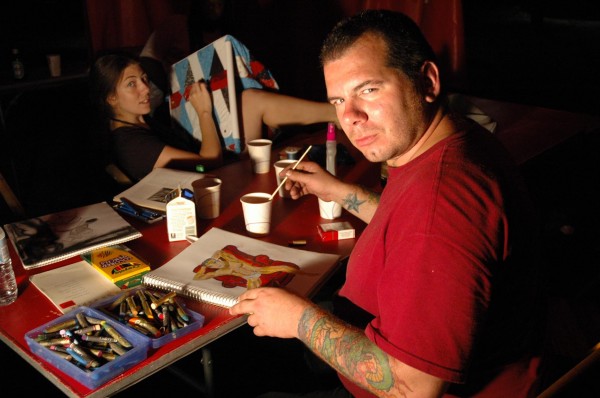 JH: Can you chart a brief trajectory about how you got to Marwen?
AB: I migrated to Chicago from New York via Virginia after an intensive yearlong stint working in the Big Apple Circus. I knew instinctively that I needed to get myself to Chicago, and settle directly in the middle of this big-ass country that I had bi-coastally divided and tangentially traversed for six years. Chicago was a dual return and a beginning. Marwen was the embodied trifecta of professional, personal, and creative desires I held in 2005. I did a lot of physical labor to allow myself to stay long enough in Chicago to meet the job of my dreams, and as it turns out, the marriage of Marwen, Chicago, and me was a powerful catalyst. I sit here today as a born again Chicagoan, and a self-proclaimed artist. This was not something that I had the proper huevos to declare before 2007. I believe in what I am doing here and everywhere I go. This is a magical and powerful home base.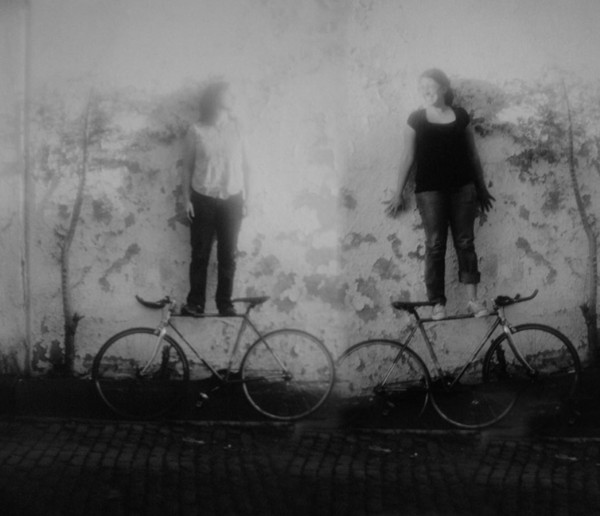 JH: What kind of work were you making before you got to Marwen?
AB: A three year stint doing photo and installation work with Deadline Projects was nearly neck in neck with my relationship with Marwen. Walking into Marwen's front door I was making stuff that was strongly influenced by a Miami aesthetic, and infused by an Etsy and glitchy nerdtech aesthetic. This is of course thanks to the other artists in the collective. What does that translate as literally? BIG photos. Narrative. Humor. Dressing up my dad and sister as the Anglo god and Satan, respectively, and putting them into a hotel room bed. Pressing a shutter. Gold leaf crutches.
Even FURTHER before, if you want to know, I wasn't really making art as much as I was traveling around with a death grip on the body of an AE-1 that my dad gave me in the early 1990s. Later it was a Nikon D70 that I gave myself when I was 20. I pressed those shutters thousands of times around the people and musicians from the Warped Tour and Take Action Tour who were there alongside me trying to cope with and raise awareness around depression and suicide.
In the circus it was a similar story. I was going for anything that moved in the circus with that D70. I didn't share much of any of that work with a public audience other than bragging about the circus a lot.
I'm sure that all of this was influenced by the time i spent in Florence in 2001 as a terrified art student abroad during the whole debacle of 9/11. How can I explain this time? People around me were setting miniature radios into jello molds and calling it art, while I convinced my TA and best friend to do my sculptural bidding for me as I stood there shocked and speechless.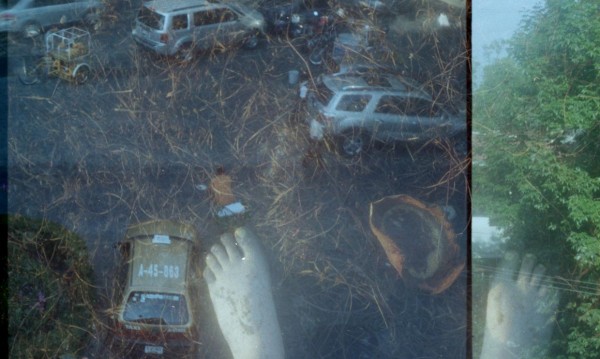 JH: How has your work evolved since being at Marwen? Is it impossible to make work when other creative people surround you, or when you're in an educational capacity?
AB: Nice question, Julia. You know it's hard.
It is also paradoxically the most supportive environment in my universe. Go figure.
I find that the overwhelming amount of artists in my life force me to draw on my memories and photos from the past in order to find paradox. It also pushes me into the role of curator, and then further into the role of producer. I am drawn to the most powerful, dedicated and radical voices among the artists who approach me as an advocate of their vision. I seek out different experiences in my limited spare time. I seek out architects and free Spanish classes. I seek out Mexico City. I look into microscopes. I curate the artistic energy that I find all around me into elaborate and spontaneous happenings in my personal time.
Evolution? In my own mind, my creativity moves as a more fluid, performative, and elegant animal than ever before. My formative beginnings are less pronounced, and more sublime, embedded. I am myself. I am not concerned as much with being inauthentic. I am all of my thirty years, and more.

JH: How do you sustain communication with Marwen alumni, and keep a network of all of the working artists out there? Do you see yourself tapped into a unique contemporary art scene? Do Marwen alums network and organize as twenty and thirty year olds?
AB: If Marwen had a soul, that soul is the confluence of the individual and the greater artistic spirit. Alumni are the proof, the echo, the rhythm of that phenomenon. It is my honor and pleasure to learn how to converse with those who continue to feel connected and inspired by Marwen. It is my challenge to reach out to those who are doing great things and have not reconnected. I do this strategically and organically. I talk to people all the time. I talk and I listen. I email and I collaborate. I support and am supported.
Lately, I have been in awe of the possibilities that our new website promises for alumni in particular, and I can't wait to move into this new and exciting mode of communication with more of Marwen's former students. I can see clearly that more alumni will reconnect with each other, their own artistic practice, scholarship, job and exhibition opportunities.
And, yes, of course people network as twenty and thirty year olds. Some do it completely naturally, based on long-established bonds that I could never fully understand. Others come to me looking to help them reconnect with old friends. I'm also planning a pretty promising alumni reunion and exhibition this August.
This artistic universe, at which Marwen is the center, is completely unique, and 90% of every person who experiences this place understands this. You simply cannot find another place in this time and space that establishes such a fluidity of learning and artistic expression across generations, experience, and discipline. The work here isn't being made or shown anywhere else. Art is always the queen.
—————————————
ABOUT:
Julia V. Hendrickson is a native of eastern Ohio who lives and works as a visual artist, writer, and curator in Chicago, Illinois. In 2008 she graduated with a B.A. in Studio Art and a minor in English from The College of Wooster (Wooster, Ohio). Julia is currently the gallery manager at Corbett vs. Dempsey, as well as the office manager and design assistant for Ork Posters. She is a teaching assistant at the Marwen Foundation, an active member of the Chicago Printers Guild, and has taught at Spudnik Press. A freelance art critic and writer for Newcity, Julia also keeps a blog called The Enthusiast, a documentation of the daily things that inspire, intrigue, and inform. She is currently exhibiting at Anchor Graphics (Columbia College Chicago) in a solo show titled FANTASTIC STANZAS, on view through March 26th.