I had a very small window of opportunity over the weekend to see Carrie Schneider's just-opened 12 x 12 project at the MCA. It was late Saturday afternoon, and I had about an hour and a half to take the El into the city from Oak Park in order to see the show before the Museum closed. So, I was a little annoyed when the announcement came on that the Blue Line would end at UIC/Halsted, which meant I'd have to take a shuttle to Jackson in order to catch the Red line. (I hate shuttles, even though there are always plenty of them and they don't slow you down all that much). Much internal bitching and moaning ensued. I made it to the MCA with 40 minutes to spare, watched Schneider's video "Slow Dance" until they literally kicked me out of the room, then got up and called my husband to pick me up at the Ridgeland station so I could take the Green Line home. I caught my first train without incident, but fucked up and took the hateful Brown Line instead of the required Green by accident (this, because I was on my iPhone trying to download OMD's Romance of the Telescope, which features prominently in Schneider's video). I could see that planned dinner out with my husband rapidly disappearing down the tubes (the parents' night out at our local children's art studio would end promptly at 8:30). Dammit. I got off the Brown, waited for the Green, told myself repeatedly DO NOT LOOK AT iPHONE. And then…..what the hell *is* that??? A train, wrapped like a present in sparkly twinkling Christmas lights and other holiday fizzies, zooming into the station.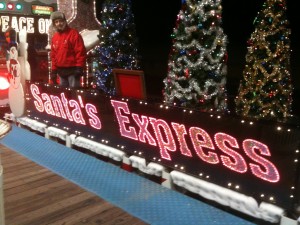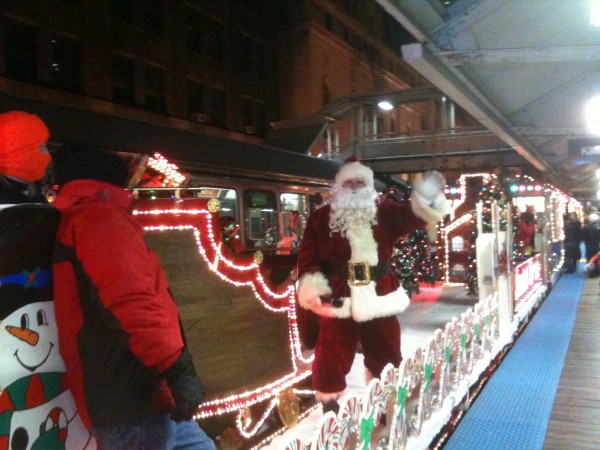 I was momentarily blinded (and, just for a second, terrified). Christmas carols spilled out merrily from the train, and my god…there is a Santa Claus. There was also a sleigh and a couple of reindeer and a beefy guy in a black ski mask who I think was supposed to be Santa's helper. Only later did I learn that this was the CTA's fabled Holiday Train and I had totally, accidentally caught it! People plan all day for this and I did it without even trying! Wheeee! [Read more]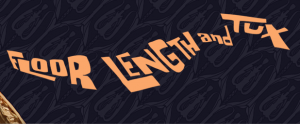 This coming Saturday evening (that means tomorrow night people), Floor Length and Tux (aka FLAT), the Chicago project space run by EC Brown, Catie Olsen, Michael Thomas and Meg Duguid will host a one-night only event they're calling "Untitled Circus." There will be refreshments and much conviviality and music and some free CD giveaways, but what I'm most interested in with respect to the proceedings is the compilation of critical writings on Chicago's thriving apartment gallery scene that Brown et. al have solicited from a number of Chicago artists who are deeply invested in it.
These booklets, which contain essays written by Caroline Picard (Green Lantern Gallery/Press), Liz Neilson (Swimming Pool Project Space), Eric Mays (Roots and Culture), Lucia Fabio (of the late lamented Mini Dutch) and many many more luminaries from the scene will be distributed via a spinning magazine rack owned by Mr. Thomas. With the kind permission of the writers, we'll be posting some of these essays here next week for the benefit of those of you living outside of Chicago – think of it as a kind of "mini-series" / online symposium on Chicago's apartment gallery scene, made possible by the ingenuity and generosity of the FLAT folks and, of course, all of the participating writers.
Over email, I asked EC Brown, Michael Thomas and Meg Duguid to answer a few questions about the event. Their responses follow. Check out the Circus for yourself tomorrow night, Saturday, December 5, from 7-10pm, at 2332 W. Augusta #3F.
What will FLAT 4: Untitled Carnival consist of beyond the distribution of the booklets? Will there be a discussion? What can people expect to see/experience? [Read more]
Wanna talk about new modes of global curation? Chicago-based arts writer Alicia Eler and video collector Jefferson Godard have teamed up to curate Performance Anxiety, a program of seven short videos by Chicago and New York City-based artists which can only be seen in Europe via Souvenirs from the Earth, a cable television station broadcast in France on the freebox 129 station and in Germany on Unitymedia/Kabel BW. (Eler and Godard are currently in discussions about screening the program in Chicago sometime in January).
Eler is the Arts and Culture Community Manager for the Tribune-sponsored Chicago Now blog network, and Godard is a video art collector, architecture professor and a founding member of EMERGE, the MCA Chicago's Collector's Forum. They met during Video as Video: Rewind to Form, a video art show that Eler curated with Peregrine Honig at Swimming Pool Project Space last Fall, and bonded over their mutual love of video art. When Godard invited Eler to his home for a tour of his collection, she was struck by the fact that so many works of video art were actually on display. "There's always video art on in Jefferson's home–he's admittedly obsessed with the medium. A video might play on two flatscreen televisions while a video projection screens in another room; or a video might play on an actual television while Jefferson views new video art online." Most of the videos in Performance Anxiety have been drawn from Godard's superb collection (for more on Godard's collecting habits, read Jason Foumberg's 2007 article in New City here). [Read more]
Make sure and check out the Chicago Tribune today for an article about Deb Sokolow's current residency project with Daniel Boone Elementary School, which is part of Chicago Public School's "Crossroads" program. Sokolow is helping 3rd, 4th, and 5th grade students create a wall mural that will become a permanent part of the school's hallways. As is typical for Sokolow, the wall mural will contain a combination of text and images that tell the story of the school's 80 year history in an idiosyncratic and detour-laden fashion, including, for example, an account of the 1932 murder of Mabel Chenoweth, a woman who owned a candy shop a block away from the school. [Read more]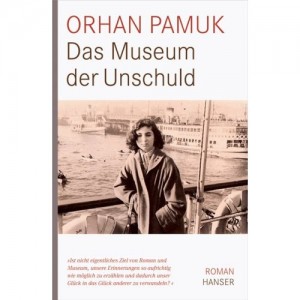 I'm fascinated (alas, only from afar) by the Louvre's Special Guest program and in particular with its use of acclaimed novelists as guest curators. (I've posted on this program before, here). The Louvre has featured Toni Morrison in this capacity in the past; right now, the novelist and semiotician Umberto Eco is unveiling a series of exhibitions and other programs relating to the topic of "The Infinity of Lists" which draws upon his book The Vertigo of the List. This, along with an email from one of our readers (hi Elizabeth!), has got me thinking about the relationship between books and museum exhibitions – and in particular about what happens when novels are the inspiration for museum exhibitions – or even for museums themselves. [Read more]