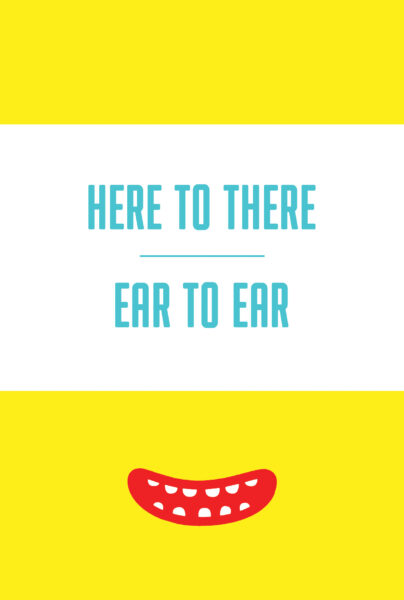 Butter Projects Announcement image for From Here to There: Ear to Ear
The Whitney Biennial screams. The Armory Show screams. SXSW screams. Most music festivals and art exhibitions in March will scream, elated that winter is finally over, the snow is mostly gone and we can return outdoors, see other humans before we try to escape from them again on summer vacations. To be screamed at by art and be awoken by the grandiose, and the faux political, the happy accident, the cronyism, the speculation, the over-hyped and the up-and-coming, the truly amazing and the market saturated garbage that is always in those blockbuster screamo shows seems to be an annual rite. We tend not to whisper "spring is here", especially after this past winter, but isn't that a better way to get bears out of hibernation? Butter Projects' Spring exhibition, Here to There: Ear to Ear aimed to do just that: a colorful and elated return to Spring, but provoking joy rather than record breaking auction sales or trying to define contemporary art through a show. I was being whispered to and they were sweet nothings, dreamy musings by artists who were ushering in Spring by reveling in the ecstatic moment of creation, and not the art world slime that oozes out of the dealers and sharks that are trying to find the next big thing to exploit and bleed dry at the ripe age of 36. If there was a slime umbrella, if somehow an artist could show in an established gallery, free of slime, free of ooze, of political and classist vitriol, of fur coat envy and ever tightening faces, diamonds, couture, of speculative assumptions and net worth, my guess is it would be here. Art can still exist in the white cube and maintain purity, at least it better, or we should just stop and chase a career in investment banking.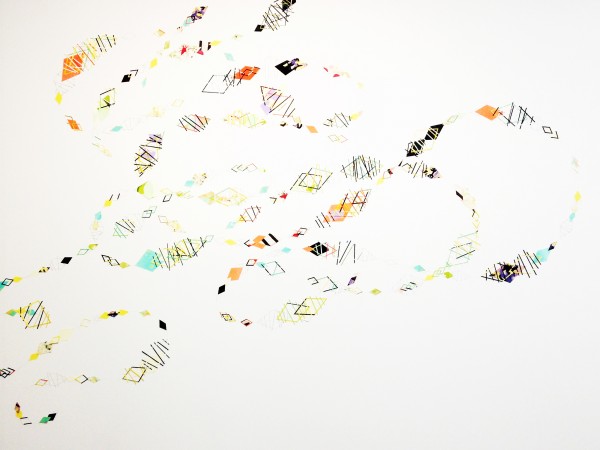 Jill Galarneau The Wind Has Its Reasons, paper acrylic, gouache, pencil, ink, pins, 2014
Jill Galarneau's The Wind Has its Reasons and Swimsuit explore color and pattern within abstract and geometric shapes, evoking a combination of purpose and play. The former exists as small patterned paper pinned to the wall, in strips and shapes, woven together by steady pencil lines arcing gracefully like a kite tail in the wind. A 1950's esque explosion of martini tinged advertising referencing the innocence (or ignorance) of the atomic age and the power of the bomb are held captive by tiny steel pins. The frenzy is contrasted by Swimsuit, which is positioned within the confines of a frame, and as such, in a much tighter condensed field. Here the possible explosion is contained as the particles build pressure in the frame, overlapping to create new shapes and waiting for a flash point. They collide together and flow over each other as tectonic plates might, segments of animated snakes in Sega games. Both invite the viewer to enjoy the materials and process in the works. While the artist retains the flatness of the paper, she also retains its lightness and delicacy, allowing the viewer to linger with the works, our eyes fluttering around the compositions, caffeinating us.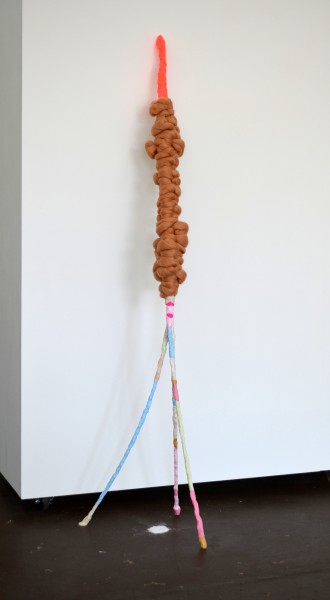 Katy Lloyd, Untitled (Marge), polymer clay, acrylic, wool, glitter and air dry clay, 2014
Katy Lloyd's art sits in a delicate state between image and object: in direct relation to the wall, either hanging from it on leaning against it, occupying the space in a non assertive way, as they prefer the corners, walls and floor, denying viewing in the round. Their bright colors are sometimes more apparent than their forms, the latter being thin, amorphous, flattened or deflated, yet the colors pop and swell, bleed and vibrate. They take control and often define the form of the objects. Contours in Untitled (spaghetti legs) are achieved by minimal shaping of the paper, so that the creases are quite noticeable as points of being in the object as opposed to material stress. With Untitled (Marge), wool "hair" is wrapped around a few acrylic rods to evoke the cartoon namesake's iconic doo, a body is exchanged for tripod legs covered in both pastel polymer and air dry clay smooshed on, clenching the legs, the whole thing straddling a pile of glitter poop on the ground. Leaning against the wall with her red clay tip of her head, she is aloof, yet radiating positivity and sympathy. Being the light of the party all the time can be draining, like there is strength in weakness. Across from her is Untitled (hey buddy)(string guy)), a jumble of acrylic sheeting the artist painted and cut into strips, hangs out from a plastic loop in the wall evoking the impossible to solve tangle of Easter basket grass, in a sexy wet ramen noodle heap pouring forth, lingering on the floor in a fashionable plaid of pinks and yellows and orange that points to a stump of clay coyly hiding under and holding up the edge of the wall the work is on. Across from each other, they appear as figures in conversation, or looking for a way out of one.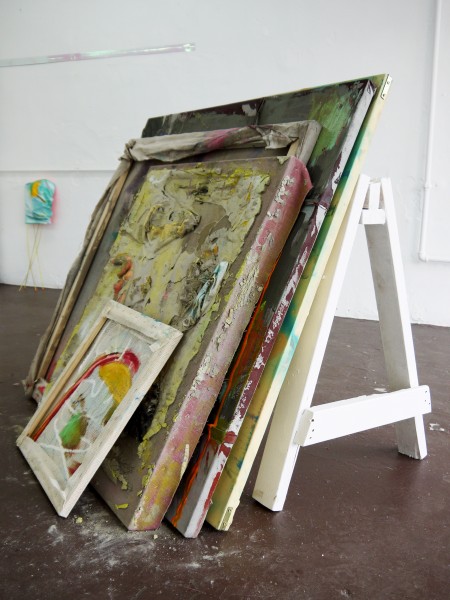 Jonathan Rajewski, Untitled  (installation view – 5 works), mixed media on rubber, upholstery fabric, linen, sewn leather and fabric, 2013 – 2014
Jonathan Rajewski's abstract paintings (all Untitled) are much darker than Llyod's and Galarneau's works. Using gunpowder, caulk, and concrete on surfaces such as leather and rubber, the application is often thick, crusty and textured. They seem heavier with their sometimes murky colors, yet there is still a true play and discovery in the works through line and material. They become free flowing, less attached to solid compositions, giving them a certain lightness of being. Two smaller panels on the wall exhibit the most control within a sprawling composition of washed out colors and meandering line. The rest of his paintings lean against one another in a stack that is meant to be freely flipped through by the audience. Forgetting that interactive directives like this are almost always problematic in their execution, especially since there is no written indication anywhere that this is the artist's intention (I lucked out by being told by one of the exhibiting artists) the true beauty of the works were revealed one by one as I discovered surfaces and textures both unexpected and lavish. Each painting got better and better, so the fear of dropping one didn't hold up to the desire to keep going, digging deeper into the pile.
Here to There: Ear to Ear celebrates the ephemeral by means of a lifespan; the works sitting in the complacent knowledge that they may become as out of touch as a Renoir tomorrow, and thats OK, you here now and that is all we have anyway. Often at openings, the art is seemingly in the background setting the scene, bringing people together. Sometimes its just about the scene. Always alone while together, in ones own head and space while amongst others. When art touches us on this level, it succeeds. It doesn't always have to scream to do this: it can lean its head against the wall and pretend its not listening, or hide itself in plain sight waiting for private discovery — a one on one conversation. The art seems to exist with the true joy and terror of being in the company of others, or the moment of waking up when two realities collide, one ending in death to acknowledge the other's eventual death. Knowing this, yet taking that deep inhale, and existing permanently in the moment before the forced bodily exhale.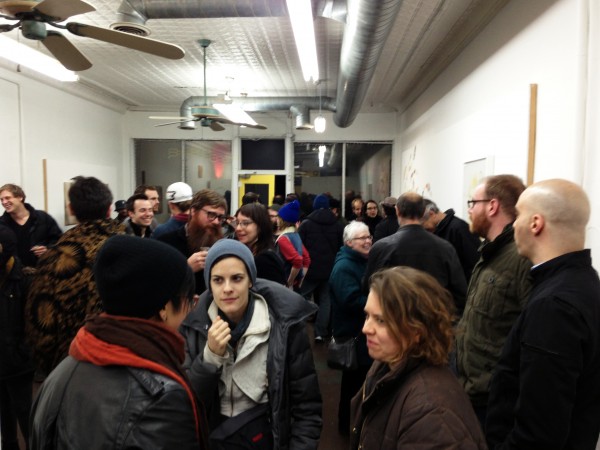 Here to There: Ear to Ear Opening Night, Butter Projects, March 14, 2014
Here to There: Ear to Ear opened Friday, March 14, 2014 with an opening reception from 7-10pm. The exhibition runs through April 18, 2014. Free and open to the public.
During the run of the exhibition, Butter Projects will hold open hours Friday from 1-5pm and Saturdays from 1-3pm. Additional hours can be made by appointment, to schedule, email butter.projects@gmail.com
About Butter Projects
BUTTER projects is a studio and exhibition space founded in October of 2009. Housed in a storefront built in 1915, the space was conceived to be flexible and open to a multitude of creative endeavors. Our mission is to engage with the community and participate in the promotion of the arts in the Metro-Detroit area by providing a place to make, discuss and exhibit artwork. Butter Projects is run and operated by Alison Wong and John Charnota
Butter is located at 814 West Eleven Mile Road, in Royal Oak, Michigan. Parking is available behind the building. For more information visit www.butterprojects.info or contact butter.projects@gmail.com
Jill Galarneau http://jillgalarneau.com/Â lives in Brooklyn and received an MFA in Painting from Cranbrook Academy of Art in 2006.
Katy Lloyd http://katylloyd.com/home.html lives in Pontiac, MI and received an MFA in Painting from Cranbrook Academy of Art in 2012.
Jonathan Rajewski http://jonathanrajewski.info/Â lives in Hamtramck, MI and received a BA in Philosophy from Michigan State University in 2009.
 Thanks to Alison Wong, John Charnota and Katy Lloyd for their assistance.
Tom Friel is an artist and writer currently based outside of Detroit. He works within the cracks of performance, video, sculpture, sound and drawing, and has shown his work both nationally and internationally.
Latest posts by Thomas Friel (see all)