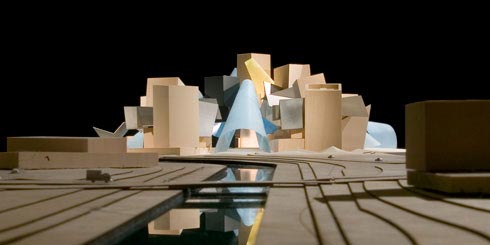 Artists Walid Raad, Emily Jacir, Shirin Neshat and over a hundred other artists, curators and writers have signed a petition calling for a boycott of the Frank Gehri-designed Guggenheim Abu Dhabi, which will be built on Saadiyat Island, the United Arab Emirates. They are demanding that "the Guggenheim Foundation and its Abu Dhabi partner take immediate and meaningful steps to safeguard the rights of the workers constructing the new branch museum," according to a press release issued by an international coalition of artists. "Artists should not be asked to exhibit their work in buildings built on the backs of exploited workers," says Raad in the release. "Those working with bricks and mortar deserve the same kind of respect as those working with cameras and brushes."
The Guggenheim is touting its latest branch as "the largest museum in a series of cultural institutions planned as part of the Saadiyat Island Cultural District, which will serve the world as a destination for the advancement of knowledge and the understanding of culture through the arts."
The protesting coalition's press release cites two reports issued by Human Rights Watch regarding the treatment of migrant workers within the United Arab Emirates (UAE). This report, the release states, documents "a cycle of abuse that leaves migrant workers deeply indebted, poorly paid, and unable to defend their rights or even quit their jobs. The UAE authorities responsible for developing Saadiyat Island have failed to tackle the root causes of abuse: unlawful recruiting fees, broken promises of wages, and a sponsorship system that gives employers virtually unlimited power over workers."
Last September, the Guggenheim pledged that they would protect the rights of laborers working on the construction of their new branch. But the petitioners argue that the Guggenheim and its Abu Dhabi partner, the Tourism Development and Investment Company (TDIC) have not yet done enough to ensure that those rights are protected. In the petition, they demand that the Guggenheim Foundation "obtain contractual guarantees that will protect the rights of workers employed in the construction and maintenance of its new branch museum in Abu Dhabi."
This petition follows a similar initiative organized by NYU faculty and students engaged in ensuring the rights of construction workers who will be building the NYU Abu Dhabi campus, also on Saadiyat Island.  Saadiyat is Arabic for "happiness."
Artists and writers calling for the Guggenheim boycott also include Yto Barrada, Rene Gabri, Mona Hatoum, Akram Zaatari, Andrew Ross, Rirkrit Tiravanija, Janet Cardiff, Willie Doherty, Hans Haacke, Alfredo Jaar, Barbara Kruger, Antonio Muntadas, Paul Pfeiffer, and many others.
Read the full petition here and background on the issue here.
Claudine Isé has worked in the field of contemporary art as a writer and curator for the past decade, and currently serves as the Editor of the Art21 Blog. Claudine regularly writes for Artforum.com and Chicago magazine, and has also worked as an art critic for the Los Angeles Times. Before moving to Chicago in 2008, she worked at the Wexner Center in Columbus, OH as associate curator of exhibitions, and at the Hammer Museum in Los Angeles as assistant curator of contemporary art, where she curated a number of Hammer Projects. She has Ph.D. in Film, Literature and Culture from the University of Southern California.
Latest posts by Claudine Isé (see all)