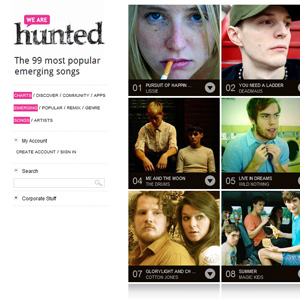 It's nothing dramatic to say that radio is largely dead and discovering new music you like is both simultaneously easier and much much harder then ever before.
Myspace was a solution at one time, as was marketplace solutions like iTunes, Amazon & Zune.
Thesixtyone.com was a solution for a specific genre that was and still is quite good and in that vein "We Are Hunted" was created. It attempts to crawl the web for the top 99 relatively new songs that a majority of people are talking about then displays them on the site for your listening pleasure.
It's not a one stop shop but definitely a nice tool in your music safari arsenal.  Enjoy and find that new song for your summer fun or maybe just this weekend.
Christopher Hudgens is the Operations Manager for BaS and works in various other capacities for other organizations in the Chicago Art & Culture scene. Most recently as Business Operations Manager for the Bridge Art Fair and currently an advocate for all things art & technology.
Latest posts by Christopher (see all)