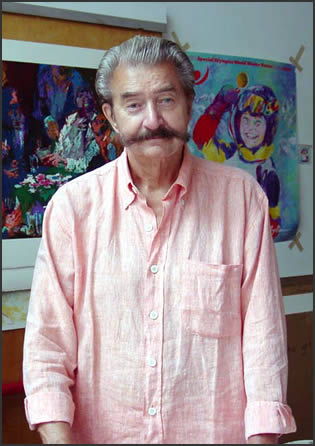 LeRoy and Janet Neiman's have contributed $1 Million to create the LeRoy Neiman Scholarship that will provide student scholarships and support Ox-Bow's Fellowship Program.
A gift which provides studio space and funding for 12 to 14 students from art schools across the country to spend their summer at Ox-Bow.
Both LeRoy and Janet are alumni of the School of the Art Institute of Chicago & Ox-Bow.
Tony Jones, SAIC chancellor had this to say about the gift:
"LeRoy Neiman has been intimately involved with the School of the Art Institute of Chicago and Ox-Bow for many years—as a student, then a faculty member, and now as a wonderful benefactor with his wife Janet, herself an alumna of SAIC, LeRoy is particularly sensitive to what Ox-Bow offers to the working artist, and comments often on the productive time he spent there and how the bucolic serenity of that special place was crucial to his development as a painter. These generous scholarships are especially significant as they are a gift from one remarkable artist to many young artists. Because of the Neimans' gift they'll be able to study at this unique open-air studio for many years to come."
More can be read at the official press release
here
Christopher Hudgens is the Operations Manager for BaS and works in various other capacities for other organizations in the Chicago Art & Culture scene. Most recently as Business Operations Manager for the Bridge Art Fair and currently an advocate for all things art & technology.
Latest posts by Christopher (see all)