download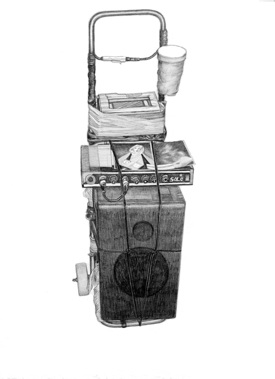 This week: Brian, Patricia, and Duncan engage in a round table with Julio César Morales about collaboration, curation, pedagogy, and his recent exhibitions. Julio César Morales is an artist, educator and curator currently working both individually and collaboratively.
Morales utilizes a range of media including photography, video, and printed and digital media to make conceptual projects that address the productive friction that occurs in trans-cultural territories such as urban Tijuana and San Francisco, and in inherently impure media such as popular music and graphic design. This is the second in our series of interviews conducted at Baer Ridgeway as part of Chris Duncan's exhibition Eye Against Eye.
Christopher Hudgens is the Operations Manager for BaS and works in various other capacities for other organizations in the Chicago Art & Culture scene. Most recently as Business Operations Manager for the Bridge Art Fair and currently an advocate for all things art & technology.
Latest posts by Christopher (see all)