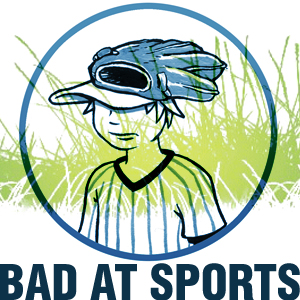 On this week's podcast, Duncan has a special announcement regarding our upcoming exhibition at Apexart in New York. It's group participation time, folks, so I'm passing along Duncan's message to all of the blog's readers to get the word out (actually, I just transcribed what he said on the show, as I'm too knackered to come up with any words of my own). Sayeth Duncan, speaking for the entirety of Bad at Sports:
"What [Bad at Sports] is doing is asking questions to our artworld. What we're more interested in than anything is in asking, 'what's the deal? HEY ARTWORLD, WHAT'S THE DEAL?' We're trying to figure out how to encapsulate that as an element in the exhibition, this curiosity about our artworld.
We need your help. We want you to bust out your Mac, go to Photobooth, and make a little video of yourself asking a question to your artworld. It could be directed to us, it could be to other personalities, it could be to an abstract artworld. What we'll do is we'll try and find an answer. So if you have a question for Damien Hirst, we'll try and get to him. If you have a question for us, we'll do our best to answer it. If you have an abstract question we will find someone who can answer that question and have them respond on video. We're looking for everything from, "how do I become a better human?" to "Hey Damien Hirst, can't you get enough?"
We will track down these answers. Questions can run from the pithy to the abstract to the theoretical. You send us a video, and we'll incorporate it into the project and you can come find your answers in New York at Apex. If you have a newish Mac, Photobooth will take the video for you. if you have an oldish Mac or a PC, we'll have to figure that out but we'll be posting further instructions for how to do it on the blog soon. So please, get involved, send us a video and let us find you answers. You've listened to us find our own answers. What questions do you have?"
PLEASE SEND YOUR VIDEOS TO THIS EMAIL ADDRESS: video.badatsports@gmail.com
Thanks!
Claudine Isé has worked in the field of contemporary art as a writer and curator for the past decade, and currently serves as the Editor of the Art21 Blog. Claudine regularly writes for Artforum.com and Chicago magazine, and has also worked as an art critic for the Los Angeles Times. Before moving to Chicago in 2008, she worked at the Wexner Center in Columbus, OH as associate curator of exhibitions, and at the Hammer Museum in Los Angeles as assistant curator of contemporary art, where she curated a number of Hammer Projects. She has Ph.D. in Film, Literature and Culture from the University of Southern California.
Latest posts by Claudine Isé (see all)