Tucked away in an elegant, chateau-style lakefront mansion facing Lake Michigan, The International Museum of Surgical Science is a sparkly gem of a niche museum that delivers a solid lesson on the history and development of surgical practices with just the right touches of gore to keep things interesting for us laypeople.
With its room-sized walk-in environments and galleries filled with big paintings of bloody surgical procedures, the IMSS is the kind of museum you can thoroughly enjoy even if you don't read any of the wall texts. Not that I'm recommending you do this — you'll learn a lot by delving into the didactic material that accompanies the Museum's numerous exhibits. One of the most striking comes early on with the Museum's recreation of an early American apothecary. Push a button and the pharmacist behind the window will tell you how he makes his pills and tinctures while sharing his plans to add a soda fountain to the shop to bring more people in; CVS, here we come!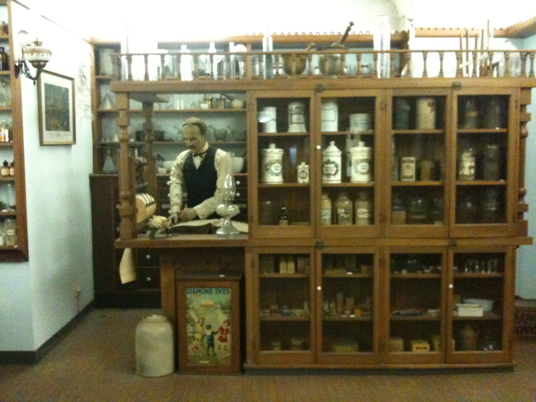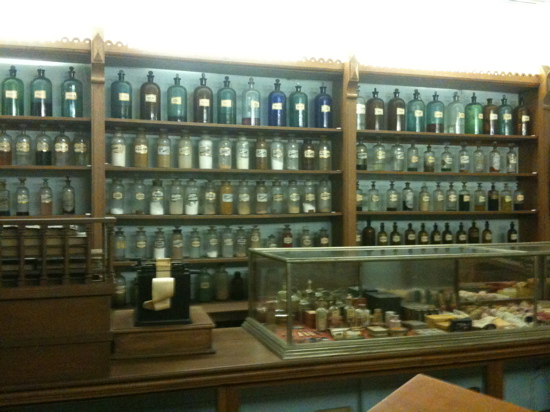 Across from this there's a tiny inset window that displays a tray of early dental tools.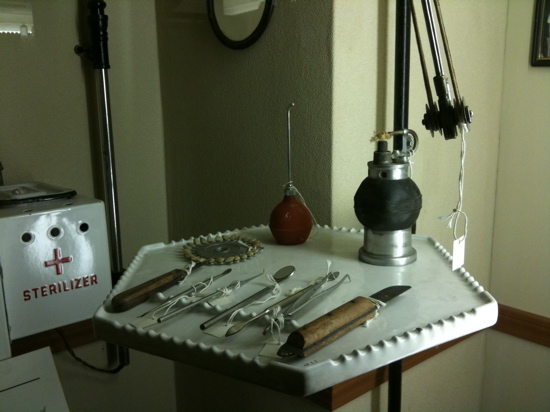 On all four of the Museum's floors one finds galleries devoted to the subjects of ophthalmology, nursing, the contributions of Japan to the history of surgical medicine, and countless more. Don't miss the "Hall of Immortals," which is lined with huge white marble statues (oh yes!) of medicine's greats, including Imhotep, Hippocrates, Andreas Vesalius and Marie Curie, among others.
Very few of large scale medical paintings in the Museum's collections are what you'd describe as "good paintings," but who cares, really — they certainly get their point across. I'm pretty sure all of them were executed in the 20th century in a style that's clearly enamored with the overblown realism of classical religious painting. There's an entire gallery, called the Hall of Murals, whose paintings illustrate historical achievements in surgery and medicine. Many of these works are by Gregorio Calvi di Bergolo (1904-1994). In the Hall of Murals, we see depictions of a wartime amputation, early methods in the delivery of anesthesia, and a scene depicting an anatomy lesson taking place over a cadaver, among other subjects (click here to see more images of these paintings, which have also been reproduced as notecards–notecards!— available for purchase in the Museum's gift shop or online).
However, my favorite paintings in the collection were done by Eduardo Ramirez, who exhibits a peculiar fascination with gynecological operations in his paintings of the first Caesarian section to be successfully performed in Latin America (check out how the woman in the top painting appears to be halfway sitting up, OBSERVING HER OWN PROCEDURE!!), and an early ovariectomy, for example.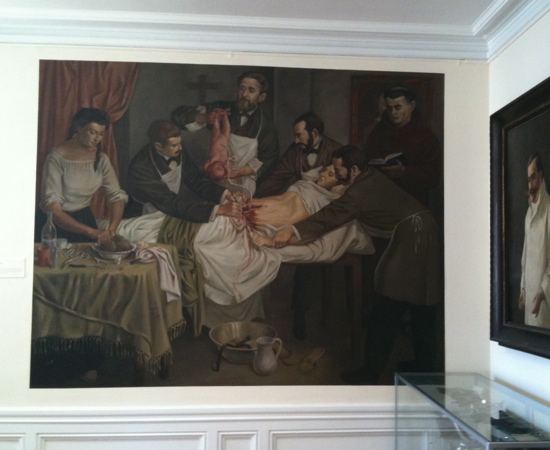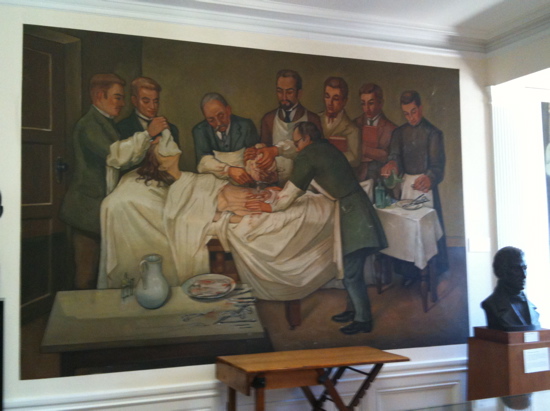 In the end, however, it's the inherent strangeness of the objects that are on display — many of them tools that once were indispensable but are now just relics of outdated science — that propels the curious viewer from room to room.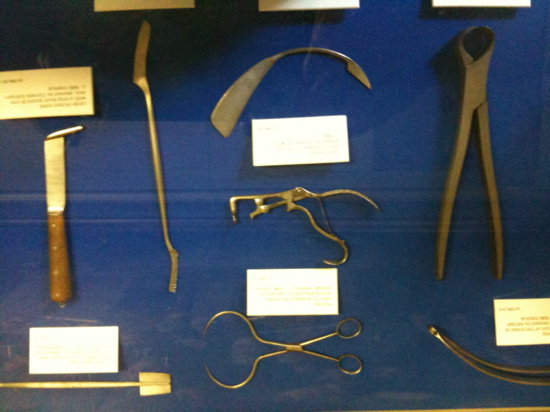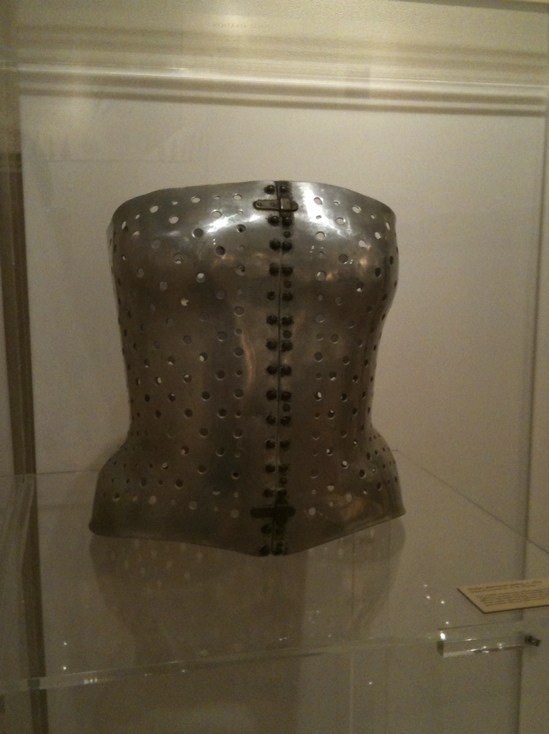 For me, one of the most chilling exhibits displays a technology from the not too distant past: the iron lung. Funny, but I never actually knew what an iron lung looked like until I saw this. The display is accompanied by some truly heartbreaking photographs of the polio-stricken kids who had to inhabit these contraptions, including two who are holding hands to comfort one another. Praise Be Jonas Salk.
I also like the Museum's thoughtfully-curated Anatomy in the Gallery program, which features temporary exhibitions highlighting intersections of contemporary art and medicine. Right now, the program features two exhibitions that work marvelously alongside one another: Redefining the Medical Artist, a survey of work by students at UIC's Biomedical Visualization Program (what used to be called 'medical illustration'), and "Pareidolia," an exhibition of ink spill drawings by Chicago artist Vesna Jovonovic (which I reviewed for New City this week, it should be online in a day or so).
Earlier this year ThreeWalls held its annual fundraiser at the IMSS, a vampire-themed, interactive production created by Death by Design for which the Museum's elegant and inherently creepy environs provided the perfect setting. But can you imagine having your wedding there?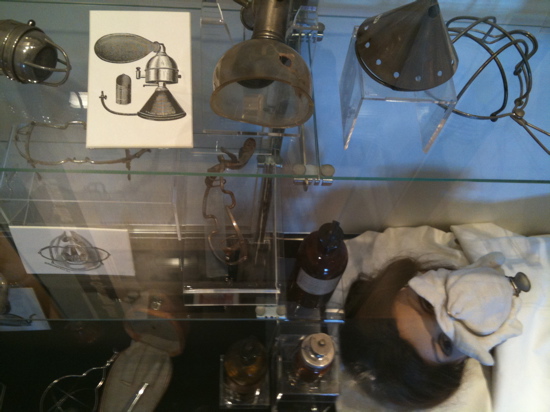 Well in fact, many people can and did, and judging by these pictures, it's actually a pretty romantic place to tie the knot.
The International Museum of Surgical Science is located at 1524 N. Lake Shore Drive. Click here for hours and directions.
Latest posts by Claudine Isé
(see all)