Not anti-semitic writing, dummy, asemic writing. Har har. But seriously, I'm digging on both these things today. First, the idea of asemia, or more specifically of asemic writing as it pertains to art which, despite my proclivities for this type of thing, I'd never heard of before (so thanks, Bruce Sterling!). Asemic writing is defined as writing that has no specific semantic content. Not nonsense writing but writing without characters, writing that doesn't signify anything. Here are a few examples of asemic writing in art taken from a website devoted to such things, The New Post-Literate (but let's just bracket whole 'post-literate' angle of this for now):
And here are a couple of examples of my own take on the concept:
Then there's the semic, which, um, might not actually be a word, although I did find a definition for it online in the Dictionary of Difficult Words: "pertaining to a sign." Yeah, I'll take that. Evan Roth has studied the taxonomy of graffiti tags in Paris (a project sponsored by the Fondation Cartier in conjunction with its current "Born in the Streets" exhibition on graffiti art; I learned of this project via Provisions Library) and the results are fascinating, for those of us who don't make a regular study of graffiti markings, anyway. The project sets up a taxonomic system for graffiti lettering in Paris; there are apparently as many ways to spray an "A" and every other letter of the alphabet as their are thumbprints on taggers, which is a pretty cool finding indeed.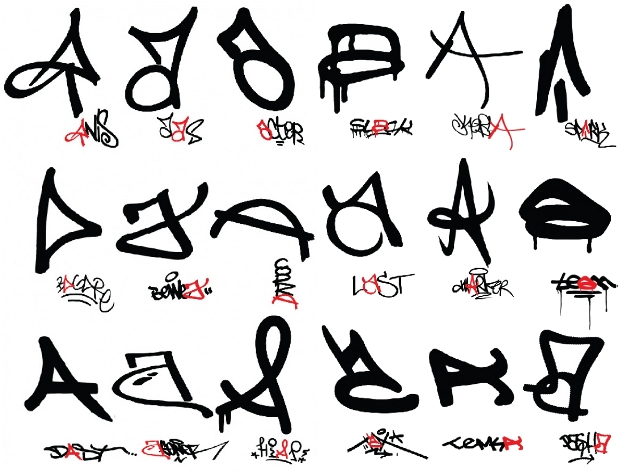 Check out the full details on Roth's Graffiti Taxonomy study here (for Paris) and also here (for New York City-based tag taxonomic studies).
Claudine Isé has worked in the field of contemporary art as a writer and curator for the past decade, and currently serves as the Editor of the Art21 Blog. Claudine regularly writes for Artforum.com and Chicago magazine, and has also worked as an art critic for the Los Angeles Times. Before moving to Chicago in 2008, she worked at the Wexner Center in Columbus, OH as associate curator of exhibitions, and at the Hammer Museum in Los Angeles as assistant curator of contemporary art, where she curated a number of Hammer Projects. She has Ph.D. in Film, Literature and Culture from the University of Southern California.
Latest posts by Claudine Isé (see all)