download
This week Amanda talks to artist Helidon Gjergji!
From Helidon Gjergji's personal bio: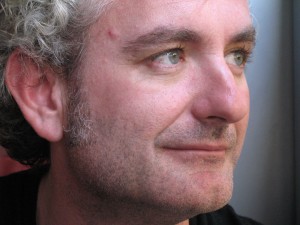 Helidon Gjergji was born in Tirana, Albania and lives in NYC.
In 2000, he received an M.F.A. from Northwestern University, Chicago. Before that, he received a Diploma at the Academy of Fine Arts in Tirana, Albania and a Diploma at the Academy of Fine Arts in Naples, Italy.
He has participated in the Venice Biennale 52 (Albanian Pavilion), curated by Bonnie Clearwater, Director of MoCA, North Miami; Present Future, Artissima 10 (solo project), Turin, curated by Emma Dexter (Tate Modern) etc.; Tirana Biennale 1 (curated by Francesco Bonami); Madre, (MCA, Naples); Apexart (NYC); National Gallery (Tirana); Villa Arson; Centre d'Art Contemporain (Nice); Lothringer Dreizehn Kunsthalle (Munich); The Kosova Art Gallery. (Prishtina); PAN (City Museum of Naples); Chelsea Art Museum; Temporary Services; Suburban; TBA Exhibition Space etc. His next work will be at the T.I.C.A.B. (Tirana International Contemporary Art Biannual), section curated by Edi Muka and Joa Ljungberg
Helidon Gjergji
Gabe Fowler
Swimming Pool Project Space
Northwestern University
Chelsea Art Museum
Sarah Palin
BBC
Action TV Painting
Tirana
Joymore Gallery
Venice Biennale
TED
Duchamp
Magritte
Nam June Paik
Tirana Biannual
Francesco Bonami
Italian Flash Art
Melanie Schiff
Christopher Hudgens is the Operations Manager for BaS and works in various other capacities for other organizations in the Chicago Art & Culture scene. Most recently as Business Operations Manager for the Bridge Art Fair and currently an advocate for all things art & technology.
Latest posts by Christopher (see all)