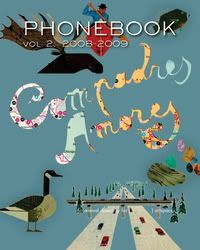 Up for grabs this week is PHONEBOOK vol.2 published by threewalls and Green Lantern Press. Third person to email me (megonli@badatsports.com) gets the copy. Thanks Caroline for hooking us up!
via threewalls:
"Back by popular demand, PHONEBOOK is the essential travel guide to artist-run centers, small not-for-profit, fringe galleries and other exhibition and presentation projects.
This new edition adds over 50 news spaces in the United States and over 40 Canadian centers alongside updated entries, periodical listings, a series of essays from across the country and some road-trip tips from the editors.
PHONEBOOK is a valuable resource for artist and audience alike, connecting a web of makers and projects while acting as an archive of work by smaller organizations and groups throughout the visual arts community. Use PHONEBOOK as a research tool, as a travel guide to the visual arts, for networking, for exhibition proposals or to facilitate artistic exchanges."
Get your copy here.
Meg Onli is a visual artist and blogger born and raised in Los Angeles, California. Meg moved to Chicago, Illinois in 2005 where she received a Bachelor in Fine Arts from the School of the Art Institute of Chicago. She has been with the Chicago-based art and culture podcast/blog Bad at Sports since 2006 where she is currently the Associate Producer. She has an unfathomable apatite for documentary films, 60s & 70s performance art, and cute cats. Meg has exhibited work in Los Angeles, Chicago, and New York City. Currently, she is working on a project that documents her steps in recording Motwon's first girl group sensation, the Marvelettes, version of "Where did Our Love Go?"