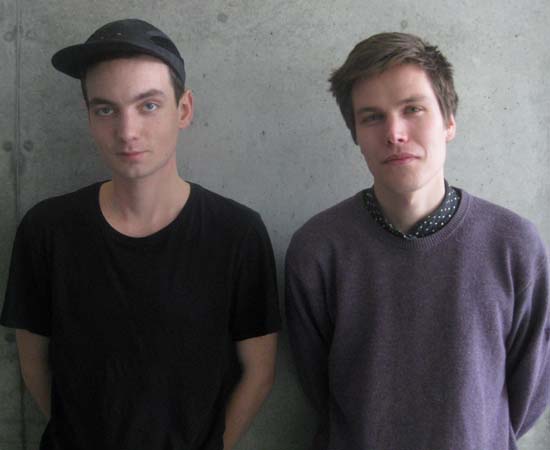 Eastbourne is a quiet town, perhaps too quiet. The fading resort on the South coast of England is a popular destination with old age pensioners, who come to fade out in their turn, amidst tea shops, guest houses and an appealing promenade.
But something sinister is afoot, thanks to a pair of artists from the new home of Noir, Scandinavia. Indeed John Skoog and Bjarke Hvass Kure come from Sweden, where you get the impression that criminal corruption can happily co-exist with outward calm.
So, this overseas team have come to Eastbourne's fantastic Towner Gallery with a sceptical eye. Having been invited to curate a show based on the permanent collection, they have called it Near Dark and now liken the four rooms it occupies to a crime scene.
"We were just clicking through the database and then we started talking about . . . Agatha Christie, this small town British detective story," says Skoog who, together with Kure, has rifled through the permanent collection for evidence of misbehaviour.
Kure picks up the thread: "It is a mystery and it can be solved, or maybe it can't. Sometimes what's interesting about a crime is not necessarily finding out who did it, but more about actually the interpretation or deducing a meaning from images".
Some of those images will be familiar to visitors, some less so.  Both artists report a sense of near déjà vu as local landmarks appeared and reappeared in the vaults of the gallery. And Towner has a monopoly on images from the adjacent South Downs National Park.
But less familiar will be the unfinished works by Eric Ravilious. Eastbourne's famous son is perhaps best known for his charming watercolours of the rolling hills which form the backdrop to the town. Now visitors have a chance to see him stripped bare, as it were.
Skoog and Kure are exhibiting a previously unseen colour test. The loamy shades of green and brown could only belong to him. Nearby is his incomplete view of Beachy Head, a nearby cliff with the sad distinction of being the country's most infamous suicide spot.
And no one is above suspicion. Though both artists insist this show is not a whodunnit, they lay a bold accusation at the Gallery's door. "In some strange way, it's Ravilious – but it's also Sherlock Holmes," says Skoog. "He's the one, who's maybe like Sherlock Holmes turned bad or something. "
Well, if Holmes had his violin, surely the world is ready for a painting detective, even a rogue one if it comes to that. "It's really super exciting to see what people think, especially as Ravilious is The Man here," adds the artist.
Rest assured, as the show was shaping up Monday, there's was nothing too sacrilegious in the offing. Kure specialises in hanging arty shows like this: "We're trying to use the museum exhibition format," he tells me. "We we're really trying to be very sensitive to a lot of the details, a lot of the traditions, of how you make a museum exhibition."
"The exhibition is a narrative," he continues, explaining that variable lighting will give the visitor a sense this story is a cyclical one, from light to dark and back again: "You're an interpreter or a reader going through what's happened".
Skoog meanwhile brings a filmmaker's talents to the display: "There's all these filmic terms, like zooming, a pan, a tracking shot. We wanted to use all these terms, to use them as tools for making an exhibition instead of a film."
But while those techniques have made the final cut, the artist admits that the visitor may not even notice. Flashback is another technique, and the same local street crops up by two different artists in two different rooms, Skoog describes the slow realisation of this as "silently spectacular."
"The crime scene can also be read on a more metaphorical level ," says the filmmaker who intends the show to have the atmosphere of a good thriller rather than the payoff of a classic crime novel. But in a town where the thrills might be limited to chips on the pier, Near Dark should still deliver.
Near Dark can be seen at Towner Gallery, Eastbourne, UK, from February 8 until May 4 2014. The Gallery are also showing new film by John Skoog entitled Redoubt.
Latest posts by Mark Sheerin
(see all)