The Love Librarian is in. Another Valentine's Day may be behind us, but Detroit-based artist Chido Johnson still wants to talk about love. For the month of February, Johnson is the official Love Librarian of the Museum of Contemporary Art Detroit (MOCAD), cataloging, digitizing, and facilitating public engagement with his ongoing project, Let's Talk About Love Baby, a growing collection of artist-made romance novels. Since its founding in 2008, the Love Library has expanded from Detroit to include branches in Chicago, Zimbabwe, and Ethiopia. Each chapter has its own resident Love Librarian whose task is to invite a group of artists, (who in turn have invited additional artists), to contribute a book to the burgeoning collection.
The current Detroit archive consists of works from artists and collectives who cross all media and cultural demographics, and their variable portrayals of love and romance range from the steamily satirical to the unnervingly intimate. "Heart Abortion" by Suite42, (Danielle Julian Norton and Tarrah Krajnak), is an homage to art world-induced heartbreak bound in the pages of Artforum; Scott Johnson's "Guilty Love," is a volume whose pages literally reflect the reader-as-author bound in narcissistic self-love; and Ed Brown and Annie Reinhardt's dual volumes, "Birds + Shell," consist of a cassette and player housed in a pair of two unassuming covers of Danielle Steele paperbacks. Each book when ensconced en masse is equally compelling, and upon closer examination, the works reveal maker, collector, and reader as agents bound by an affection for, well, affection, in all its mysterious and salacious incarnations.
The Love Library was born from a time of crisis. Creator Chido Johnson sought to address the violence and devastation of the current moment with a project that could serve as a generative counterpoint—love being a force that similarly leads to undoing and affect. Exploring a subject that many would consider taboo in the context of academia and fine art, Johnson ventured beyond the pop precedent of Robert Indiana, the unsubstantive sparkle of Damien Hirst, and even the digitally-networked quotidian community of Miranda July and Harrell Fletcher's Learning to Love You More. Indeed, Let's Talk About Love Baby is a different brand of cheese altogether. Johnson's library reminds us that universality doesn't preclude difference, and sometimes quirkiness can be found in cliché.
I spoke with Chido Johnson, Love Librarian, in residence at MOCAD.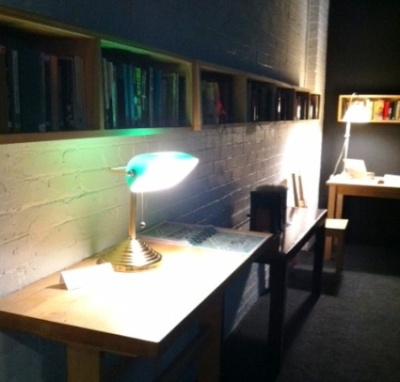 Sarah Margolis-Pineo: So, let's talk about love. How did this project begin, and how is love as a subject significant for you?
Chido Johnson: The idea for Love Library [Let's Talk About Love] began when I was teaching in Sweden in 2008. This was just when violence in the Gaza Strip was escalating, and when Zimbabwe—where I was born and raised, was going through a horrific time. An image that has stayed with me from that moment is news footage of a doctor amidst the shelling in Gaza being interviewed live by a friend who worked for the Israeli TV. While he was being interviewed about the conflict, he was told that his family—his daughters were just killed by Israeli shells. It was crazy. At that time, I was thinking that as an educator we don't talk about love, sex, or religion, and for whatever reason, these are all no-nos in an academic setting; instead, we talk about psychology and identity, and I felt like we were missing the meaty stuff of life. Later, talking about this issue with one of my colleagues in Sweden, I knew I wanted to address this idea. I was moved by it.
SMP: Why the form of the romance novel?
CJ: I was raised in rural Zimbabwe where we didn't have television. My mom was a medical doctor and for her downtime she would read Mills and Boons, which is the British version of Harlequin— novels that are more toned down and more romantic than the very hot, highly sexualized versions that are over here. Really, it was the only form of entertainment, and I used to read at least one romance book a week.
This romance novel project is a way to address the cheesiness of love—how it's perceived as a cheesy subject, packaged in cheesy formats like the Harlequin novel and the top-forty movie. I had to address the work in a totally cheesy way—I embraced the cheesiness. The thing about the romance novel is you tend to discount this shelf immediately for its cheap paperbacks—as a one-night stand kind of experience, but then, if you really let yourself go into the project, you can be caught. The love story is human.
My work has been always curious about othering and the formation of assumptions—assumptions of self and of other. The idea is to look down the shelf and see all of these homogenized objects. It's only when you pick one out and spend some time with it that you realize that it's so different. It was really important to the project that this work was not made by me, rather, I invite people to participate in it. It had to be about the collectivism, and it had to be about the assumptions of the similar and the shock of the differences. We are enriched by our differences, not by systemized similarities. That's what I really wanted to push with the project.
SMP: It's interesting, because as you rightly point out, there's a distinct stickiness between numerous elements within the work including: fantasy and reality, serial and singular, and ephemeral and eternal. Can you speak more to the objecthood of this work?
CJ: Yes, this project definitely speaks to the book and its perceived temporalness. These objects here are very much alive —in touch, caress, smell—yet in our present time, books have become the object of nostalgia almost similar to a hand written letter. So that physicalness was very important too, and I think that's why I specifically called out to artists who would approach work so differently, but are very conscious of the physical nature of objects. Each book is a very physical experience.
Growing up, my father was an artist—a political activist and a puppeteer. As a child, I really enjoyed making puppets, and for me, a puppet has a defined role and function. It has a purpose, a cultural function. So i see the work being very raw, naked to its actual role, thus very real, and not dependent on an existential narrative. It's an object that is what it is—it exists through a performative act, not through its fabricated narrative. I see traces of that here in the Love Library, and also in the project in the next gallery, [Laugh Detroit].
SMP: I'm also interested in the collaborative aspect of this project. Primarily, you solicit the participation of artists contributing to the work, but then you also have the continued activation of the project through the lending library and the physical interactions with the viewing/reading public. First, can you speak to the logistics of participation in this project—is there an open call, for example? And more generally, what does participation bring to your practice overall?
CJ: There's no open call, and it's up to the Love Librarians to extend the invitations to artists to participate. All the people who I initially called are people who I totally admire and respect. I called them individually, and then I told each one that they could in turn invite one person to participate. That's how it grew, and now in all the different chapters—Chicago, Addis Ababa, [Ethiopia], St. Louis, Harare, [Zimbabwe]—the librarians there can extend their own invitations to allow those chapters to grow. It's amazing how it slowly creeps and expands. Looking at these shelves, I know everyone here is so intimately connected and there's so much love and respect that exists here. I wanted to keep the project real that way, the feeling of a community.
On top of that, I guess, as any artist tries to do, I always try to question the ways we present work and how we interact with an audience. What I really enjoy about the idea of a library is that is that it's not an immediate, total experience—it's a changing space that has to be constantly interacted [with], and it's intimately interacted [with]. I like that it's not being perceived as art, so people can perform the work and have a natural experience rather than a trained experience. At first I thought that I would have the public check-out books, but right now, books are still coming, so I'm here every day cataloging. I've held back from checking-out books because now I'm very protective of all the books in the show.
I've been starting to think about that. It's gotten to the point now where it's a project that I feel honored to be a part of, but it's a lot of work. I do everything: run the website, self-sponsoring, ship books back and forth, so I've been starting to think of what to do in the long term. It's a responsibility I have now—it's not just a project, it's a responsibility, and these are really precious books.
SMP: What struck me immediately about this project is its seriousness. Despite the cliché fantasy of romance novel, by in large, these artists presented very real, very moving, very intimate narratives through making these objects.
CJ: That's what shakes me up! A friend of mine—that colleague in Sweden who I mentioned earlier, she passed away last year. Her book is a copy of Romeo and Juliet; she removed all the text except for the words that bind. The pages are sort of translucent, so as you flip through the experience of it is almost like a river—like water, but it's still mapped out as the pages were, so there is an internal order. She did this book in honor of a friend of hers in Sweden who was a Fluxus artist who passed away at that time, and since the artist's own passing, this has become a truly powerful piece. I remember sitting down in Ethiopia meeting a group of artists and introducing the project. In the beginning, I have my rap about the project: this is what it's about, it's all about love, etc. But then when the work actually happens, every time, it's totally moving. It's then that the realness occurs. People tell their stories. There's one couple: he's in Ethiopia, and she is attending school in Texas. Since the day they've been married, they've been separated by a great distance with no funds to travel. They're book is a collection of emails sent back and forth across the globe during their separation.
Love is something that's trapped in us. The world is in such a state now, that's it's almost like we have to hold on to something—some sense of realness. We're at the height of crisis, and people become overrun with emotion. Really, we need love.
Chido Johnson is the head of sculpture at the College for Creative Studies in Detroit, and was a 2009 Kresge Fellow. Currently, he is the Artist-in-Residence at the Museum of Contemporary Art Detroit (MOCAD) as part of the Department of Education and Public Engagement Space Residency, where the artist has installed his Love Library and will be serving as head librarian. On Sunday Feb. 19, 12-4pm, Johnson will facilitate "I Love You and Ha Ha Ha Ha Ha!" as part of Laugh Detroit, also on view at MOCAD.
This interview is part one of two. On Thursday March 2, Bad@Sports will post part two of Sarah Margolis-Pineo's interview with Chido Johnson.
Latest posts by Sarah Margolis-Pineo
(see all)