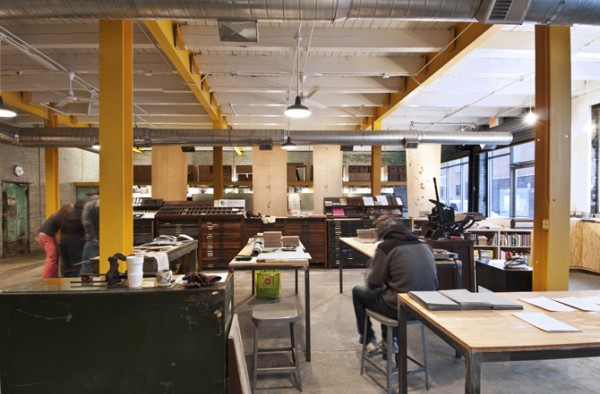 During my first visit to Signal-Return, a letterpress print shop and exhibition space opened last fall in Detroit's Eastern Market, I had strangest inkling of déjà vu. Not déjà vu in the traditional sense of having been there before; but rather, I was struck by the distinct feeling that the workshop, antiquated presses, and even the intern sorting type, had been in that location for decades or perhaps even centuries. Indeed, Signal-Return falls in the robust tradition of Detroit-based artisanal print houses. The independent press is rooted in the early-twentieth century Arts and Crafts Movement when studios such as the Cranbrook Press, (1902), were established in the tradition of William Morris's Kelmscott Press. The small press phenomenon continued into the latter part of century by those seeking to harness the revolutionary potential of the media. Most notably, the Detroit Artists' Workshop, a multimedia collective that produced an array of printed matter, opened in November 1964—exactly 47 years before Signal-Return unveiled itself to the public.
Where Signal-Return deviates from its predecessors is in the organization's four principles: teach, serve, connect, and produce. Beyond defining itself as a functioning print shop that caters to projects ranging from wedding invitations to artist's books, Signal-Return operates as a laboratory and archive, offering hands-on participatory experimentation that simultaneously preserves, honors, and hybridizes the materials and methods of traditional letterpress printing. Further, in mere months, Signal-Return has become a hub where makers, creative producers, educators, and enthusiasts have come together to create work and exchange ideas. In essence, the workshop functions as a network of networks, cultivating new connections, conversations, and communities that otherwise wouldn't have the context to engage. At Signal-Return, the potential of printed matter to serve as a democratic medium extends beyond the materiality of the page to disseminate through discourse and, (dare I say), intertext. The workshop has some thrilling projects in the works that will be the product of numerous thinkers, activists, and creative workers, engaging with the conditions and reimagining the mythology of here-and-now Detroit.
Signal-Return co-founder Megan O'Connell currently serves as the non-profit's director, curator, chief development officer, outreach coordinator, and designer. She describes herself an unabashed typophyle, and in lieu of the term "printmaker" she has adopted the ethos of the "press"—a tool, process, product, and metaphor that creates any kind of imprint. I spoke with O'Connell at Signal-Return in Detroit's Eastern Market on printed matter and its twenty-first century incarnations and aspirations.

Sarah Margolis-Pineo: First of all, I love what you've done here, creating this hive of activity in the middle of Eastern Market. What is Signal-Return? How did this space come to be?
Megan O'Connell  A printing press, as a shaper of culture and dispatcher of narratives, continually reflects back its context, even after the fact of its existence. It provides a portal into the ideals, structures, priorities, production modes, economies, and material assets of a particular time and place. As a newly-forged initiative, Signal-Return–a letterpress workshop–is a site for the incubation of ideas and a promulgator of traditional and hybrid printing methods.
By design, both physically and philosophically, the project is porous. It showcases a range of presses, an extensive library of fonts of type [acquired from area print shops updating to digital publishing], a retail/gallery area, and an archive. Essentially, it reveals the back-end of production to anyone walking through the doors while offering easy contact with output of the press. The skillful melding of all aspects of the space is the work of designer Christian Unverzagt of M1/DTW, whose printed matter now comprises an on-site solo exhibition titled Artifacts and Identities. He immediately grasped what to leave raw and what to transform in our 3,000 square foot space, striking a balance between old and new. I walked out of our first charette practically pinching myself—it was uncanny to sense a typophile/designer shaping the space and imbuing it with an unfaltering logic.
In assuming the directorship of a press that serves as a cultural beacon in an economically vulnerable, post-industrial city, I am responsible for telling myriad stories. The press is a conduit for this time and place:  residents long to see something created and circulated. Detroit was once a major printing hub, with many of its talented students learning the trade in High School and continuing onto life-long careers, so it is natural that there is synergy around our workshop. I have to acknowledge, too, the interest in the mythology of the city stemming from places beyond the city is far-reaching. There's something that captivates people's imaginations, whether they are in Berlin, Brooklyn, or Boulder, when they witness resources being re-directed, new forms of collaboration emerging, and a thoughtful reweaving of social fabric. The press is a model for this, and we intend to claim these phenomena and give them voice while the focus stays on Detroit. On a very basic level, we are sparking curiosity and inviting participation from those within and beyond the city.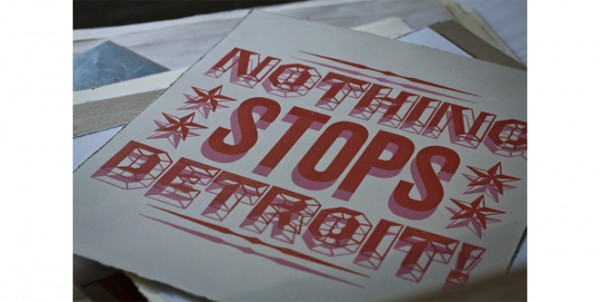 SMP: Who are your clients? Are they specifically artists or have you reached a wider public, and what sort of work has Signal-Return been producing?
MO'C:  As of yet, there is no template for any of our jobs: we've kept our operations fluid, producing for both individuals and organizations. We get walk-in clients nearly every day, and it gives me deep pleasure to watch someone navigate the space and then proclaim "I want you to make _______ for me–can you do that?" We support them by helping to dream up a format, source materials, and select typefaces and color palettes. We quote out the job, and then, if given the green light, we realize the project. This might apply to a firefighter who has been promoted and needs new business cards, to an organizer of a seed saving project at a nearby Senior center seeking custom envelopes, to a poet looking to publish a chapbook, to a gallery director ordering an entire kit for an upcoming exhibition. It's a way to honor our community, amplifying what's happening here without defaulting to the simplistic 'Go Detroit!' response.
Conversations are underway with noteworthy writers, artists, curators, and collectors to yield various projects through Signal-Return. There is excitement about what have done to accrue currency in the art world, having produced for The Detroit Institute of Art, MOCAD, Mark Dion, Alison Knowles, and Etienne Turpin, fellow at the Taubman School of Architecture. We plan to serve as the publishing arm for Market Studio Kitchen/Detroit Emergent Futures Lab, opening this summer in our neighborhood. We are partnering with InsideOut Literary Arts Project to promote writers through the 4×5 reading series. Fritz Haeg, who will be working with and eventually disseminating the research of Wayne State University students in the fall, will look to us to produce print-based work. Plus, one of our staff has arranged for a curator from Paris to spend the bulk of August setting up our archive and a special exhibition. Our enthusiasm about these prospects borders on the uncontainable!

SMP: The 20th century print has such a lengthy, complicated, and politicized history: mechanical reproduction, the broadside, collage, pastiche, and even 'zines and the revival of the local artisanal press. How are you expanding the concept of printmaking in the 21st century? Are you integrating new materials, practices, and discourses into your project?
MO'C   As the 21st century advances, practitioners are concerned with how their work can confirm, provoke, surprise, or undermine one's expectations. This, for the most part, remains media-specific and context reliant. The print, however, just might possess a bit more latitude to 'show up' in new contexts and to spur us into action. I think this is where its power lies.
Some of my hero-producers are those early progenitors of pamphlets, broadsides, posters, theater, and actions that readily dismantled old forms to cultivate new systems: the Russian Constructivists, Dadaists, and Futurists being the primary models.  Based on what I have seen in the past, I cannot predict what the press and its products will look like a year from now, a decade from now, or even farther into the future. It stands as an open proposition.
SMP: It seems to me that by rooting your practice in the press, or a mechanized process, you are evoking the language of industry, but also the craft workshop. Is this an intentional?
MO'C: It's impossible to be in a city like Detroit and to not consider what "industry" has meant. There's a palpable point of pride around the scope and caliber of what has proliferated in this place: I find it awe-inspiring. I'm apprehensive about attaching any sentimentality to the idea of the printing press, and will circumvent a melancholy lament of what craft once 'was'. Rather, the press holds potentiality while providing a tangible connection with the past. A printing operation of Signal-Return's scale will never match the standards of industry, but it can serve as a cue for what was once there. If I had to choose, I would say that the qualities of our press are related more closely to the idea of workshop than factory.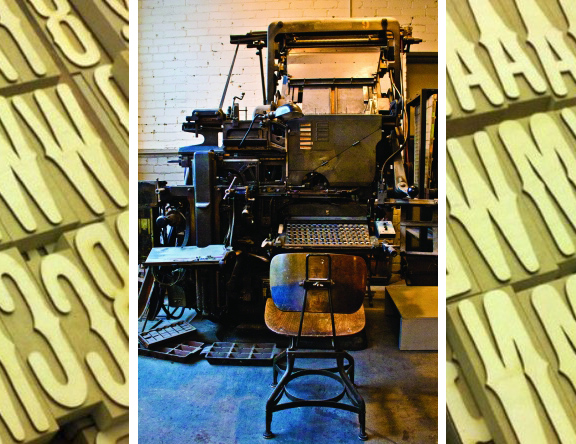 SMP: What is your relationship to the digital?
MO'C:  An epiphany that I had early on as a producer was that there is something very powerful in being able to see every aspect of a book's production through–from beginning to end–and that limitations imposed through non-digital means invited me to take risks and problem-solve in ways that would never be invoked by the digital platform. This runs consistent with what I witnessed later on as an educator. As the director of the Typography Lab at the University of Oregon, I found my students craving a kinesthetic relationship to material. Physically laying out type on a galley, imposing and printing forms on the press bed, and collating pages into a book is unrivalled for what it teaches about the totality of an effort—it is a tonic after spending countless hours in front of a computer screen with pretty predictable results, finding yourself pushing 'print' again and again until you get it right. The habituation of designing with a computer can train us to rely on default settings and severely limits the range of what might get produced.
The flipside is that if one understands the nuances of analogue typesetting, it is possible to invest nearly the same degree of attention into a digitally typeset composition. One of the ways we can cross platforms from pixels to the 'real' is through custom photoengraved plates. They are produced type-high, so printing from them yields a look and feel that bears much the same aura of authenticity of a hand-set piece, but allows for more flexibility than traditional compositing.
SMP: What role does preservation play at Signal-Return, or do you place more emphasis on modifying and hybridizing traditional tools and practices for a new generation makers and audiences?
MO'C: There are four principles at Signal-Return: Teach, Serve, Connect, and Produce. I feel almost ready to add a fifth, which is to Steward, because this equipment, wood type, and all of the tools and materials you see here are only preserved if they're actively being used. Wood type will get dry, cracked, and will become unusable if it's stowed away, and, obviously, the presses need to run in order to stay viable. Thus, the stewardship piece is becoming clearer to me.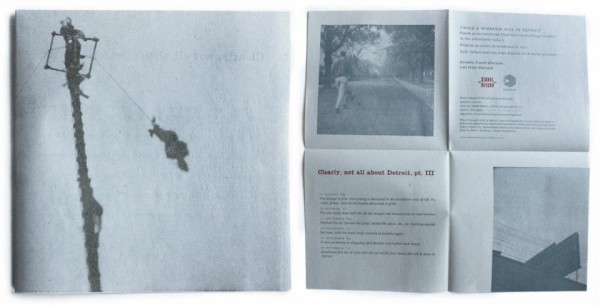 SMP: What are some of the projects that made you most excited?
MO'C:   Friso Wiersum, an historian-in-residence in Detroit through Expodium, a collective based in Utrecht, came in [to Signal-Return] before we had officially opened. He was doing research on Detroit—taking photos, logging journal entries, writing a blog, etc., while comparing his perceptions to those of his father, also from The Netherlands, who happened to live in Detroit as an exchange student in 1964. Over time, in collaboration with the Wiersums, I distilled the 'findings' down into a simple folded poster/artist's multiple titled Clearly Not All About Detroit, pt. III. It is emblematic of a conversation that could only happen here. On a modest scale, I've been able to bring focus to their dual stays in this city—what the elder chronicled and what the son reassessed 47 years later. This publication, the first bearing the Signal-Return imprint, was released simultaneously in Europe and the U.S. Plans are afoot to circulate it in Berlin, Athens, Toronto, and NYC.
Amongst other thrilling things we've produced are the Salon, Book, and Bread evenings, which consist of a three-course dinner followed by instruction in binding a monastery-style book led by Leon Johnson. Novelists, journalists, artists, advertisers, film makers, chefs, small business owners, contractors, students, and teachers who gather provide a sweeping look at what others are making, thinking, and aspiring to. Participants are invited back for drop-in bookbinding hours on the weekends, so it's helped to build a critical mass of some of the brightest and most motivated denizens of the city. They are all stakeholders at the press.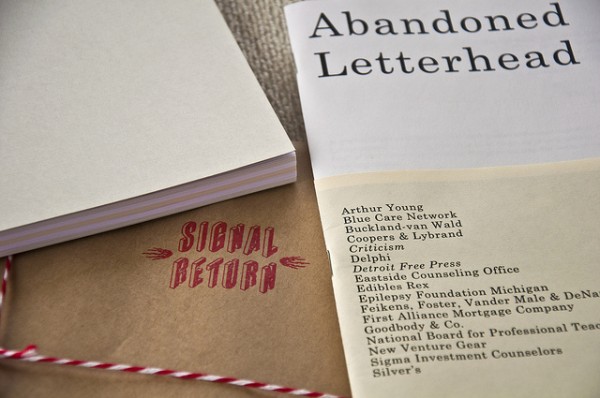 photo courtesy of Jamie Schafer
SMP: It's interesting how you've taken the mantra of printed matter as a democratic medium and really absorbed this concept into your programming and overall methodology. It's not necessarily about your way of working—the processes and materials of production, but rather, about bringing together a multiplicity of voices to really initiate a new dialogue.
MO'C: Essentially it's about what it means to be human—part of a community, connected by language and participating in the transformation of the here-and-now. I don't know of many other sites where this can happen. People tend to feel  comfortable here. We seek to flatten hierarchies and allow the possibility for the participant to become the teacher, the intern to be the curator, and the person cranking the press to stand as a voice of the organization. All of that flow strengthens our case, performs what is important to us, and gives the opportunity to share ownership. There's this sense of: what might I do? It's a catalyst for creative people to claim some inspiration, and start firing on all cylinders.
There's much to celebrate, much to be disappointed in, and much to compel us to throw our arms up about. To craft something that uses the resources at hand to the best of our abilities is ultimately the aim here. At Signal-Return, we shed light on the complexities of what it is to live in this city rife with struggle, without tamping them down or diminishing their import. I guess you could say it is an empathic and evolving project.

Signal Return's second exhibition, M1/DTW: Artifacts and Identities, opens this Friday April 6, 6-9pm, and will continue through June 9, 2012. This exhibition will survey the work of Christian Unverzagt, director of M1/DTW design studio and architect of Signal-Return. Artifacts and Identities demonstrates the ways in which Unverzagt's print work traverses myriad graphic qualities and uses, reveling in manifold material options and formats. The exhibition will feature a survey of work including books, cards, press sheets, posters, and other ephemera from a range of projects including those that are long out-of-print. Signal-Return's retail storefront will carry more than one dozen titles designed by the studio, and a limited edition letterpress printed poster of the exhibition will also be available for purchase. On April 18, 7pm, Unverzagt will deliver a presentation in conjunction with the show.
Addendum: Since this article was published, Megan O'Connell has left Signal-Return to start a new venture, Salt & Cedar, in Detroit's Eastern Market. Salt & Cedar is a letterpress studio producing custom invitations, calling cards, stationery, booklets, and posters. Their workshops, led by renowned instructors, include traditional and experimental printing, 'zine making, book structures, and paper making. Within the 3,000 square foot space, farm-to-table food events, a pop-up cinema, exhibitions, dinner theaters, readings, design lectures, and special curricular offerings are slated with a diversity of cultural partners.
Salt & Cedar is located at 2448 Riopelle Street in Detroit. Contact: saltandcedarpress@gmail.com.
Latest posts by Sarah Margolis-Pineo
(see all)