This interview has been long in the making — it began months ago after I visited Robert Burnier's solo show at Design Cloud in the West Loop. It began because I'd seen Burnier's work over the preceding summer at Andrew Rafacz Gallery, and again at Chicago Art EXPO; it began because I kept wondering about his crumpled aluminum wall sculptures — what to me have always seemed like the wreckage of a minimalist object, still pristine, still auratic, and yet all the more difficult to resolve somehow. The following interview, conducted largely by email, paralleled other conversations we had begun about what is and is not considered natural — a conversation embedded in my own curatorial research at the moment — and how our understanding of digital space is influencing our understanding of a material landscape. Not surprisingly, Burnier yielded a wealth of insight and I'm happy to share at least some of that dialogue here.
Caroline Picard: How do you think about landscape? Does that question emerge when you're composing your abstract aluminum works?


Robert Burnier: I definitely have to be conscious of landscape in the sense that anything for the wall can be seen in that way. Beyond this, though, I've often made work that hovers or vibrates between the categories of landscape and figure, or landscape and terrain. By "landscape and terrain" I mean a difference between pictorial space and experiential space.
 For the sculptures, specifically, the idea of terrain is very important. As opposed to a more direct kind of construction and mark making, I think about operating within something that comes with its own history and peculiar spatial configuration. As I move through these spaces, I look for something interesting to emerge. They also essentially operate on me as they proscribe certain actions through their boundaries and character, and by how every move simultaneously closes some pathways as it opens others. And yet they don't completely dictate what I will actually do with them as a whole.
CP: You've mentioned the situationist dérive in conjunction with your aluminum pieces — as though to suggest that the ways in which you improvise, negotiate, fold and crumple the material is a kind psychogeographical exploration of that same material. Would you agree with that?
RB: Yes, I would agree with that to a large extent. In retrospect, I think I've been interested in something like that for a long time, actually. I've always had a penchant for wandering urban spaces in a way reminiscent of what Guy Debord describes in his essay on the theory of dérive. So it's made its way into my practice more or less consciously. While dérive was a response to physical urban spaces, we also experience our contemporary urban geography through virtual structures, with populations acting in concert with communications networks and sets of common interfaces and devices, etc.

In my work, I've put virtual and physical spaces on par in certain ways. They are both material for use. I might use off the shelf CAD systems, readily available physical materials and commercial paints. What I do with them resembles a dérive in the sense that I "walk" through prefigured fields of shapes — or terrains as described above — while translating between virtual and physical mediums. Certain complexities play out on their differences. For example, a form in a CAD system may be contradictory or at least untenable in the physical incarnation. So I'm discovering certain things as I "test" them [those digital systems] in, say, sheet metal. I start out by following the lines, by scoring and cutting by the potentially "problematic" drawing, but then I take detours and make other choices that go against the line, and ultimately still produces something that contains and expresses that original trajectory. In a very general way, I like to think that whenever I use a CAD system, a can of spray paint, or a gel pen, I'm definitely handing a lot of what happens over to the nature of that system or material. Its not exactly collaboration, but its a kind of acceptance of mass technological culture in the work. At the same time I try to make these things go beyond themselves rather than have them pass unfiltered.

CP: Is your background in computer science present to you when you are working artistically?
RB: More than anything right now, certain states of mind that come from working with computer technology and software have a bearing on what I do. I am focused on process and algorithms as ways of approaching art where the steps I lay out matter to me as much as whatever actually happens. I should add: "as much as", but "not more than". Often what I'm trying to do is come at these things from a decidedly different vantage — by taking something precisely, mathematically defined and putting it through the vagaries of some physical challenge, or employing techniques that are at cross purposes with straightforward execution, or by making two things interfere with each other somehow. But its also critical that I be me in the studio doing something. Its not just about a fascination with wreckage or a glitch, or winding up elaborate systems that plays themselves out.

CP: How has minimalist sculpture influenced you?
RB: The direct and experiential aspect of minimalism always attracted me. One thing I take from it is the idea of art as a demonstration; a thing put forward as a concrete suggestion. But I never think about this concrete presence as some completely stable, impenetrable unity. 

I like to see what is real, in front of us being what it is and also something else. It can be a material that is made to appear like a different material, for instance — something that creates an impression that goes beyond itself. I get excited when a sculpture appears simple or decisive in some way, while being difficult to add up. Minimalism often worked to achieve a kind of wholeness that I sympathize with, and at the same time I try to complicate that.
CP: Do you worry about scale at all?
RB: There are current tendencies toward the non-monumental I can identify with, though I don't feel especially constrained by them. Right now I am making generally smaller work that enters painting dialogue and exists in a somewhat more intimate individual space. I like to think someone can enter into a piece and follow me when they are presented with what happened as much or more than they would if they were confronted by something especially sizable.

What a minimalist approach does for me is increase my focus on small moves and their potential significance. Of the few elements I do bring together in the work, however, I like them to play against each other subtly rather then be simply aiming toward the same whole.
CP: Do have expectations for what a work of art should do? Where do those come from?
RB: Minimalism turned over a lot of fundamental things about what constitutes a work of art. Is it supposed to absorb or repel a viewer? Be autonomous or relative to its environment? Instantaneous or durational? However I answer those kinds of questions now, thinking about Minimalism has made an indelible mark on the way I approach my work even if only in the kinds of questions I ask of it.
CP: You work in other mediums as well, which require their own strategies…
RB: 

I like the term "strategy", which implies a consideration of means to an end. I like to try different things out. Hans Haacke's "project based" approach comes to mind. But I also have a thing for the ineffable surprises to be found in the arrangements of an artist like Richard Tuttle and how he can burrow in on an investigation through as series of objects. When it comes down to it, though, I actually think in a very physical and experiential way about what I do and source things from experimentation and a process of discovery. I remember Terry Myers telling me of his impression that I was "tinkering" around in the best possible sense. That sticks with me.


CP: You have  series of line drawings on plywood where you reproduce wood grain. Where did that body of work came from?
RB: So with the drawings on plywood panel, I wanted to see what would happen if I took a few elements, thoughts and actions and wove them together. Plywood is interesting as a kind of hybrid, something natural that has been made artificially stable through geometry and chemistry, like a prepared and preserved food. And yet it has this natural wood grain. I thought the most direct approach would be to have a square of the material, and to work within the boundaries of that space by drawing something equally basic — a series of lines from edge to edge. The lines get very complex when you draw enough of them next to each other freehand. I could have predicted the moire pattern, and I chose a color that was a really good not-quite-match for the Baltic Birch, hoping it would "sink" into the wood visually. But it turned out even better than I imagined, judging by the way you read the lines as virtual wood grain.
CP: Do you feel, regardless of medium, that your work addresses related themes? Is that important to you?
RB: Yes. A culturally situated identity or a logically constrained action are important touchstones, for example. Mediated marks, subsumed images and ruptured natures are important, such as in the plywood drawings or a fully representational, painted sky scape I separated onto multiple panels and turned sideways to transform into a minimal color grade. I always try to confuse and mix these things. In all of it I hope a little bit of expression will sneak out from under a pile of process, enter through the back door of an algorithm, or emerge from a bunch of repetitive doing. On the subject of constrained identity, I've been thinking about and talking with a number of Chicago artists who may share some of my mixed cultural and racial background. The more time I spend on that the more I think there's something I have to find in that. Along those lines, choices like the use of Baltic Birch and African Mahogany plywood for my drawings resonate, given my 50/50 Northern European and African genetics. African Mahogany, I've discovered, also has something called chatoyancy which causes its color to  change appearance depending on the angle of view.
---
So this is it; the last entry of Thoughts from Across the Cultural Divide. It's appropriate that I'm writing it on a plane from New York to Milwaukee – that's where I wrote my first one and most of the ones in-between.
I boarded bent on finishing before landing in Milwaukee as a kind of ceremonial gesture, but I came down with a bit of writer's block. More like writer's diarrhea, really; I couldn't seem to reduce the last 26 entries into a succinct bite-sized wafer of truth fit to reflect what I've gleaned.
Fidgety, I reached into my pocket and pulled out a small piece of foil-covered hard candy and struggled over whether or not I should eat it.
I actually started unwrapping it, almost placing it on my tongue before rewrapping it and carefully putting it back in my pocket. The guy next to me must have thought I had a disorder. As I sat with the candy in my lapel pocket, I dwelled on this strange apprehension. Why did eating it feel so, well, unholy?
The candy in question was taken from a Felix Gonzalez Torres art piece, "Untitled (Portrait of Ross in L.A.)", from the Art Institute of Chicago, where I had taken a class on a field trip a few days prior. With my class in tow, I picked a couple pieces off the top of the pile, eliciting a hushed gasp from some onlookers. The security guard stood by stoically knowing very well the nature of the situation. Only after establishing that he was cool with the move did the rest of the visitors take their turn grabbing souvenirs. Did anyone get the wonderful metaphor? Did the sacredness of the context turn Torres's point into an object to be fetishized?
I explained the nature of the work to my students, how the dwindling supply of candy represented the fragility of existence and, specifically the disease that tragically took Torres's partner's life. They seemed moved, if still content to have a bit of insider material.
Only a week earlier I had gone to the Lutheran church in Cedarburg. I attended in spite of the fact that I'm not religious. My wife and her family have belonged to the church for years, and the pastor is surprisingly ecumenical. That day, when it came time to take communion, I hesitated. Somehow, watching from the back pews, faking my way through the Lord's Prayer and mouthing hymns I didn't know, seemed ok, but consuming a wafer and some wine that represented, or, depending on your level of devotion, actually WAS the body and blood of Christ, pushed it. But, still, I headed toward the altar.
His body tasted surprisingly bland; his blood vintage Franzia, and, though I didn't feel the prescribed transubstantiation, I did feel something more profound than indigestion.
This unexpected twinge reminded me of a piece by James Gleick that was in the "New York Time Magazine" a few years ago about the auction value of the Magna Carta. He describes a passage from Philip K. Dick's novel, "The Man in the High Tower", where two similar cigarette lighters are placed side-by-side, one owned by FDR and the other of no significance. One with 'historicity', the other without.
The narrator muses:
"Can you feel it? … You can't. You can't tell which is which. There's no 'mystical plasmic presence,' no 'aura' around it."
Or is there?
Though he doesn't invoke it specifically, Walter Benjamin's "The Work of Art in the Age of Mechanical Reproduction," seems to hover palpably over Gleick's analysis. Are there plasmic presences? Are there auras? No and yes. As Benjamin noted in the essay we all choked down in art school, auras are born from artifacts that derive power from ritual. And rituals require gangs of believers to endure. And most of us, wherever we locate ourselves geographically or metaphysically, happen to believe in something strongly enough to wring a little plasma from it.
So, Religion? Culture? Not so different from 38,000 feet above the earth. Both are terms ascribed to all those things we can't know for sure. And if you're familiar with Descartes, Montesquieu, Wittgenstein, Barthes, Derrida or even CNN, there's a LOT of things we don't and indeed can't know.
So what I've taken from 18 months of immersion in Wisconsin's more parochial precincts is that one person's "Light of Christ" might simply be another's frisson of energy evoked by a Richard Tuttle wire piece or a Donald Judd "Specific Object". Aren't we all looking for a little transcendence, never mind where we get it or what we decide to call it?
There's a lot of religion in a Tuttle and a lot of culture in a Lutheran pancake social.
It's funny when you can feel the antagonism about your remarks as soon as you utter them. Now is one of those moments. My friends are generally from the tribe that would side with the transcendence brought on by a great work of art, rather than a passage from the "Book of Job". Most of my acquaintances would probably claim that I'm making a false and probably dangerous distinction – the religious right influences politics, right? Indeed. They infringe on the civil rights of individuals because of a bunch of ghost stories in a book written millennia ago? Sure. They can't compromise because their truth is not based in reason, but in the supernatural, right? Sometimes.
But then again, I felt something like sacrilege eating a piece of candy that was only ever meant to be a metaphor. And it occurred inside the hallowed temple walls of an institution that kind of chooses to keep those metaphors hidden, and in turn, keeps their congregations beguiled and charmed, perpetuating the aura of the object. That institution has priests who anoint objects with quasi-spiritual value. They have groups that help to canonize object makers. Not as metaphor-makers but as spirits. They have rituals, liturgies and taboos. They have saints and they have sinners. They all contribute to creating cultural relics that are sold at auction for prices that dwarf that of the most sought after religious relics on earth.
So if it walks like a duck…
Felix Gonzales Torres might be my favorite artist in the world. And God or god or Donald Judd rest his soul, I don't think Mr. Torres ever wished for me to be spellbound by the aura of his art, only moved by the poetic truth it could impart by being an achingly wonderful metaphor for the sadness and confusion we all share in a world that overwhelms us.
So right now I will eat Felix Gonzalez Torres's candy as a metaphorical gesture recognizing the power of art over the supernatural and all that mystical plasma that charms us into thinking we have an answer of a higher power.
28 episodes of The Cultural Divide reduced to one wafer of truth.
Amen (ahem.)
---
If you've been reading my "Cultural Divide" contributions over the past several months, you've gathered that I go to great lengths to try to deliver evenhanded criticism. So much so that a few have accused me of being an apologist for everything from hunting to performance art. My on-the-one-hand-on-the-otherness isn't a righteous stance of journalistic integrity but rather a reflection of a sincere belief that the terms of cultural difference in America stem from very basic misunderstandings about the structural composition of various cultures, which if inventoried, might bridge the widening divide.
An example: Many of my culturally agnostic New York friends adamantly oppose organized religion, yet they remain open to the most phantasmatic, shamanistic, quasi-religious conceptualism in the high cultural milieu. A Lutheran service severely disturbs their enlightened senses of rational propriety, but they're more than happy to attempt the leap of faith needed to appreciate Richard Tuttle, Robert Wilson or Trisha Brown. Likewise, most of the parishioners at a Lutheran church in Wisconsin gladly throw their worldly faith behind a 2000 year-old fairy tale about a prophet conceived without intercourse, yet they walk into a contemporary art museum and feel a Duchampian readymade or a Specific Object by Donald Judd is part of a conspiracy dreamed up by cabals of elitist charlatans from Vassar trying to control their minds.
The two scenarios sound pretty similar to me.
The Lutheran church isn't as religious as many would have it.
The High Art world isn't as secular as many would have it.
Religion is culture. Culture is religion.
But none of that is my point. My point is that even though most of a particular culture's eccentricities or attitudes can be written off to relativity, some can't.
My wife told me last week that I came down a little hard on the tapas bar in northern Wisconsin that served jalapeno poppers and truffled popcorn. She said it was a little snotty of me and that in the process I tipped my hand a little. Sometimes a guy has to pass some judgment.
On the flip side, for the past week New York Public Radio has been running a series of commercials whose appalling arrogance makes me embarrassed to have participated in their pledge drive. It's the kind of navel-gazing, self-satisfied righteousness that turns people off to New Yorkers and their near monopoly on advanced culture. New Yorkers have taken the blind patronage by the rest of America for granted. Sold out Broadway theaters and stuffed contemporary art centers aren't a right, though. If New York dismisses everyone whose dinner conversations aren't about Philip Glass, people may stop making the trip. Instead of traveling to New York for its wealth of culture, they'll stay home and invent their own, spreading praise amongst themselves. Ever wonder why NASCAR is the most popular sport in America?
As a cultural producer I'm not ready to completely alienate the 20 percent of the country who hasn't defected to NASCAR and Captain America. We, at least I, need the 60 million Americans who might rather go to a Dodgers game, but still begrudgingly visit LACMA like a good boy eating his Brussels sprouts.
So here it goes: 15-yard penalty on New York Public Radio for Unnecessary Smugness.
(The spots are read by Stanley Tucci)
"There are people who need you to explain things to them. They don't understand about things like food co-ops and sleep deprivation in children."
"There are people who count on you to be witty, at least smart. They don't know what to think about Goldman Sachs or fracking in the Catskills. They expect you to tell them. And if you let them down, who knows what will happen to the world…or at least New York, which for some people is the world. You owe it to them to listen to WNYC all the time, so please don't do a half-assed job, that's not like you. WNYC. Never turn it off."
---
I posted about this little gem of a film a few weeks ago here; since then, I've had a chance to view "Herb and Dorothy" (directed by first-time filmmaker Megumi Sasaki) and just as I'd hoped, it's terrific. It's screening in Chicago this weekend at the Gene Siskel Film Center, so here's your chance to see it too. The film has already been widely reviewed; I don't have anything more to add other than to note that I particularly enjoyed the brief but sensitive observations about the New York contemporary art collectors Herb and Dorothy Vogel made by Richard Tuttle, an artist whom I've rarely seen interviewed on camera.  Quite simply, this is a film about what it takes to be a great collector: not tons of cash, not connections, not a prescient view of the market. It's about a way of looking at art, exemplified by Herb Vogel's manner of staring down an artwork with a look of ferocious, devoted intensity. Don't miss it.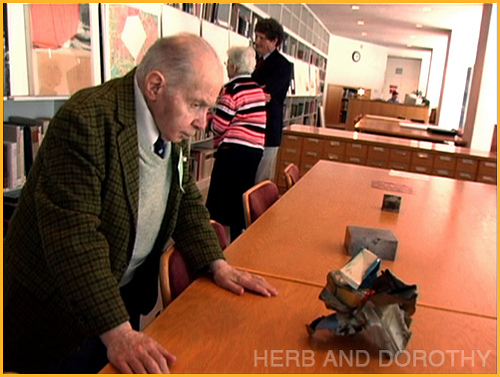 The film screens at the Gene Siskel Film Center on Friday, July 3rd at 6pm, Sunday, July 5 at 5:30pm and Tuesday July 7 at 6pm.
---