Audio clip: Adobe Flash Player (version 9 or above) is required to play this audio clip. Download the latest version here. You also need to have JavaScript enabled in your browser.

download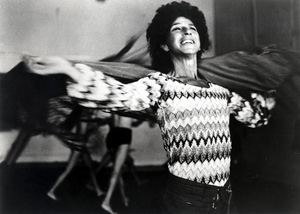 This week: San Francisco checks in with dance legend Anna Halprin!!!
Anna Halprin (b. 1920) is a pioneering dancer and choreographer of the post-modern dance movement. She founded the San Francisco Dancer's Workshop in 1955 as a center for movement training, artistic experimentation, and public participatory events open to the local community. Halprin has created 150 full-length dance theater works and is the recipient of numerous awards including the 1997 Samuel H. Scripps Award for Lifetime Achievement in Modern Dance from the American Dance Festival. Her students include Meredith Monk, Trisha Brown, Yvonne Rainer, Simone Forti, Ruth Emmerson, Sally Gross, and many others.
Printed Matter
Live Benefit Auction Event: March 9, 6-8:30 pm
Robert Rauschenberg Project Space
455 West 19th St, New York
www.paddle8.com/auctions/printedmatter
Printed Matter, Inc, the New York-based non-profit organization committed to the dissemination and appreciation of publications made by artists, will host a Benefit Auction and Selling Exhibition at the Rauschenberg Foundation Project Space to help mitigate damage caused by Hurricane Sandy.
As a result of the storm, Printed Matter experienced six feet of flooding to its basement storage and lost upwards of 9,000 books, hundreds of artworks and equipment. Printed Matter's Archive, which has been collected since the organization's founding in 1976 and serves as an important record of its history and the field of artists books as a whole, was also severely damaged. Moreover, the damage sustained by Sandy has made it clear that Printed Matter needs to undertake an urgent capacity-building effort to establish a durable foundation for its mission and services into the future.
This is the first fundraising initiative of this scale to be undertaken by the organization in many years, and will feature more than 120 works generously donated from artists and supporters of Printed Matter.
The Sandy Relief Benefit for Printed Matter will be held at the Rauschenberg Project Space in Chelsea and will run from February 28 through March 9th. The Benefit has two components: a selling exhibition of rare historical publications and other donated works and an Auction of donated artworks.
A special preview and reception will be held February 28th, 6-8 pm, to mark the unveiling of all 120 works and to thank the participating artists and donors. The opening will feature a solo performance by cellist Julia Kent (Antony and the Johnsons), followed by a shared DJ set from Lizzi Bougatsos (Gang Gang Dance) & Kyp Malone (TV on the Radio). The event is free and open to the public.
All works will then be available for viewing at the Rauschenberg Project Space March 1 – March 9, gallery hours.
All Selling Exhibition works may be purchased during this period and Auction works will be available for bidding online. Bids can be made at www.paddle8.com/auctions/printedmatter.
A live Benefit Auction Event will take place March 9, 6-8:30 pm with approximately 20 selected works to be auctioned in a live format. Bidding on these works will commence at 7pm sharp, while silent bids can be made on all other Auction works. Note, highest online bids will be transferred to the room. For absentee bidding of works, please contact Keith Gray (Printed Matter) at 212 925 0325 or keith@printedmatter.org. The evening will feature a performance by Alex Waterman on solo cello with electronics. Admission is $150 and tickets may be pre-purchased here. There will be only limited capacity.
Highlighted auction works include an oversize ektacolor photograph from Richard Prince, a woven canvas piece from Tauba Auerbach, an acrylic and newsprint work from Rirkrit Tiravanija, a large-scale Canopy painting from Fredrik Værslev, a rare dye transfer print from Zoe Leonard, a light box by Alfredo Jaar, a book painting by Paul Chan, a carbon on paper work from Frances Stark, a seven-panel plexi-work with spraypainted newsprint from Kerstin Brätsch, a C-print from Hans Haacke, a firefly drawing from Philippe Parreno, a mixed-media NASA wall-piece from Tom Sachs, a unique print from Rachel Harrison, a vintage xerox poem from Carl Andre, an encyclopedia set of hand-made books from Josh Smith, a photograph from Klara Liden, a table-top sculpture from Carol Bove, Ed Ruscha's Rooftops Portfolio, as well as original works on canvas and linen by Cecily Brown, Cheyney Thompson, Dan Colen, Adam McEwen, RH Quaytman, and many others.
These Auction works can be previewed at:Â www.paddle8.com/auctions/printedmatter
In addition to auction works, a vitrine-based exhibition of rare books, artworks and ephemera are available for viewing and purchase. This material includes some truly remarkable items from the personal collection of Robert Rauschenberg, donated by theRobert Rauschenberg Foundation in memory of the late Printed Matter Board Member, bookseller and publisher, John McWhinnie. Among the works available are books and artworks from Marcel Duchamp, Willem de Kooning, Alfred Steiglitz,Joseph Beuys, Brigid Berlin (Polk), as well as a Claes Oldenburg sculpture, a rare William Burroughs manuscript, and the Anthology Film Archive Portfolio (1982). Additional artists' books have been generously donated by the Sol LeWitt Estate. Works include pristine copies of Autobiography (1980), Four Basic Kinds of Straight Lines (1969), Incomplete Open Cubes (1974), and others. Three Star Books have kindly donated a deluxe set of their Maurizio Cattelan book edition. These works can be viewed and purchased at the space. For inquiries about available works please contact Printed Matter's Associate Director Max Schumann at 212 925 0325 or mschumann@printedmatter.org.
Co-chairs Ethan Wagner & Thea Westreich Wagner and Phil Aarons & Shelley Fox Aarons have guided the event, and Thea Westreich Art Advisory Services has generously lent its expertise and assisted in the production of the auction.
In anticipation of the event Printed Matter Executive Director James Jenkin said:
"Not only are we hopeful that this event will help us to put Sandy firmly behind us, it is incredibly special for us. To have so many artists and friends associated with our organization over its 36 years come forward and support us in this effort has been truly humbling."
Auction includes work by:Â 
Michele Abeles, Ricci Albenda, Carl Andre, Cory Arcangel, Assume Vivid Astro Focus, Tauba Auerbach, Trisha Baga, John Baldessari, Sebastian Black, Mark Borthwick, Carol Bove, Kerstin Brätsch, Sascha Braunig, Olaf Breuning, Cecily Brown, Sophie Calle, Robin Cameron, Sean Joseph Patrick Carney, Nathan Carter, Paul Chan, Dan Colen, David Kennedy Cutler, Liz Deschenes, Mark Dion, Shannon Ebner, Edie Fake, Matias Faldbakken, Dan Graham, Robert Greene, Hans Haacke, Marc Handelman, Rachel Harrison, Jesse Hlebo, Carsten Höller, David Horvitz, Marc Hundley, Alfredo Jaar, Chris Johanson, Terence Koh, Joseph Kosuth, Louise Lawler, Pierre Le Hors, Leigh Ledare, Zoe Leonard, Sam Lewitt, Klara Liden, Peter Liversidge, Charles Long, Mary Lum, Noah Lyon, McDermott & McGough, Adam McEwen, Ryan McNamara, Christian Marclay, Ari Marcopoulos, Gordon Matta-Clark, Wes Mills, Jonathan Monk, Rick Myers, Laurel Nakadate, Olaf Nicolai, Adam O'Reilly, Philippe Parreno, Jack Pierson, Richard Prince, RH Quaytman, Eileen Quinlan, Sara Greenberger Rafferty, Ed Ruscha, Tom Sachs, David Sandlin, Paul Mpagi Sepuya, Cindy Sherman, Josh Smith, Keith Smith, Buzz Spector, Frances Stark, Emily Sundblad, Andrew Sutherland, Peter Sutherland, Sarah Sze, Panayiotis Terzis, Cheyney Thompson, Rirkrit Tiravanija, Nicola Tyson, Penelope Umbrico, Fredrik Værslev, Visitor, Danh Vo, Dan Walsh and Ofer Wolberger.
---
In the fall of 1985, when I read that Yankees outfielder Dave Winfield was going to sign autographs at a Long Island Hilton, I decided I would execute the most exactingly perfect Ticonderoga No 2-on-paper portrait of him that had ever been produced. I had the paper and the pencils, but was forced to buy packs of baseball cards to find an image of him. I went through a month's-worth of allowance before I finally found the card in a Topps wax pack. Over the next four nights I completed what I still consider my masterpiece. And if you doubt its quality, I'll have you know Mr. Winfield himself told me it was "astounding" when he signed it on a Saturday morning in November 1985. That cultural treasure has hung in my father's office for more than 20 years.
Last Tuesday, I was wondering what a mature Bot Fly looked like. I Googled it, and in 15 seconds I knew. And what blood fluke, hook worms and intestinal amoebas looked like. All collateral infections from my search, these organisms now freeload in my visual memory like actual parasites might in my gut.
Twenty-seven years ago I couldn't locate a picture of a celebrity for the better part of a week and today I can pull up twenty thousand of an obscure protozoan or a flesh eating fly in a few seconds.
When I sketched Dave Winfield at my family's kitchen table two-and-a-half decades ago, the tide of cultural criticism about the information age had already crested: Jean Baudrillard's "Hyper-Realism of Simulation," Hal Foster's "Subversive Signs" and "Learning from Las Vegas," were all in the ether. And the work of the artists of the "Pictures Generation"—Sherrie Levine, Cindy Sherman, Sarah Charlesworth, Richard Prince, et al.—were all established and hanging in Eugene and Barbara Schwartz's living room.
After reading about worms that would enjoy living in my digestive tract, I revisited a little of Fredric Jameson's "Cultural Logic of Late Capitalism". It was the bit about Van Gogh's peasant boots versus Warhol's diamond dust shoes. It's amazing how prescient he and the others were about imagery, media and accelerated culture. It seems as if they felt the Internet waiting to split civilization at the seams. But, in much the same way the overdetermined, everything-will-be-made-of-aluminum pulp science fiction of the 1950's, the look-and-feel of those "Pictures" artists, and the accompanying media theories, expired before the more substantial part of the message was absorbed.
Now, as hyper-reality prevails in earnest, and all the futuristic amenities predicted in the Jetsons, save for household robots, arrive, we seem to have normalized and adapted to the vertigo of image overload.
Finding an photo of Dave Winfield was half the battle for an artist in 1985. Now the finding is meaningless and the editing is primary. Some consider this condition visual emancipation, but in time most will see it as visual paralysis, a massive amoebic whole leaching the power of helpless individual pictures.
Without trying I can name artists who make images whose content is sourced from diseased organs to supernovae to shopping carts to movie star pets to NASCAR crashes. I saw a collage recently that featured images of emus, James Taylor, Hubble telescopes, Sesame Street characters and gyrating porn stars, and still it hit me softer than the shimmering highlights on the evening gown of one of Sargent's ladies. I can yawn in front a Ryan Trecartin…which proves his point and his value as a cultural commentator. The frisson once evoked by the uncanny juxtapositions enacted by Kurt Schwitters or James Rosenquist have been neutralized by the white noise tidal wave of the internet and the spigot that is the search engine.
This condition makes Richard Prince's cowboys and Sherrie Levine's Edward Westons look extra profound to me in 2012, and forces me to consider if society is capable of putting good commentary to use, or if even at its best, well-aimed cultural criticism will be processed as good taste. It also makes me look at my Dave Winfield and wonder if my children will ever know what it's like to thumb through a pack of baseball cards one by one, reading each image, recording every graphic detail with butterflies in their stomach. My guess is that the orgiastic charge that coursed through me when his card appeared in that pack had something to do with the mystery of limitation and the magic of scarcity.
Someone once said with knowledge goes magic, and with magic goes knowledge. I think I know a place where where that scarcity and limits still exist. To be continued…
---
As Paul McCartney played "Paperback Writer" during his concerts at Wrigley Field this past July, details from Richard Prince's nurse paintings flashed behind him on stage four stories high. I was confused.
For a concert with tens of thousands in attendance, the connection is subtle. The images in Prince's nurse paintings come from pulpy dime-store paperback novels and the song is, of course, about a writer of paperbacks. If—after years studying contemporary art and much longer as a Beatles fan—the connection was lost on me, I'd guess it was lost on much of the audience as well. If it was lost, it didn't seem to matter much. The Baby Boomers around me still bopped along. We can only assume that Paul, or maybe the tour's art director, got a little kick out of the embellishment.
Either way, juxtapositions like this are nothing new in McCartney's career. He's been nuzzling up to contemporary art since at least the mid sixties. He has both collaborated with visual artists and produced artwork himself. Many of these associations are chronicled in Ian Peel's 2002 book The Unknown Paul McCartney: McCartney and the Avant-Garde. He's made albums of concrete music and masqueraded under pseudonyms. In 1977, a conductor named Percy "Thrills" Thrillington released the album Thrillington, an orchestral version of McCartney's 1971 solo album Ram.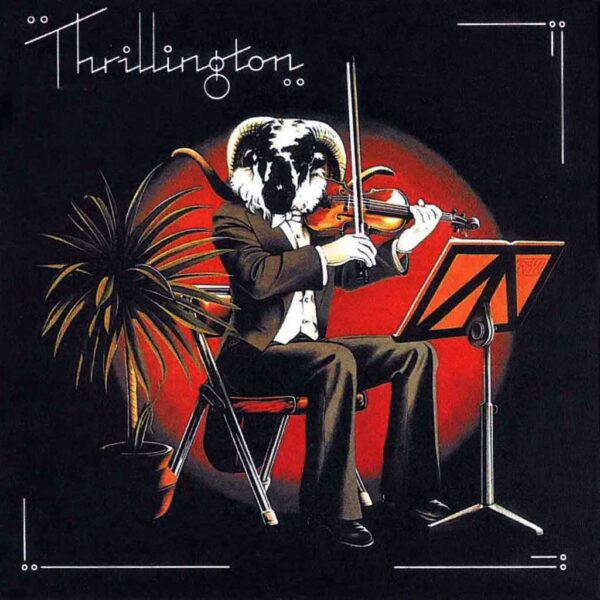 Prior to its release, Thrillington took out announcements in the society pages of English newspapers that seem as much like Fluxus provocations as buzz marketing. These snippets mention the album, but also describe Thrillington's whimsical adventures in high society, including highlights from a ski trip in Switzerland. The album's provenance remained mysterious even though the back cover shows McCartney reflected in the studio glass. No one could say for sure that Paul was behind it. It wasn't until 1989 that McCartney revealed it had been him all along. He'd produced the album a month after Ram's release. With wife Linda McCartney, he wrote the ads for the society pages as a lark. Old copies of Thrillington immediately tripled in value.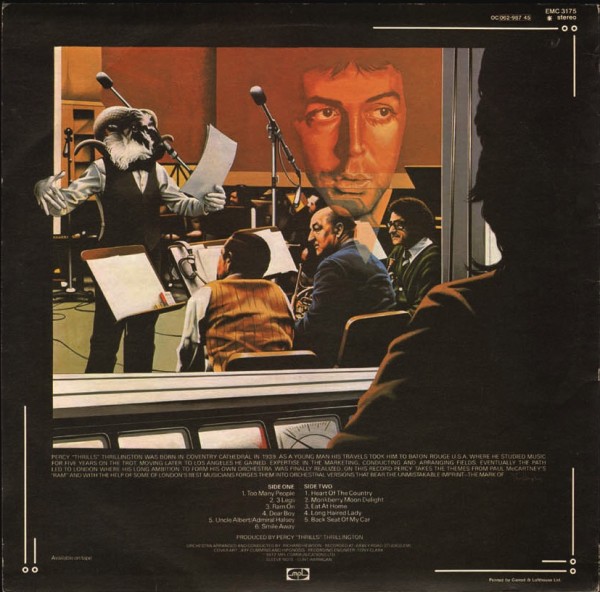 McCartney's art gestures will attract attention from people whether the work merits it or not. He is, after all, a millionaire, one of the most recongnizable human beings alive, and a knight of the British Empire. But there are also instances where McCartney has collaborated with artists directly, and the interest the work generates does not derive primarily from his celebrity. For example, he enlisted his friend, the artist Richard Hamilton, to design the sleeve for The Beatles' 1968 self-titled album, better known today as The White Album.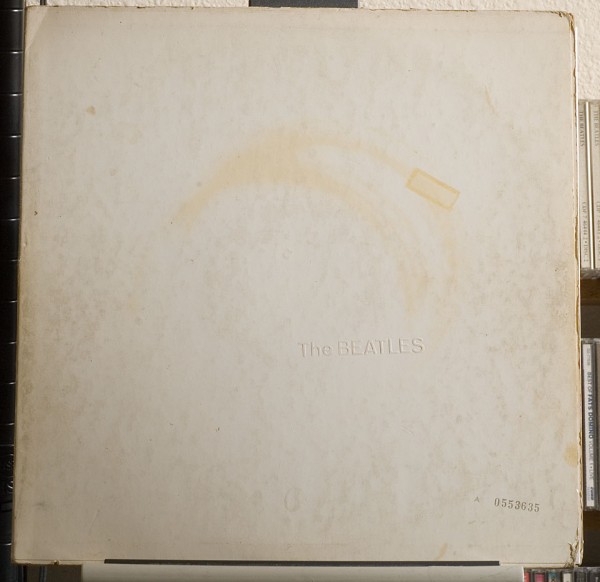 Think about that for a moment—because of an artist's design, we refer to an album by the biggest band in the history of the world by the way it looks rather than what the band named it. What's more, the design itself apes the aesthetics of conceptual and minimalist art emerging at the time. "The Beatles," the only words on the album's front, are not printed but are simply embossed into the object itself. Sleeves were manufactured with seemingly unique serial numbers. By some estimates, there are over three million copies. Especially now that seriality has been recognized by art historians as a primary concern of late sixties artworks, Hamilton's serial edition of three million spread in homes, record stores, and radio stations across the world comes off as a prescient joke on a massive scale.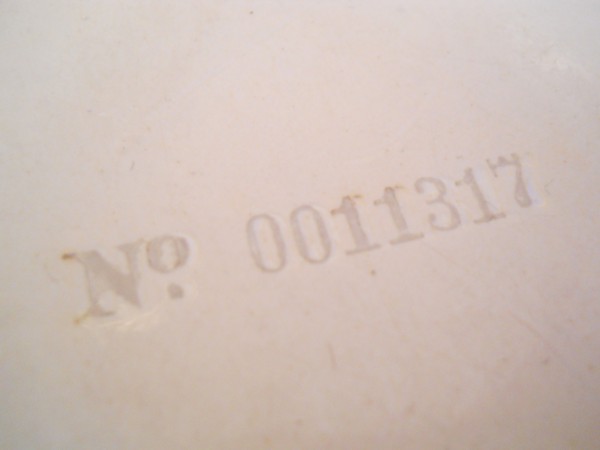 As an artist, Hamilton brought more than simple imagery to the album jacket. Visual artists' work had appeared on album jackets before The White Album and continues to do so today. Hamilton's design focuses attention on both the album's construction process and the circulation of the album itself. It makes us acknowledge the album's birthplace in a factory, printed plainly and efficiently and stamped finished with a serial number. The serial number also makes tacit the existence of all the other Beatlemaniacs out there. We're both the owner of a unique artifact ("No. 0382937 is all mine!") and an object that's come off the assembly line. What you make of this contradiction built into the album's design depends on your point-of-view. It could just as easily be a perverse illustration of commodity fetishism as a light-hearted prank meant to give fans a laugh. It's easy to think of the legions of Beatles fans as simpletons who could swallow the inscrutability of The White Album because their devotion to the group was forged during the mop-top years. But to know the real truth of that assumption, you'd have to interview a lot of Beatles fans. Meanwhile, it's safe to say that the group never let any presumptions about their fanbase's intelligence or sophistication get in the way of unconventional aesthetic maneuvers. The cover is a white canvas to project on anyway, the possible interpretations as numerous as the copies in circulation: it's an aesthetic retreat from the Pop art cover of Sgt. Pepper's released the previous year, an absurdist quantitative measurement of the world's Beatles fans, and a comic skewering of the concept of originality in art.
I am a fan of the austere gestures of conceptual art as well as the sophisticated humor of popular music. Historically both sides, although not without exceptions, have tended to avoid the contamination of the other. Side A thinks Side B is poisoned by the market. Side B thinks Side A is willfully pretentious. With this stand-off the status-quo, the occasions of overlap are jarring. When Richard Prince's paintings appeared fifty feet high on screen at Wrigley Field, I was jolted. I thought I'd come to the concert as a McCartney fan, not as someone trained to recognize an artist's work from memory. But my knowledge of Prince's work and my reserve of Beatles trivia reside in the same brain, maybe they even share neurons. The same goes for my understanding of early conceptual art and the story behind The White Album. Both emerged at the same time in like places involving similar people. It would be silly to pretend that they didn't share some common stock. At least in this case, the less boundaries I have between professional interest and private enthusiasm, the more I might see where the two fields overlap and, consequently, enrich my understanding of the instances where open-minded cross-pollinatation has produced curious hybrids that exist in the world without much concern for what club they belong to.
---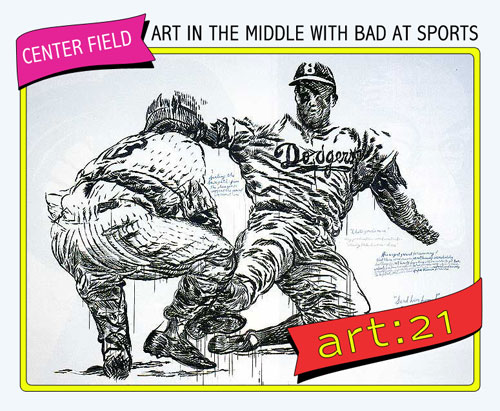 The latest episode of Fielding Practice, our monthly podcast for Art:21 blog, is now live! In this month's leaner & meaner report from Chicago, Duncan MacKenzie, Dan Gunn and I talk copyright (inspired by Patrick Carious vs. Richard Prince and Gagosian Gallery, natch), discuss the impact of Chicago Imagists on younger generations of artists (re: the current Jim Nutt: Coming Into Character and Seeing Is A Kind of Thinking: a Jim Nutt Companion exhibitions at the Museum of Contemporary Art Chicago), and spend a few moments plugging that which we have seen (or plan to see) in the Windy City this month. So click on over to Art:21 to access the podcast, and thanks so much for listening!
---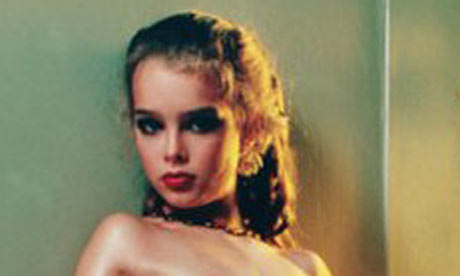 Photographer Richard Prince's photo "Spiritual America" was removed from the upcoming Tate Modern exhibition "Pop Life" (opening tomorrow) after a warning from Scotland Yard that the nude image of actress Brooke Shields aged 10 and heavily made up could break obscenity laws.
The officers spoke to the Tate after seeing promotional material in the newspaper and not via complaints that were issued to the office.
Read more about the history of the photo and it's background at the Guardian article.
---