By Kevin Blake
Chicago Imagism represents something more complex than a published manifesto, an aesthetic engagement, or a theoretician's aim at creating an avant-garde. One might argue that Chicago Imagism, an internationally recognized movement with roots in the late 1960's and early 1970's, is still alive and well in the second city. On his 90th birthday on January 26, 2014, Richard Loving explained to a rapt audience at the Hyde Park Art Center, that his work–like the work of other "Imagists"–were simply about making the work that they wanted to make.
In their current exhibit, Inside the Outside at the Hyde Park Art Center curated by Aaron Ott, Richard Loving and Eleanor Spiess-Ferris's works on display span two careers that aptly describe the very complicated historicity of the Chicago Imagist movement. Inside the Outside is a critical investigation of the ambiguous framework of Chicago Imagism and how these two very different artists bound geographically but also aesthetically chose to utilize its tenets to spur their artistic visions.
The works are hung chronologically–a relatable choreography that adequately stresses the aesthetic distances traveled and the hard earned merits of two lives of artistic engagement. In relation to the Imagists' aesthetic–high key color strategies, figuration, symbology, and text to name a few–these works can fit the bill. However, the distinction as Imagist work may also deprive them of the singular translation they so deserve.
Spiess-Ferris and Loving's works are clearly about themselves. Throughout the show, there is an overwhelming sense of self discovery or exhibitionism that develops into a confident vernacular that is uniquely their own. In Loving's case, this idea takes the shape of a materials quest, that over decades evolves from small enamel works that become large format abstractions and matriculate to color drenched dreamscapes that embody the entire narrative. They are Loving's accumulated wealth of knowledge with his materials, and a pointed emulsion of his interests.  Loving's work "Fire and Smoke" is one such amalgamation.
Hovering above the very unnatural bands of lush color is a curved horizon that encloses the space of the painting and alludes to an inevitable ending–a forced punctuation. This curvilinear maneuver has become a staple in Loving's later works and allow for the landscapes to remain in the netherworld of abstraction while maintaining the graphic qualities central to the Imagist aesthetic. Loving's narratives are not forthcoming, but they reveal enough of itself to spend time with their mysteries. The paintings can operate as storyteller or simply as an object of contemplation, and therein lies their success.
On the surface, the narrative elements seem to be more readily available in such works as Spiess-Ferris's "Resignation," where the viewer is immediately immersed into a parallel universe that is completely her own. The cast of characters is the entry point–as there is a familiarity that grows from one piece to the next. Everything in Speiss-Ferris's paintings is as familiar as the paint itself, yet there are no answers to her riddles either. The paintings allow you to meander through them, but never actually be a part of the place–it is her singular experience of a world in which the viewer has no role. It is in the moments of expectations unmeant that the viewer can understand their exclusion. "Resignation," exudes Speiss-Ferris's anguished charm while allowing for self discovery through her range of emblematic totems that find their way into her imagined worlds.
The show also presents some of Speiss-Ferris's drawings where one can see the artist looking at her creations from without, while also participating in the ironies and chagrin of human awareness. In "Acquisition" the sketched portions of the drawing remain as portals into her studio–a nod to herself and remnant of her hand.
This elusiveness and earnest approach to her materials has kept Spiess-Ferris on the periphery of Imagism. Her work is an acidly good-natured view of human follies, largely concerned with the roles and relations between women and nature. She presents the human comedy through her imagined places that are often absurd, charming, hostile, seductive, and ridiculous. Charged with strong doses of painfully comic self-discovery, her host of symbols, images, and characters all play theatrical roles in the ongoing comedy that is a perpetual remix of itself.
The affinity to nature, the paint handling, geography, and the parallel working timeline are enough to link these two artists, but the strength in this show comes from both artist's unflinching dedication to their practices. Decades in the making, their works have evolved and remained on the edges of a discussion that Chicago painters cannot seem to avoid. Imagism is the staple, the running joke, the license, and liberator for Chicago painters. It is the all-encompassing genre most aptly described by Richard Loving as "just making what we wanted to make."
To pair these two artists in a conversation about the reaches of Imagism was to operate on the periphery–to think outside the proverbial box. As the Hyde Park Art Center enters into its 75th anniversary year, a show to kick off the celebration that commemorates a pivotal moment in the center's history as well as the history of Chicago image making was a grandiose gesture, most welcome.
---
A historical piece which points towards exceptional moments observed directly by the writer, in Chicago, over the course of the previous calendar year. Alternative, NFP, and commercial galleries, as well as art centers, museums, and public spaces, were visited more-or-less regularly, according to the nature of their programming. All artwork copyright original artists; all photography copyright Paul Germanos.
---
Per convention,
"best of" lists and "year in review" articles are released late in December. And critics have tended to follow in lockstep. Yet such a schedule might be a cause for concern when one considers how little time in reflection is afforded the author of any such piece.
That said, it's the original scope of the critic's experience, and not the amount of time spent in reflection upon that experience, which is the greater issue in most cases. Readers have good reason to wonder about art writers: How much did he or she see in the first place? And what does it mean to be placed in a "top ten" list by a person who might have attended only ten events?
Of course, with regard to the utility of press, the writing itself counts for little; it's a publication's masthead and associated social connectivity which are really crucial. For whether the subject is artwork or the publicity related to it, heavily invested dealers, artists, directors, et al, labor to get the right bits in the right places, till the overall picture looks good–much like jigsaw puzzle work. The gaming of interpersonal relationships is, after all, the chief modality of the art world.
Let's try something different!
(1) Best Artist's Talk: "Andre Butzer @ Cochrane-Woods Art Center"

Forgoing the pretense of a rational narrative, German painter Butzer dryly delivered pre-Socratic fragments–first in his native language and then in English–alongside projections of his artwork. The audio and visual elements in combination, amounting to a performance, were, in fact, stronger than his show which followed at Rhona Hoffman Gallery.
Butzer became moderately excited when, after the lecture, I presented him with a question about Nietzsche.
6:30 PM, January 25, 2012
Cochrane-Woods Art Center, Room 157
(adjacent to the The Smart Museum)
University of Chicago
5540 S. Greenwood Ave.
Chicago, IL 60637
Runner-up: Karsten Lund's performance piece in Peregrine Program.
(2) Best Gallery Opening: "Short Court: Tropical Aesthletics @ ANTENA"


Above: Jake Myers at left, in glasses, on the court in ANTENA.

Curated by Jake Myers and Chris Smith, a/k/a "Tag Team," and featuring 19 artists (Adam Farcus, Adam Grossi, Alberto Aguilar, Alex Bradley Cohen, Angeline Evans, Brian Wadford, Caroline Carlsmith, Cory Glick, Edra Soto, EC Brown, Irene Perez, Jeriah Hildwine, Jim Papadopoulos, Kevin Jennings, Nicole Northway, Pamela Fraser, Philip von Zweck, Thad Kellstadt, and Vincent Dermody) "Short Court: Tropical Aesthletics" was dominated by Jake Myers' own performance in the center of the gallery.
There, Myers and company (including two professional players) offered to "take on all comers" in a high-spirited volleyball match. The boisterous physical competition which ensued was entirely contrary to the quiet struggle for rank which is usually present, if unseen, at such affairs. This was good. It's yet unclear to what degree Myers' work is ironic.
February 10 – March 10, 2012
ANTENA
1765 S. Laflin St.
Chicago IL 60608
(3) Best Art Writing: "Hamza Walker for The Renaissance Society"

With regard to the consistency and volume of his production, Hamza Walker has been exemplary: Every exhibition at The Renaissance Society is accompanied by a broadsheet containing one of Walker's companion essays. Curiously, these essays usually go nowhere. Are they not read? not understood? not thought to be of any value? Sunday attendance at The Ren is too often like unto church: orderly, solemn, performed for fear of damnation, and forgotten on Monday.
(Ongoing)
The Renaissance Society
Bergman Gallery
Cobb Hall, Room 418
University of Chicago
5811 S. Ellis Ave.
Chicago, IL 60637
Runner-up: Jason Foumberg, skyrocketing in 2013.
(4) Greatest Spectacle and Drama: "NON GRATA 'Force Majeure' @ New Capital"

The Estonian performance collective NON GRATA staged the destruction of an American-made sedan on the grounds of New Capital: outdoors, late-winter, encouraging audience participation in the act. No fig leaf of sport covered the aggression here; this was a naked, public display of violence hitherto latent in the community. And it was possible to read the event as a sort of response to the call made by Butzer a little over one month earlier.
7:00 PM, March 4, 2012
Hosted by:
Defibrillator Gallery
1136 N. Milwaukee Ave.
Chicago, IL
Co-hosted by:
New Capital
3114 W. Carroll
Chicago, IL 60612
Runner-up: Unsolicited letters from Wesley Kimler.
(5) Most Noteworthy Young or "Emerging" Artists: Sarah and Joseph Belknap, Tyler Blackwell, Robert Chase Heishman, Sofia Leiby, Jake Myers, Meg Noe, Danielle Rosen, Joseph Rynkiewicz, Etta Sandry, Vincent Uribe, and Nikki Werner.
Over the course of the previous year, some memorable artwork, conversation, or public engagement was initiated by each the people listed above. Further, as a result of the good attendance at gallery openings and other events which most displayed, their names were easy to learn and remember.
(6) Best Museum Show: "The Language of Less (Then and Now) @ MCA Chicago"


Above: Dan Flavin: Untitled (for you, Leo, in long respect and affection) 3, 1978; John McCracken: Untitled, 1967.


Above: Carl Andre: Zinc-Lead Plain, 1969; Donald Judd: Untitled, 1970.
Curated by Michael Darling, the "Dimensions of Space" gallery within "The Language of Less (Then and Now)" exhibition wasn't novel, or exciting, in the conventional sense. Rather, the thing had the appearance of being the logical conclusion of a long meditation upon the fundamental unit, or building block, of the works included, viz., the square. And this formal vocabulary hasn't disappeared. For example, in "Binary Lore," the most recent show local NFP threewalls, Edie Fake recalled Carl Andre.
Closed on April 15 , 2012
MCA Chicago
220 E. Chicago Avenue (MVDR Drive)
Chicago IL 60611
(7) Best Museum Opening: "Feast: Radical Hospitality in Contemporary Art"


Above: Michael Rakowitz' Enemy Kitchen, opening night.


Above: Sonja Alhäuser's butter buffet billy goat, opening night.
The Smart has made an effort to push its programming outward: into its lobby and courtyard. That physical movement runs parallel to the community engagement which has been a major thematic concern of several recent exhibitions. "Feast" wasn't solely a remembrance of the past by means of a presentation of artifacts; rather, "Feast" was a new sort of moment, available to be experienced via the socialization which was possible at its opening reception.
February 16 – June 10, 2012
Smart Museum of Art
University of Chicago
5550 S. Greenwood Avenue
Chicago, IL 60637
Curated by Stephanie Smith
Artists: Marina Abramovic and Ulay, Sonja Alhäuser, Mary Ellen Carroll, Fallen Fruit, Theaster Gates, Felix Gonzalez-Torres, InCUBATE, The Italian Futurists, Mella Jaarsma, Alison Knowles, Suzanne Lacy, Lee Mingwei, Laura Letinsky, Tom Marioni, Gordon Matta-Clark, Mildred's Lane, Julio César Morales and Max La Rivière-Hedrick, motiroti, National Bitter Melon Council, Ana Prvacki, Sudsiri Pui-Ock, Michael Rakowitz, Ayman Ramadan, Red76, David Robbins, Allen Ruppersberg, Bonnie Sherk, Barbara T. Smith, Daniel Spoerri, Rirkrit Tiravanija, and others.
(8) Best Performance: "Mikey McParlane @ Defibrillator"

Mikey McParlane's performance on April 1, 2012, was really something special. Relevant to contemporary gender issues (whether I'm able to tease-out any deeper meaning) McParlane presented ambiguously in the guise of a harlequin. Here, the choreography, costume, makeup, audio and lighting came together perfectly. It was weird and beautiful.
April 1, 2012
"Second Annual Lyp Sinc Show"
Defibrillator
1136 N. Milwaukee Ave.
Chicago, IL 60642
Performances by: Happy Collaborationists, Ben Foch, Sasha Hodges, Mikey McParlane, Sofia Moreno, Jillian Soto, Courtney Macandanz, Rosé Hernandez, Robin Deacon, Taisha Paggett, Jake Myers, Sharon Lanza, Monica Panzarino
Runner-up: Edyta Stepien & Ayako Kato @ Chicago Art Department
(9) Best Installation – "Jacob Hashimoto @ Rhona Hoffman"

Hashimoto's work was interesting in its own right. But, too, quite literally depending upon fiber, it recalled gallery artist Anne Wilson's past treatments of the space, and prefigured Fred Sandback's recent showing there as well. Politics aside, it's rare for a dealer (here) to survive long enough for such a formal thread to become evident–running through a succession of shows. Hashimoto was polite and professional, and he didn't need to be so.
September 14 – October 20, 2012
"Super-elastic collisions (origins, and distant derivations)"
Rhona Hoffman Gallery
118 N. Peoria St.
Chicago, IL 60607
Runner-up: "Lane/Sirianni" @ New Capital
(10) Greatest Wasted Potential: "Color Jam @ Chicago Loop Alliance"

76,000-square-feet of colored vinyl, with a 500,000 USD budget, whose real cost was the good will of its patrons.
June 5 – September 30, 2012
The Chicago Loop Alliance's "Color Jam" by Jessica Stockholder
State Street and Adams Street
Chicago, IL
Runner-up: "De-mystifying the Art Critic @ Chicago Artists' Coalition"
(11) Best Residency: "ACRE Projects"

Insofar as a tangible return on investment is concerned, ACRE stands head-and-shoulders above it's peers. Whether related to the residency, the sheer number of shows produced by ACRE has transformed the landscape of the Chicago art world.
(Ongoing)
ACRE Projects
Home office:
1913 W. 17th Street, 1F
Chicago, IL, 60608
Residency:
Steuben, Wisconsin
(12) Greatest Misses by Chicago's Critics: "Noelle Mason @ Thomas Robertello Gallery" and "Sheree Hovsepian @ moniquemeloche"


Above: Artist Noelle Mason explains the process by which the satellite-mapped US/Mexican border city "bird's eye perspective" textile in the foreground was fabricated; pinhole camera prints documenting her substantial skydiving experience are mounted on the wall in the background.


Above: Sheree Hovsepian with her artwork.
We all wonder why some shows receive press while others do not. Mason and Hovsepian "did everything right," and yet received scant critical attention.
Noelle Mason
"Blue Skies/Black Death"
September 7 – November 3, 2012
Thomas Robertello Gallery
27 N. Morgan
Chicago, IL 60607
Sheree Hovsepian
"Haptic Wonders"
February 4 – March 24, 2012
moniquemeloche gallery
2154 W. Division (@ Leavitt)
Chicago, IL 60622
(13) Best Painting: "Melissa Oresky @ Hyde Park Art Center" and "Davis/Langlois in Re:Chicago @ DePaul Art Museum"


Above: Melissa Oresky


Above: Robert Davis and Michael Langlois
These two (three) were interesting for the same reason: brush or roller "strokes" were applied directly to the walls of the exhibition site. "Painting," here, was no longer wholly a commodity but rather also a temporary transformation of the venue itself.
Melissa Oresky
"Trail"
May 6 – August 19, 2012
Hyde Park Art Center
5020 S. Cornell Avenue
Chicago, IL 60615
Robert Davis and Michael Langlois
"Living the Dream" in "Re: Chicago"
September 16 – March 4, 2012
DePaul Art Museum
935 W. Fullerton
Chicago, IL 60614
(14) Best Photography: "Dawoud Bey @ The Renaissance Society" and "Sade Kahra @ threewalls"


Above: Dawoud Bey


Above: Sade Kahra
Bey was exactly as expected; Kahra was wholly unexpected. Both photographers presented evidence of the human condition, the bodily circumstance, of their subject. Whether relatively conventional or experimental in its execution, the genre of social documentation is alive and well. Sincere, but not maudlin, the work in each case was a relief from the tide of irony here yet to ebb.
Dawoud Bey
"1975 to the present, a career survey"
May 13 – June 24, 2012
The Renaissance Society
5811 S. Ellis Avenue
Bergman Gallery, Cobb Hall 418
Chicago, Illinois 60637
Sade Kahra
"UV Portraits"
threewalls' artist-in-research residency
June 1 – June 30, 2012
threewalls
119 N. Peoria #2d
Chicago, IL 60607
(15) Best Public Sculpture: "Martin Creed 'MOTHERS' @ MCA Chicago"

After "Color Jam" and "Forever Marilyn" the bar couldn't have been much lower.
Installed in August of 2012; now closed.
MCA Chicago
220 E. Chicago Avenue (MVDR Drive)
Chicago IL 60611
(16) Hottest Chicago Artist Who's Not Theaster Gates: Heidi Norton


Above: Heidi Norton at the MCA.


Above: Heidi Norton and Geoffrey Todd Smith at EXPO Vernissage after party.
Norton's schmutzy floral collages incorporate all manner of found objects–cast or bound together with wax and resin. If her additive Ab Ex, Neo-Dada process might recall a male figure such as Rauschenberg, her palette and penchant for translucent materials are more distinctly feminine.
After showing at Johalla Projects and the late Ebersmoore, Norton graced the MCA in 2012. In 2013 she was hired by Northwestern University; and institutional connectivity is, we all know, key to longevity in Chicago.
August 7 – October 23, 2012
Curated by Karsten Lund
MCA Chicago
220 E. Chicago Avenue (MVDR Drive)
Chicago IL 60611
---
POSTSCRIPT
(I) The following errors were identified and corrected in the article above:
– "Sofia Leiby" was originally written as "Sophia Leiby"
– "Vincent Uribe" was originally written as "Vince Uribe"
– "Chris Smith" was not named as Jake Myers' partner in Tag Team
(II) Image of Jason Lazarus at ACRE Projects removed:
– On March 25, 2012, the author of the article above created a photograph of Jason Lazarus in the act of igniting fireworks in the alley behind ACRE Projects. Uploading said original digital image to Flickr, the author of the article above maintained the nomenclature which he received on-site at the time of said event: ACRE staff referred to said event as Lazarus' "Fireworks Extravaganza." Regarding that reference, for 16 months no complaint was made. Jason Lazarus saw said image on Flickr 16 months ago, left a comment on Flickr at said time, and therein made no complaint about the presence of the words "Fireworks Extravaganza" in said image's Flickr caption. After the publication of the article above a complaint was received by Bad at Sports, from ACRE, with regard to the use of the words "Fireworks Extravaganza" in said image's caption on Bad at Sports. The offending image and caption have been removed from the article above.
(III) No Endorsement:
– The author of the article above failed to clearly indicate that even as his viewing experience was his own, so too his conclusions were his own. No individual member of Bad at Sports, nor Bad at Sports collectively, ought to be assumed to endorse the article above, in part or in whole. Errors and omissions are the fault of the author of the article above, not Bad at Sports.
Likewise, with the exception of content which he has produced, the author of the article above endorses no content on Bad at Sports, whether said content is found in the blog, podcast, or in any other place.
(IV) Schmutzy:
– In the article above, an image of John McCracken's "Untitled," 1967, appears opposite Dan Flavin's "Untitled (for you, Leo, in long respect and affection) 3," 1978. Whether appropriate, McCracken has been associated with "finish fetish" artists: meticulous practitioners of craft, whose minimal objects are denominated by clean, smooth surfaces, illustrated by the mirror-like reflectivity of McCracken's piece in said image, above.
Heidi Norton, while having exhibited geometric figures in the same museum (MCA) in the same year (2012) as McCracken, is in no danger of being confused with him. Norton's work of late has been hallmarked by blobs, drips (see the image of Norton's work, above) and other surface irregularities.
The author of the article above chose to employ the word "schmutzy" to describe said formal qualities in Norton's work. "Schmutz," literally, means "dirt," though it's more broadly used to signify some foreign matter: possibly organic, probably only semi-solid, and definitely capable of making a mess. The primary meaning of the word cannot be overlooked.
Artists and critics, male and female, gay and straight, in contemporary Chicago, have set precedent for the descriptive usage. For example, the application of such material to a picture plane was the definition of "painting" provided by Vera Klement: "a mark with liquidy [sic] stuff…a recreation of the body in a way, it's the stuff that's in your body, sloshing around in there, that kind of feces, primal material," at 8:42 – 10:05, in the BaS podcast "Episode 214: Constellations: Paintings from the MCA Collection" October 4, 2009.
http://badatsports.com/2009/episode-214-constellations-paintings-from-the-mca-collection/
And prior to said statement by Klement, Jason Foumberg wrote: "paint flows expressively like an ejaculation," in his June 22, 2009, piece "Portrait of the Artist: Dutes Miller," in Newcity.
http://art.newcity.com/2009/06/22/portrait-of-the-artist-dutes-miller/
Bodily processes and sexuality might be hinted at by a word such as "schmutz" when used in relation to the appearance of Norton's work; but, the association is no more necessary than is forcing such a (bodily, sexual) reading of "finish fetish" in relation to McCracken's work. And it's wrong to conflate the artist and the artwork: a description of one ought not to taken as a description of the other. In no place has it been written that Norton is schmutzy, or is a schmutz.
Postscript above appended on July 21, 2013, by the author of the article above, subsequent to a letter received from the blog's editor.
---
1. Black Damp at Johalla Projects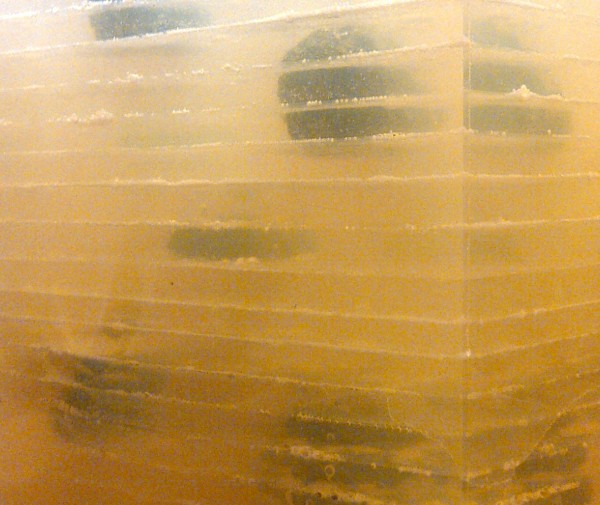 Work by Jessica Taylor Caponigro.
Johalla Projects is located at 1821 W. Hubbard St. Reception Saturday, 7-10pm.
2. No Gods No Masters at Chicago Artists' Coalition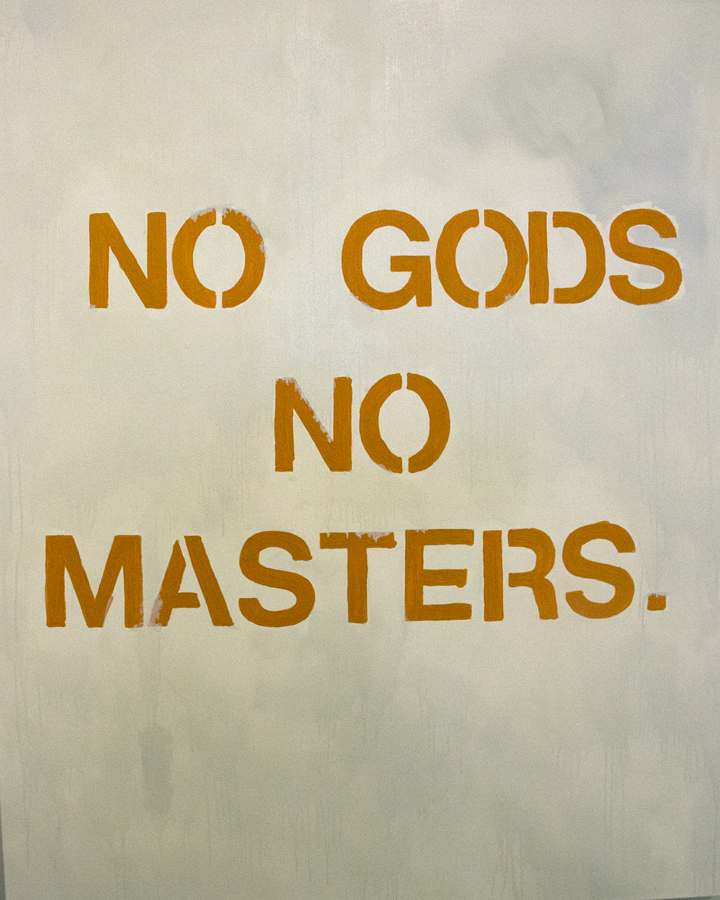 Work by Jesse Butcher, James Green, and Christopher Meerdo.
Chicago Artists' Coalition is located at 217 N. Carpenter St. Reception Friday, 6-9pm.
3. Abstracting the Seam at Hyde Park Art Center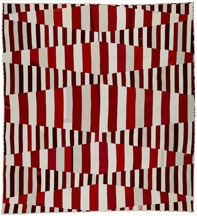 Work by Shannon Kerrigan, Christopher Michlig, Patrick McDonough, Sarah Nishiura, Andrew Rigsby, Hans Sundquist and Stacia Yeapanis.
Hyde Park Art Center is located at 5020 S. Cornell Ave. Reception Sunday, 3-5pm.
4. DARK STAR at Roots & Culture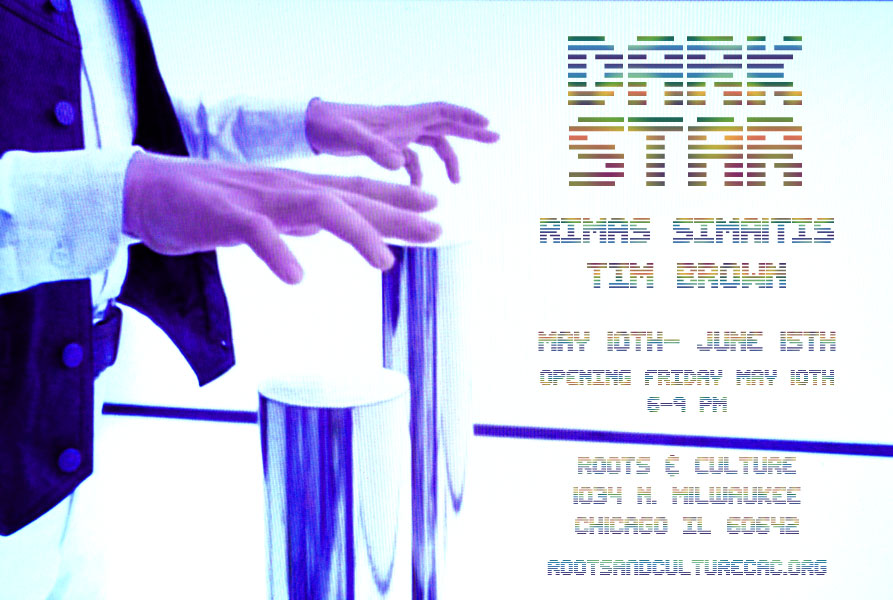 Work by Tim Brown and Rimas Simaitis.
Roots & Culture is located at 1034 N. Milwaukee Ave. Reception Friday, 6-9pm.
5. Calamity at Chicago Art Department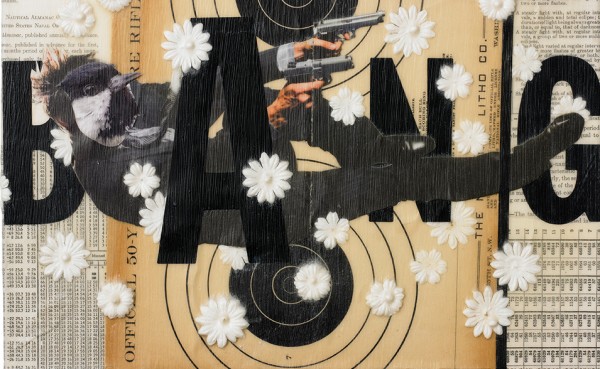 Work by Thomas Wolfe.
Chicago Art Department is located at 1932 S. Halsted St. Reception Friday, 6-10pm.
---
A graphic, editorial overview of art, artists, and visual art events, found in and around Chicago over the course of the preceding month. All artwork copyright original artists; all photography copyright Paul Germanos.

Thelonious Elliot and Wray Morgan Herbert-King @ ACRE Projects


Above: Theo Elliot at left; Morgan Herbert-King at right; opening night at ACRE Projects.
Thelonious Elliot and Wray Morgan Herbert-King
"Moving a Hole"
January 20 – February 4
ACRE Projects
1913 W. 17th St.
Chicago, IL 60608
http://www.acreresidency.org/

Dmitry Samarov @ Chicago Public Library


Above: "Algren" 2012
Above: "Morandi" 2011, top; "Entrapment" 2012, bottom.
Dmitry Samarov
"Bookshelf Paintings"
January 11 – March 1, 2013
Harold Washington Library Center
400 S. State St.
Chicago, IL 60605
http://www.dmitrysamarov.com/

Goshka Macuga @ Smart Museum of Art


Above: Exhibition closing and curator talk (MCA curator Dieter Roelstraete, left, and Smart curator Stephanie Smith, right) January 13, 2013
Goshka Macuga
"Of what is, that it is; of what is not, that it is not," panel 2
(wool tapestry from photo collage, approx. 11 x 38 feet, half of diptych)
December 13, 2012 – January 13, 2013
Smart Museum of Art (lobby)
5550 S. Greenwood Ave.
Chicago, IL 60637
http://smartmuseum.uchicago.edu/

Robert Chase Heishman @ Roots & Culture


Above: Robert Chase Heishman with artwork at Roots & Culture, opening night.
Robert Chase Heishman
"Fractal Semblance"
January 18 – February 16, 2013
Roots & Culture
1034 N. Milwaukee Ave.
Chicago, IL
Curated by Eric May, Stephanie Cristello and Allison Glenn
Artwork by Robert Chase Heishman, Jessica Labatte, Alistair Matthews, and Liz Nielsen
http://www.rootsandculturecac.org/

R. H. Quaytman @ The Renaissance Society


Above: Peeking inside the piece "Public Space/Two Audiences"
R. H. Quaytman
"Passing Through The Opposite of What It Approaches, Chapter 25"
January 6 – February 17, 2013
The Renaissance Society
5811 S. Ellis Avenue
Bergman Gallery, Cobb Hall 418
Chicago, Illinois 60637
http://www.renaissancesociety.org/

Deborah Baker @ Packer Gallery


Above: Cotton on linen, embroidery, under glass, framed.
Deborah Baker
"Zodiac"
January 11 – February 16
Packer Schopf Gallery
942 W. Lake St.
Chicago, IL 60607
http://www.packergallery.com/

Sarah Mendelsohn @ The Plaines Project


Above: Sarah Mendelsohn with her artwork at The Plaines Project, opening night.
Sarah Mendelsohn
"Stretches Topless"
January 19 – February 8, 2013
The Plaines Project
1822 S. Desplaines St.
Chicago, IL
http://plainesproject.wordpress.com/

Tom Torluemke @ Hyde Park Art Center


Above: Tom Torluemke with his horrific vision of environmental degradation, shot at the opening reception.
Tom Torluemke
"Fearsome Fable – Tolerable Truth"
January 20, 2013 – April 28, 2013
Gallery 4
Hyde Park Art Center
5020 S. Cornell Ave.
Chicago, IL 60615
http://www.hydeparkart.org/

Teruko Nimura @ Roxaboxen Exhibitions / ACRE Projects


Above: Hummingbird in flight, floral origami aim, installation at Roxaboxen.
Teruko Nimura
"Potentialities," a two-person show with Milcah Bassel
January 20 – February 1, 2013
Roxaboxen Exhibitions / ACRE Projects
2130 W. 21st St.
Chicago, IL 60608
http://www.terukonimura.net/

Scott Hocking @ Chicago Artists' Coalition


Above: Scott Hocking with artwork at opening reception for "EXCHANGE: Chicago-Detroit"
"EXCHANGE: Chicago-Detroit"
CHICAGO: Chicago Artists' Coalition, Chicago IL
January 11 – 31, 2013
DETROIT: Cave Gallery and Public Pool, Detroit, MI
February 23 – March 16, 2013
Chicago Artists' Coalition,
217 N. Carpenter Street,
Chicago IL 60607
http://chicagoartistscoalition.org/
Above: Edie Fake at opening reception; artwork in background.
Edie Fake
"Memory Palaces"
January 4 – February 16, 2013
Thomas Robertello Gallery
27 N. Morgan St.
Chicago, IL 60607
http://www.thomasrobertello.com/

Lauren Payne and Erin Washington @ Johalla Projects / ACRE Projects


Above: Lauren Payne and Erin Washington's collaborative installation, opening night.
Above: Jenny Kendler (ACRE Board of Directors) left; Lauren Payne, right; opening night.
Lauren Payne and Erin Washington
"As Above So Below"
January 25 – 31, 2013
Johalla Projects / ACRE Projects
1821 W Hubbard, Suite 209
Chicago 60622
http://www.johallaprojects.com/
Above: Harvey Moon with "drawing machine" installed in gallery, opening night.
Harvey Moon
"Transpported Wind"
January 25 – March 22, 2013
Hauser Gallery
230 W. Superior St.
Chicago, IL
http://www.unanything.com/
---
Paul Germanos: Born November 30, 1967, Cook County, Illinois. Immigrant grandparents, NYC. High school cross country numerals and track letter. Certified by the State of Illinois as a peace officer. Licensed by the City of Chicago as a taxi driver. Attended the School of the Art Institute 1987-1989. Studied the history of political philosophy with the students of Leo Strauss from 2000-2005. Phi Theta Kappa and Phi Kappa Phi. Motorcyclist.
---
We are in the midst of a winter festival. Its occasions take place at a variety of locations across the city, featuring a variety of performance artists from all over the world. In each case, the art work at hand is dynamic and ephemeral; the culmination of hours/months/years of work fit into a small, public window of time. Audiences come to experience that time-concentrate and in so doing are transported. Born in the UK, Chicago-based performance artist, Mark Jeffery, is similarly invested in temporal, aesthetic exercises. Over the course of his career, he has a regularly incorporated collaboration and experimentation into his work. It seems fitting that he would address curation as well, opening the field of performance into an administrative capacity. The result is a bi-annual festival, IN>TIME. There have been two other iterations of this festival, in 2008 and 2010 — both of which were co-curated by Sara Schnadt and took place at the Cultural Center. This year Jeffery has expanded the scope of the project, curating roughly 26 different events at 15 different venues from January 11th – March 2nd, 2013. I wanted to ask Jeffery about the origins of this bi-annual festival, as well as how it fit in with his overall practice as an artist.
Caroline Picard: Can you talk a little bit about how IN>TIME 13 came together?
Mark Jeffery: There have been two previous editions of IN>TIME in 2008 and 2010 at the Chicago Cultural Center that I co-curated with artist and Chicago Artist Resource webmaster, Sara Schnadt. Sara has since now moved to Los Angeles, but during the summer and fall of 2011, before Sara left, we discovered that our contact at the Cultural Center, lost her job. At the time there was no support for this program to continue. As a result, we considered how we could expand this festival from a one-night event at the Cultural Center to a multi-venue festival throughout the city of Chicago. We were both excited to contact and connect with local venues and spaces that we already respected for their public programming of performance, symposia, exhibition, talks, and/or readings — spaces that already had an affinity towards IN>TIME's desire to showcase performance practices in the broadest terms. We met with curators, directors and programmers of spaces in their venues, at the Palmer House, on rooftops of hotels, in phone conversations, in meeting rooms to discuss the possibility to program work in the winter of 2013. What we didn't expect when we cast this net was that the community would be equally excited to focus their programming on performance, giving an extended platform to this experimental form.
CP: Does IN>TIME reflect on your own orientation/aesthetic agenda as a performance arts practitioner?
MJ: I was a member of the performance group Goat Island for 13 years and have collaborated with Judd Morrissey for the past 10 years. I take collaboration and working with fellow artists very seriously. I learn so much from working with others and during my time of making performance work I have had multiple opportunities to be in many diverse and interesting contexts to present my work since 1994. For me, I grow from conversation. I learn from working with others and I see that permission, openings and discovery happen when doors are opened. I think I discovered this as a student at Dartington College of Arts from my teachers Sally Morgan, Sally Tallent, Nancy Reilly, Rona Lee, Gillian Dyson, Roger Bourke and Tim Brennan. My teachers gave me access to being curious, to being open, to allowing my voice to grow, to not be isolated, but to discover other artists and other ways of working through connecting with others.
In Goat Island I leant from my fellow collaborators and performers and director Lin Hixson to open up a space, even if this was an uncomfortable risk. In coming to America, and in the ending of Goat Island in 2009, I suddenly had to be on my own feet, here in this Midwestern city, as an Assistant Professor in Performance Art. I had to be engaged. I had to become an adult. I had to share my knowledge of the spaces, networks and connections I had made now over the past 20 years.
Chicago is my home, it is a place where I can engage through teaching, through making, through performance and exhibitions — and now also through curation, as another way to open up spaces for? collaboration. I am grateful to be here and I am grateful that 14 venues are willing and interested in working with each other to make this dream come true. For the 2008 edition of IN>TIME Sara gathered a group of makers, curators into the Chicago Cultural Center in the summer of 2006. At that time I remember saying that I would love to see how we as a city could have a multi-venue performance art festival, similar to the one where I was first curated into in 1994 as a 21-year-old in Glasgow by Performance Art Curator, Nikki Milican and her National Review of Live Art Festival. Now, seven years later we have arrived.
CP: I am always suspicious of generalizations about localized styles or approaches to a given medium, but specific environments seem to facilitate peculiar dialogues. I have heard, for instance, that New York art performance is more integrated with dance, or that Europe is more open to experimental works. I don't know if those comments are true or not, (they certainly came out of casual and speculative conversations) but I'm interested in whether or not you feel like Chicago has a particular conversation of its own. Does IN>TIME 13 respond to that at all? 
MJ: Good question. I remember being in the library as a 19 year-old at Dartington College of Arts studying Visual Performance in the UK, (Dartington was a similar place / space to Black Mountain College). In the library I would read the High Performance and P-Form journals and read reviews about performance in Chicago. In 1996 I came to Chicago for the first time to join Goat Island Performance group. For me the roots of performance came from reading those articles, from being part of Goat Island and seeing the trail end of Randolph Street Gallery — a non-profit performance/gallery space here that ended I believe in 1998. In the past 15 years that I've been here, I have seen some extraordinary work from performance makers in their studio performance spaces and venues here with Lucky Pierre, Dolores Wilber and her collective, Julie Laffin, Joe Silovsky, Cupola Bobber,Joan Dickinson, Larry Steger, and more recently Erica Mott, Justin Cabrillos, Joseph Ravens and Peter Carpenter.  More recently I think of Chicago as a place for experimentation, a place for artists to really explore and test rigorous ideas. It is a place for research to take place, and for non-traditional, informative intersections and overlaps that to spring up unexpectedly via collectives and collaborations. That is what I get excited about. My training at Dartington and also in Goat Island taught me to be open, to be curious, to not be hierarchical, to give permission, to open up new spaces. I am about to hit 40 in 4 months and to have known this practice now for over 20 years and still be working: that's is what I am grateful for. Performance is a medium that is forever shifting, one of the things for me about coming to Chicago and living and working in America is that things can happen. I am ambitious and a workaholic and in a funny way I am thinking of this festival as my mid-life crisis! (this is my sense of humour btw). Sometimes you have to give yourself permission to ask and see what is out there. I am lucky now to be here two decades into this practice and that when I ask certain things, like a 14 venue performance festival where hybridity, where venues that wouldn't normally work with each other have an opportunity for exchange, for dialogue and conversation. Where doors open and the container of performance can be a storefront gallery, a video installation, a reading, a movement art endurance work, a reenactment, a meeting between museum spaces, schools, galleries, DIY spaces.
CP: How did you go about organizing the programming? 
MJ: The programming of the festival came firstly from Sara and I meeting with all the venues in the summer and fall of 2011 and then slowly from there having conversations to see about what would be the best fit for each of their spaces. Some venues suggested if a particular artist would be a good fit for the festival in regards what they were already considering, venues like the Dance Center of Columbia College with Zoe I Juniper or Museum of Contemporary Art with Miguel Gutierrez and Threewalls with Mary Patten and Mathew Paul Jinks. All the venues have really exciting work that will enter their spaces and showcasing incredible talent. I am excited about the three venues I have just mentioned in the openings these spaces can present these artists. I am also excited to see how these artists present their work here in Chicago. These are highlights, other highlights for me are being able to go back to the Cultural Center and have the US premier of Spanish, Swiss based artist Maria La Ribot perform her 5 hour work Laughing Hole. I have never seen her work live but have followed her work closely with a video work of hers I show in the classroom, a documentary called La Ribot Distinguida filmed at the Tate Modern in London and the Pompidou in Paris. Through the new director of Performing Arts, Shoni Currier at the Chicago Cultural Center we are able to showcase her work. Also at Joseph Ravens Defrillator performance gallery we are able to bring Singaporean artist Lynn Lu, she will share an evening with British visual art poet cris cheek from Ohio and two emerging local artists Kitty Huffman and Hope Esser. Croatian Movement Art Group OOURR, local dance artist Peter Carpenter will be on the same bill and have been excited to follow him these  past two years. at Links Hall local Chicago Artists Every House as a Door, Erica Mott and Trevor Martin, Hyde Park Art Center and having artists in residents Minouk Lim from Korea and Croatian born London-based Vlatka Horvat. The challenge to me is to keep curious and to put things together that normally wouldn't be together in a program. I like group exhibits where experimental forms of performance, movement. Language, actions, durations, emerging, established can come together. Again, to me this comes from my training and also wanting to connect people. The curator / caretaker is first to open up a space and the last to leave.
CP: Maybe because the title of your festival is IN>TIME, I'm reminded of the ephemerality of performance, and various conversations I've picked up on peripherally about how to document performance, how the documentation can eclipse the performance itself as an art object, or what happens to a piece when it is recreated in a different time and context, by different performers. I realize those conversations are vast and intricate, but it occurred to me that you might be negotiating some of those as an organizer, putting together a multi-faceted, multi-venue festival. How you have been dealing with documentation?
MJ: Last week eight students at the School of the Art Institute of Chicago worked with London Based artist Kira O'Reilly with the three-week visiting artist class called FROZEN IN>TENSITIES that is a course driven exhibit at SAIC. Each week there is a presentation at SAIC of the work they have been doing with the artists. With Kira the students found an old filing cabinet that has been in the green room this past semester. The filing cabinet was full of files that is an archive of the performance department when it was being chaired by the departments founder Tom Jaremba and former chair and now Graduate Division Chair, Werner Herterich. I site this filing cabinet as it became both a rich treasure trove of correspondence and a source of material for students to respond to. There were files from Linda Montano for example, and Alistair MacLennan when they visited the department. This cabinet has been making me think about how do we document our lives now in 2013. What are our filing cabinets? How do we store and retain this information, this memory of being here, especially with performance? For the class we also have 3 rooms in the Sullivan Galleries, and so we are also having this conversation about the document, of how to archive what remains. It becomes an exciting challenge. Yesterday I helped Sabri Reed, the teaching assistant for the class, take the filing cabinet on a cart from the Columbus Drive building to the Sullivan Galleries. It was quite unwieldy and heavy, but became this opportunity to walk and mark those moments of exchange spanning the past 30 years across Monroe Street. The students are also going to insert a record of their work in the class into a file and put it back into the filing cabinet for the exhibit and this will remain.
Last week I also renewed the Goat Island website as it was going to run out, the domain name in five days or something. This position between the physical and the virtual, the mixed reality of archive and document is a really interesting question for me. If we don't maintain the upkeep of our websites what does remain. What are our filing cabinets of 2013?
CP: This image of time keeps coming back…
MJ: To me this is an experiment. Since 2006 I have also been curating and have developed series of OPENPORT A performance, sound and language festival (2007) co – curated with Nathan Butler, Judd Morrissey and Lori Talley at Links Hall, Intimate and Epic (2006) co – curated with Sara Schnadt in Millennium Park and The Simulationists (2011) co – curated with Claudia Hart and Judd Morrissey at SAIC as well as the IN>TIME series. Time becomes an important thing and I often think about how to stamp time now as it moves so quickly (the 40 thing again ;)) – yet, if you take time to make something, I think something can come through and with Sara and I meeting all the venues 18 months ago, the results of this time has come through. I come from a father who was a herdsman who milked 200 Friesian cows each day, woke at 5 and worked till 8, seven days a week. A life's work, working for over 30 years on the same farm. There is something in building a life through projects, through ritual, through time that you can get a lot done and through the creative make a place and space for opportunity to enter. Again for this I am grateful and I always thank my teachers for giving me the space, time and attention. You work towards something to thank them.
Further Information: Â http://www.in-time-performance.org/
---