The long hot summer is over. The season is beginning again. Thus, for this week and next, we shall feature a Top 10 Picks! Enjoy.
Friday 9/4/15 –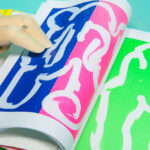 Work by Alexander Valentine.
Fernwey is located at 916 N. Damen Ave. Reception 7-10pm.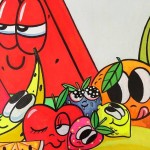 Work by Chris Uphues, Buried Diamond, and Killer Acid.
Galerie F is located at 2381 N. Milwaukee Ave. Reception 6-10pm.
Tertiary Dimensions at Sector 2337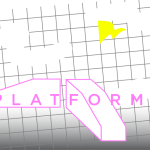 Curated by Alexandria Eregbu with work by Aay Preston-Myint, Adam Liam Rose + Alex Zak, Amina Ross, Betsy Odom, Elijah Burgher, Gordon Hall, Katie Vota, Kiam Marcelo Junio, Margaret Bobo-Dancy, Matt Morris, Oli Rodriguez, and Rami George.
Sector 2337 is located at 2337 N. Milwaukee Ave. Reception 5-8pm.
Garcia, Rios + Romero at Trunk Show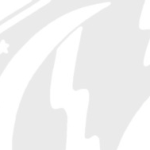 Work by Anthony Romero, Josh Rios and Eric J. Garcia.
Trunk Show is located at 1859 W. 19th St. Reception 6-8pm.
Saturday 9/5/15 – 
What Would Barbara Do? at Defibrillator Gallery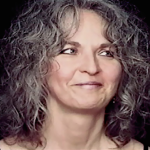 Curated by Joseph Ravens, Oli Rodriguez and Frederic Moffet with work by Miao Jiaxin, Zachary Harvey, Caitlin Bacon, Whitney Johnston, Charles Lum, Barbara DeGenevieve, Amber Hawk Swanson, Kean O'Brien and Isaac Leung.
Defibrillator Gallery is located at 1463 W. Chicago Ave. Reception 7-10pm.
Cohen + Ruiz at Roots and Culture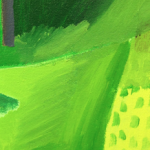 Work by Alex Bradley Cohen and Steve Ruiz.
Roots and Culture is located at 1034 N. Milwaukee Ave. Reception 6-9pm.
Their, Their at Slow Pony Project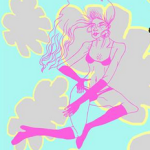 Work by Local Honey.
Slow Pony Project is located at 1745 W. 18th St. Reception 6-9pm.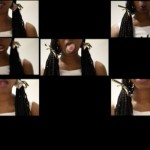 Curated by Scott J Hunter with work by Daniel Baird, Jessica Caponigro, Alexandria Eregbu, Danny Giles, Sofia Moreno, Matt Morris, Amina Ross, Alfredo Salazar-Caro, Ivan Lozano and Dan Paz.
The Franklin is located at 3522 W. Franklin Blvd. Reception 6-10pm.
A short and pleasurable journey at Vertical Gallery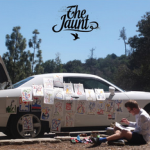 Work by Collin van der Sluijs, Mike Perry, Cody Hudson, Daniel Frost, Hedof, Jordy van den Nieuwendijk, Amanda Marie, David Shillinglaw and more.
Vertical Gallery is located at 1016 N. Western Ave. Reception 6-10pm.
Sunday 9/6/15 – 
Warm Kitty, Soft Kitty at Hyde Park Art Center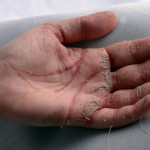 Work by D. Denenge Akpem, Eliza Bennett, Laci Coppins and Nakia Gordon, Alexandria Eregbu, Isaac Facio and Benedickt Diemer, Whitney Huber, Taylor Hokanson and Dieter Kirkwood, Cole Don Kelley, Barbara Layne, Hiro Murai for Flying Lotus, Tameka J. Norris, Betsy Odom, Scout Paré-Phillips, Jennifer Ray, Aileen Son and Fo Wilson.
Hyde Park Art Center is located at 5020 S. Cornell Ave. Reception 3-5pm.
---
1. Twist-flip-tremble-trace at Johalla Projects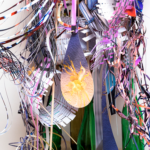 Work by Aimée Beaubien.
Johalla Projects is located at 1821 W. Hubbard St. Reception Friday, 7-10pm.
2. Scenic Overlook at Hyde Park Art Center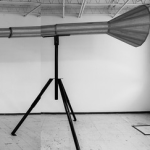 Work by Susan Giles
Hyde Park Art Center is located at 5020 S. Cornell Ave. Reception Sunday, 3-5pm.
3. Shadowboxing the Axis at Gallery 400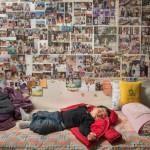 Work by Soohyun Kim, Meredith Lackey and Sherwin Ovid.
Gallery 400 is located at 400 S. Peoria St. Reception Friday, 5-8pm.
4. The Arrows Like Soft Moon Beams at 65Grand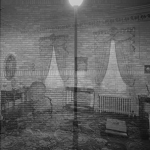 Work by Ian Pedigo.
65Grand is located at 1369 W. Grand Ave. Reception 6-9pm.
5. Y'all and A Rock (me too) at Hidden Dog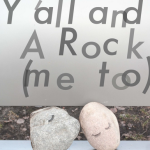 Work by Yani Aviles, Justin Chance, Connor Crable, Hunter Foster, Alyx Harch, Andrew Lu, Katie Rapheal, Amina Ross, Chase Schoonmaker, Emily Schulert, Simone Siegel, Cait Smith, Kelsey Strebler, Kate Ulschmid and Tongyu Zhao.
Hidden Dog is located at 2151 W. 21st St. Reception Friday 7-10pm.
---
1. The Latest Sun is Sinking Fast at Hyde Park Art Center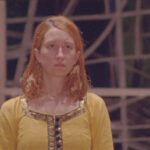 Work by Melika Bass.
Hyde Park Art Center is located at 5020 S. Cornell Ave. Reception Sunday, 3-5pm.
2. Visibility Machines at Gallery 400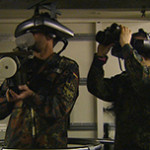 Work by Harun Farocki and Trevor Paglen.
Gallery 400 is located at 400 S. Peoria St. Reception Friday, 5-8pm.
3. Celebratory System at Kitchen Space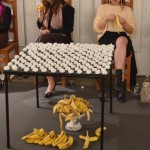 Work by Alberto Aguilar.
Kitchen Space is located at 2716 N. Monticello Ave. #1F. Reception Friday, 7-10pm.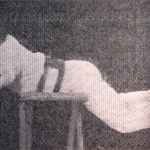 Work by Nick Bastis.
Regards Gallery is located at 2216 W. Chicago Ave. Reception Saturday, 4-7pm.
5. I Swear to Dead I'm Not God at Born Nude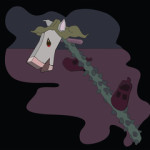 Work by Lali Foster.
Born Nude is located at 1711 S. Halsted St. #2. Reception Saturday, 6-9pm.
---
1. Ground Floor at Hyde Park Art Center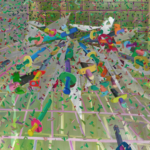 Co-curated by Dawoud Bey, Michelle Grabner, Caroline Picard, and Daniel Sauter, Allison Peters Quinn and Kate Lorenz, with work by Evan Baden, Hannah Barco, Greg Browe, Houston Cofield, Maggie Crowley, Barbara Diener, Assaf Evron, Andrew Holmquist, Kelly Lloyd, Jesse Malmed, Esau McGhee, Ben Murray, Celeste Rapone, Kyle Schlie, Tina Tahir, Keijaun Thomas, Daniel Tucker, Ramyar Vala, Julie Weber and Nicole Wilson
Hyde Park Art Center is located at 5020 S. Cornell Ave. Reception Friday, 6-8pm.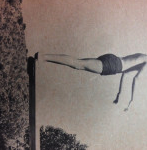 Work by Alex Chitty.
Adds Donna is located at 4223 W. Lake St. Reception Sunday, 2-5pm.
3. Double Cherry at Threewalls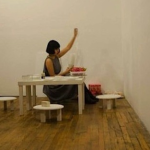 Curated by Katie Vota, Jonathan Kusnerek, Megan Cline, Abbey Muzatko, and Meredith Donnelly.
Threewalls is located at 119 N. Peoria St. Reception Friday, 8-11pm.
4. Hold Together at Johalla Projects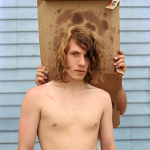 Work by Lisa Lindvay.
Johalla Projects is located at 1821 W. Hubbard St. Reception Friday, 6-9pm.
5. Effeminaries at Western Exhibitions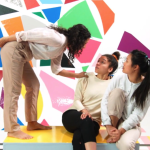 Curated by Matt Morris with work by Cameron Crawford, Danielle Dean, Chris Edwards, Greg Ito, Kacie Lambert and Joel Parsons.
Western Exhibitions is located at 845 W. Washington Blvd. Reception Friday, 5-8pm.
---
By Kevin Blake
Chicago Imagism represents something more complex than a published manifesto, an aesthetic engagement, or a theoretician's aim at creating an avant-garde. One might argue that Chicago Imagism, an internationally recognized movement with roots in the late 1960's and early 1970's, is still alive and well in the second city. On his 90th birthday on January 26, 2014, Richard Loving explained to a rapt audience at the Hyde Park Art Center, that his work–like the work of other "Imagists"–were simply about making the work that they wanted to make.
In their current exhibit, Inside the Outside at the Hyde Park Art Center curated by Aaron Ott, Richard Loving and Eleanor Spiess-Ferris's works on display span two careers that aptly describe the very complicated historicity of the Chicago Imagist movement. Inside the Outside is a critical investigation of the ambiguous framework of Chicago Imagism and how these two very different artists bound geographically but also aesthetically chose to utilize its tenets to spur their artistic visions.
The works are hung chronologically–a relatable choreography that adequately stresses the aesthetic distances traveled and the hard earned merits of two lives of artistic engagement. In relation to the Imagists' aesthetic–high key color strategies, figuration, symbology, and text to name a few–these works can fit the bill. However, the distinction as Imagist work may also deprive them of the singular translation they so deserve.
Spiess-Ferris and Loving's works are clearly about themselves. Throughout the show, there is an overwhelming sense of self discovery or exhibitionism that develops into a confident vernacular that is uniquely their own. In Loving's case, this idea takes the shape of a materials quest, that over decades evolves from small enamel works that become large format abstractions and matriculate to color drenched dreamscapes that embody the entire narrative. They are Loving's accumulated wealth of knowledge with his materials, and a pointed emulsion of his interests.  Loving's work "Fire and Smoke" is one such amalgamation.
Hovering above the very unnatural bands of lush color is a curved horizon that encloses the space of the painting and alludes to an inevitable ending–a forced punctuation. This curvilinear maneuver has become a staple in Loving's later works and allow for the landscapes to remain in the netherworld of abstraction while maintaining the graphic qualities central to the Imagist aesthetic. Loving's narratives are not forthcoming, but they reveal enough of itself to spend time with their mysteries. The paintings can operate as storyteller or simply as an object of contemplation, and therein lies their success.
On the surface, the narrative elements seem to be more readily available in such works as Spiess-Ferris's "Resignation," where the viewer is immediately immersed into a parallel universe that is completely her own. The cast of characters is the entry point–as there is a familiarity that grows from one piece to the next. Everything in Speiss-Ferris's paintings is as familiar as the paint itself, yet there are no answers to her riddles either. The paintings allow you to meander through them, but never actually be a part of the place–it is her singular experience of a world in which the viewer has no role. It is in the moments of expectations unmeant that the viewer can understand their exclusion. "Resignation," exudes Speiss-Ferris's anguished charm while allowing for self discovery through her range of emblematic totems that find their way into her imagined worlds.
The show also presents some of Speiss-Ferris's drawings where one can see the artist looking at her creations from without, while also participating in the ironies and chagrin of human awareness. In "Acquisition" the sketched portions of the drawing remain as portals into her studio–a nod to herself and remnant of her hand.
This elusiveness and earnest approach to her materials has kept Spiess-Ferris on the periphery of Imagism. Her work is an acidly good-natured view of human follies, largely concerned with the roles and relations between women and nature. She presents the human comedy through her imagined places that are often absurd, charming, hostile, seductive, and ridiculous. Charged with strong doses of painfully comic self-discovery, her host of symbols, images, and characters all play theatrical roles in the ongoing comedy that is a perpetual remix of itself.
The affinity to nature, the paint handling, geography, and the parallel working timeline are enough to link these two artists, but the strength in this show comes from both artist's unflinching dedication to their practices. Decades in the making, their works have evolved and remained on the edges of a discussion that Chicago painters cannot seem to avoid. Imagism is the staple, the running joke, the license, and liberator for Chicago painters. It is the all-encompassing genre most aptly described by Richard Loving as "just making what we wanted to make."
To pair these two artists in a conversation about the reaches of Imagism was to operate on the periphery–to think outside the proverbial box. As the Hyde Park Art Center enters into its 75th anniversary year, a show to kick off the celebration that commemorates a pivotal moment in the center's history as well as the history of Chicago image making was a grandiose gesture, most welcome.
---