1. Twist-flip-tremble-trace at Johalla Projects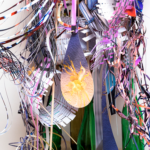 Work by Aimée Beaubien.
Johalla Projects is located at 1821 W. Hubbard St. Reception Friday, 7-10pm.
2. Scenic Overlook at Hyde Park Art Center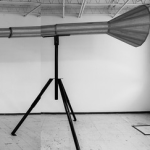 Work by Susan Giles
Hyde Park Art Center is located at 5020 S. Cornell Ave. Reception Sunday, 3-5pm.
3. Shadowboxing the Axis at Gallery 400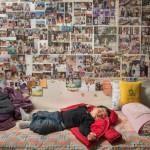 Work by Soohyun Kim, Meredith Lackey and Sherwin Ovid.
Gallery 400 is located at 400 S. Peoria St. Reception Friday, 5-8pm.
4. The Arrows Like Soft Moon Beams at 65Grand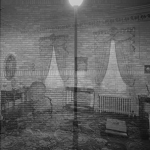 Work by Ian Pedigo.
65Grand is located at 1369 W. Grand Ave. Reception 6-9pm.
5. Y'all and A Rock (me too) at Hidden Dog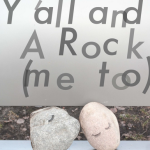 Work by Yani Aviles, Justin Chance, Connor Crable, Hunter Foster, Alyx Harch, Andrew Lu, Katie Rapheal, Amina Ross, Chase Schoonmaker, Emily Schulert, Simone Siegel, Cait Smith, Kelsey Strebler, Kate Ulschmid and Tongyu Zhao.
Hidden Dog is located at 2151 W. 21st St. Reception Friday 7-10pm.
---
1. The Latest Sun is Sinking Fast at Hyde Park Art Center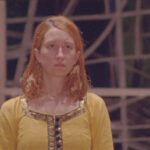 Work by Melika Bass.
Hyde Park Art Center is located at 5020 S. Cornell Ave. Reception Sunday, 3-5pm.
2. Visibility Machines at Gallery 400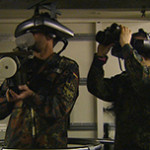 Work by Harun Farocki and Trevor Paglen.
Gallery 400 is located at 400 S. Peoria St. Reception Friday, 5-8pm.
3. Celebratory System at Kitchen Space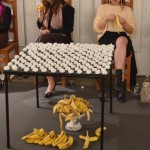 Work by Alberto Aguilar.
Kitchen Space is located at 2716 N. Monticello Ave. #1F. Reception Friday, 7-10pm.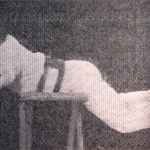 Work by Nick Bastis.
Regards Gallery is located at 2216 W. Chicago Ave. Reception Saturday, 4-7pm.
5. I Swear to Dead I'm Not God at Born Nude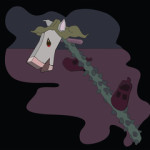 Work by Lali Foster.
Born Nude is located at 1711 S. Halsted St. #2. Reception Saturday, 6-9pm.
---
1. Ground Floor at Hyde Park Art Center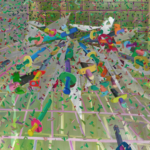 Co-curated by Dawoud Bey, Michelle Grabner, Caroline Picard, and Daniel Sauter, Allison Peters Quinn and Kate Lorenz, with work by Evan Baden, Hannah Barco, Greg Browe, Houston Cofield, Maggie Crowley, Barbara Diener, Assaf Evron, Andrew Holmquist, Kelly Lloyd, Jesse Malmed, Esau McGhee, Ben Murray, Celeste Rapone, Kyle Schlie, Tina Tahir, Keijaun Thomas, Daniel Tucker, Ramyar Vala, Julie Weber and Nicole Wilson
Hyde Park Art Center is located at 5020 S. Cornell Ave. Reception Friday, 6-8pm.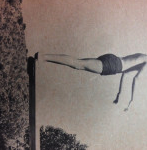 Work by Alex Chitty.
Adds Donna is located at 4223 W. Lake St. Reception Sunday, 2-5pm.
3. Double Cherry at Threewalls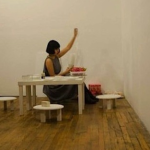 Curated by Katie Vota, Jonathan Kusnerek, Megan Cline, Abbey Muzatko, and Meredith Donnelly.
Threewalls is located at 119 N. Peoria St. Reception Friday, 8-11pm.
4. Hold Together at Johalla Projects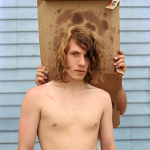 Work by Lisa Lindvay.
Johalla Projects is located at 1821 W. Hubbard St. Reception Friday, 6-9pm.
5. Effeminaries at Western Exhibitions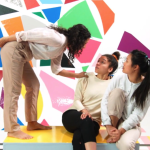 Curated by Matt Morris with work by Cameron Crawford, Danielle Dean, Chris Edwards, Greg Ito, Kacie Lambert and Joel Parsons.
Western Exhibitions is located at 845 W. Washington Blvd. Reception Friday, 5-8pm.
---
By Kevin Blake
Chicago Imagism represents something more complex than a published manifesto, an aesthetic engagement, or a theoretician's aim at creating an avant-garde. One might argue that Chicago Imagism, an internationally recognized movement with roots in the late 1960's and early 1970's, is still alive and well in the second city. On his 90th birthday on January 26, 2014, Richard Loving explained to a rapt audience at the Hyde Park Art Center, that his work–like the work of other "Imagists"–were simply about making the work that they wanted to make.
In their current exhibit, Inside the Outside at the Hyde Park Art Center curated by Aaron Ott, Richard Loving and Eleanor Spiess-Ferris's works on display span two careers that aptly describe the very complicated historicity of the Chicago Imagist movement. Inside the Outside is a critical investigation of the ambiguous framework of Chicago Imagism and how these two very different artists bound geographically but also aesthetically chose to utilize its tenets to spur their artistic visions.
The works are hung chronologically–a relatable choreography that adequately stresses the aesthetic distances traveled and the hard earned merits of two lives of artistic engagement. In relation to the Imagists' aesthetic–high key color strategies, figuration, symbology, and text to name a few–these works can fit the bill. However, the distinction as Imagist work may also deprive them of the singular translation they so deserve.
Spiess-Ferris and Loving's works are clearly about themselves. Throughout the show, there is an overwhelming sense of self discovery or exhibitionism that develops into a confident vernacular that is uniquely their own. In Loving's case, this idea takes the shape of a materials quest, that over decades evolves from small enamel works that become large format abstractions and matriculate to color drenched dreamscapes that embody the entire narrative. They are Loving's accumulated wealth of knowledge with his materials, and a pointed emulsion of his interests.  Loving's work "Fire and Smoke" is one such amalgamation.
Hovering above the very unnatural bands of lush color is a curved horizon that encloses the space of the painting and alludes to an inevitable ending–a forced punctuation. This curvilinear maneuver has become a staple in Loving's later works and allow for the landscapes to remain in the netherworld of abstraction while maintaining the graphic qualities central to the Imagist aesthetic. Loving's narratives are not forthcoming, but they reveal enough of itself to spend time with their mysteries. The paintings can operate as storyteller or simply as an object of contemplation, and therein lies their success.
On the surface, the narrative elements seem to be more readily available in such works as Spiess-Ferris's "Resignation," where the viewer is immediately immersed into a parallel universe that is completely her own. The cast of characters is the entry point–as there is a familiarity that grows from one piece to the next. Everything in Speiss-Ferris's paintings is as familiar as the paint itself, yet there are no answers to her riddles either. The paintings allow you to meander through them, but never actually be a part of the place–it is her singular experience of a world in which the viewer has no role. It is in the moments of expectations unmeant that the viewer can understand their exclusion. "Resignation," exudes Speiss-Ferris's anguished charm while allowing for self discovery through her range of emblematic totems that find their way into her imagined worlds.
The show also presents some of Speiss-Ferris's drawings where one can see the artist looking at her creations from without, while also participating in the ironies and chagrin of human awareness. In "Acquisition" the sketched portions of the drawing remain as portals into her studio–a nod to herself and remnant of her hand.
This elusiveness and earnest approach to her materials has kept Spiess-Ferris on the periphery of Imagism. Her work is an acidly good-natured view of human follies, largely concerned with the roles and relations between women and nature. She presents the human comedy through her imagined places that are often absurd, charming, hostile, seductive, and ridiculous. Charged with strong doses of painfully comic self-discovery, her host of symbols, images, and characters all play theatrical roles in the ongoing comedy that is a perpetual remix of itself.
The affinity to nature, the paint handling, geography, and the parallel working timeline are enough to link these two artists, but the strength in this show comes from both artist's unflinching dedication to their practices. Decades in the making, their works have evolved and remained on the edges of a discussion that Chicago painters cannot seem to avoid. Imagism is the staple, the running joke, the license, and liberator for Chicago painters. It is the all-encompassing genre most aptly described by Richard Loving as "just making what we wanted to make."
To pair these two artists in a conversation about the reaches of Imagism was to operate on the periphery–to think outside the proverbial box. As the Hyde Park Art Center enters into its 75th anniversary year, a show to kick off the celebration that commemorates a pivotal moment in the center's history as well as the history of Chicago image making was a grandiose gesture, most welcome.
---
A historical piece which points towards exceptional moments observed directly by the writer, in Chicago, over the course of the previous calendar year. Alternative, NFP, and commercial galleries, as well as art centers, museums, and public spaces, were visited more-or-less regularly, according to the nature of their programming. All artwork copyright original artists; all photography copyright Paul Germanos.
---
Per convention,
"best of" lists and "year in review" articles are released late in December. And critics have tended to follow in lockstep. Yet such a schedule might be a cause for concern when one considers how little time in reflection is afforded the author of any such piece.
That said, it's the original scope of the critic's experience, and not the amount of time spent in reflection upon that experience, which is the greater issue in most cases. Readers have good reason to wonder about art writers: How much did he or she see in the first place? And what does it mean to be placed in a "top ten" list by a person who might have attended only ten events?
Of course, with regard to the utility of press, the writing itself counts for little; it's a publication's masthead and associated social connectivity which are really crucial. For whether the subject is artwork or the publicity related to it, heavily invested dealers, artists, directors, et al, labor to get the right bits in the right places, till the overall picture looks good–much like jigsaw puzzle work. The gaming of interpersonal relationships is, after all, the chief modality of the art world.
Let's try something different!
(1) Best Artist's Talk: "Andre Butzer @ Cochrane-Woods Art Center"

Forgoing the pretense of a rational narrative, German painter Butzer dryly delivered pre-Socratic fragments–first in his native language and then in English–alongside projections of his artwork. The audio and visual elements in combination, amounting to a performance, were, in fact, stronger than his show which followed at Rhona Hoffman Gallery.
Butzer became moderately excited when, after the lecture, I presented him with a question about Nietzsche.
6:30 PM, January 25, 2012
Cochrane-Woods Art Center, Room 157
(adjacent to the The Smart Museum)
University of Chicago
5540 S. Greenwood Ave.
Chicago, IL 60637
Runner-up: Karsten Lund's performance piece in Peregrine Program.
(2) Best Gallery Opening: "Short Court: Tropical Aesthletics @ ANTENA"


Above: Jake Myers at left, in glasses, on the court in ANTENA.

Curated by Jake Myers and Chris Smith, a/k/a "Tag Team," and featuring 19 artists (Adam Farcus, Adam Grossi, Alberto Aguilar, Alex Bradley Cohen, Angeline Evans, Brian Wadford, Caroline Carlsmith, Cory Glick, Edra Soto, EC Brown, Irene Perez, Jeriah Hildwine, Jim Papadopoulos, Kevin Jennings, Nicole Northway, Pamela Fraser, Philip von Zweck, Thad Kellstadt, and Vincent Dermody) "Short Court: Tropical Aesthletics" was dominated by Jake Myers' own performance in the center of the gallery.
There, Myers and company (including two professional players) offered to "take on all comers" in a high-spirited volleyball match. The boisterous physical competition which ensued was entirely contrary to the quiet struggle for rank which is usually present, if unseen, at such affairs. This was good. It's yet unclear to what degree Myers' work is ironic.
February 10 – March 10, 2012
ANTENA
1765 S. Laflin St.
Chicago IL 60608
(3) Best Art Writing: "Hamza Walker for The Renaissance Society"

With regard to the consistency and volume of his production, Hamza Walker has been exemplary: Every exhibition at The Renaissance Society is accompanied by a broadsheet containing one of Walker's companion essays. Curiously, these essays usually go nowhere. Are they not read? not understood? not thought to be of any value? Sunday attendance at The Ren is too often like unto church: orderly, solemn, performed for fear of damnation, and forgotten on Monday.
(Ongoing)
The Renaissance Society
Bergman Gallery
Cobb Hall, Room 418
University of Chicago
5811 S. Ellis Ave.
Chicago, IL 60637
Runner-up: Jason Foumberg, skyrocketing in 2013.
(4) Greatest Spectacle and Drama: "NON GRATA 'Force Majeure' @ New Capital"

The Estonian performance collective NON GRATA staged the destruction of an American-made sedan on the grounds of New Capital: outdoors, late-winter, encouraging audience participation in the act. No fig leaf of sport covered the aggression here; this was a naked, public display of violence hitherto latent in the community. And it was possible to read the event as a sort of response to the call made by Butzer a little over one month earlier.
7:00 PM, March 4, 2012
Hosted by:
Defibrillator Gallery
1136 N. Milwaukee Ave.
Chicago, IL
Co-hosted by:
New Capital
3114 W. Carroll
Chicago, IL 60612
Runner-up: Unsolicited letters from Wesley Kimler.
(5) Most Noteworthy Young or "Emerging" Artists: Sarah and Joseph Belknap, Tyler Blackwell, Robert Chase Heishman, Sofia Leiby, Jake Myers, Meg Noe, Danielle Rosen, Joseph Rynkiewicz, Etta Sandry, Vincent Uribe, and Nikki Werner.
Over the course of the previous year, some memorable artwork, conversation, or public engagement was initiated by each the people listed above. Further, as a result of the good attendance at gallery openings and other events which most displayed, their names were easy to learn and remember.
(6) Best Museum Show: "The Language of Less (Then and Now) @ MCA Chicago"


Above: Dan Flavin: Untitled (for you, Leo, in long respect and affection) 3, 1978; John McCracken: Untitled, 1967.


Above: Carl Andre: Zinc-Lead Plain, 1969; Donald Judd: Untitled, 1970.
Curated by Michael Darling, the "Dimensions of Space" gallery within "The Language of Less (Then and Now)" exhibition wasn't novel, or exciting, in the conventional sense. Rather, the thing had the appearance of being the logical conclusion of a long meditation upon the fundamental unit, or building block, of the works included, viz., the square. And this formal vocabulary hasn't disappeared. For example, in "Binary Lore," the most recent show local NFP threewalls, Edie Fake recalled Carl Andre.
Closed on April 15 , 2012
MCA Chicago
220 E. Chicago Avenue (MVDR Drive)
Chicago IL 60611
(7) Best Museum Opening: "Feast: Radical Hospitality in Contemporary Art"


Above: Michael Rakowitz' Enemy Kitchen, opening night.


Above: Sonja Alhäuser's butter buffet billy goat, opening night.
The Smart has made an effort to push its programming outward: into its lobby and courtyard. That physical movement runs parallel to the community engagement which has been a major thematic concern of several recent exhibitions. "Feast" wasn't solely a remembrance of the past by means of a presentation of artifacts; rather, "Feast" was a new sort of moment, available to be experienced via the socialization which was possible at its opening reception.
February 16 – June 10, 2012
Smart Museum of Art
University of Chicago
5550 S. Greenwood Avenue
Chicago, IL 60637
Curated by Stephanie Smith
Artists: Marina Abramovic and Ulay, Sonja Alhäuser, Mary Ellen Carroll, Fallen Fruit, Theaster Gates, Felix Gonzalez-Torres, InCUBATE, The Italian Futurists, Mella Jaarsma, Alison Knowles, Suzanne Lacy, Lee Mingwei, Laura Letinsky, Tom Marioni, Gordon Matta-Clark, Mildred's Lane, Julio César Morales and Max La Rivière-Hedrick, motiroti, National Bitter Melon Council, Ana Prvacki, Sudsiri Pui-Ock, Michael Rakowitz, Ayman Ramadan, Red76, David Robbins, Allen Ruppersberg, Bonnie Sherk, Barbara T. Smith, Daniel Spoerri, Rirkrit Tiravanija, and others.
(8) Best Performance: "Mikey McParlane @ Defibrillator"

Mikey McParlane's performance on April 1, 2012, was really something special. Relevant to contemporary gender issues (whether I'm able to tease-out any deeper meaning) McParlane presented ambiguously in the guise of a harlequin. Here, the choreography, costume, makeup, audio and lighting came together perfectly. It was weird and beautiful.
April 1, 2012
"Second Annual Lyp Sinc Show"
Defibrillator
1136 N. Milwaukee Ave.
Chicago, IL 60642
Performances by: Happy Collaborationists, Ben Foch, Sasha Hodges, Mikey McParlane, Sofia Moreno, Jillian Soto, Courtney Macandanz, Rosé Hernandez, Robin Deacon, Taisha Paggett, Jake Myers, Sharon Lanza, Monica Panzarino
Runner-up: Edyta Stepien & Ayako Kato @ Chicago Art Department
(9) Best Installation – "Jacob Hashimoto @ Rhona Hoffman"

Hashimoto's work was interesting in its own right. But, too, quite literally depending upon fiber, it recalled gallery artist Anne Wilson's past treatments of the space, and prefigured Fred Sandback's recent showing there as well. Politics aside, it's rare for a dealer (here) to survive long enough for such a formal thread to become evident–running through a succession of shows. Hashimoto was polite and professional, and he didn't need to be so.
September 14 – October 20, 2012
"Super-elastic collisions (origins, and distant derivations)"
Rhona Hoffman Gallery
118 N. Peoria St.
Chicago, IL 60607
Runner-up: "Lane/Sirianni" @ New Capital
(10) Greatest Wasted Potential: "Color Jam @ Chicago Loop Alliance"

76,000-square-feet of colored vinyl, with a 500,000 USD budget, whose real cost was the good will of its patrons.
June 5 – September 30, 2012
The Chicago Loop Alliance's "Color Jam" by Jessica Stockholder
State Street and Adams Street
Chicago, IL
Runner-up: "De-mystifying the Art Critic @ Chicago Artists' Coalition"
(11) Best Residency: "ACRE Projects"

Insofar as a tangible return on investment is concerned, ACRE stands head-and-shoulders above it's peers. Whether related to the residency, the sheer number of shows produced by ACRE has transformed the landscape of the Chicago art world.
(Ongoing)
ACRE Projects
Home office:
1913 W. 17th Street, 1F
Chicago, IL, 60608
Residency:
Steuben, Wisconsin
(12) Greatest Misses by Chicago's Critics: "Noelle Mason @ Thomas Robertello Gallery" and "Sheree Hovsepian @ moniquemeloche"


Above: Artist Noelle Mason explains the process by which the satellite-mapped US/Mexican border city "bird's eye perspective" textile in the foreground was fabricated; pinhole camera prints documenting her substantial skydiving experience are mounted on the wall in the background.


Above: Sheree Hovsepian with her artwork.
We all wonder why some shows receive press while others do not. Mason and Hovsepian "did everything right," and yet received scant critical attention.
Noelle Mason
"Blue Skies/Black Death"
September 7 – November 3, 2012
Thomas Robertello Gallery
27 N. Morgan
Chicago, IL 60607
Sheree Hovsepian
"Haptic Wonders"
February 4 – March 24, 2012
moniquemeloche gallery
2154 W. Division (@ Leavitt)
Chicago, IL 60622
(13) Best Painting: "Melissa Oresky @ Hyde Park Art Center" and "Davis/Langlois in Re:Chicago @ DePaul Art Museum"


Above: Melissa Oresky


Above: Robert Davis and Michael Langlois
These two (three) were interesting for the same reason: brush or roller "strokes" were applied directly to the walls of the exhibition site. "Painting," here, was no longer wholly a commodity but rather also a temporary transformation of the venue itself.
Melissa Oresky
"Trail"
May 6 – August 19, 2012
Hyde Park Art Center
5020 S. Cornell Avenue
Chicago, IL 60615
Robert Davis and Michael Langlois
"Living the Dream" in "Re: Chicago"
September 16 – March 4, 2012
DePaul Art Museum
935 W. Fullerton
Chicago, IL 60614
(14) Best Photography: "Dawoud Bey @ The Renaissance Society" and "Sade Kahra @ threewalls"


Above: Dawoud Bey


Above: Sade Kahra
Bey was exactly as expected; Kahra was wholly unexpected. Both photographers presented evidence of the human condition, the bodily circumstance, of their subject. Whether relatively conventional or experimental in its execution, the genre of social documentation is alive and well. Sincere, but not maudlin, the work in each case was a relief from the tide of irony here yet to ebb.
Dawoud Bey
"1975 to the present, a career survey"
May 13 – June 24, 2012
The Renaissance Society
5811 S. Ellis Avenue
Bergman Gallery, Cobb Hall 418
Chicago, Illinois 60637
Sade Kahra
"UV Portraits"
threewalls' artist-in-research residency
June 1 – June 30, 2012
threewalls
119 N. Peoria #2d
Chicago, IL 60607
(15) Best Public Sculpture: "Martin Creed 'MOTHERS' @ MCA Chicago"

After "Color Jam" and "Forever Marilyn" the bar couldn't have been much lower.
Installed in August of 2012; now closed.
MCA Chicago
220 E. Chicago Avenue (MVDR Drive)
Chicago IL 60611
(16) Hottest Chicago Artist Who's Not Theaster Gates: Heidi Norton


Above: Heidi Norton at the MCA.


Above: Heidi Norton and Geoffrey Todd Smith at EXPO Vernissage after party.
Norton's schmutzy floral collages incorporate all manner of found objects–cast or bound together with wax and resin. If her additive Ab Ex, Neo-Dada process might recall a male figure such as Rauschenberg, her palette and penchant for translucent materials are more distinctly feminine.
After showing at Johalla Projects and the late Ebersmoore, Norton graced the MCA in 2012. In 2013 she was hired by Northwestern University; and institutional connectivity is, we all know, key to longevity in Chicago.
August 7 – October 23, 2012
Curated by Karsten Lund
MCA Chicago
220 E. Chicago Avenue (MVDR Drive)
Chicago IL 60611
---
POSTSCRIPT
(I) The following errors were identified and corrected in the article above:
– "Sofia Leiby" was originally written as "Sophia Leiby"
– "Vincent Uribe" was originally written as "Vince Uribe"
– "Chris Smith" was not named as Jake Myers' partner in Tag Team
(II) Image of Jason Lazarus at ACRE Projects removed:
– On March 25, 2012, the author of the article above created a photograph of Jason Lazarus in the act of igniting fireworks in the alley behind ACRE Projects. Uploading said original digital image to Flickr, the author of the article above maintained the nomenclature which he received on-site at the time of said event: ACRE staff referred to said event as Lazarus' "Fireworks Extravaganza." Regarding that reference, for 16 months no complaint was made. Jason Lazarus saw said image on Flickr 16 months ago, left a comment on Flickr at said time, and therein made no complaint about the presence of the words "Fireworks Extravaganza" in said image's Flickr caption. After the publication of the article above a complaint was received by Bad at Sports, from ACRE, with regard to the use of the words "Fireworks Extravaganza" in said image's caption on Bad at Sports. The offending image and caption have been removed from the article above.
(III) No Endorsement:
– The author of the article above failed to clearly indicate that even as his viewing experience was his own, so too his conclusions were his own. No individual member of Bad at Sports, nor Bad at Sports collectively, ought to be assumed to endorse the article above, in part or in whole. Errors and omissions are the fault of the author of the article above, not Bad at Sports.
Likewise, with the exception of content which he has produced, the author of the article above endorses no content on Bad at Sports, whether said content is found in the blog, podcast, or in any other place.
(IV) Schmutzy:
– In the article above, an image of John McCracken's "Untitled," 1967, appears opposite Dan Flavin's "Untitled (for you, Leo, in long respect and affection) 3," 1978. Whether appropriate, McCracken has been associated with "finish fetish" artists: meticulous practitioners of craft, whose minimal objects are denominated by clean, smooth surfaces, illustrated by the mirror-like reflectivity of McCracken's piece in said image, above.
Heidi Norton, while having exhibited geometric figures in the same museum (MCA) in the same year (2012) as McCracken, is in no danger of being confused with him. Norton's work of late has been hallmarked by blobs, drips (see the image of Norton's work, above) and other surface irregularities.
The author of the article above chose to employ the word "schmutzy" to describe said formal qualities in Norton's work. "Schmutz," literally, means "dirt," though it's more broadly used to signify some foreign matter: possibly organic, probably only semi-solid, and definitely capable of making a mess. The primary meaning of the word cannot be overlooked.
Artists and critics, male and female, gay and straight, in contemporary Chicago, have set precedent for the descriptive usage. For example, the application of such material to a picture plane was the definition of "painting" provided by Vera Klement: "a mark with liquidy [sic] stuff…a recreation of the body in a way, it's the stuff that's in your body, sloshing around in there, that kind of feces, primal material," at 8:42 – 10:05, in the BaS podcast "Episode 214: Constellations: Paintings from the MCA Collection" October 4, 2009.
http://badatsports.com/2009/episode-214-constellations-paintings-from-the-mca-collection/
And prior to said statement by Klement, Jason Foumberg wrote: "paint flows expressively like an ejaculation," in his June 22, 2009, piece "Portrait of the Artist: Dutes Miller," in Newcity.
http://art.newcity.com/2009/06/22/portrait-of-the-artist-dutes-miller/
Bodily processes and sexuality might be hinted at by a word such as "schmutz" when used in relation to the appearance of Norton's work; but, the association is no more necessary than is forcing such a (bodily, sexual) reading of "finish fetish" in relation to McCracken's work. And it's wrong to conflate the artist and the artwork: a description of one ought not to taken as a description of the other. In no place has it been written that Norton is schmutzy, or is a schmutz.
Postscript above appended on July 21, 2013, by the author of the article above, subsequent to a letter received from the blog's editor.
---