Ann Toebbe is well known for her stylized, architectural paintings — paintings of empty rooms occupied only by objects. These are rooms at rest, between uses, and the furnishings within them stand enigmatic and remote, at once pointing to a network of human relations while being simultaneously autonomous; it is as though these things are preoccupied with a non-human work. Toebbe's chairs seem to be doing very well for themselves, even when not fulfilling their intended, anthropocentric function. In her latest solo show at ebersmoore, The Inheritance, Toebbe introduces humans for the first time. The human figure shares space with its furnishings, pointing to a narrative that seems, at first, more accessible. It is a narrative that invokes the artist's biography as well. By way of a press release, we learn that these ornate tableaus tell a story of inheritance and greed — "Dorothy and Jessie also left shares of their P&G stock to their handyman and caretaker, Ron; to their church pastor, and to a man from their church named Loreaux. But when Dorothy and Jessie died, Loreaux claimed a greater share and sued the estate. While the lawsuit was pending the stock market crashed; by the time it was all over, the fortune was all but wiped out. Toebbe's parents had counted on the inheritance for their retirement, but because of Loreaux's greed, all they inherited was frustration, disappointment, and anger." While this narrative hovers like a background noise, the figures depicted seem remote from it at first. They stand or sit, static as any area rug, bed or book case. Together, these various, human and non-human, elements conspire to create an illusion of stability and cohesion, an illusion that ties in directly with our expectations of domestic life. The home is supposed to be a solid and reliable structure. It never is simply that, however, especially when one considers the transmission of its objects between generations. As a result the given narrative reminds the viewer that what one assumes based on a constellation of objects is only ever half of the whole story. While Toebbe presents calm scenes of the home, she nevertheless reminds us of an unpredictable and dynamic vitality therein, incorporating shifting POVs and gestural marks that evoke the emotional somersaults in a home and its family. Somersaults not always visible from the sphere of personal affects. It is perhaps the way any home works, being at once functional and flighty, recognizable and strange.
Caroline Picard: How do you think about the objects in a given space?
Ann Toebbe: I have a knack for flattening space. It wasn't considered a great asset in my early training in drawing and painting but I have cultivated my skewed perception — often called folk or faux naïve — of space. I imagine objects flat first, then bend and fold them in creative ways to make everything fit in a given room.
CP: Yeah, there are points in a given painting with the orientation of a viewer to the scene will completely shift form, for instance, a bird's eye view transforms into an eye level sight line.
AT: I started out using predominantly a bird's eye view. My early paintings look like cardboard boxes with the lid taken off. You'd look in and see a room in my version of three-point perspective. I drew the lines of the wall in perspective making the floor look like it was in deep space. As I painted more rooms the architecture flattened out — it's simpler for me to unfold the walls rather than try to use extreme perspective to include everything. The rooms are unstable in terms of gravity but since I know from the start how the painting will be oriented and place things accordingly, they feel grounded.
CP: That's what's so striking to me: even though the POV shifts dramatically, the objects you paint feel grounded and stable — even the way you incorporate materials like doily fabric, or the grounding pattern running across the floor — everything has this visual tactile quality, but then you'll suddenly twist the POV — can you talk about that a bit?
AT: The Inheritance is my first mixed media show. I included fabric from my mom's wedding dress, yarn, store bought Christmas lights, and grass paper intended for train sets. My mom inspired The Inheritance and she loves kitsch.
CP: This is the first time I've ever seen you incorporate the human figure into your work — how did that transition came about? Did the human form felt like an intrusion in your conception of space?
AT: I've wanted to include the figure for a while. I can't count the times I've been asked why human figures aren't there or if I'd ever include them. I wanted to give it a try — why not? I just had to come up with the right body of work. Without figures the mood or emotion in the rooms is very different — it's still or even embalmed. The rooms represent many similar memories compressed into one picture — so the paintings are always in the past and the memory centers around how the room was decorated and the furniture arranged.
The Inheritance is a story about a specific time and place and also about a specific set of relationships. The people don't feel like an intrusion in this particular body of work. It wouldn't have been interesting to paint the rooms without them.
CP: What is the difference between living subjects and furniture in your paintings?
AT: It's not evident from the digital images but the figures and furniture in The Inheritance are cut paper collage not painting. I constructed everything in the rooms with the same level of care and detail — a folk art thing. The furniture and figures are stiff, sort of like a carved wood sculptures. I carefully chose the figures' poses especially how they positioned their hands and feet. A posed figure is different from placed and positioned furniture. The figures change the role of some of the furniture. Instead of being stand-ins for the figure, as in previous paintings, the chairs and couches become props for the people sitting on them.
CP: What is it about the domestic setting that compels you?
AT: I started using domestic settings in New York in my twenties. I lived in Brooklyn and was homesick. I had no real intention of returning to Ohio but at the time everything in my life was topsy-turvy and uncertain. I stumbled into painting interiors because it felt comfortable and so many things about living as an artist made me uncomfortable. The funny thing is now that my life is more like Ohio, I miss unruly Brooklyn; so I've made several paintings about my Williamsburg apartment. Painting interiors calms me down and allows me to focus on formal concerns — composition, color, shape, texture. I spend my studio time inventorying life and putting things in order, this works for me as an artist.
There's a story behind each painting and collage. In the early work they were my stories — sleepovers at my grandmother's farm, mopping my kitchen's white tile floor, the neighbors messy house where I babysat. In the newer work I ask people to draw and describe rooms from their memory — my husband's apartment with his ex-wife, my mom's attic bedroom growing up, my uncle's one bedroom apartment…
CP: I am also really interested in your depiction of the outdoors — the "natural" landscape is always framed by a window, and your treatment of that outdoors is totally different, the way you describe trees, for instance, feels much more gestural and abstract — as though it is composed in a different vocabulary of mark making. How did that variation came about, and what does it say about the domestic tableaus you create?
AT: A friend told me that he knows my world until he looks outside my house.
I take a lot of liberty in painting the outdoor views that will be covered by curtains or partially hidden from view by furniture. I desperately want to paint loose and to be expressionistic and these obscured outdoor spaces give me the opportunity to be painterly. I use washy, sponged, and pooling paint in the window views in the newer work. Another clue that the room is a painting and isn't grounded in reality.
CP: Maybe this also ties into a similar idea of framing and mark-vocabulary, but I you also quote other paintings — you know, because it's a domestic scene so of course these people have paintings on the wall, and then you copy them. But here again, there is a stylistic break that I'm really interested in. What happens in those moments? Those little framed images also feel so pastoral, or decorative, and that seems like a kind of meta-conversation that you are having as a painter painting these very decorative, domestic tableaus…..does that make any sense?
AT: Perfect sense! My compositions are made up of the all objects in a room. And as you said this includes the artwork or pictures on the walls. My approach or technique for depicting the art within the art is to do what is most economical. For cats or fruit I look online for simple images and abstraction often comes from cut outs of paintings made by my young daughters. The miniature art works channel the Sunday painter in me along with my admiration for dollhouse craft. It's much easier to paint small — each little artwork can be very detailed but only takes an hour versus weeks to make.
The stylistic breaks you mentioned, the outdoor spaces and miniature artworks, are ways for me flex different artistic muscles and at the same time ride the balance between modern and folk and representation and abstraction.
---
1. Permanent Mirror at Maya Polsky Gallery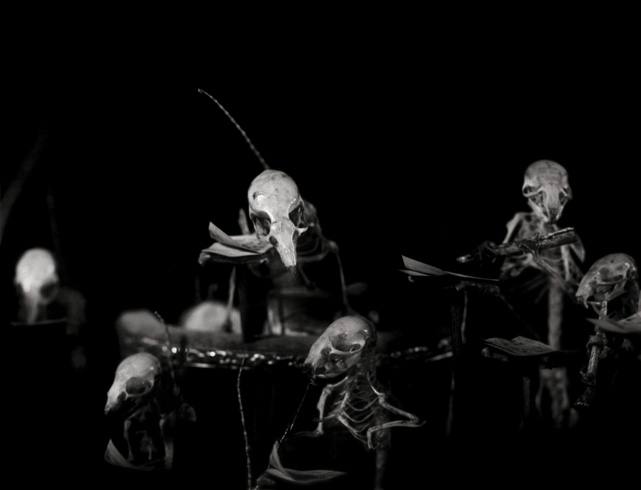 Work by Lana Herzog.
Maya Polsky Gallery is located at 215 W. Superior St. Reception Friday, 5-7:30pm.
2. #losangelesqueer at Bert Green Fine Art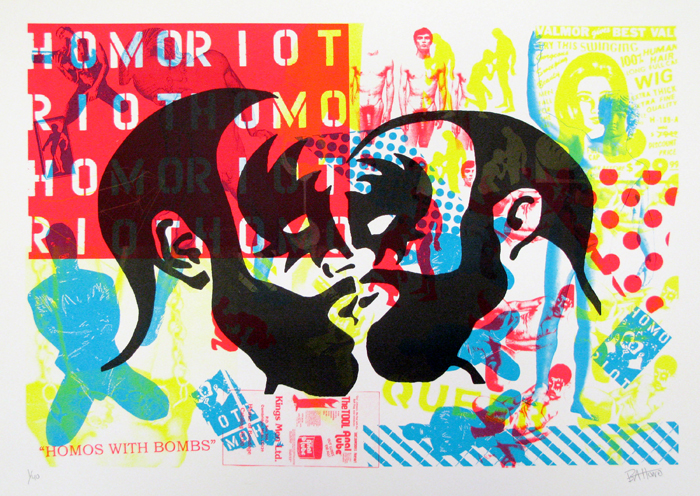 Work by Homo Riot.
Bert Green Fine Art is located at 8 S. Michigan Ave. Suite 1220. Reception Saturday,  5-8pm.  
3. The Night of the World at Alderman Exhibitions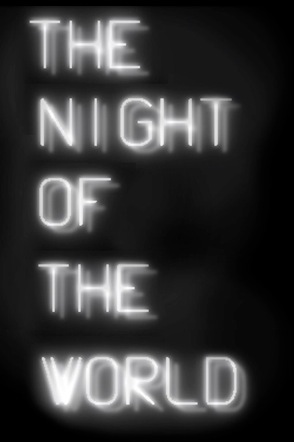 Work by Irena Knezevic.
Alderman Exhibitions is located at 1338 W. Randolph St. Reception Friday, 6-8pm.
4. Death Is Not Your Friend at Ebersmoore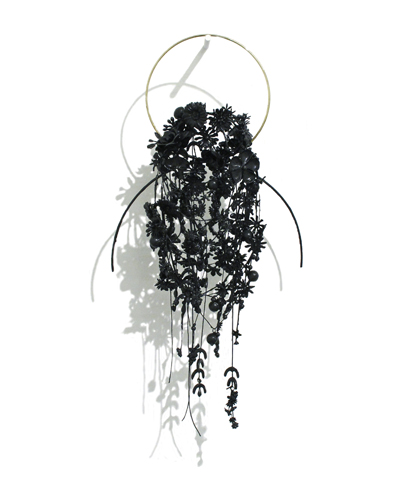 Work by Stephen Eichorn.
Ebersmoore is located at 350 North Ogden Ave. Reception Friday, 6-9pm.
5. One Rock: A Silent Dialogue at Veranda8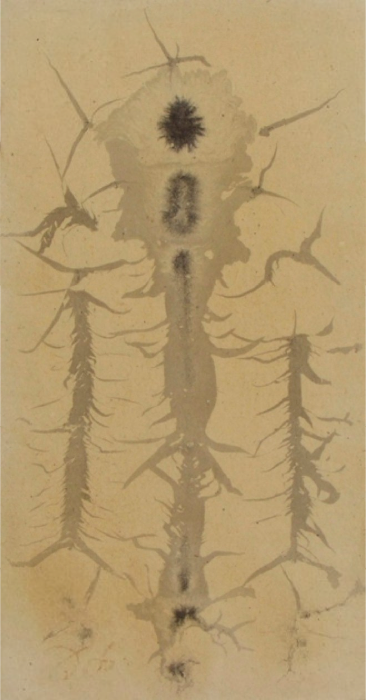 Work by Deepak Tandon.
Veranda8 is located at 401 N. Racine. Reception Friday, 6-9pm.
---
1. US Future States at Chicago Cultural Center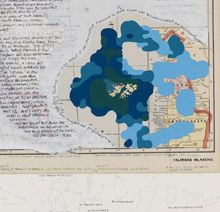 Work by Dan Mills.
Chicago Cultural Center is located at 78 E. Washington St. Reception Friday, 5:30-7:30pm.
2. Reflection at Experimental Sound Studio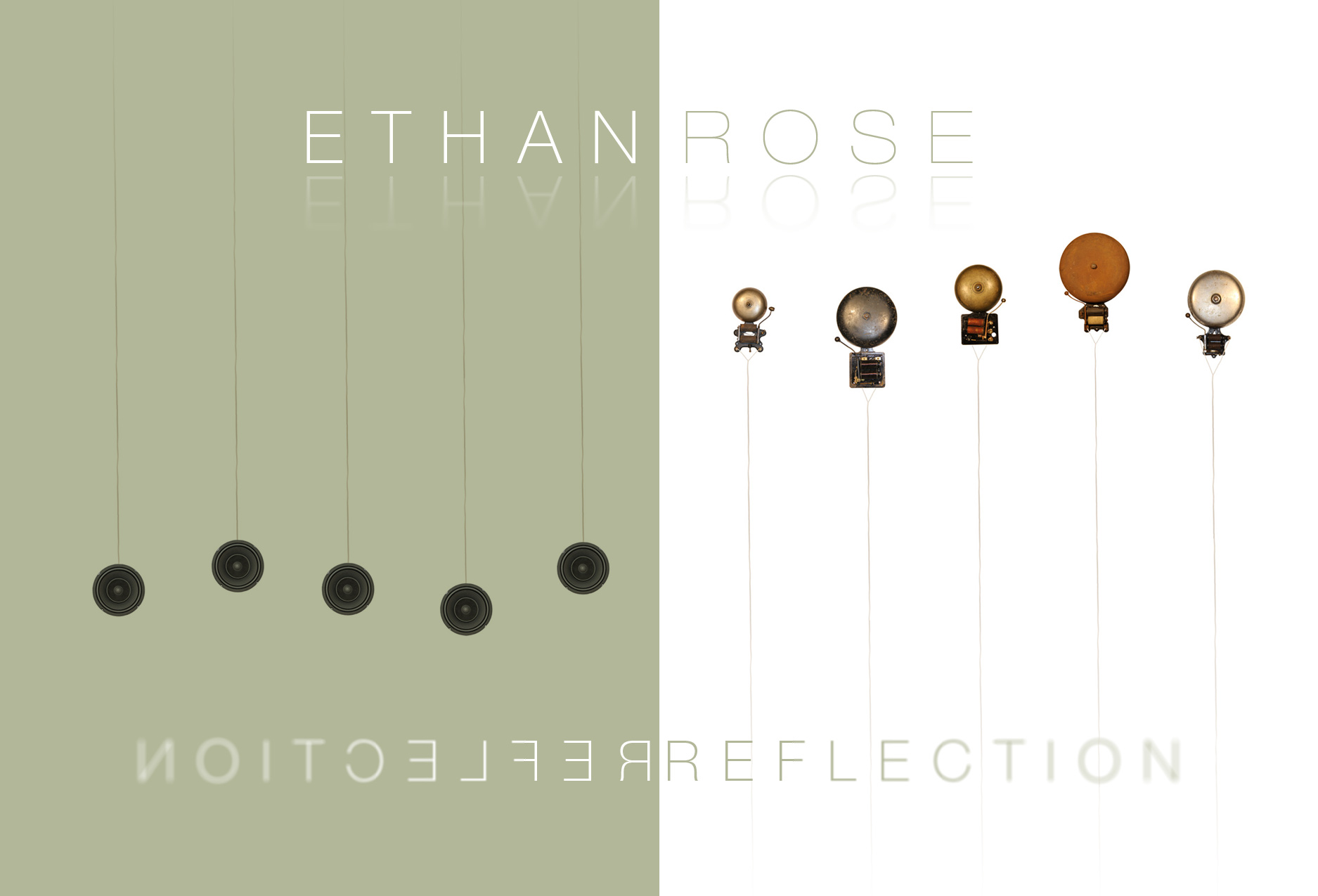 Work by Ethan Rose.
Experimental Sound Studio is located at 5925 N. Ravenswood Ave. Reception Friday, 6-9pm.
3. Synchrodogs at Public Works Gallery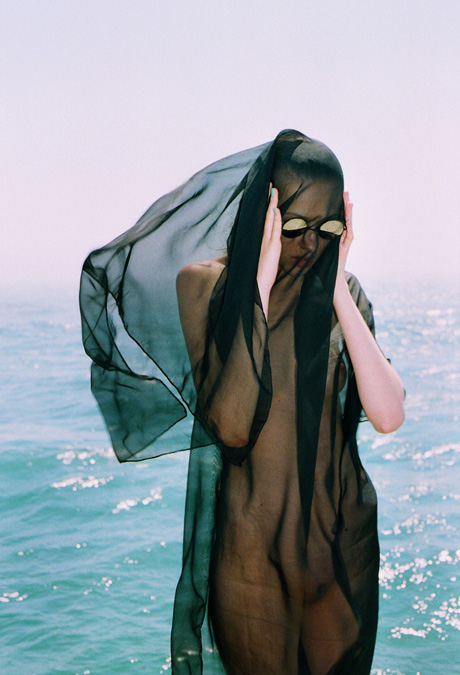 Work by Tania Shcheglova and Roman Noven.
Public Works Gallery is located at 1539 N. Damen Ave. Reception Friday, 7-10pm.
4. My Idea of Fun at Ebersmoore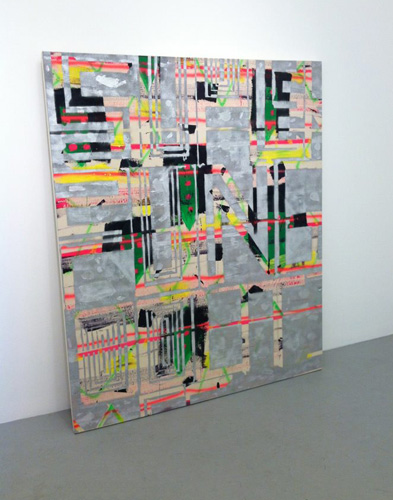 Curated by Michael Rea, with work by Chris Naka, Matthew Hebert, Kate Ruggeri, Kassie Teng, Zach Meyer, Ethan Gill, and John Phillip Abbott.
Ebersmoore is located at 350 North Ogden Ave, Suite 100. Reception Friday, 6-9pm.
5. Send Me Your Pigeons at Galerie F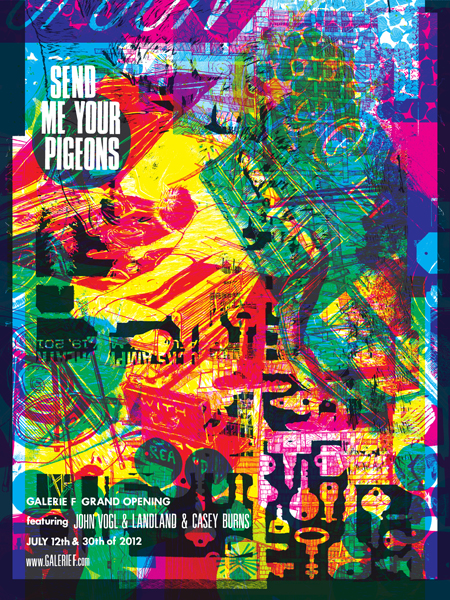 Work by John Vogl, Landland, and Casey Burns.
Galerie F is located at 2381 N. Milwaukee Ave. Reception Friday, 6-10pm.
---
GUEST POST BY HEIDI NORTON
I live in Humboldt Park and as of lately I am way into observing, assessing, and mentally noting changes in the trees. The seasons have me thinking about cycles– nostalgia is creeping in. As the lush green turns to yellow, and the yellow to red, my mind wanders back to Rob Carter's stop motion video and installation of the Nest. Rob's solo exhibition Culte was recently on view at EBERSMOORE (relocating to 350 N Ogden, Suite 100,  January 6, 2012) earlier this fall.  I was mesmerized by Rob's show so much, I saw it twice (see why below). He was gracious enough to give me some of his time to talk plants, architecture, and crowds among other things.
Heidi Norton: Architecture seems to be an important focus within your practice. Within "Culte," you create an architectural hybrid of the tennis stadium in Queens, Flushing Meadows, the site of the US open and the facade of a Gothic cathedral. Talk about the significance of the actual space – the interior architectural and exterior architecture – that these pieces reference. Why this particular stadium? Does the ground around the stadium play a role? Does it have a historical reference? Why Gothic architecture?
Rob Carter: Frequently my work begins with an architectural juxtaposition and this video has several. The stadium seating is indeed composed of a series of shots I took from each quadrant of the Arthur Ashe Stadium in Flushing, Queens. However there is little significance to that fact as I have made the playing surface, and therefore the game, very ambiguous: it is an elongated octagon of perfectly mown grass or perhaps Astroturf. The idea is that this is a fairly universal stadium for a universal unspecified sport – the video's audio track uses the sounds of chanting fans from all over the world representing the theatre and community of sport. Likewise, the outside architecture is made up of Gothic architecture from a variety of European cathedrals, though most are from England and France. All the elements are photographic prints that have been resized to fit on one architectural model structure – they form a building that is fractured (sometimes the outside is made of interior images) and complete – almost believable. To some extent it represents the mega-churches that have formed a significant part of the development of Christianity in North America. These buildings and their 'organizations' naturally draw interesting comparisons with the entertainment, fervor, and ritual of sports stadium events. I have been interested in these overlapping cultural themes for several years – how the need for sport and religion divide and unite our cities, both architecturally and as a communal experience.
I chose to unify the exterior of my stadium with one style of architecture. Gothic architecture is not specifically religious architecture, but it has become most closely associated with Christianity through the Gothic cathedral masterpieces of the 12th–15th century. I have a longstanding relationship with these types of buildings – family summer holidays always included multiple visits to cathedrals and churches all over the UK and Northern France, so I have a strong personal connection with it and despite all those church visits I also still love it. Plants and the natural world have many associations with Gothic architecture and carving which makes a coherent juxtaposition with the plants that surround this particular building in my video. Simplistically the representation of nature in Gothic architecture, as it evolves over the centuries, shows the natural world in all its detail formed in solid stone, as well as an emerging order and purity that attempts to stand above the baseness of nature. Though the style evolves into the more rectilinear forms of the Perpendicular style, the association with nature, with plants, flowers, trees and foliage is always imbedded and celebrated within the buildings. The ground around the stadium did have other incarnations but I felt it worked best as a void or barren earth that isolated the building from the reality of urbanism (no roads or car parks), but that also tied the architecture to the ground. After all soil is essentially broken up particles of stone.
Heidi Norton: In graduate school, I made a piece about spectatorship and crowd power. I was very interested in the idea of absorption and the spectacle–the crowds and the event and/or the thing being consumed. I investigated groups of people of varying sizes within sporting events, church congregations, cheer leading competitions, etc. Please talk about the parallels between this type of absorption and the plants growth mediated through the camera and stop motion. Are these people chanting "mantras" or life to the plants?
Rob Carter: The plants are literally absorbing and consuming in order to survive and grow (the audio track also suggests this), so I am interested in this parallel with spectatorship. The subconscious need to belong – to engage, worship or be entertained en masse is a fascinating  and important part of our societies. Your Graduate School piece sounds like an interesting project – I am most interested in ideas of the power of the crowd especially in connection with architecture and urban planning. To me the seedlings in "Culte" might refer more to the homogeneity that the crowd creates – how we lose our individual identity in the mass of a stadium crowd, and how despite their uniqueness the seedlings never have individual identity in our eyes. They are simply 'programmed' to absorb, nourish themselves and grow. In the circumstances of sport or religion the experience of singing, chanting or just shouting becomes an empowering experience but also one that, like plant growth, relies on order and timing. The voices are chanting many things in different languages, for varying sports and religions, but the auditory sensation is supposed to be something like a series of mantras – one that suggests physical and spiritual transformation – perhaps asking for the plants to burgeon.
Heidi Norton: Why zucchini? Was it important that the plant be a producer of something edible?
Rob Carter: There are a variety of species used, but the soil was predominantly sown with zucchini and pumpkin seeds. When I embarked on this 8-month process I was unsure what I was going to get but the idea was that the vegetables should simply symbolize two architectural motifs – the column and the dome. In my wildest dreams I hoped that a pumpkin might emerge and put a dome on my stadium and probably crush it (the seedlings growing through "The Nest" are mostly pumpkins for this some association). Given the very restricted growing area it was not surprising that this did not happen and as it turns out the zucchinis totally overwhelmed the pumpkin seedlings – so I created a kind of vegetable survival of the fittest arena. It was, as you suggest, important to have something edible produced because the video is partly about sustenance and human needs – about our desire to connect with others and to be 'nourished' spiritually. It also attempts to make reference to the religion of food as I see it today – the evolvement of food 'movements' (Locavorism, Organic, Slow Food etc) and their influence on the way we live and the fanaticism that often goes along with them. For some, it has become a quasi-religious basis for the way they live their lives, affecting the choices for daily life in ever more complex and sometimes contradictory ways.
Heidi Norton: "The Nest" was also on display at EbersMoore. My perception and understanding of the space was completely displaced when I saw the scale of the actual plants and model. I enjoyed this experience very much. Discuss the importance of exhibiting "the nest" and the significance of the camera's point-of-view.
Rob Carter:In the course of making "Culte" I transformed my studio into some kind of bio-lab. It quickly became apparent that the apparatus of constructing the work was interesting and did something quite different from the video. This in itself has led me to a new work which will open in New York next year that will have all the apparatus of such a production in the gallery space including a larger scale seed-bed with plants growing and being photographed throughout the course of the exhibit. "The Nest" is something of a mini pre-curser to this. It is a remnant of the process of making the video – a relic of all those hours of growth; it also relocates the scale of the video for the viewer. What especially interested me in the remains of my studio garden was the way the plants had fused with this miniature piece of architecture – they now form a tangled web of plant matter that is both sinister and protective of the little paper sculpture. The new growth in "The Nest" represents both the beginning and end of the evolution described by the video. New pumpkin seedlings replace the evergreen playing surface and they are set-up to grow throughout the course of the exhibit. Here the seedlings grow in real time, but if you were to revisit the show the sculpture would have evolved and the architecture would be a little further obscured than on a previous visit. The sculpture asks the viewer to consider the camera's point-of-view, and interpret how they have perceived the video. Having been seduced by the movement and sound, it should be something of a mental leap to then look at this pile of dead leaves, observe what is in it and consider the frustrating difference in the sense of time it suggests. The seedlings may feel even more static than they might otherwise – as 'dead' in time at the yellowed leaves that surround them.
Heidi Norton: Does nostalgia play a role in these works?  Is the idea of youth, memory, and lived experience of relevance? The longing for life? The POV of the camera, the stop motion, talk about all of the things in relation to the work.
Rob Carter: I don't think I had considered it as nostalgic. That said, there are many personal ways it connects to me and my 'lived experience'. Stop motion and time-lapse photography has the ability to make the mundane uncanny and often wondrous. Many experience this (first) as children so the adult experience of viewing work using such techniques can be mediated by such memories. My videos tend to use stop motion/time-lapse in a fairly 'pure' form – "Culte" uses the techniques of the nature program, but shows more than the highlights – we never see the flower open, but we see everything else.
Culte [installation version] from Rob Carter on Vimeo.
Heidi Norton: Was the nest a self-sustaining system? Why was it important to add an irrigation feature? How does the space and idea of the stadium change when the plant dies? For me, in the beginning the exterior appeared overgrown and at the end it was barren.
Rob Carter: I don't think that the lushness is unattainable but it is fleeting. "The Nest" has a very basic irrigation system that required a simple collaboration between artist and gallery – they had to keep my sculpture alive for the course of the show. The surrounding dead plants reinforce how temporary and futile this is; the new seedlings are exposed as an effect and a symbol of potential without the possibility of reward. They themselves represent the true narrative – the story that none of us can escape from.  However, I tend to look at this work in terms of cycles of life… cycles and overlappings of culture, community and tradition too.
****
Heidi Norton received her MFA from the School of the Art Institute of Chicago in 2002. She lives and works in Chicago. Norton has presented solo exhibitions in Chicago and San Francisco. Group exhibitions include How Do I Look at Monique Meloche Gallery, The World as Text at the Center for Book and Paper Arts, Snapshot at Contemporary Art Museum in Baltimore, and the Knitting Factory in New York. Norton was published in My Green City (Gestalten) in 2011 and her spring show Not to See the Sun, at EbersMoore was reviewed in Frieze, September 2011. Currently she is collaborating with writer Claudine Ise in a seasonal column for Bad At Sports called Mantras for Plants. Norton is represented by EBERSMOORE gallery in Chicago. She is faculty in the photography department at the School of the Art Institute of Chicago.
---
The Search & They Both Ride Horses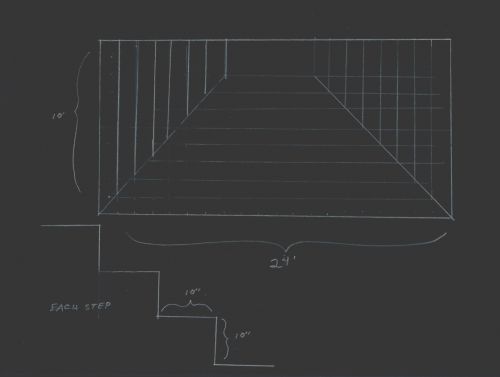 Work by Jason Lazarus and Cody Hudson, respectivily.
Andrew Rafacz Gallery is located at 835 W. Washington Blvd. Reception is from 4-7pm.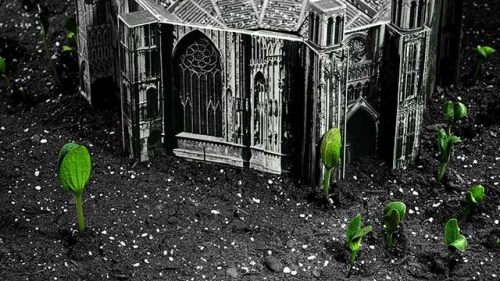 Work by Rob Carter.
EBERSMOORE is located at 213 North Morgan, #3C. Reception is from 6-9pm.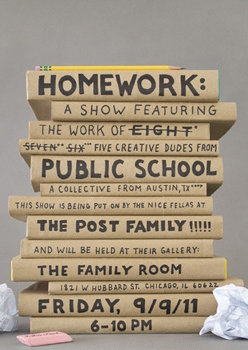 Work by the collaborative Public School.
The Family Room is located at 1821 W. Hubbard St. Suite, 202. Reception is from 6-10pm.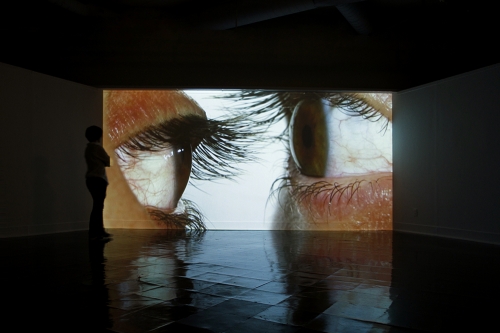 Curated by Jefferson Godard, with work by Candice Breitz, Manon de Boer, EJ Hill, Diego Leclery, and Casilda Sanchez.
The Mission is located at 1431 W. Chicago Ave. Reception is from 6-9pm.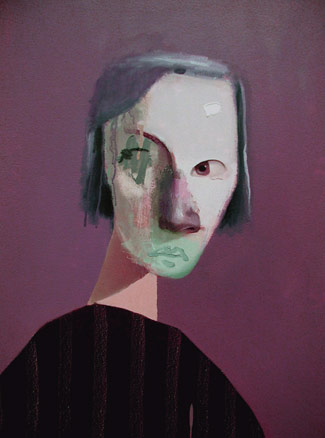 Work by Ed Valentine. Tom Van Eynde in the project space.
Linda Warren is located at 1052 W. Fulton Market. Reception is from 6-9pm.
Dazzling and Bright, Alexandra Walrus, and Outlaws and Patriots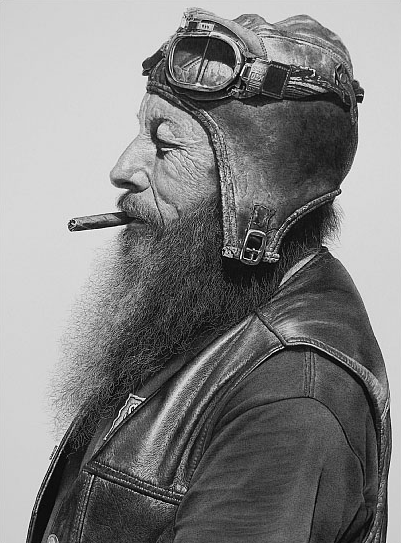 Work by Lorraine Peltz, Doug Smithenry, and Bill Harrison, respectively.
Packer Schopf is located at 942 W. Lake St. Reception is from 6-9pm.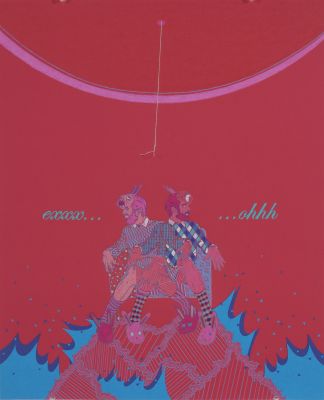 Work by Nathan Vernau.
Robert Bills Contemporary is located at 222 N. Desplaines St. Reception is from 6-9pm.
Mystical Outlaw Rebel Baaddaasss Drawings and Mutinous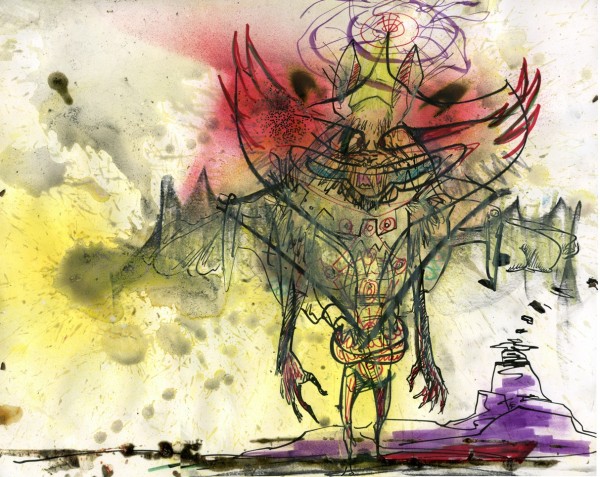 Work by Jason Robert Bell and Bret Slater, respectively.
Thomas Robertello Gallery is located at 27 N. Morgan St. Reception is from 6-8pm.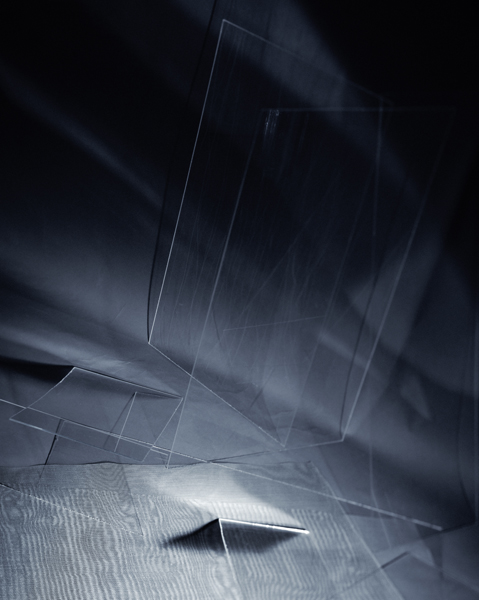 Work by Barbara Kasten.
Tony Wight Gallery is located at 845 W. Washington Blvd. Reception is from 6-8pm.
Stan Shellabarger & Maria Petschnig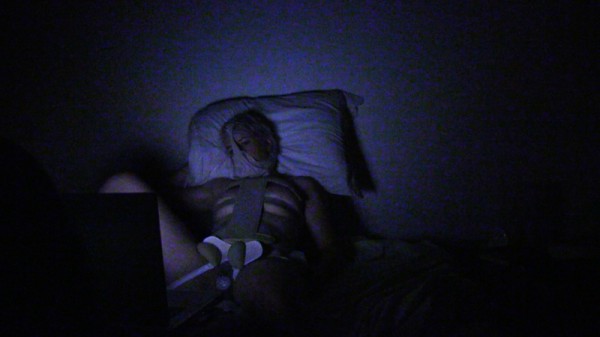 Western Exhibitions is located at 119 N Peoria St. Reception is from 5-8pm.
---