As I was walking through the Modern Wing at the Art Institute of Chicago not long ago, I noticed a late Donald Judd, Untitled, 1989, on view. A wall-mounted, boxy, red and black sculpture, vacillating between image and object, I found myself walking around it, going from side to side, taking it apart in my mind. Despite its seeming simplicity, the work drew me deeper into the implications of its facture. From a slight distance, it looks virtually immaculate – by the standard of most artistic mark making, it is. Of course this was typical of minimalist work from this artist and others of the 1960s. The shapes have a certain predictability verging on total blandness, like a Steelcase office desk. One reads about the importance of the gestalt of this experience from artists like Robert Morris, which he believed lead to a more holistic, unified apprehension of the object. "Unitary forms do not reduce relationships," he says. "Rather, they are bound more cohesively and indivisibly together."[1] On the one hand, the rectangles empty out the object, being everything and nothing, though they might lead to some kind of mathematical spiritual reverie. Yet on the other, in this particular work by Judd, we can perceive a distance from aspirations toward a unified experience in a few ways. Looking closer at the surface – the fasteners, the corners, the paint – I feel a certain fascination for its proximity to, and utter failure to join, that virtual phantom world of forms. The "resemblance" to an imagined perfection makes the distance from this realm seem all the greater. The corners in the metal have a diameter. There is nothing instantaneous, simultaneous, intersecting, coexisting. The screws, though each meticulously tightened and turned to top dead center[2] ("dead" in that turn of phrase being particularly appropriate to the general inertia), announce their absurdly disruptive presence, like boulders being dropped in a glass-smooth pond. The surface of the paint, machine-even, still betrays the slightest speck of dust or fluctuation in thickness. And the colors, well, they don't actually seem like they follow any particular logic at all, save that they were commercially available as is. In the sphere of this type of artwork, these aspects are magnified from being mere details to critical features. We go from what is presupposed ("it's held together somehow") to what is foremost in our consciousness ("the screws are exposed and meticulously turned"). This leads me to thinking in general about an aspect of the art that I am often drawn to, and the art I like to make, where one looks for ways to investigate the liminal areas of the process of making and enlarge upon ways of becoming. Beyond the physical, it seems important to consider how the object's resulting attitude relates to issues outside of itself – whether it wants to or not – allowing the work to be permeated by contextual notions. We can observe a world where the particular diameter of a metal corner is a metaphor for the problem of actually doing what one thinks. The speck of dust on the surface can be what happens when ideas are tested, moved around, creatively misread and complicated by personal and social circumstance, material, process, and even broader subject matter.
In the 2011-2012 exhibition at Chicago's Museum for Contemporary Art, The Language of Less: Then and Now, we were reminded of how the echoes of minimalism are still felt in vital, current artistic practice. I take Gedi Sibony, whose personal biography of being the son of a contractor seems to have informed much of his often slight, provisional work[3] as a prime example. Included in the exhibition, The Cutters, 2007/2010, a dry-walled portal adorned with sketchy paint, spackle and loose canvas, seems quite direct in its relationship to the artist's life experiences, though the manner of its presentation leaves us at a definite remove from these facts. There is a way the work slips past us and lets us wander without being pinned down, though no doubt the particulars are also what charge it with presence. The title for the show and catalog actually derive in part from conversations like the one between Sibony and curator Michael Darling, where the artist wanted to avoid the term "minimal" to describe his practice. Instead, he talked about "maximizing space".[4] While I might hesitate to go that far in describing his work, there is doubtless a greater assertion of content and experience through the use of spatial relationships, involving somewhat idiosyncratic motivation, and more particularity than one would expect from something in the minimalist canon.[5] On the other hand, what Sibony seems to draw from this tradition is its ability to make us notice not only the space we're in and how we relate to it, but to make us look more intensely at what is actually there – as with the fasteners on the Donald Judd. So what we have here is something more like a methodology of focus, than that of reduction, per se.
In my own practice, small perturbations are to be multiplied and dilated; brought forward to be enlarged. Fissures between potential and imagined, present and executed are widened. Any time I can find a troubled intersection of intention and doing, imagining and becoming I want it to be fore grounded. Prioritizing space, form and material rather than image, metaphor and text doesn't preclude the latter, but allows me to focus on what is happening in the made object, what happened during its making, and how bringing that experience to bear in the viewing situation acts a kind of demonstration but also as a site for instigating and considering ideas and their implications.
Things should stop short of anything too transcendent or settle only for what is concrete or commonplace. Dealing with the facts is important, but I don't expect things to stay put there. Better to look for an experience that shuttles back and forth between something like the transcendentalism of Suprematism and the facticity of the readymade – a dyad of artistic renunciation of the temporal and embrace of the spirit and intellect.[6] On some level, things should be a little dirtier, interfered with and multifarious. I mean by "dirt" a sense of something that isn't necessarily supposed to be there by some tenet or other, or is in a way incongruous with it; a complication that has a complication.[7] So with regard to some framework, the artwork should take a step in and a step away. Something meticulously "designed" in a CAD system can be made by hand with rudimentary tools. Painting can be done with "brushes" that are whole images, letting them interact on the surface in a way that multiplies context, so expression is built up not only from each successive mark but from the baggage the marks carry. Personal histories and studio histories can be starting contexts. A finished piece is a context for another through it actual use in part or whole. The branches in the process of construction can be turned toward another project. Perhaps this is a version of the deliberate cataloging that R.H. Quaytman does, except it's not being declared so such as much as its being done genetically, so to speak, in chains of production that cause each other. Even more than this I see reason for exhibitions containing objects that are out of phase rather than exhibiting a single end point of a creative stretch of time, avoiding monolithic bodies of work to be shown at once. Perhaps two, three or even five different aspects of a view on things is called for. The problematic for me here is a kind of foreshortening effect of cultural production and its vacillations. Taking a cue from Walter Benjamin's ruminations on the melancholic,[8] no particular idea becomes overly reified, nor is there too much trust lain in detached universals. It is a basic predicament not only of importance to art, but in life. Ideas are placeholders, and reality is often beyond our tenuous grasp. We can perhaps hope to try to widen the island we stand on, but we can never know the ocean.
Of course, a countervailing force to whatever direction I'm headed need not only be found in bodies and processes external to the one I begin with, but can be discovered inside them. Things contain their own undoing or re-emergence. For instance, repetition is a well-recognized minimalist impulse, but it can be used not to eliminate the presence of the unique and idiosyncratic, but as a means for things to transform and estrange themselves, taking them to another place perhaps even opposite of where they started. For example, a repeated line, a layered image or a structure turned on itself can be made to collapse and then crystallize into a different appearance or meaning. To borrow a word Chicago artist Steven Husby has been fond of using, we could call this type of repetition or self-transformation recursion. It's a term used in mathematics and in the study of nature. What I take from it is the notion that sometimes doing the same thing repeatedly doesn't produce the same results; that feeding something back into the same process can cause it to change exponentially.
I think here of Eva Hesse and some of her not-quite primary, post-minimalist forms. Even her relatively simple structures, like boxes, cylinders and lattices were greatly complicated by the potential readings of their fabric, latex or metal components. Especially interesting here is a piece like Accession II where what the material could do took it well beyond its default reading as plastic or steel. In particular, the way the plastic tubing is inserted into the structure, piece-by-piece, generates an altogether different experience. It is holistic but of a totally different order than early Robert Morris' geometric gestalt. The entirety is radically different from the parts as opposed to the parts servicing the entirety, or even the parts just fitting into the whole, which was a complaint Morris had about painting.[9] This is an aspect that makes her work not only post-minimal but potentially instructive for us today as it opens up the end-gamesmanship of minimalism for future use – again, the aforementioned methodology of focus rather than less. But it's not at all the formalized focus of a hierarchical academicism, but the character of a certain specificity of the experience. Other transformative uses of material that take minimal precepts beyond even this to other subject matter to include the likes of Felix-Gonzales Torres' candy installations, with their heartbreaking references to loss and Janine Antoni's Chocolate Gnaw, 1992, a form reminiscent of Tony Smith's Die, 1962, made thirty years hence from chocolate with large bitten-off chunks taken out of it, subjecting the austerity to obsessions over body image.[10]
A local, contemporary artist who fascinates me with subtle material play in a fixed framework is Samantha Bittman. It's a very close game of ruffled repetition in her textile-based painting-like pattern works. We've seen many attempts at the dialectic of image/object, painting/support in our time, but very few demonstrate a consistent talent for intertwining these issues in such a cohesive and distinctive way. There are patterns painted and patterns woven in the support and neither quite adds up to the other, as they incessantly confuse their figure ground relationships. The patterns themselves really are only pseudo patterns since the actual weave is nearly as varied in warp and weft as a gesture and the painted overlay is often equally complex in a more macroscopic way. At times the painted surface is almost indistinguishable from the support, but a tension always remains; a serene overall surface threatening to break apart from itself and its background. The material and its differing implications disappear and reappear into each other like sfumato ten times removed, born of a seemingly cosmic sense of humor.
From the standpoint of the process, we could take cues from artists like Hans Haacke or (former) team of Peter Fischli and David Weiss. Haacke takes variously hidden or opaque critical stances toward larger institutional issues in his workings with natural phenomenon, such as in Condensation Cube, while Fiscli and Weiss deal not so much in formal visual tension but the actual tension of gravity in their photography and film, especially with the filmed running of a highly complex Rube Golderg machine in The Way Things Go. I will often consciously interleave some sort of external chance or physical process into things, ala the fluctuating Cube, so that whatever I'm thinking is shifted or channeled if not completely determined by it. The incorporation of a complex event like a crushed object, or the grain in a piece of wood can spin things around formally while the determination to involve bodies, events, and physics in this way is critical to the desire to foster interplay between idea and outcome, connotation and fact. Alternately, Fischli and Weiss' film is not only another example of physical phenomenon (gone hilariously absurd) but that it was filmed and edited, to the point where we really have to question what did and did not happen, is of great interest. At several points the artists seem to hide their transitions in plain sight. The viewer can be convinced – by the extremely well worn and nearly invisible trope of the dissolve transition in film – that two connected takes really do match up with the same chain of cause and effect. Letting yourself pause on it, the realization comes that it probably went all wrong and they had to kick start it. These breaks transition us between natural and cultural facts; the will and desire to make the system keep going, or at least make it appear to keep going despite contrary realities.[11] This sense of dealing with gaps, losses, and non-sequitirs enters my work on a regular basis.
Looking closer at this, I see my sculptures, for instance, as reactions to broken, self-contradictory and attenuated geometric structures. As I work with them, I'm trying to bring them to a place beyond themselves, to have the initial breakdown re-emerge as some new cohesiveness that in its own way seems kind of inevitable, but really is more like one of many potentialities. There are cascading decisions to make. First, I have to think about the sculpture being a practical object that can hold together physically. Some forms of sculpture contain tabs, rods and armatures, but I will tend to make those parts that bear the structure a part of the form that one sees. Having a certain range or degree of relief is important for the objects status as something for the wall or floor. I consider whether they are balanced or unbalanced, try to involve myself in convolutions or extricate myself from them in some way, and try to recognize a character that emerges. This character can appear after one or two moves or after 50 moves, or even on the last touch. In one case, with a piece I called Double-Sided Painting, I didn't realize what it was until I tried to hang the piece on the wall and noticed that both sides of it fought to be the "front". So I hung it on a mount that suspended it in space so each aspect could have its say, not to mention point toward something like traditional panel painting which often involves using both sides to tell a story or perhaps simply to recycle a costly wood panel. Other times, the character involves a certain sense of gravity or volume, a particular structure that presents itself as needing to be built "around" or is relevant to something I had to do to the piece to make it "go". One I titled Twoohsix really had something to say to me after I stood on it with all of my weight to make it do something – the compressed words of the title being my approximate body weight.
Living between polarities, looping through historical and contemporary artistic practice, taking an ending as a beginning: these induce for me a constant state of movement in the art. On a personal level, for whatever reason, life has led me to change my place of residence a number of times over the last several years. So in a way I feel like these disruptions, beginnings and endings have become a bit ingrained in my psyche as much as it has been a part of my art practice. One apartment was on the 6th floor of a building in Edgewater that had a view of the lake. The vista was framed by a couple blocky apartment buildings. It made for a striking image of nature and construct and I would regularly take pictures of the sunrise as filtered through these concrete monoliths. Looking at the images over time, I thought if you didn't know the time and location, it might be hard to tell if it was morning or evening. Astronomically speaking, it all may look much the same – the star bears a relationship to the horizon of the planet earth from my vantage point that produces a characteristic range of hues in the sky. The sun being 18 degrees below the horizon, according to accepted standards, defines both. Those are the facts. Most likely our circadian rhythms or some other such way finding apparatus make it easy enough to distinguish dawn from dusk as you're there in it. And to me that's the part about spending time in the studio that will probably never get old for me is not quite knowing what will spin the one into the other until it is experienced, whether it's something in front of me or something from history considered from a given moment now. The title above was taken from the first line of the R.E.M. song Low, released on the Green CD in 1988. The video for that song has always struck me for its imaginative use and technological reanimation of La Confidence, c. 1880, by Elizabeth Jane Gardner. It complicates and broadens the experience of an otherwise rather academic scene of innocence and intimacy, combining "high" and "low" impulses and values of visual production. The very meaning of the painting seems vastly different by this act of recycling.[12] As I've related elsewhere[13], this sort of play of past and future, and how something upon which the sun has set can be given new life, is a cornerstone to my own practice.
[1] Robert Morris, Notes on Sculpture, essay, first published in Artforum, February, 1966.
[2] On even closer inspection, I think one screw isn't at the same angle on this piece!
[3] Michael Darling, The Language of Less, essay, in the exhibition catalog for The Language of Less: Then and Now, 2011, Museum of Contemporary Art, Chicago, curated by Michael Darling. p. 27.
[4] ibid., p. 23.
[5] Even when looking at the usual suspects like Morris, Judd, Flavin, LeWitt, McCracken, etc. there are a lot of different approaches, some even opposed, such as Morris' and Judd's differing views on whether ideas of painting and sculpture can be commingled or not. At least early on, Morris seems to have taken a hard line against the admixture, though I'm left wondering – for another place and time – about his felt reliefs for the wall.
[6] For an interesting discussion of this, see Barbara Rose, ABC Art, essay, 1966.
[7] See Brazil, a film written and directed by Terry Gilliam, 1985: http://youtu.be/KyHilwSRo28
[8] Such as he ponders in works like The Origin of German Tragic Drama, 1925. (See, for instance, the translation by John Osborne, London: Verso, 1998, paperback edition, pp. 138-142.) It is important for me to note a fascinating passage later in the chapter on the the ancient views of the saturnine disposition being countered by the influence of Jupiter, or Jove, the origin of jovial. For starters, making art is, to me, in itself a jovial thing to do. This is the dialectic I'm touching on, not to take melancholia as some kind of prescription.
[9] This seems to be alluded to in Robert Morris, Notes on Sculpture. The issue was also discussed in Michael Fried's Art and Objecthood, Artform, 1967.
[10] Minimalism, ed. By James Meyer, Phaidon, paperback edition, 2005, p. 42.
[11] I am indebted to Jeremy Millar's book from the Afterall: One Work series, Fischli and Weiss: The Way Things Go (Afterall Books, published in 2009) for his excellent, in-depth analysis of the artists' film.
[12] http://youtu.be/QqVI_CHlFAI
[13] See my post, The Outward Spiral, published on Bad at Sports art blog, June, 2013. http://badatsports.com/2013/the-outward-spiral/
---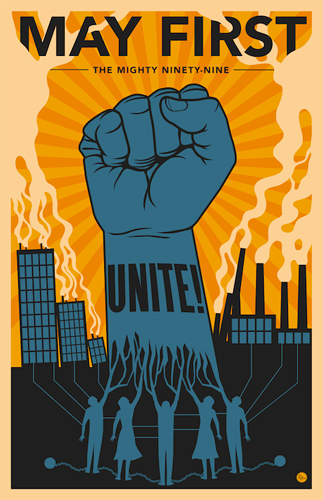 It's the first of May, which means that it's May Day, International Worker's Day, and you may as well watch the Bee Gees perform this. It also means that lots of art spaces and museums are getting ready to open their first round of summer shows. In solidarity, I present to you my (rather long) shortlist of what's on in St. Louis in the coming weeks.
The River Between Us
Laumeier Sculpture Park
April 13–August 25, 2013
A symbiotic traveling exhibition coorganized with Longue Vue House and Gardens in New Orleans, The River Between Us is the latest in a series of projects at Laumeier that explore the theme of place. This time, the mighty Mississippi provides the inspiration for the show, which will feature both new commissions and historical documents. Featured artists include Ken Lum, Allan McCollum, and Alec Soth, among many others.
Rudely Interrupted Evening with Mr. Manners
The Transients
May 3-5, 2013
Local guerilla curatorial collective The Transients stage shows in recently vacated commercial spaces. Their newest project takes place in the old downtown YMCA, which piques my interest. This weekend-long series of events includes collaborative videos and screenings, a brunchtime screening featuring a twenty-one-gun salute (!), and a performative event by the Archeospiritist Study and Consortion Initiative Illinois (!!).
Andrew James: Without the zeroes and ones, 
the big and the huge don't mean dick (v.1)
Isolation Room/Gallery Kit
May 3–June 1, 2013
Worth going just for the title—and the fact that Andrew James also runs St. Louis's excellent Good Citizen Gallery—this show at the petite apartment gallery Isolation Room features a new kinetic object by the artist that, notes curator Daniel McGrath, "scoots on wheels like a Minecraft translation of an intravenous drip."
Contemporary German Art: Selections from the Permanent Collection
2013 MFA Thesis Exhibition
Mildred Lane Kemper Art Museum, Washington University
May 3–September 7, 2013
The Kemper showcases highlights from its formidable collection of contemporary German art, including works by Thomas Bayrle, Isa Genzken, Charline von Heyl, Sergei Jensen, Wolfgang Tillmans, and others. Also on view is the latest MFA Thesis show of work by twenty-three new grads.
Mike Newton: Contact
Fort Gondo Compound for the Arts
May 4–June 1, 2013
I've sang Fort Gondo's praises elsewhere on this site. Its latest exhibition curated by new director Jessica Baran features several videos by New York-based artist Mike Newton that draw inspiration from the question of how to represent and understand interpersonal communication, particularly as it relates to eye contact.
Whole City: St. Louis
Luminary Center for the Arts
May 4–25, 2013
The latest in a series of guest-curated exhibitions collectively titled How to Build a World That Won't Fall Apart, this show by Minneapolis design studio Works Progress takes the form of an intensive short-term residency that seeks to better understand the cultural landscape of St. Louis. Starting with the question "what makes us whole?" the interviews and conversations that they conduct in the city will be made manifest into an exhibition and free newspaper.
Coconut Water
White Flag Projects
May 4–June 10, 2013
In typical White Flag fashion, the curatorial conceit remains a mystery, but I'm listing this for Peter Hujar's photo of Susan Sontag alone.
Donald Judd: The Colored Works
Pulitzer Foundation for the Arts
May 10, 2013–January 4, 2014
Former Chinati Foundation director Marianne Stockebrand curates the first show focused exclusively on Donald Judd's works in color. Everything in the show was made late in his career between 1984–1992. Modern Art Notes' Tyler Green will speak with Stockebrand on the occasion of the show at the Pulitzer on May 11. Not to be missed.
Hiraki Sawa: Migration
Saint Louis Art Museum
May 3–September 8, 2013
Japanese artist Hiraki Sawa presents a new animation in the latest in SLAM's ongoing New Media Series curated by Tricia Paik.
East Building Expansion
Summer 2013
Technically opening on June 29, this long-awaited expansion gives the museum's substantial collection of modern and contemporary art room to breathe. The inaugural hang will feature much of its strong postwar holdings of works by Joseph Beuys, Gerhard Richter, Sigmar Polke, Anselm Kiefer, and others, as well as an art historical overview of work by the Abstract Expressionists, Minimalists, and more contemporary artists such as Kiki Smith and Julie Mehretu. The expansion also marks the premiere of Stone Sea, a new site-specific commission by Andy Goldsworthy.
Bad at Sports
April 24–May 5, 2013
Lari Pittman: A Decorated Chronology
Mika Taanila: Tomorrow's New Dawn
May 24–August 11, 2013
Kerry James Marshall
May 24–July 7, 2013
Contemporary Art Museum St. Louis
In a stunning turn of events, CAM has an exhibition by Bad at Sports up right now. Duncan and Richard recap their road trip to STL here, and interviews with many of the curators and organizers behind these very shows will be released soon. CAM's summer season opens with solo shows by Lari Pittman, Mika Taanila, and Kerry James Marshall on May 24.
---
My wife and my new daughter and I celebrated our first Thanksgiving in Cedarburg last week in the manner her family has for decades; by dressing up as pilgrims, Indians, and a single dubiously distinguished guest donning a turkey costume. As I held my daughter in that turkey costume, I wondered how tasteful or relevant the pilgrim/Indian myth was in 2012, but bit my lip in order to avert a sensitive issue.
Instead, as my child ramped up to a feeding, right when we were sitting down to eat, a heated discussion about breast vs. formula feeding leaped into the vacancy that would've been more comfortably filled by an argument about stereotypes and outmoded mythologies.
Having lived the past decade in bourgeoisie precincts of Brooklyn, I was unprepared for the onslaught from my older relatives. I've never been exposed to an enclave of formula supporters – everyone I know who's had a child in the past decade has opted for breastfeeding with the righteousness that one might a when opting for a reusable shopping bag or when signing a petition to end human trafficking. If you listened to any segment on New York's NPR station about the city's plan to offer free formula to new mothers, you'd have thought that the city was offering them Four Loko.
But apparently there is another side to the argument. And it was made at our Cedarburg dinner table by my older in-laws as they paused periodically to help themselves to canned cranberry sauce – a side dish I dismiss as totally as they do breastfeeding. The pros they presented were scattered and grasping, in the manner that rituals persevered by fashion and habit often are. Still, I would never dismiss an practice simply because a few of its practitioners defended it incoherently. There's usually an underlying logic to any ritual, even when none of devotees can remember what it is. I know this from years of having to defend contemporary art to students.
Defenses like: 'breast milk makes a child gassy'; 'mother's get anxiety about not producing enough milk, which affects their relationship with the child'; 'the child may be susceptible to the effects of the mother's sherry consumption.'
As the excuses flew scattershot over the dinner table, I fixed my eyes on my great-uncle-in-law (a staunch formula supporter) slicing the shapely gemstone of canned translucent cranberry into perfect coins. Another neat medallion was shaved from the dwindling cranberry cylinder by a great aunt whose pro-Similac pitch beamed through the metaphysical prism of the jellied side-dish and split the resounding argument into its fundamental components.
"Why wouldn't you want something that was measured and the same every time you served it? That's why they call it formula."
Yes indeed. F-O-R-M-U-L-A. Â As regular and unwavering as any myth meant to sort out the unknown and uncontrollable vicissitudes of chaotic reality into manageable pieces.
As the Similac-supporting crew whittled down the cranberry plug, they unwittingly revealed their deep appreciation for an entire age when cylindrical foodstuffs – the Primary Structures of food – signified industrial and technological progress. And conversely, an age when eating a farm-raised, grain-fed bird or a bundle of gnarled, irregular carrots was represented a wanting or lack of access to the post-war bounty of articulated metal and mass production.
The discussion dwindled after a half-hour and the drama of the Lions game took its place. The wedge of cranberry finally toppled as the hand-made cuts took their toll, its concentrically ringed ass ending up in the air. Still close to perfect from behind though. Take the plate away, put the glassy, scarlet disc in a white cube at the Green Gallery 50 years ago, and it would've been a minor masterpiece. A sweet 'n tangy Craig Kauffman, perhaps.
I'm sure none of the cranberry feasters know or care who Craig Kauffman or Donald Judd is, but their taste lets me know that they do in a deeper sense. They lived the same fantasy of industrial routinization exulted by Harley Earl, Kauffman and Judd alike. They helped shape and were shaped by a cultural milieu a half-century ago that has given way to one that yearns for the past they relinquished. One with dusty farms, knotty wood and fresh churned butter. And one with breast feeding. They left behind an untamed and less-regular past for one that could guarantee perfect cylinders of gelatinous, processed fruit that tastes either like irrefutable progress or oversimplified reality depending on who you ask.
---
If you've been reading my "Cultural Divide" contributions over the past several months, you've gathered that I go to great lengths to try to deliver evenhanded criticism. So much so that a few have accused me of being an apologist for everything from hunting to performance art. My on-the-one-hand-on-the-otherness isn't a righteous stance of journalistic integrity but rather a reflection of a sincere belief that the terms of cultural difference in America stem from very basic misunderstandings about the structural composition of various cultures, which if inventoried, might bridge the widening divide.
An example: Many of my culturally agnostic New York friends adamantly oppose organized religion, yet they remain open to the most phantasmatic, shamanistic, quasi-religious conceptualism in the high cultural milieu. A Lutheran service severely disturbs their enlightened senses of rational propriety, but they're more than happy to attempt the leap of faith needed to appreciate Richard Tuttle, Robert Wilson or Trisha Brown. Likewise, most of the parishioners at a Lutheran church in Wisconsin gladly throw their worldly faith behind a 2000 year-old fairy tale about a prophet conceived without intercourse, yet they walk into a contemporary art museum and feel a Duchampian readymade or a Specific Object by Donald Judd is part of a conspiracy dreamed up by cabals of elitist charlatans from Vassar trying to control their minds.
The two scenarios sound pretty similar to me.
The Lutheran church isn't as religious as many would have it.
The High Art world isn't as secular as many would have it.
Religion is culture. Culture is religion.
But none of that is my point. My point is that even though most of a particular culture's eccentricities or attitudes can be written off to relativity, some can't.
My wife told me last week that I came down a little hard on the tapas bar in northern Wisconsin that served jalapeno poppers and truffled popcorn. She said it was a little snotty of me and that in the process I tipped my hand a little. Sometimes a guy has to pass some judgment.
On the flip side, for the past week New York Public Radio has been running a series of commercials whose appalling arrogance makes me embarrassed to have participated in their pledge drive. It's the kind of navel-gazing, self-satisfied righteousness that turns people off to New Yorkers and their near monopoly on advanced culture. New Yorkers have taken the blind patronage by the rest of America for granted. Sold out Broadway theaters and stuffed contemporary art centers aren't a right, though. If New York dismisses everyone whose dinner conversations aren't about Philip Glass, people may stop making the trip. Instead of traveling to New York for its wealth of culture, they'll stay home and invent their own, spreading praise amongst themselves. Ever wonder why NASCAR is the most popular sport in America?
As a cultural producer I'm not ready to completely alienate the 20 percent of the country who hasn't defected to NASCAR and Captain America. We, at least I, need the 60 million Americans who might rather go to a Dodgers game, but still begrudgingly visit LACMA like a good boy eating his Brussels sprouts.
So here it goes: 15-yard penalty on New York Public Radio for Unnecessary Smugness.
(The spots are read by Stanley Tucci)
"There are people who need you to explain things to them. They don't understand about things like food co-ops and sleep deprivation in children."
"There are people who count on you to be witty, at least smart. They don't know what to think about Goldman Sachs or fracking in the Catskills. They expect you to tell them. And if you let them down, who knows what will happen to the world…or at least New York, which for some people is the world. You owe it to them to listen to WNYC all the time, so please don't do a half-assed job, that's not like you. WNYC. Never turn it off."
---
I'm not generally a fan of the ubiquitous online quiz, but this one…I came, I took, I scored an embarrassing 83% (two answers incorrect). Take it yourself and see how you fare.
Donald Judd, or Cheap Furniture? (Edited to FIX LINK; sorry guys!)
---