Only the second exhibition at the MCA organized by Senior Curator Dieter Roelstraete, The Way of the Shovel, opening tomorrow, takes as its basis Roelstraete's ongoing observations about the centrality of the language of archaeology, archive, and history to art discourse over recent years. Spanning a wide grouping of artists and mediums (though, not surprisingly, focused in particular on photography and video), the show is ambitious conceptually as well, attempting to cover work that challenges histories, creates its own alternate histories (with starting points ranging from Robert Smithson to histories of Chicago), and takes up the tools and practices of archaeology both metaphorically and literally. I spoke with Roelstraete the week before the show opened about the archaeological imaginary, artistic research, Freud, and 9/11.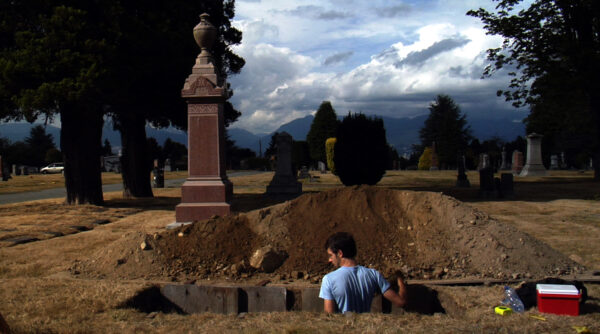 Derek Brunen, Plot (production still), 2007.
The Way of the Shovel brings together a few different academic disciplines and methodologies that the artists in this exhibition either participate in or explicitly challenge, particularly history and archaeology. How literally or metaphorically are you thinking about archaeology here in theory and practice? What is the "archaeological imaginary" that guides the show?  
DR: Well, first of all, I'm using archaeology in both senses, because it would be extremely dull to consider archaeology only in a literal way. The roots of the project lie in an essay I wrote in 2009 called "The Way of the Shovel" in e-flux, which is the basis for the catalog essay for the show. It was a piece I wrote when I was still living and working in Europe, so it is a little determined by the European context, but when I came here (not to my surprise) I discovered this was not just a European affliction, but a global phenomenon. My observation was that there is a quite persuasive interest in history – historiography, archival research, returning, recycling, and so forth– among a growing population of contemporary artists; and that many artists use the language of digging for explaining their work. Excavating, uncovering, discovering, digging, mining– these terms also mined geological vocabulary. My theories for why this metaphor was in intense use in a fairly substantial number of artists is in the essay. By "archaeological imaginary," I mean this phenomenon of the dig, which covers the whole gamut of uses of the language of archaeological in artistic practice, from the most metaphorical to the most literal and scientific. Mark Dion is an example of an artist in the show who collapses those two terms.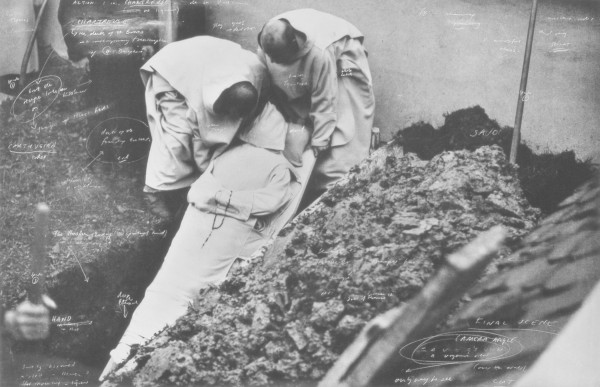 Tacita Dean, The Life and Death of St Bruno, from The Russian Ending, 2001.
I've observed increased attention being paid to the concept of "artistic research" recently in many different scenes: in arts writing/criticism, in the increased number and types of publications for artists presenting research, and in funding for artists who explicitly understand their practice to be research-based, particularly those artists who collaborate with different kinds of academics. What is your sense of the current place of "artistic research" as a concept? When does an artistic practice "count" as a research practice, particularly a historical research practice as in this exhibition? How can artists perform research in ways that other researchers (like archaeologists and historians) cannot? 
DR: It's relevant here that I am a philosopher by training, not an art historian, so I'm quite sympathetic to idea that art is some kind of an embodied form of theorizing. I'm interested in that access, and in tandem with this interest in history, I've also observed that in the last ten to fifteen years the rhetoric of art has been rephrased in broad terms using the language of research. And of course an awful lot of things are being done under the name of research. I really appreciate the ambition of artists to think of themselves as not just working with forms and ornaments, but also with information. I also have a strong attachment to the notion of the avant-garde and the idea that art is some kind of "other" research, an alternative knowledge, not in the spiritual sense of a fifth dimension or something like that, but really the knowledge of the marginalized, the overlooked, forgotten, and downtrodden. But while I'm interested in the critical charge of art's claim to be some kind of research, the whole discussion of artistic research is a huge one that is also based in the academization of art in recent years. There's increasing pressure on students to present what they do as some kind of intellectual enterprise, which has its own advantages and disadvantages.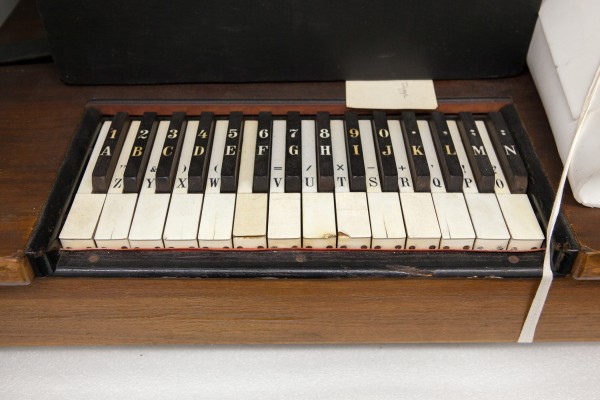 Steve Rowell, Points of Presence, 2010-ongoing.
Speaking of "other" research: the archive, as a collection of capillary, primary, everyday documents, is often understood to be a powerful institution for disrupting or destabilizing dominant narratives. How does the archive function in The Way of the Shovel?
DR: Well, the archive itself is a kind of excavation site, one of the many kinds of things that serve as an excavation site in this show. One of the smaller exhibitions within the exhibition is devoted to Freud, who collected antiquities and always thought of psychoanalysis in archaeological terms– for example, the excavation of trauma. Along these lines, we can think of the archive as site of mining… another site that in the last ten years has become hugely appealing to artists of all types and backgrounds. Again, the reasons for this phenomenon are manifold. One of the theories that underlies the show is the notion that the present has been so depressing that it's actually interesting to dwell in the past. In the last ten years there has been a huge upsurge of interest in the history of artistic modernism, not just modernist forms but also modernist ideals. That also figures deeply in the show.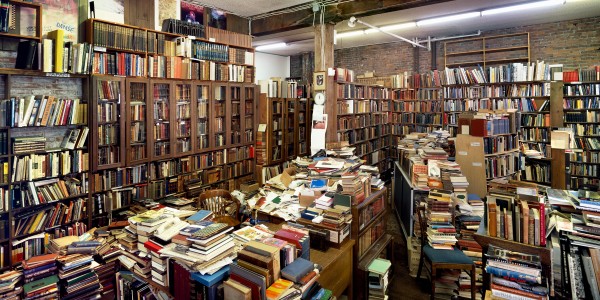 Stan Douglas, MacLeod's, 2006.
You've spoken a lot about the last decade of artistic production. 9/11 seems to be an important historical anchor for the show. Do you see 9/11 as the end of a particular era, as some theorists do? Is this date important because you think ideology has changed since then– or art, or both? The concept of the "end of history" seems relevant here.

DR: I don't want the dates to be too historically present here, but the milestones of the chronology of the show is first, the fall of Berlin Wall in 1989, and the events of 9/11 at the other end. The fall of the Wall and the subsequent collapse of the USSR created a mythology that we were living at the end of history, as in Fukuyama's essay celebrating the triumph of liberal democracy and putting forth the idea that we would all consequently live in some state of ahistorical bliss. This was the dominant mood of the 1990s in the West until 9/11, the day we woke up and realized that history has not come to an end, and that we are always going to be its subjects and subjected to it. The results of that particular moment continue to this day and created a dark period in world history. I'm thinking of the moment back in 2003 when around the world millions and millions of people took to the streets to protest impending invasion of Iraq, and the invasion happened within a few weeks nonetheless. Right then and there maybe a lot of artists thought to themselves, "I don't want to live in this present." They might rather look back, though not necessarily to any kind of golden age. This is completely hypothesis on my part, but it provides a bit core argument of the show in terms of explaining the return to history among artists. This wasn't an intense interest in the dominant artists of the 1990s; for Matthew Barney, the relational aesthetics artists, and so forth, history was not such a big deal. Today it is much more so, and this has to do in part with the realization that the past is not such a distant country.
---
Guest Post by Robert Burnier
I once had a penchant for the obsessive, compulsive traditions of certain Dutch painters like Paulus Potter, Adriaen van der Spelt and Jan van Cappelle, so whenever I was in an encyclopedic museum, I would always make my way toward those galleries. Afterward, however, I would go straight to where the modern art was and stand in front of a Cy Twombly or some other such work. In 2002 the Gerhard Richter retrospective, 40 Years of Painting, came to the Art Institute of Chicago. One salient aspect of this was to witness a similar kind of range more or less present in one artist; one who held up Reading, Grey Mirror, and 256 Colors as artistic statements of the same order. I see these memories as analogies for the way I continue to approach works of art, especially – though in a limited sense – when it comes to issues of craft.
When I look at art today, I would say my taste still involves a dialectic similar to my earlier favorites. I can appreciate artists like Roxy Paine and Mari Eastman, Nicole Eisenman and Richard Rezac. With Paine, we have someone creating sculptures by a distribution of expertise among multiple minds through the idiosyncratic use of high-tech machines and processes, producing objects of a mysterious and alien ilk. Eastman at once shows her knowledge and understanding of painting while withholding some obvious trappings of virtuosity in favor of revelations of a seemingly more personal sort, which are then often further complicated by some borrowed subject or motif. Eisenman is commingling many ideas of painting together with the understanding of craft necessary to put them in conversation with each other, adapting them to her subjects. Rezac makes highly resolved and technological constructions that are nonetheless very slippery to our perception and suggestive through their careful arrangement. In all cases, the individual hand moves, sometimes at a distance, even if only to turn the knobs so that the machine overruns its target output.
Of course, for many reasons – call it the loss of center [1], bourgeois democratic/market forces, technology, transportation, and communication – our era is splintered artistically. It is apparent in public collections where many eras are present at once, creating a stacking effect of latent visual experience. Our perception of space and time are compressed. It isn't really possible to point out what to do or not to do because no one person can index all of it. Technology is of little help. It only reminds us of our difficulties even more. But we can reach into this heap of history, as I like to think Robert Smithson might have put it, for resources, touchstones, and questions unanswered. [2] We can look for ways and means that might yield new meanings or recuperate older ones in new ways. Not only does this apply to the mode and medium, but also to the work, effort, or craft involved.
The degree of facility is linked to the effectiveness of the artistic statement, with the critical caveat that it is for something and not self-reflexive. I often find myself saying to people that craft is only craftiness when facture overtakes ethos. If you paint the sides of a stretched canvas because you want it to look "finished" the painted side remains a superficial garnish; if the painted side reinforces the conceptual aspect of the object, it can serve the work intrinsically. We could get into semantic questions of intent here, but I think if you really know it and mean it, it has a greater chance of seeming to be true, or we have a greater chance of becoming involved in the work on a deeper level. A specific example would be the vast difference between Karthik Pandian's recently exhibited sculpture at Rhona Hoffman, I Am My Own Wife – a highly polished construction in steel and industrial-grade color – and any number of sculptures that are often sprinkled along Navy Pier or grace the ad pages of a major art magazine, aspiring to a similar finish. Pandian's work perhaps takes us a distance toward examining issues of gender while the other sculptures too often don't take us anywhere in particular beyond the awareness of their often massive size and tired formalism. Another successful example would be the work of an artist like Alicja Kwade, whose phenomenological sculptures and installations can cause a shift in our basic understanding of the elements of experience. Works such as Andere Bedingung (Aggregatzustand 6), 2009, toy with assumptions of objecthood in terms of weight, substantiality and permanence. So what I'm saying is that with our incredibly intense media saturation, I turn to usage before material specificity for what I get out of seeing a work of art. I want to try to not judge a book by its cover; to allow the myriad options to play out; to remain variable, accepting and catholic in my assumptions about material and craft. Here I am reclaiming the non-religious sense of having a catholic attitude, which simply means to be open to a wide range of tastes.
Alternatively, the work of an artist can be de-skilled either in the sense that he does not concern himself personally with technique or high craft, or he transfers it to an outside technician (or even leaves it to chance). But if this becomes too dominant to the meaning of the work, then the lack of facility or personal involvement may fall into banality. For example, I've found it hard to pay attention to very much "glitch" art. This has surprised me somewhat since it seems to go against my own extensive background in computer science. However, much of it seems to stop at the glitch itself, piling one glitch on top of another. Aside from the sense that I think glitch art may be claiming a little too much for itself anyway [3], I just can't be too impressed by the mere malfunction of a computer, even though I'm fully aware of the potential auratic qualities of such failure. [4] It just stops too soon. That said, I really liked Christopher Meerdo's recent show at Document. What separates his work is not only a very careful selection of some of the more uncanny images and a spectacular transformation into the medium of print, but also the stress laid on the origin and the process of exhuming source images: discarded vacation photos on found memory cards. Meerdo's exhibition really reflects on the medium, its relationship to our human lives, and our capacity for recording and forgetting through the usage and leveraging of those very same auratic tendencies of malfunction. I draw a similar conclusion about the difference between some of the stacking and leaning of things we are seeing today [5], and the output of an artist like Felix Gonzales-Torres, some of whose best work relies utterly on stacking and piling for it to function.
So there is a kind of competence I see that has to do with an investigation within an artistic practice and through the artist's level of experience with it. This most often involves objects and materials, though it could also be bodies and spaces or something else. The artist grows a micro history of production, a personal academy and repertoire. The depth of the work emerges from the depth of the investigation and the shape of the path walked by the artist. She can come to know quite well what she is doing, while avoiding the twin pitfalls of connoisseurship and disinterestedness. This is about studio time. [6] The artist may find it better to reflect on what she did rather than what she thought, or accept what happened over what she intended. This doesn't involve the rejection of purpose, but the acceptance of things that come into view. For example, looking at R.H. Quaytman's work for the first time a few years ago, I felt initially that the pieces functioned like works of art as essays in the sense put forward by Art & Language [7]. But even as they projected a kind of ultra-intellectual air they had a resolve and physical quality that drew me in. From subsequent lectures and artist talks, I learned about the experiential origins of much of Quaytman's work. [8]  A frequent refrain I remember in her talks went something like "… after I did that, of course I thought it worked because…" In the end, the body of work she's constructing is one of thoughts and contexts, but also of trials, errors and discoveries.
What kinds of experts do these artists become? All of them possess expertise in the statements they want to make in relation to their own concerns and toward the historical context. But in the same way that de-skilling was a term borrowed from economics, I want to say that these works have been "right-sized" in their respective areas of making. Pretty close to the mark from my perspective is a relatively recent piece by Claire Bishop where she says, "Some will say that skills no longer matter, that the artist today should be fully 'spectralized,' because the truly emancipatory position is to erase the line between professional and amateur. […] That said, the best forms of de-skilling evoke in the viewer something of this spectralization: Such works generate in us not a disdainful 'I could do that' but the generative energy of 'I want to do that!'" [9] If I ever get that kind of energy from viewers of my work, then I have probably done my job.
NOTES:
[1] I saw this phrase in Christine Mehring, Jeanne Anne Nugent, Jon L. Seydl, Gerhard Richter: Early Work, 1951-1972. J. Paul Getty Museum, 2010.
[2] http://www.robertsmithson.com/drawings/heap_p104_300.htm
[3] What I mean here is that glitch is a breakdown, a misuse or a chance process. Not a new idea, though consistent with a medium specific conversation, the fact that it is a computer malfunction makes it a contemporary concern. It's a concern that is, of course, worth examining, but the question is how to approach it.
[4] See, for example, Martin Dixon, The Horror of Disconnection: The Auratic in Technological Malfunction, Transformations Journal, http://www.transformationsjournal.org/journal/issue_15/article_06.shtml
[5] Robin Dluzen, https://twitter.com/RobinDluzen/status/324255330265595904/photo/1
[6] For a fascinating read on contemporary issues regarding studio time and its effect on the production of art, try Dieter Roelstraete, The Business: On The Unbearable Lightness of Art, http://www.e-flux.com/journal/the-business-on-the-unbearable-lightness-of-art/
[7] Such as in Charles Harrison, Conceptual Art and Painting: Further Essays on Art & Language, MIT Press, 2003.
[8] Society for Contemporary Art lecture, The Art Institute of Chicago, March 15, 2012 and The Opening Reception Artist talk at The Renaissance Society, January 6, 2013.
[9] http://www.brooklynrail.org/2011/12/art/unhappy-days-in-the-art-worldde-skilling-theater-re-skilling-performance
ROBERT BURNIER is an artist and writer who lives and works in Chicago. He is an MFA candidate in Painting and Drawing at The School of the Art Institute of Chicago and holds a B.S. in Computer Science from Shippensburg University of Pennsylvania. Recent exhibitions include The Horseless Carriage at Andrew Rafacz Gallery, Salon Zurcher at Galerie Zurcher, New York, the Evanston and Vicinity Biennial, curated by Shannon Stratton, and Some Dialogue, curated by Sarah Krepp and Doug Stapleton, at the Illinois State Museum, Chicago.
---
Audio clip: Adobe Flash Player (version 9 or above) is required to play this audio clip. Download the latest version here. You also need to have JavaScript enabled in your browser.
download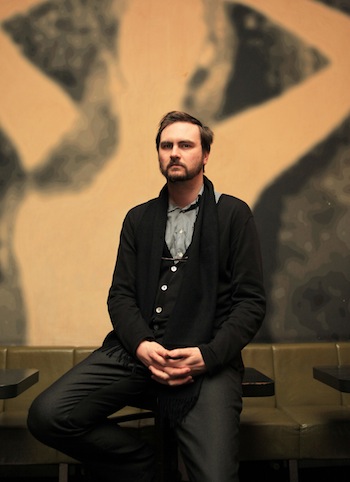 This week: We talk to the new Manilow Senior Curator at the MCA Dieter Roelstraete.
Originally trained as a philosopher at the University of Ghent, Belgian-born Roelstraete has worked at the MuHKA since 2003. His curatorial projects there include Emotion Pictures (2005); Intertidal, a survey show of contemporary art from Vancouver (2005); The Order of Things (2008); Auguste Orts: Correspondence (2010); Liam Gillick and Lawrence Weiner – A Syntax of Dependency (2011); A Rua: The Spirit of Rio de Janeiro (2011) and the collaborative projects Academy: Learning from Art (2006); The Projection Project (2007); and All That Is Solid Melts Into Air (2009). He is currently preparing a retrospective of Chantal Akerman, opening at MuHKA in February 2012.
In 2005, Roelstraete co-curated Honoré d'O: The Quest in the Belgian pavilion at the 51st Venice Biennale. He has also organized solo exhibitions of Roy Arden (Vancouver Art Gallery, 2007), Steven Shearer (De Appel, Amsterdam, 2007), and Zin Taylor (Ursula Blickle Stiftung, Kraichtal, 2011), as well as small-scale group shows in galleries and institutions in Belgium and Germany.
Roelstraete is an editor of Afterall and a contributing editor to A Prior Magazine, and has published extensively on contemporary art and philosophical issues in numerous catalogues and journals including Artforum, Frieze, and Mousse Magazine. He is one of the founders of the journal FR David and a tutor at De Appel in Amsterdam. In 2010, his book Richard Long: A Line Made By Walking was published by Afterall Books/The MIT Press, and a volume of his poetry was recently published by ROMA.
---